Burgundy colored hair is an incredibly beautiful hair color that will make you stand out among many women. Of course, let's admit that it is not a color that every woman can choose because it really takes courage to use this hair color. It would be correct to say that this color tone, which contains a little red in it, suits African American women with dark skin color the most. This color is in perfect harmony with their skin color. But it will look great on women with any skin color who prefers burgundy hair color. Of course, those who dare. Since burgundy hair is very vibrant as a color tone, you will need to have dib dyeing done frequently. But it's worth spending hours at the hairdresser to get all eyes on you.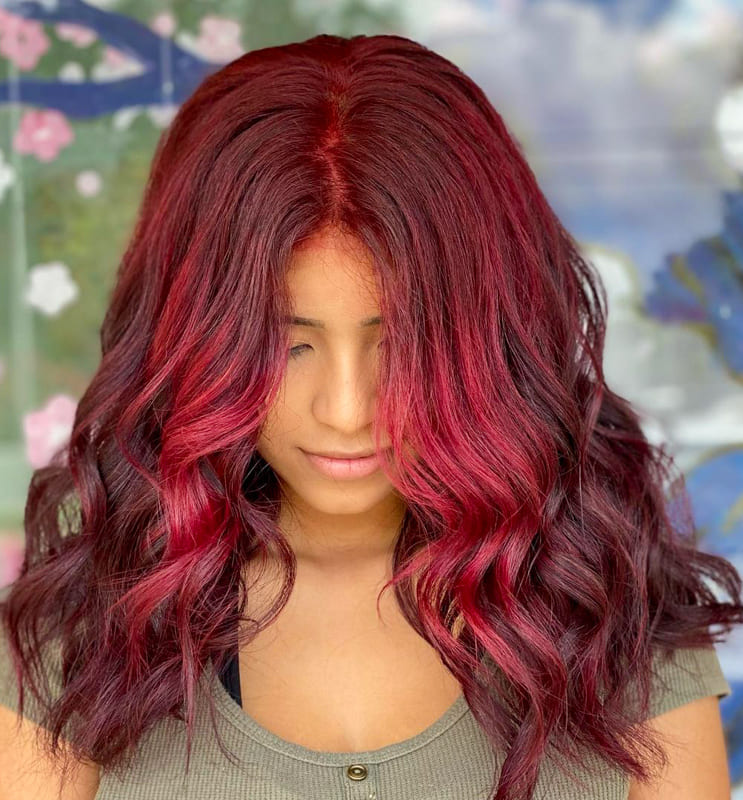 In addition, it is very easy to have different color tones of burgundy hair today. Perhaps you can find hundreds of different shades of burgundy. It's actually available in some apps for this. You can choose the most suitable color for your own hair much more easily. There is one more thing I would like to remind you of. Not every shade of burgundy creates the same effect and attractiveness on every person. It will be beneficial for you to choose your daily outfit accordingly. If you are going to have your hair temporarily burgundy for a special day, this is not a problem.
Burgundy Hair Colors and Haircuts Ideas
Let's say you decided to dye your hair burgundy hair color, so which haircut will you use? Of course, this depends on what lengths you like to use your hair. If you like to use medium lengths, you can choose straight cut hair where the front and back parts are the same length, and you can style it with light waves as in this picture. If long hair is your preference, you don't need much of a cut. It will be enough to simply remove the broken ends of the hair.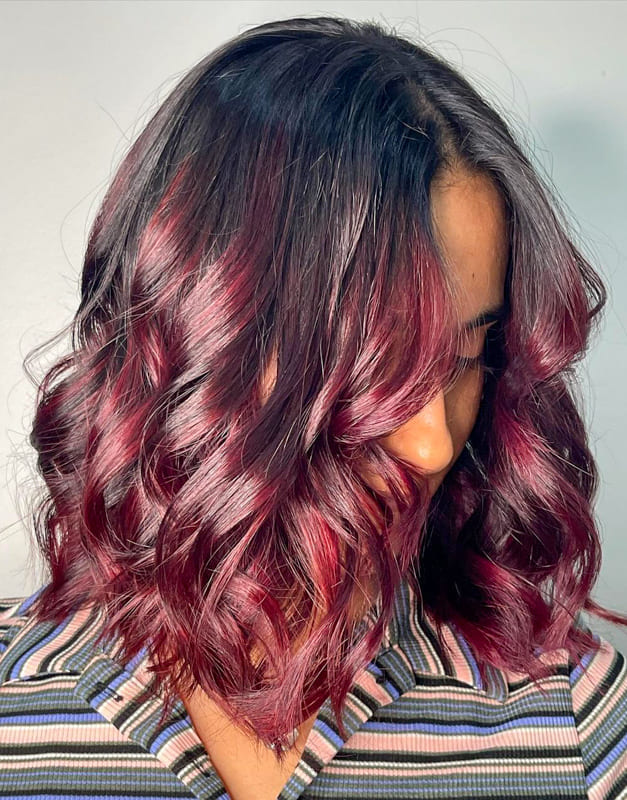 African American long burgundy hair
Ladies with African American skin tones, this is definitely your color. We know that you also love to use this hair color. You are indeed right because burgundy hair color suits your skin tone very well. Wear your burgundy hair in harmony with your chocolate skin tone, whether it's long or short. You can animate your long hair with a water wave. You will look gorgeous with your make-up in tones compatible with your hair color.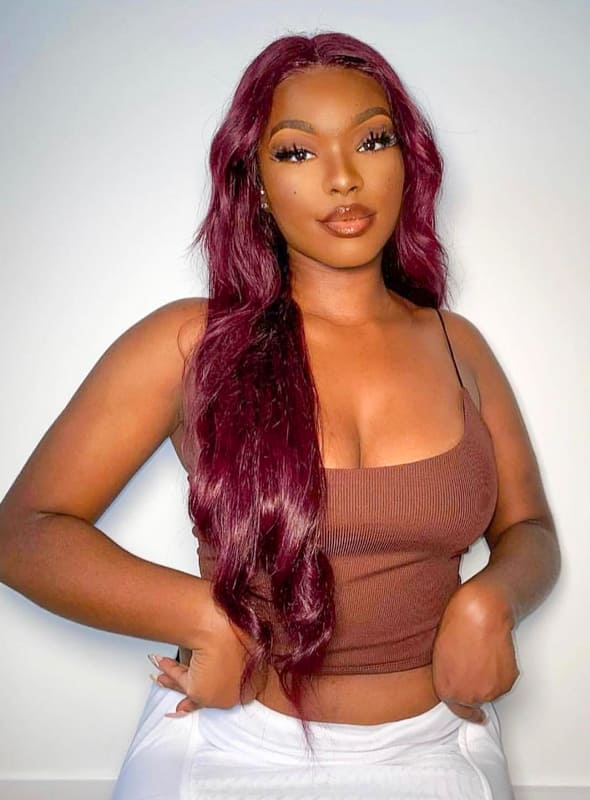 African american short bob burgundy hair
Ladies with African American skin color, we have another great offer for you. Don't you like to spend hours taking care of your hair and making it look stylish? Still want to look stylish and beautiful in any setting? Short bob burgundy hair is for you. The best part of this hair is that you can wash and dry it and go out comfortably. Even though straight blunt hair suits this color and bob style very well, you can use messy if you wish. It will be a great comfort for you.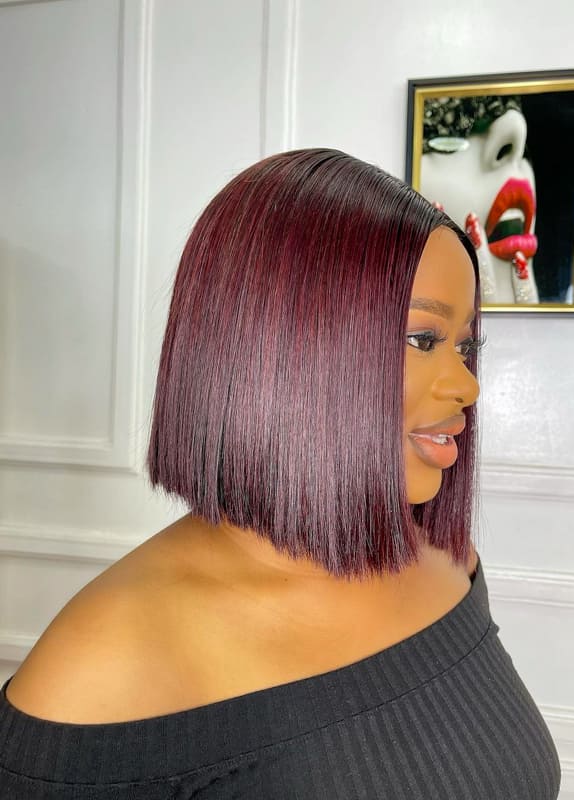 Burgundy and brown hair
Are you one of those who say that I love the burgundy hair color but cannot use it as a single color? So we have a suggestion for you burgundy and brown hair. You will be amazed when you see how compatible the two are together. If your natural hair color is in brown tones, using burgundy color with highlights or processes such as balayage or ombre sombre will allow you to achieve this hair color. You will look great with light waves.
Medium curly burgundy hair
Do you like to use your hair in medium lengths? Do you have curly hair? Have you ever thought about how great burgundy curly hair looks? Let's admit that it is difficult to use curly hair due to its structure, but curly hair looks great both in its open form and in buns. Crown this beauty with burgundy curly hair. We bet no one will be able to take their eyes off you.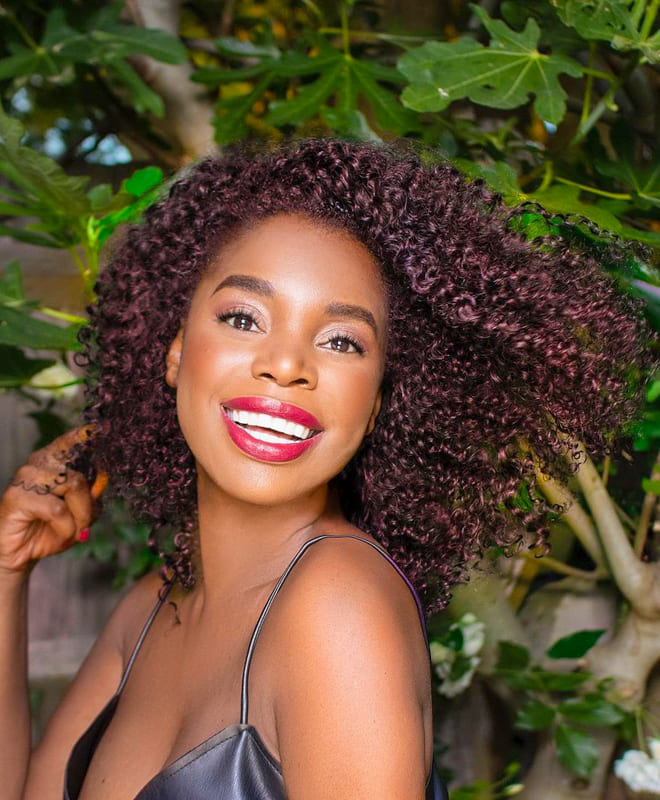 Medium dark burgundy hair
If you think that I want to have a burgundy hair color but I don't have the courage, dark burgundy hair color is for you. Dark burgundy hair, also known as red and sheep tones, becomes the biggest weapon of women with a light skin color, especially when they use burgundy lipstick. Your medium length hair is ideal for this color if you like it. You will make a difference in every environment you enter.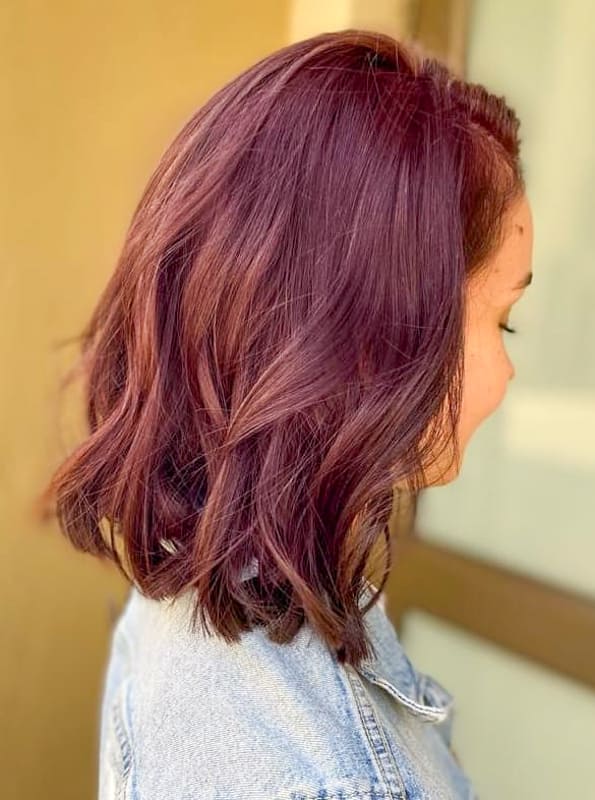 Long braided burgundy hair
Especially our young girls love braided hair. The new trend of recent times is braided hair. We prefer different braided buns and braided hair even on our special nights at weddings. Long hair is already a favorite of many women. Long braided burgundy hair is very popular among our young girls lately. Burgundy hair looks great on fair-skinned women as well as on colored eyes. Your burgundy hair will bring out your colorful eyes and make you look great.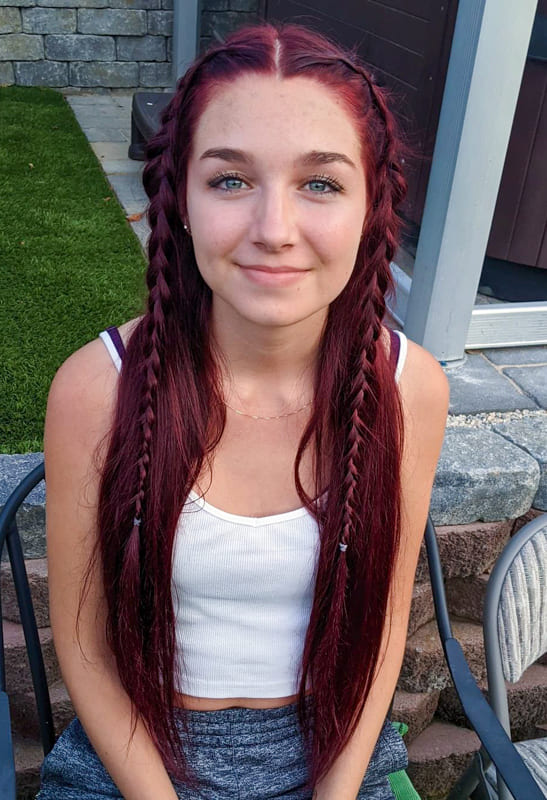 Long wavy burgundy hair
Long wavy burgundy hair is the right choice for both providing a natural look and looking quite different and beautiful. Although there are many different shades of burgundy, the tone we call fire red looks great like our young girl in the picture. Although it will match with any outfit you wear, it would be right to say that it shows itself in the most beautiful black outfits. Your long burgundy hair styled with light waves will make you different from everyone else.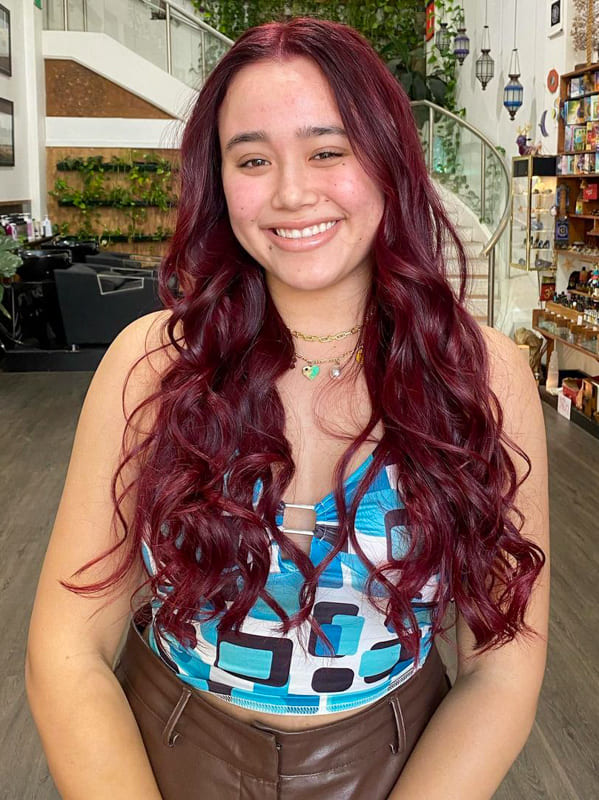 Medium burgundy hair color
Almost every woman wants to look different and remarkable. For this reason, they want to find the one that best suits their skin color among the hair colors in different tones. Ladies with wheaten skin color with hazel eyes, Burgundy hair color will be a great choice for you. There are many different shades of burgundy too, and a good hairdresser will give you many different shades of burgundy. For your medium-length hair, you can choose the one that best suits your skin tone.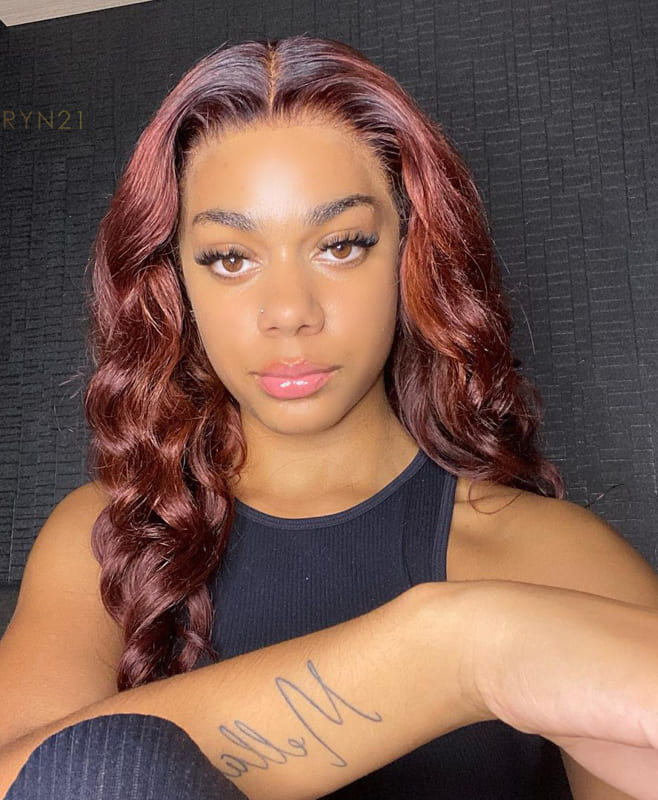 Medium straight burgundy hair
The hair structure of some women is straight and thin. These ladies generally prefer to use dark tones because they want to show their hair more well-groomed. In fact, their biggest advantage is that if they like to use straight hair, they will not need to use a process that will wear their hair too much. Your medium-length straight hair is very beautiful on its own anyway. Try decorating them with burgundy colors.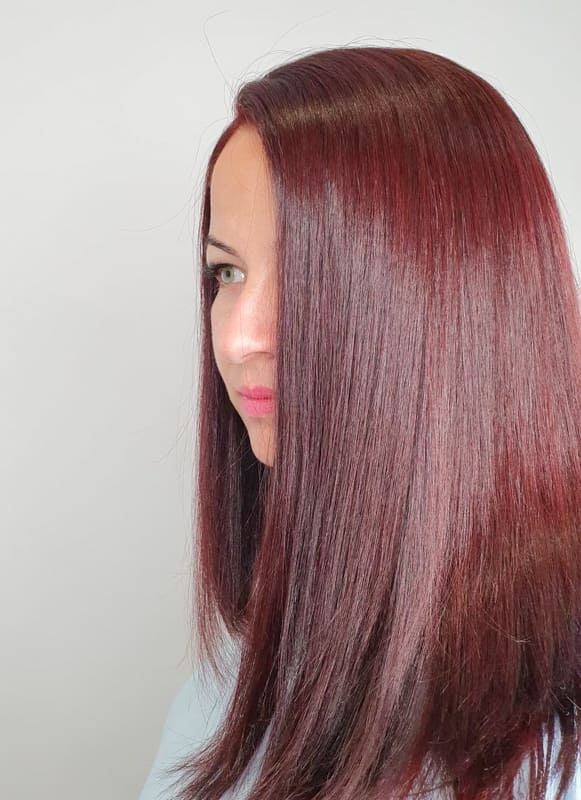 Medium wavy burgundy hair
Have you ever thought how good your medium-length wavy burgundy hair can look with your freckles? Think of real redheaded people, they mostly have fair skin tones and have sweet freckles. Some women do not like their freckles and prefer to hide them. But women who like to wear them proudly know that if they have freckles, the most natural color for them is to choose burgundy wavy hair.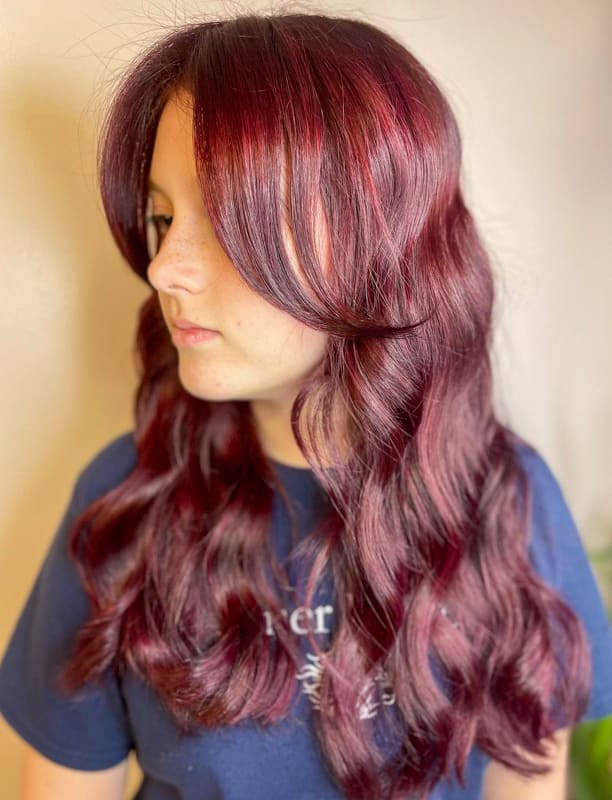 Purple burgundy hair
When you read about purple burgundy hair color, you probably thought it was very unrelated. But as you can see in the picture, purple burgundy hair provides a very different look when combined together. It will be a great choice for your short or medium-sized hair, especially with different haircuts that you cut from long to short or from short to long. With this hair color, you can choose both burgundy and purple makeup color tones.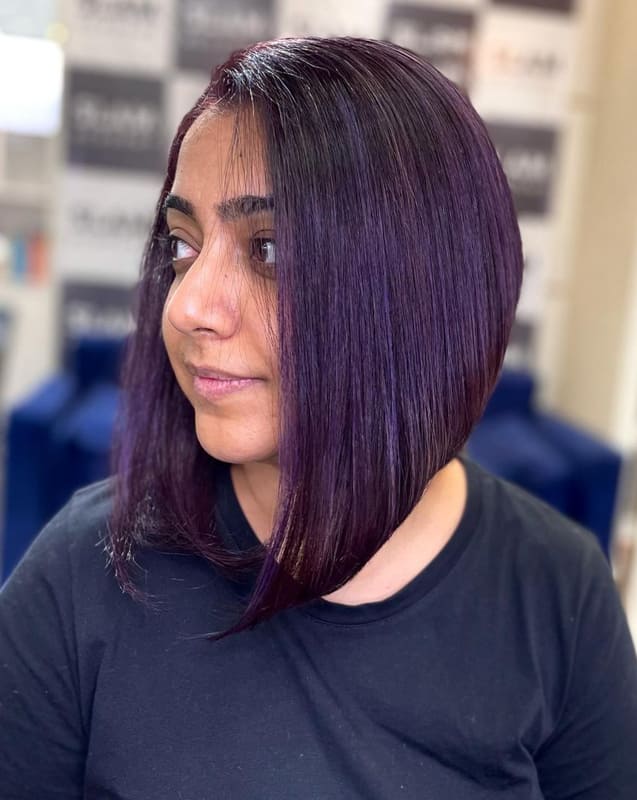 Red burgundy hair
Red burgundy hair, in other words, red hair can actually be thought of as another shade of burgundy. These tones, which also contain light orange tones, are slightly lighter than the burgundy color. It is much more conspicuous and somewhat more unnatural. It is like different tones dancing with each other. If you are a woman who likes to attract attention, red burgundy hair is exactly your color.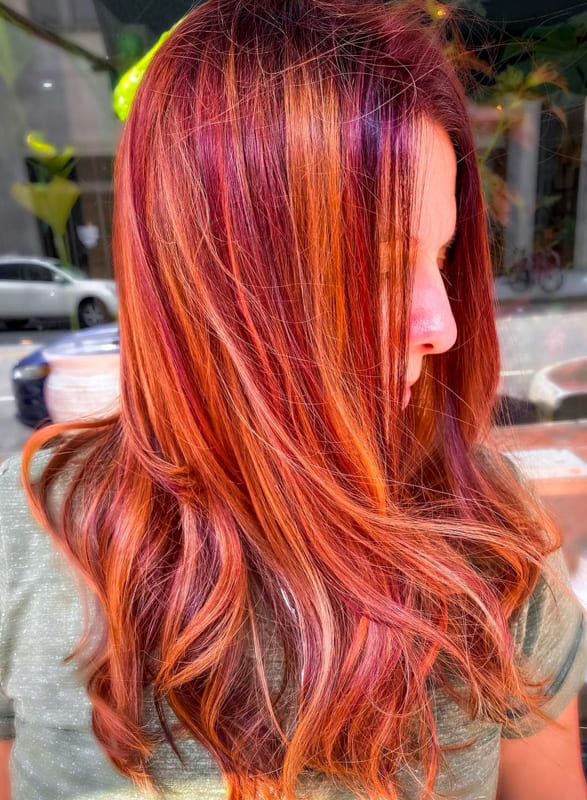 Short burgundy hair with bangs
Short burgundy hair with bangs is the first choice of women who like to use eyeliner and are happy to emphasize the beauty of their eyes. These women like to decorate their make-up with long eyeliner lines and red lipstick with their burgundy hair with bangs. Regardless of their eye color, their make-up is so remarkable that no one can take their eyes off them. If you have short hair with bangs, definitely try the burgundy color.