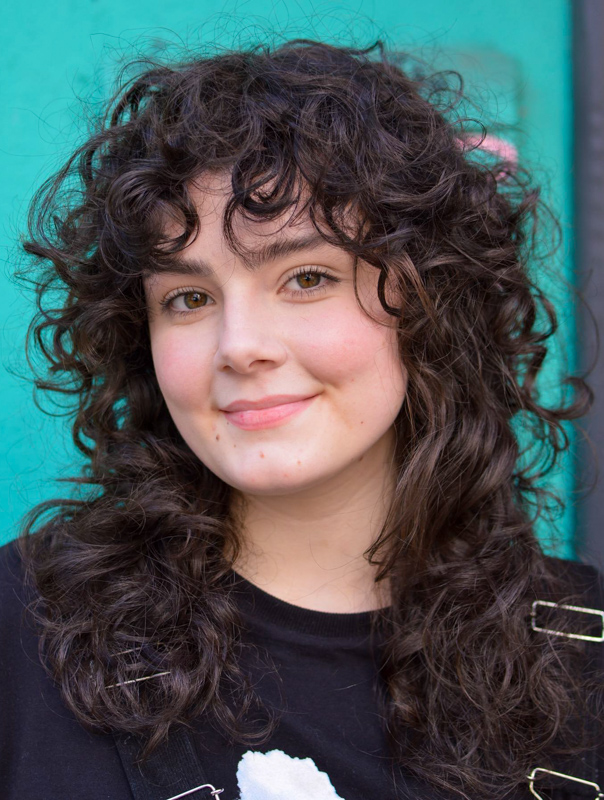 Hair design and hairstyles are one of the topics we often look for. Our preferences are also different; straight hair lovers, curly hair lovers, wavy hair lovers… Just as there are many hairstyles, hair lengths and the way we use them are also different from each other. But it's usually the other way around, right? Those with curly hair want straight hair, those with straight hair, on the contrary, yearn for wavy hair. Of course, the hair type you have is not your destiny, it is in your hands to change it. You may not have seen the Wolf cut haircut before. Because the origin of this hair design goes back a little bit more. Today we will carefully examine this hairstyle that was very popular in the 70s and 80s.
18 Elegant Wolf Cut Hair Design ideas for Curly Hair
The main purpose of this hairstyle, which is very popular among rock stars in the 70s and 80s, is to make the tops look as strong and voluminous as possible by thinning the ends of the hair. Of course, this hairstyle can be the right choice for women with straight hair. Because if you have straight hair type, you will always have trouble if you do not have very thick hair. You have difficulty in hairstyles. However, in today's article we will show examples of this hairstyle for women with curly hair. Curly hair is difficult to use, but it is very remarkable and popular hair. It is very difficult to comb, shape and even collect this hair. You have to spend hours in front of the mirror. Considering all these reasons, I want to show you why the wolf cut haircut is ideal for curly hair. So let's start our article.
Brown ombre wolf cut curly hairstyles
Ladies with curly hair and brunette skin love the brown ombre hairstyle. The wolf cut cut will be very nice to add movement to the brown ombre hair that is in great harmony with their skin color. Our example in the picture features a very beautiful woman with brown eyes and dark skin. Did you notice that the ends of her hair are thin and the tops are fluffy? This is the main feature of wolf cut. It makes your hair look very voluminous and full. Of course, the curls you have also support this. You are very lucky because you have natural curls. It is up to you to use this chance correctly.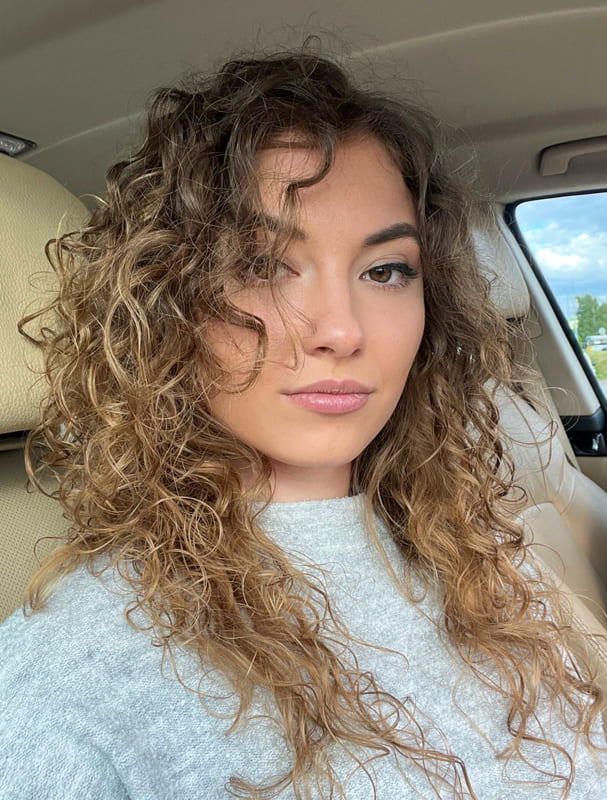 Long wolf cut curly hair
You may be wondering how the wolf cut will look on long hair. Because women love long hair and in a way, having long bushy hair is their biggest weapon. In this example, I wanted to show you how wonderful the wolf cut can be on long hair. In the picture you see a very beautiful and strong woman of middle age. Often there is a misconception that this haircut is popular with young people. As you can see, this hairstyle that appeals to all ages will also be great for your long curly hair. Your choice of color is completely up to you, as it will be compatible with your skin tone.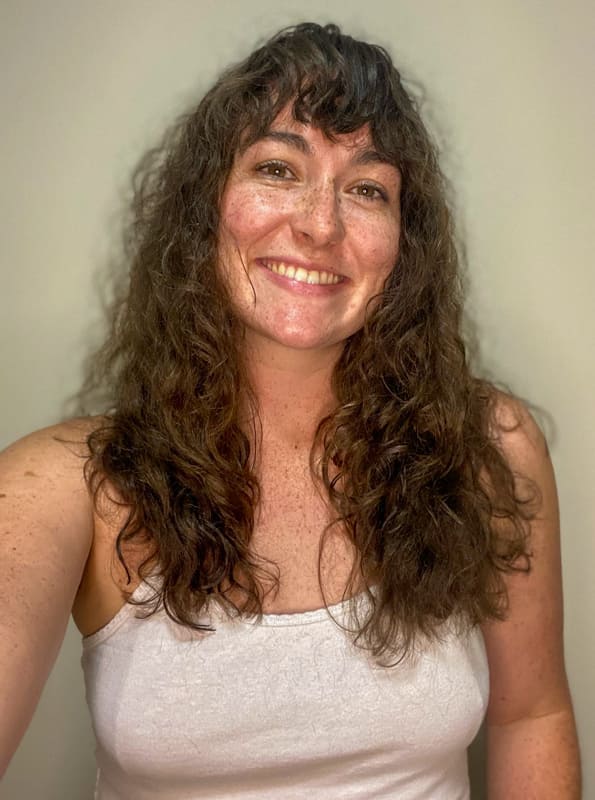 Red wolf cut medium curly hair
In the top picture, I mentioned the wolf cut for your long hair. Now I would like to give you an example of the wolf cut for medium curly hair. Look, in my example in this picture, we have a very beautiful young girl with fair skin. Her hair is red, in a tone we call onion peel. She looks bushy and shabby since she has a wolf cut cut to her curly hair. This look is great for our women with curly hair. For example, messy buns look best on women with curly hair.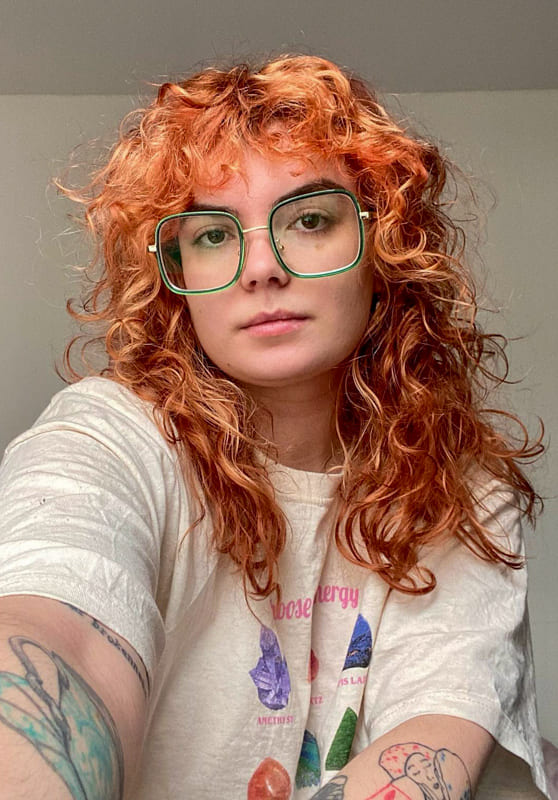 Wolf cut blue curly hair
Here is an issue that we approach with some skepticism; blue hair color. You know, this hair color that we like very much but are afraid to have, looks great when used correctly. But maybe we need to be a little crazy to use this color on our hair, don't you think? Because people are not used to blue hair, but this is a color that courageous women can choose. Especially if you have curly hair. Here is our girl in the picture combined these two hairstyles and such a wonderful hairstyle came out. If you want to try this hairstyle, I can say that all eyes will be on you. You can consider the wolf cut on your blue curly hair. Thus, you can get a more shabby and natural look. You already have naturally cool hair, believe me, you have the advantage.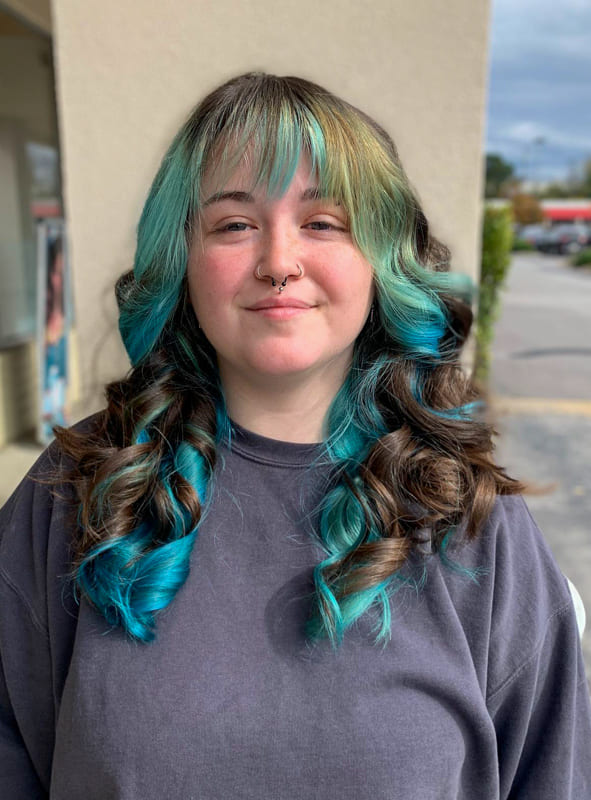 Wolf cut blonde ombre curly hair
Here is one of my favourites. You have wonderful curly hair and you use them in blonde. A slightly messy, somewhat natural and lively completely female look. Especially if you have colorful eyes like the beautiful woman in this picture, I am sure that no one can take their eyes off you, they kneel before your beauty. I know that it is difficult to use bangs for curly hair, but as we can see in the example in the picture, the bangs and bangs go very well with the wolf cut. Of course, you can use the yellow ombre preference for a different color. But let's face it, if you have a light skin tone, this hairstyle and color is one of the hair designs that will suit you best.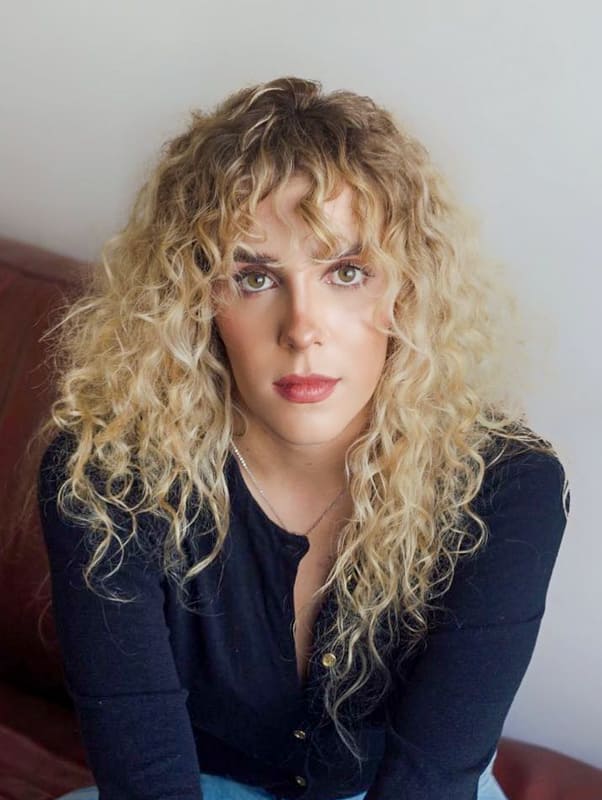 Short wolf cut curly blonde hair
As I always say, blonde hair suits women with fair skin and colored eyes the most. We can clearly see this in our example in this picture. While I see that this beautiful woman with navy blue eyes prefers the wolf cut cut for her short blonde hair, I would also like to draw attention to how natural her curls look. This is actually the best part of the wolf cut. You have curly hair, not straight or wavy hair. You're already ahead because it's like you've always been to the hairdresser. Wolf cut will crown your beauty and advantage. It will make you have a more natural and feminine look.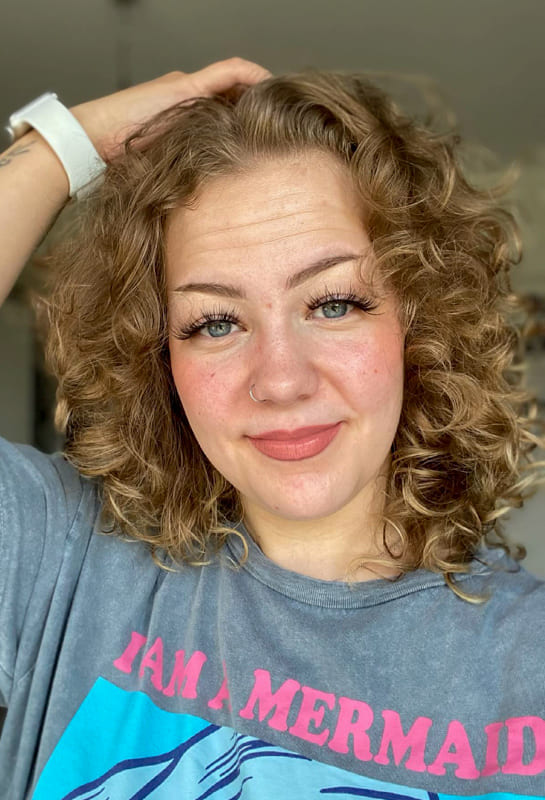 Medium wolf cut curly hair with bangs
As I mentioned in an example above, the use of bangs suits the wolf cut haircut very well. In our example in this picture, we see that the bangs are used as wavy. In fact, you can use the bangs straight and keep your medium hair curly or wavy. Thus, thanks to the wolf cut, the ends of your hair will look extra voluminous and natural, while the upper parts of your hair will look more well-groomed and different because you use straight bangs. However, you can also leave your bangs curly or wavy, as in this picture.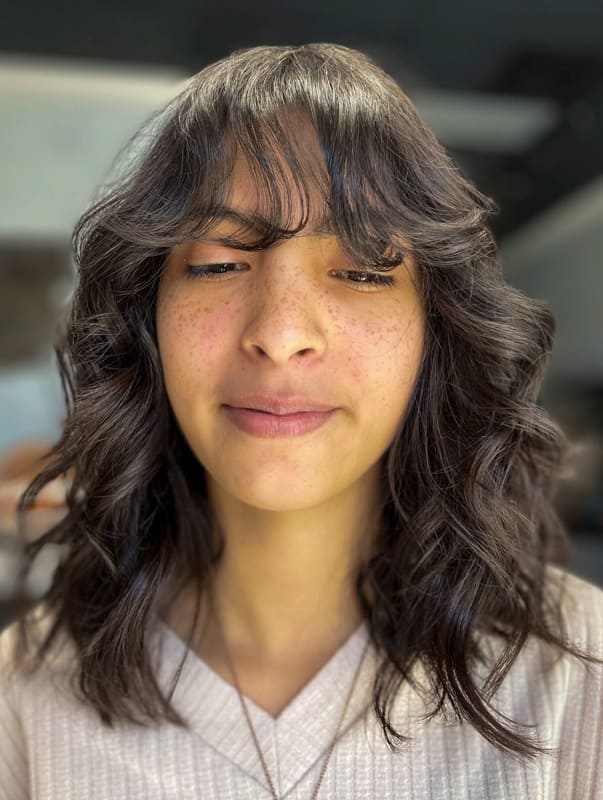 Short wolf cut curly brown hair
Brown and its shades can be really fascinating for women with brown eyes. Especially when combined with a make-up in soft brown tones, it adds a mysterious and passionate atmosphere. At this point, I must say that your hair design preference does not matter. If you have brown eyes, you should definitely try an ombre in shimmery brown tones. I think your curly wolf cut hair design will also complete this fascinating look.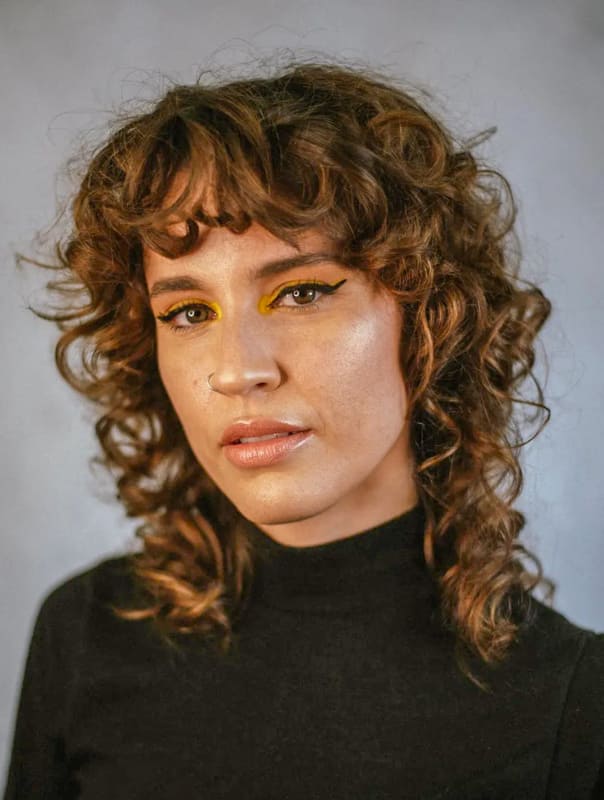 Wolf cut curly medium hair
Have you ever thought that just the right choice of lipstick can make such a difference? I'm sure you can't help but look at the red lipstick of the beautiful woman in the picture. This example shows us how effective the make-up of a self-confident woman who is compatible with her skin color and hair color can be. Don't you think this young girl, who looks quite natural with her wolf cut hair and straight bangs, as I mentioned above, is dazzling?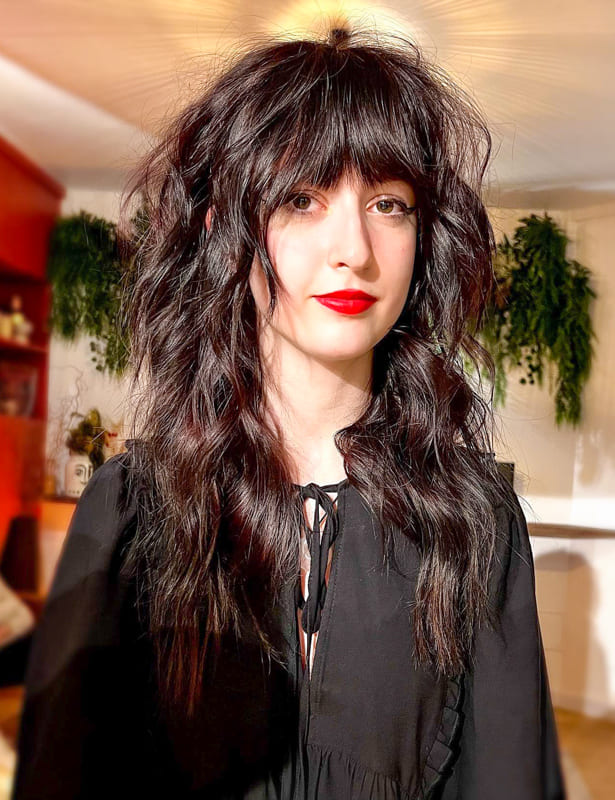 Medium blonde wolf cut curly hair
In this beautiful example, where we see that she prefers yellow ombre for her medium hair, the color transitions in the hair and the sparkles interspersed are absolutely dazzling. In this example, we see the stance of the wolf cut without fringe or bangs. The wolf cut cut allows you to have a younger and sharper appearance, as the bangs are not used. If you want to look natural and feminine like this beautiful woman, I definitely recommend you to try this haircut.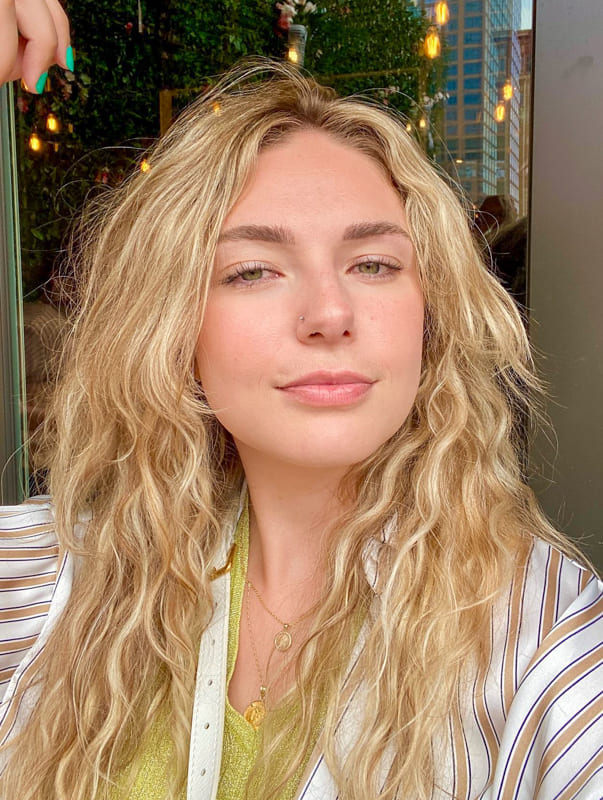 Platinum blonde wolf cut hair
Now I want to show you the wolf cut for your platinum blonde hair. I have a very good example for this. The hair of our young and beautiful girl in the picture has a mixed appearance of straight and wavy. We see that the upper parts are extra voluminous and the hair is less sparse at the ends. Which is the main feature of the wolf cut, you know. The hair design is actually always the same, but the hairstyles, the use of bangs or forelocks, the hair color used, the skin color and age of the person using it make the wolf cut haircut look different for everyone.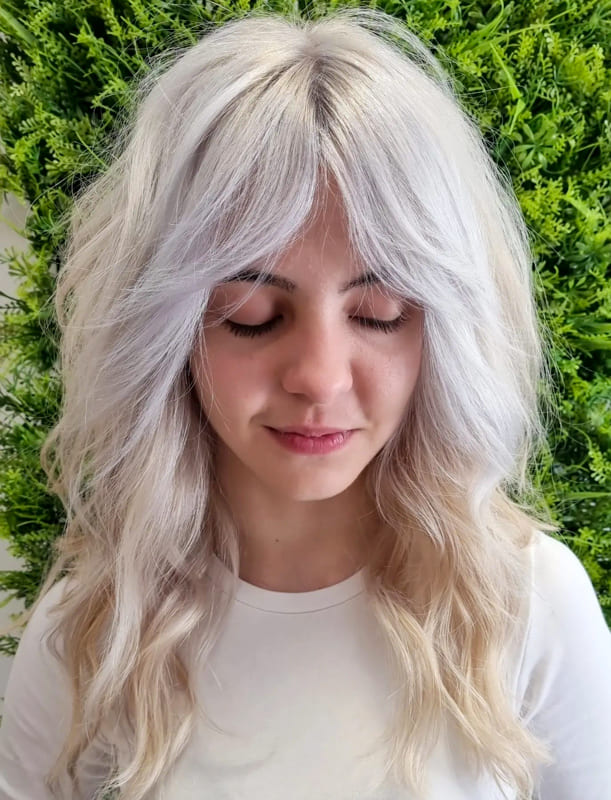 Wolf cut curly hair for African American Women
We all know how common curly hair is among African American women. They are very popular, especially with braids in different styles and having thick hair. In fact, it can be very nice to combine these braids with a wolf cut haircut. And I think it's definitely worth a try. In this picture we see a very beautiful woman of African American descent. She used the wolf cut for her short curly hair. Don't you think it fits well?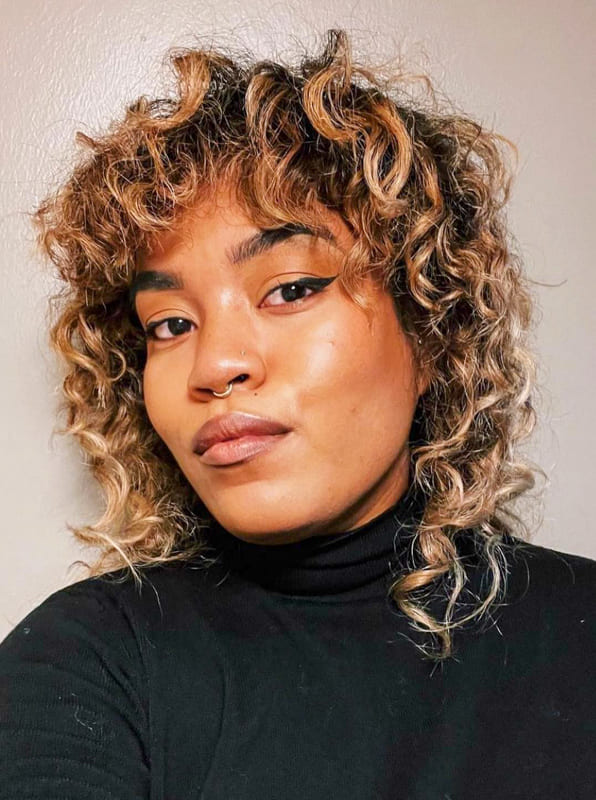 Black wolf cut curly hair
Black hair looks very natural and sexy on fair-skinned women. We see a very good example of this in this picture. Our example in the picture almost defies time with her black curly wolf cut hair, which has a very natural and mixed appearance. I am sure that this beautiful woman, who looks much younger than her age, draws all the attention in every environment she enters. If you want to have such a natural look, you can try the wolf cut.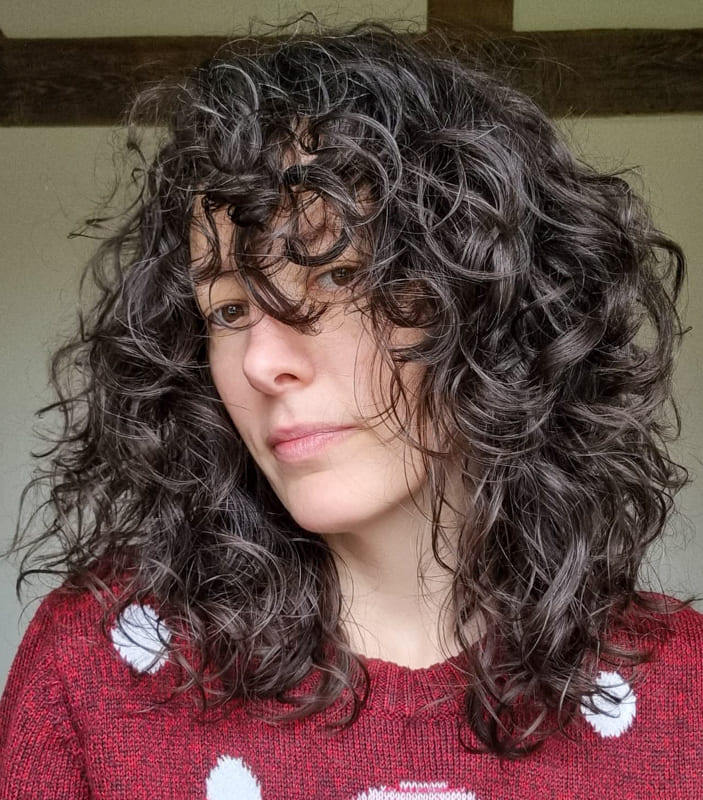 Greasy wolf cut curly hair
On hot summer days, this haircut can save your life. With your damp hair at the beach, this haircut will go perfectly together. That's why I wanted to show you the greasy wolf cut example. As you can easily choose in your daily life, this hairstyle will be a savior especially on hot days and I am sure that it will suit you very well. I can definitely say that you will have a natural look.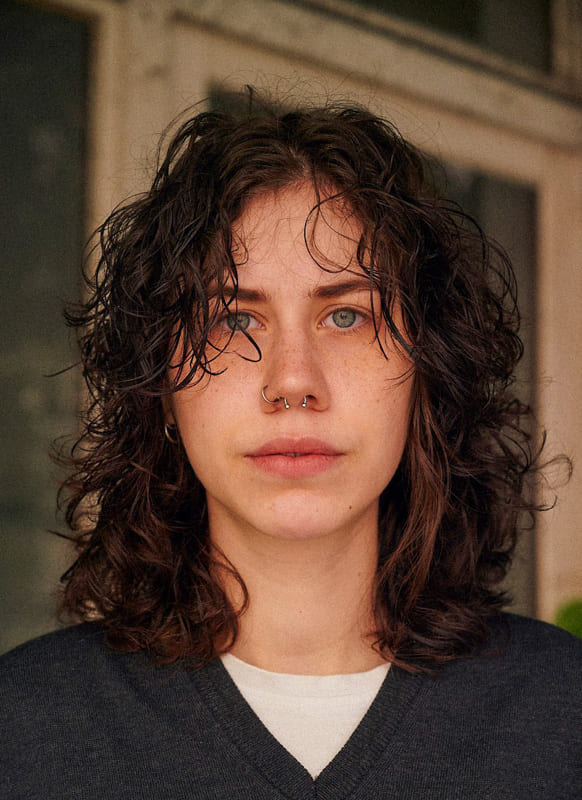 Wolf cut curly hair with side bangs
Side bangs are not a hairstyle we prefer because of the difficulty of using them. However, I wanted to show you how the wolf cut haircut looks by using side bangs. If you like using side bangs then take a look at our example in this picture. Don't you think this young girl who prefers the wolf cut haircut with side bangs for her short curly hair, looks pretty good? We can say that the haircut suits this girl, whose beauty impresses with her understated make-up.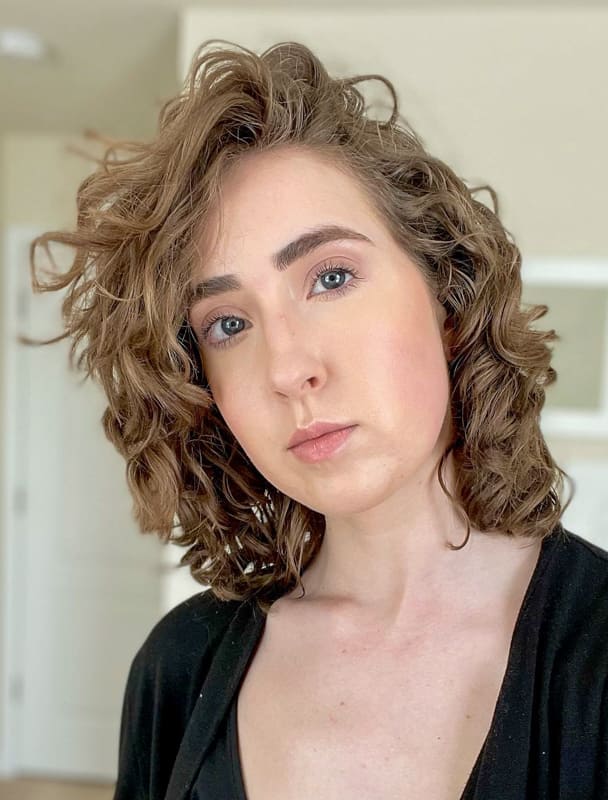 Natural wolf cut short curly hair
In fact, that's exactly what we've been talking about throughout an entire article. Wolf cut makes your hair look more lush and voluminous. This gives you a very natural look. In this last example, the naturalness of our short curly hair is striking in our young girl, who has the air of the 80s. Wolf cut cut gives you a completely natural hairstyle with its messy appearance. In this article, we have seen everything we need to know about wolf cut haircuts and we have shown wolf cut models especially for curly hair. I hope it has been very useful for you as well. Please continue to follow my articles.