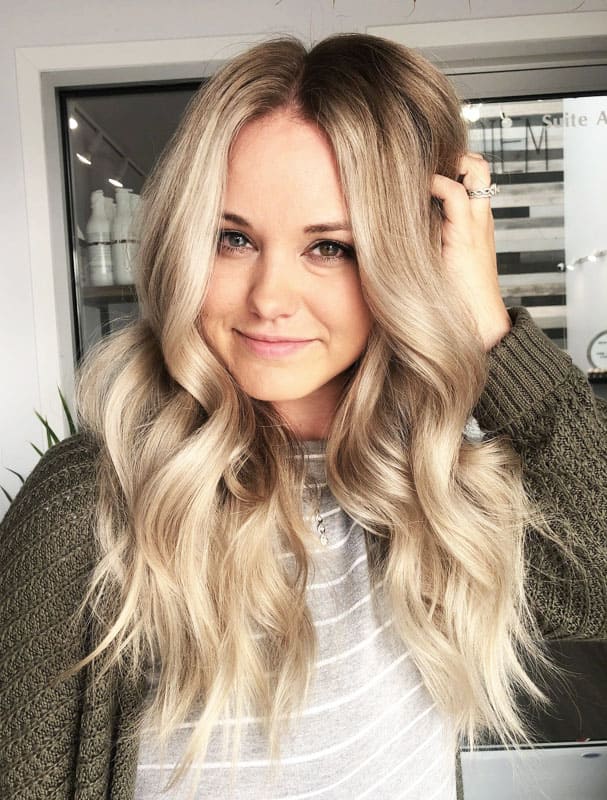 Ash blonde hair color is among everyone's favorite hair colors right now! Ash blonde and ash blonde ombre with a cool undertone and gray reflections are our favorite hairstyles! Light ash blonde, which is also preferred by famous stars, seems to be one of the most assertive colors of this season. Although it seems to be losing its popularity lately, ash blonde hairstyles are still very popular and will be among the most sought after hairstyles of 2023.
As with any hair color, this hair color also has different tones. Here, I would like to emphasize that you should choose a tone according to your skin color. It is a really great hair color, but of course, it is very important to choose a hair color that is compatible with your skin color. If your eyes are colored, you should immediately dye your hair color to auburn ash blonde hair color! In women with colored eyes, it really looks great in layers and layers.
23 Ash Blonde Hair Ideas for Women 2023
Your hairstyle has little importance when choosing a hair color. In my opinion, it looks better with long and layered hairstyles. But there is no need to limit yourself in this way. You have to examine similar hair colors applied to a model similar to your own hairstyle and make the decision yourself.
Another advantage of ash blonde hair colors is that it is much easier to maintain than other colors. If you have turned from brunette or blonde, that is, from dark tones for this hair color, you can think of ash blonde hair color as lightening your hair. The same is true with honey hair colors. It is a color that is really easy to maintain and maintain.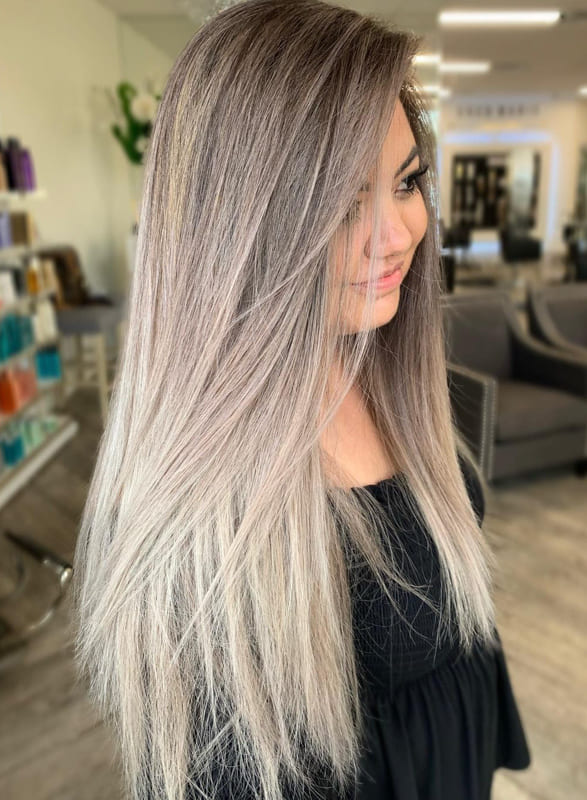 The tone we call ash blonde, being a grayish yellow, is usually applied as a highlight. This makes your hair look more voluminous than platinum or golden blonde. As a result, it is the number one choice of ash blonde, wavy and layered hairstyles. If you have long hair, ash blonde may be a marginal alternative for you. Other models that ash auburn suits are bob and lob. If you prefer short or shoulder-length hair instead of long, you should also take a look at these models.
How to Make Ash Blonde Hair Color?
It is possible to achieve ash blonde hair color at home with ready-made hair dyes. To obtain this hair color, you must first apply a lightening process if your hair is dark. For this, you can use any dye brand's hair lightener. After using it as written on the box and opening your hair, you can dye your hair with ash blond hair dye and get the color you want.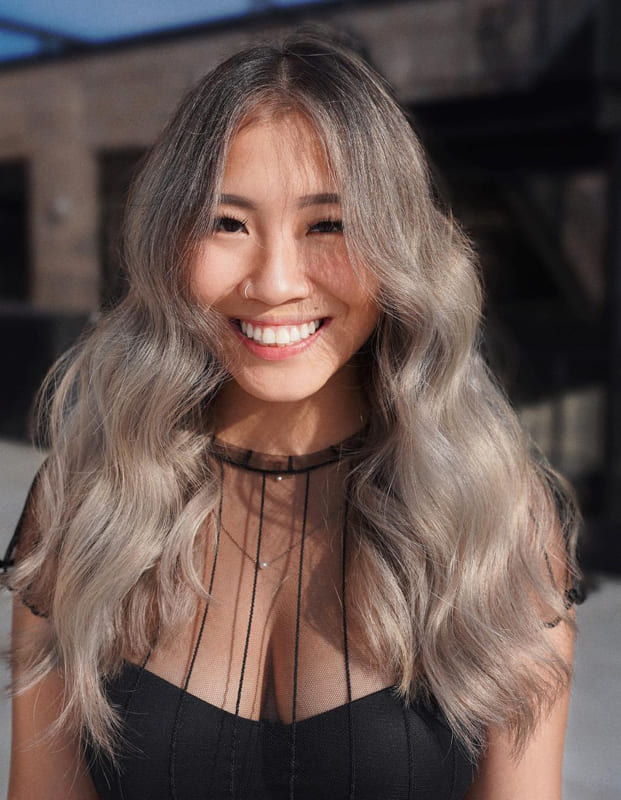 What Skin Tones Is Ash Blonde Best For?
Ash blonde hair is a color that suits every skin tone. If you do not want to dye all of your hair, you can also have ash blonde highlights or ash blonde ombre. We recommend the most light ash blonde color among the blonde hair colors suitable for white skin. Very light ash blonde or ash platinum color looks very cool on fair skinned people.
On the other hand, wheat-skinned people have ash auburn and dark ash auburn tones. We love the harmony of the warmth of wheat skin color and ash brown hair. On brunettes, ash ombre or ash blonde highlights look incredibly beautiful!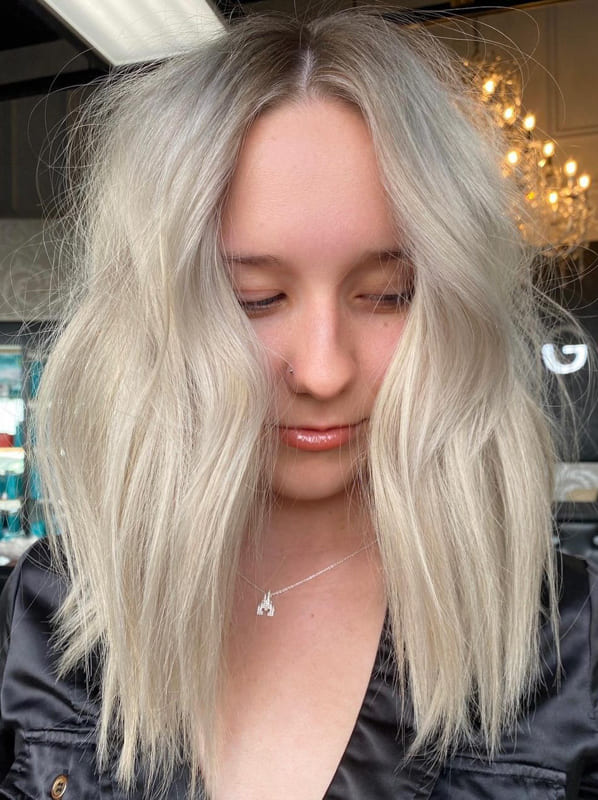 Ash Blonde Hair Tips and Ideas
Now, how about a little detail on the subject? Let's dive a little deeper into ash blonde hairstyles. Now we are going to review 19 different ash blonde styles with you. I hope this will be an idea for you.
Ash blonde asian hair
Asian women may prefer ash blonde hairstyles because of their skin compatibility. However, they generally prefer brown and black hair colors. It can be a good choice if your hair is long and wavy. You should also take good care of your hair. If you live in a crowded Asian industrial city, your hair will get dirty very quickly. You must take good care of it.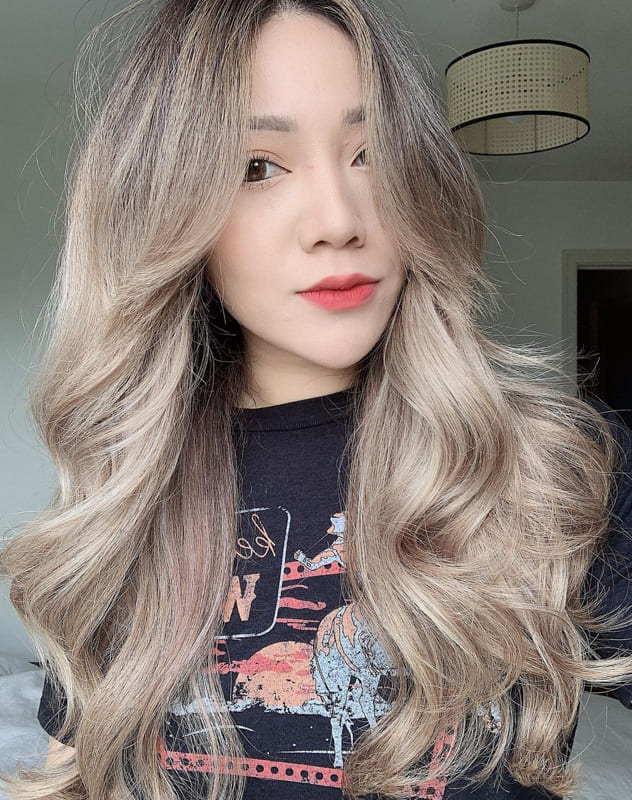 Ash blonde bob hair
You should make the right choice of hair according to your face shape. Bob hairstyles can be in many different shapes depending on both your face and hair structure. Of course, the most impressive ones are straight hair. A rather rare hairstyle. A good choice for ash blonde hairstyles.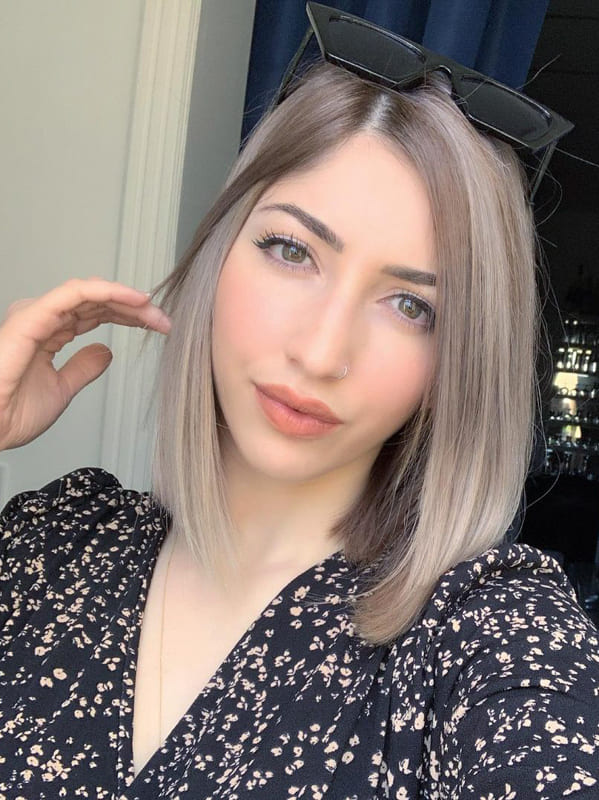 Ash blonde hair balayage
Balayage ash blonde hair is a little different than ombre hair. However, they are fundamentally similar. I thought it appropriate to use a blonde model as an example. However, you can have different ideas by examining other pictures.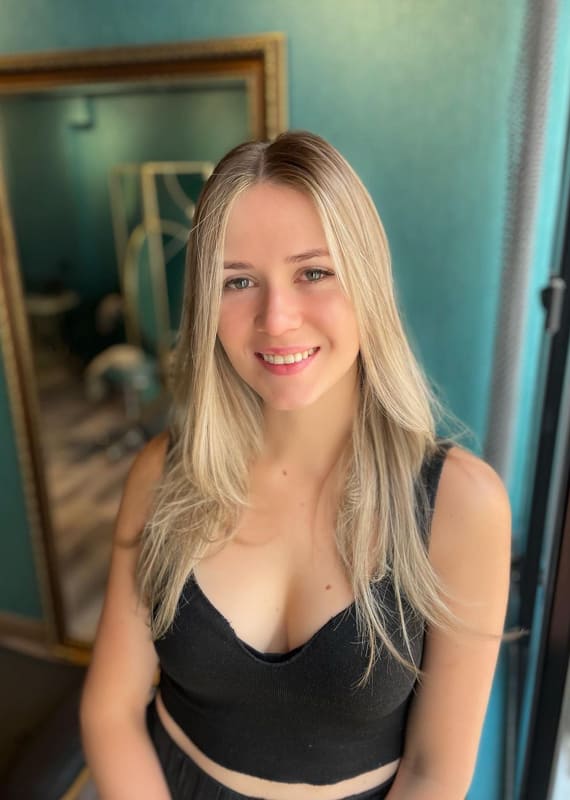 Ash blonde hair color
Generally, shades of gray dominate. As the name suggests, it is ash blonde. Many different shades of yellow are used. However, if the bottom of the hair is a little darker, it can create a more impressive look. It's a really long process. Finding the right hair color and choosing the right makeup. You will discover this over time.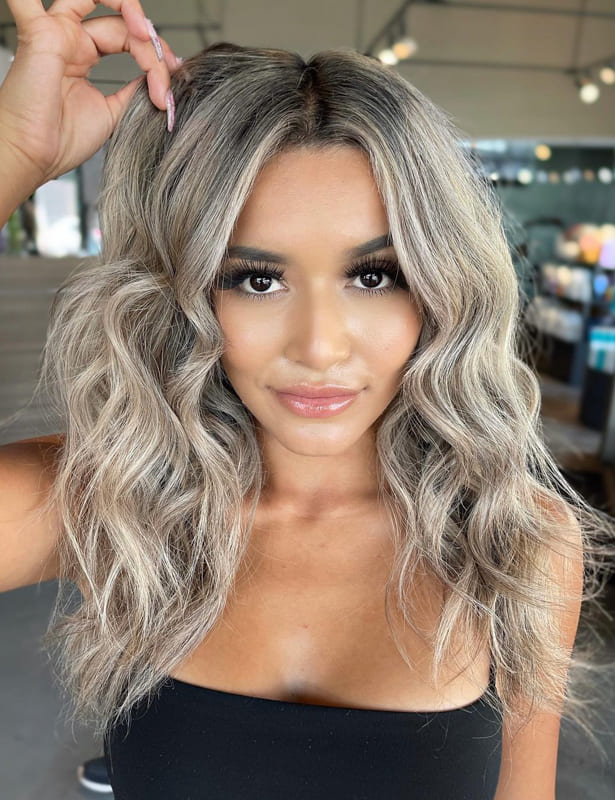 Ash blonde ombre hair
Today, with the development of technology, hair dyes have become very different. There are really many colors. Using these colors as ombre is a very logical choice. Here, you see the ash blonde ombre hairstyle. It's a pretty dark start. Afterwards, the impressive appearance of different colors.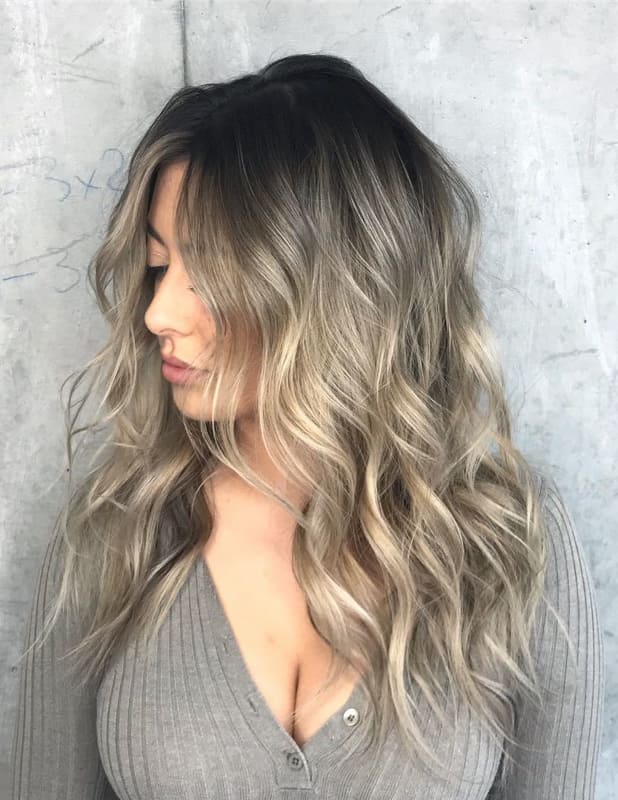 Ash blonde wig
Ash blonde wigs are generally preferred by black women. It's actually a very sensible option. All you have to do is cut your hair short. Now you can use the hair in the color you want. It looks pretty nice as you can see in the picture. I also recommend using real hair as a wig.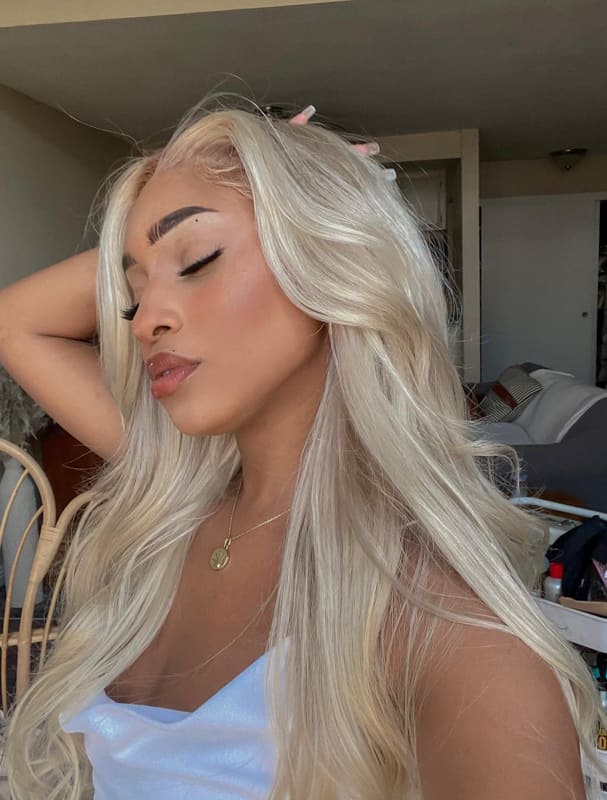 Ash platinum blonde hair
I know there are a lot of platinum blonde women out there who like it. But if you've never had it done before, you should have an idea of how much bleach you need to get the desired results! This platinum blonde look features gray ash blonde blonde undertones that give an icy effect. You can also make your hair ombre and platinum.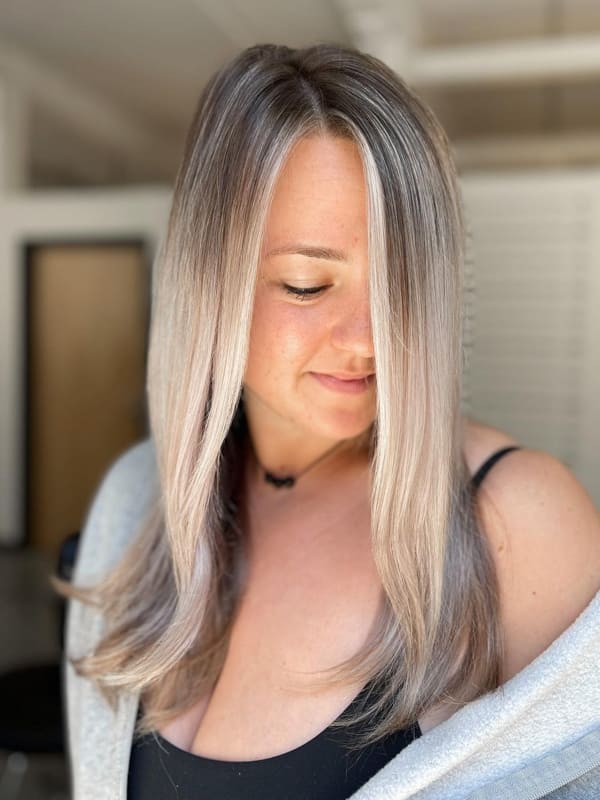 Dark ash blonde hair
As for dark ash blonde hairstyles, you need to know that you made the right choice. A very sensible hairstyle for a normal life. First of all, the hair is not very eye-catching, but it looks really nice when viewed closely. This is the most important factor. It's a good choice to look nice to people close to you.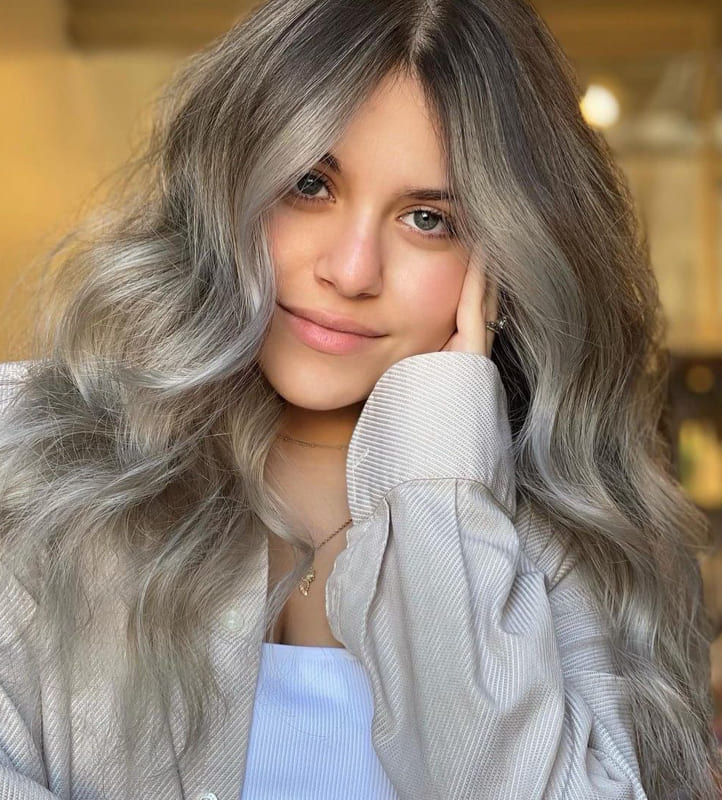 Dark ash blonde on black hair
It is not easy to apply dark ash blonde hairstyles on naturally black hair. But a good hairdresser can do this for you. If you are going to switch from black in ash blonde hairstyles, I do not recommend choosing straight hair. It is a little more difficult to maintain. First of all, if you are not in a hurry, you can switch to a lighter color and then move on to the ash blonde hairstyle.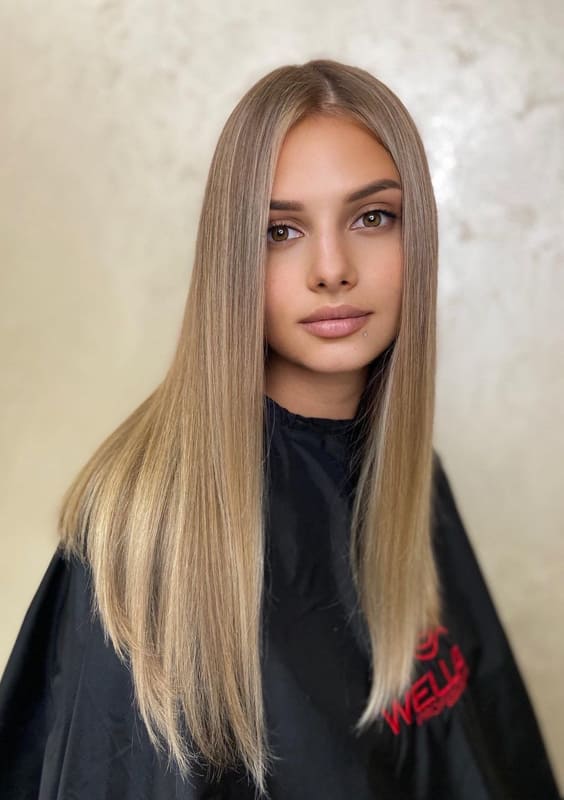 Extra light ash blonde hair
For very light ash blonde hairstyles, I recommend you to choose ombre. Especially for straight hair. Light colors can be very impressive as you go to the ends of the hair.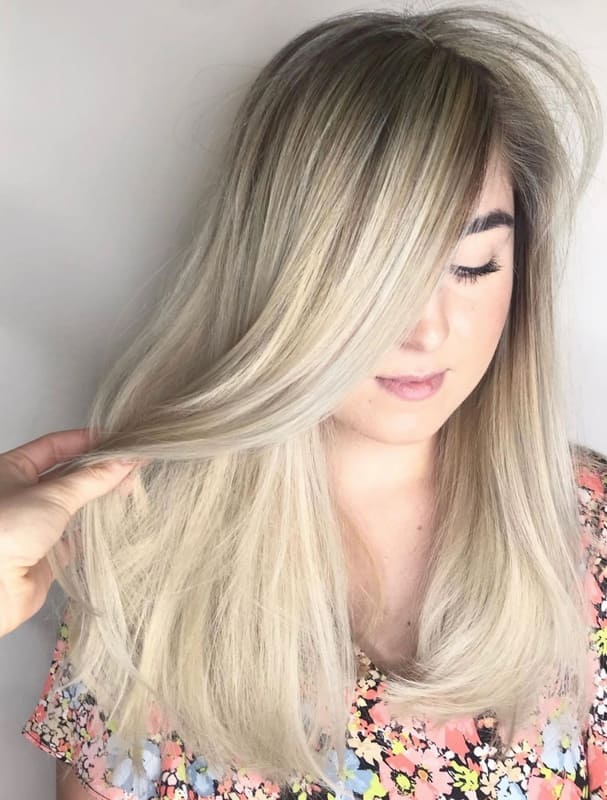 Grey ash blonde hair
Gray hair is perhaps the most distant color from ash blonde hairstyles. This is my opinion of course. When you look at the picture, it has almost the same color as an old woman's hair. You can use such a hairstyle on special occasions. It is very difficult to come across such hairstyles while walking on the street. A very assertive hairstyle.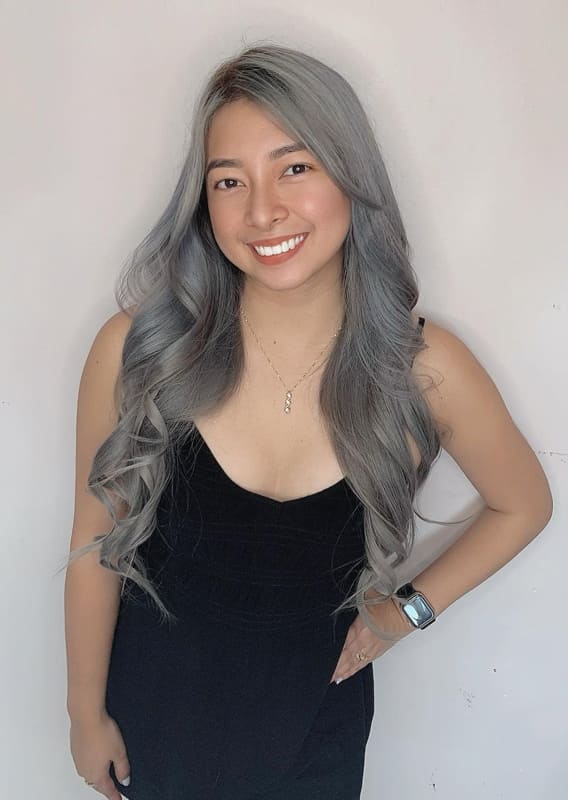 Light ash blonde hair
I think the situation in light ash blonde hairstyles changes according to the use of color. First of all, if the Color is dark and less of an ash blonde, this is more of a light ash blonde hair color. Such hairstyles are generally preferred by Asian women.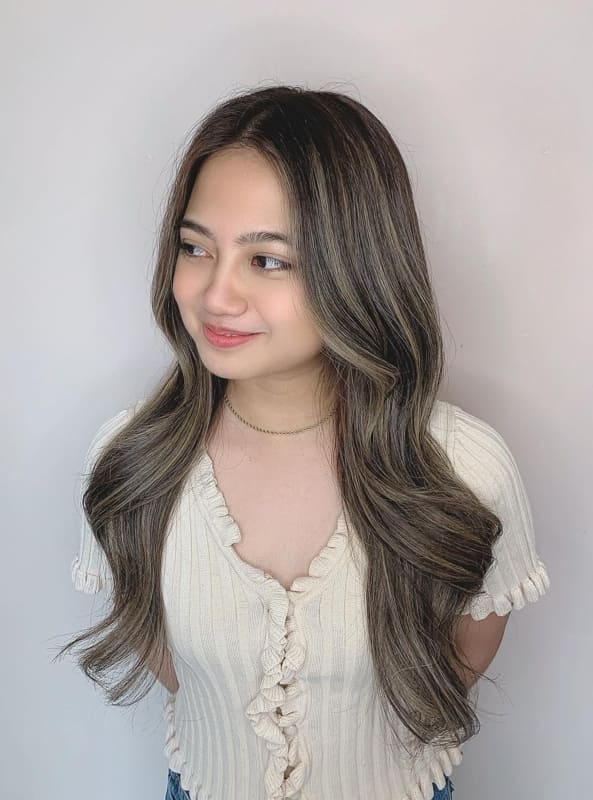 Medium ash blonde hair
If you have medium hairstyles, you have a lot of options in front of you. If you want to make your hair suitable for more colors, you should prefer light colors in your hair. This way, color transitions can be much easier. The transition to ash blonde hairstyles is a little tricky. Your hair should be bleached.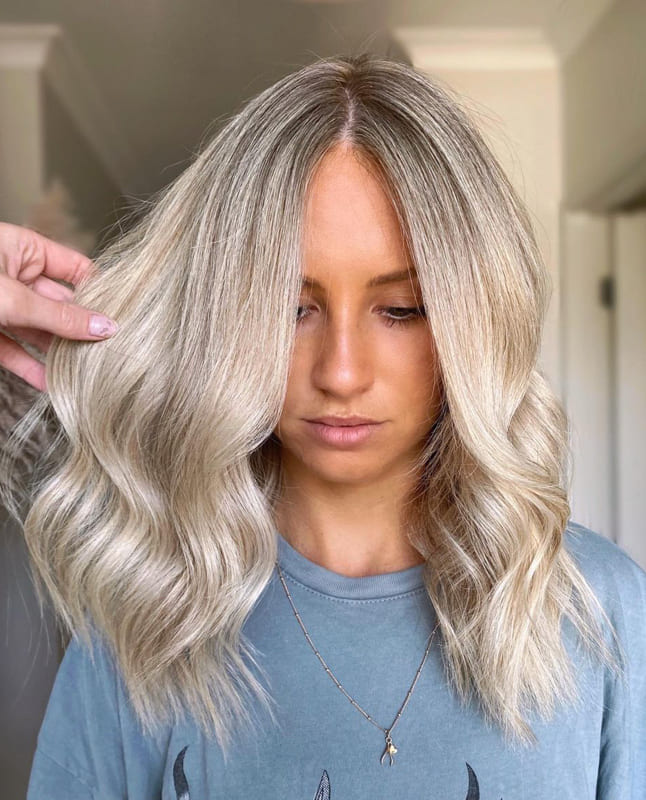 Natural ash blonde hair
Having naturally ash blonde hair is extremely rare. If you have a hair color that is very close to ash blonde hair color, you can make small touches to your hair. In this way, you can have a much more beautiful hairstyle.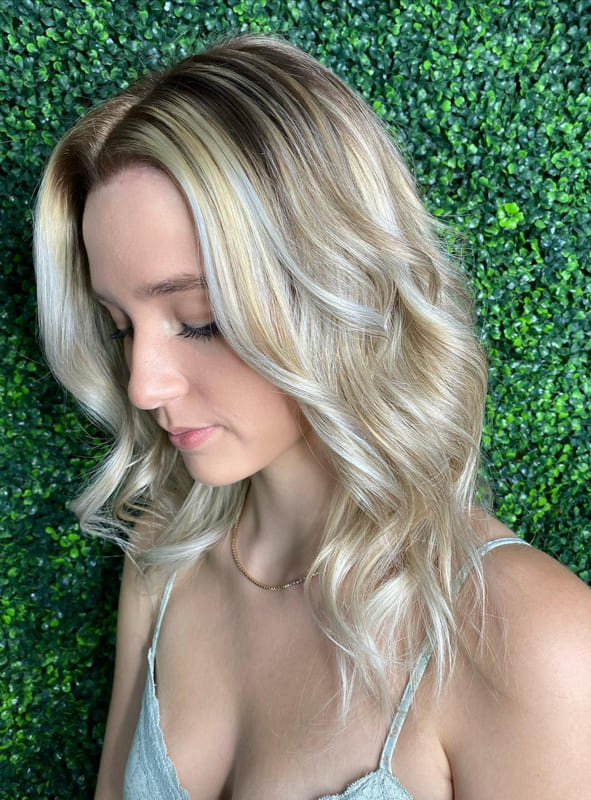 Pale ash blonde hair
For pale ash blonde hairstyles, your hair color should be quite light. I would not recommend choosing ombre. Instead, you should choose a solid color. Especially long and straight hair will look very nice.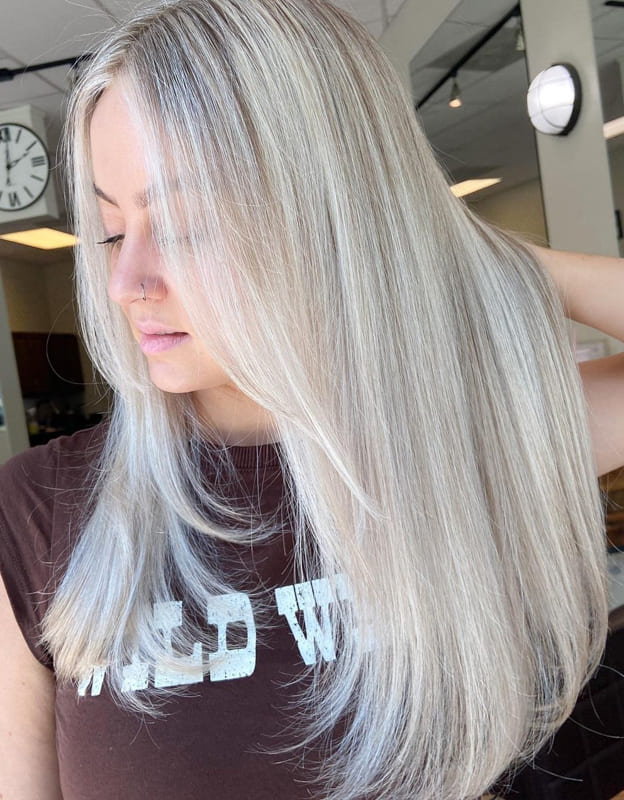 Platinum ash blonde hair
We have looked at platinum before, but I really like this color. Ombre platinum hairstyles look really cool. If you like to use your hair in long lengths, you can choose a slightly wavy hair design as you can see in our example in this picture. Platinum hair color tone definitely suits the hair that looks bushy and voluminous. It gives a healthier appearance.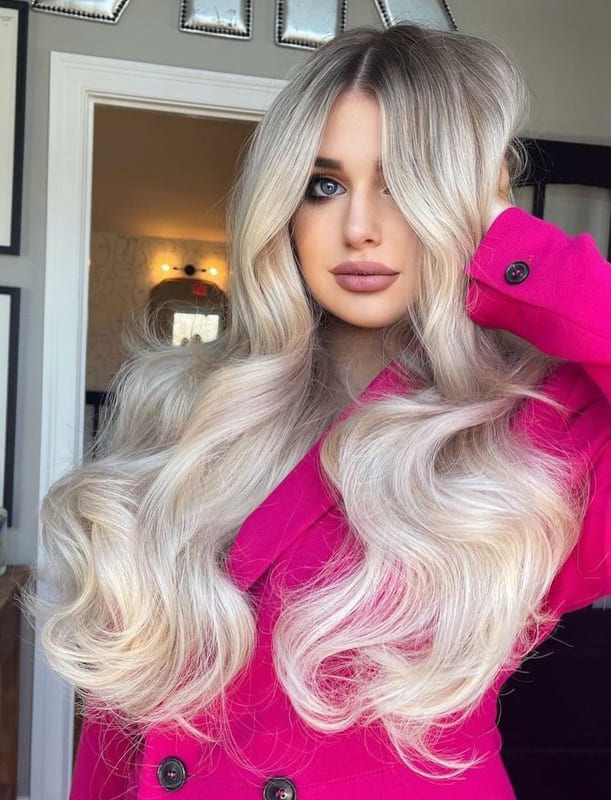 Short ash blonde hair
Ash blonde hair is perhaps the best hair type for short hair. The changes you make on short hair will not affect your entire appearance. It will only bring out your facial beauty more. With the right make-up, you can see how nice a look is.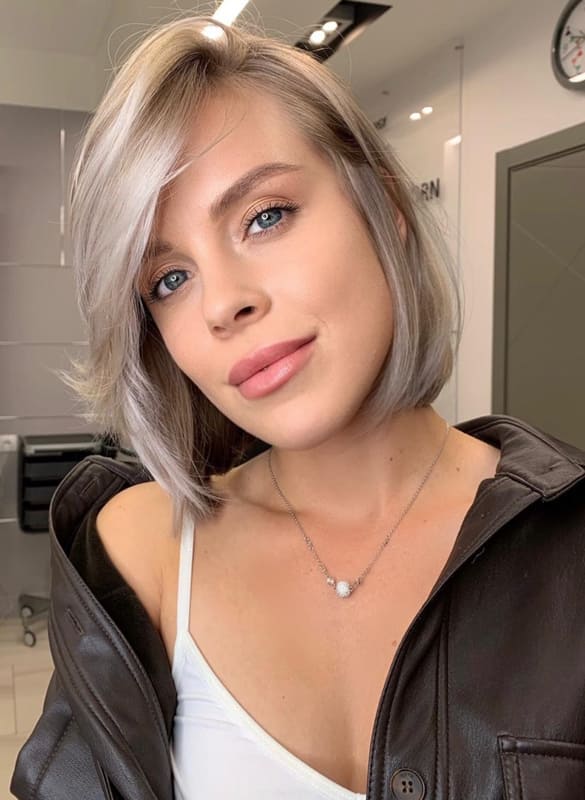 Silver ash blonde hair
The silver tones you will add to your plain and bored blonde hair will help you have a brand new look. Here, you can see that the sections of long cut and wavy hair close to the hair roots are colored with dark ash blonde, while it continues with platinum blonde towards the ends of the hair. This contrast of light and dark hues will add beautiful movement and dimension to your hair look. This will give your hair a beautiful silver effect.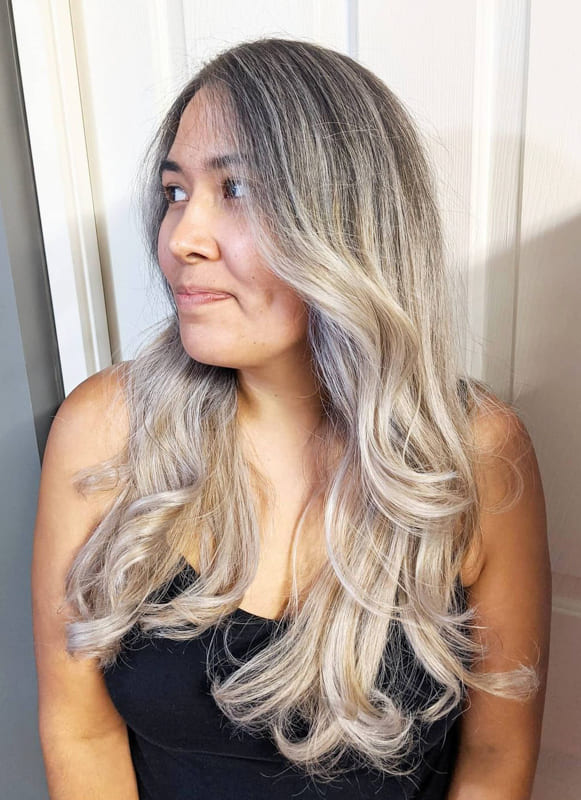 Smokey ash blonde hair
If there is smoky eye makeup, why not in the hair? A smoky effect is created with ash blonde shadows with dark gray tones along the length of the hair, followed by black or dark brown roots. But do not switch to yellow here. If you switch to yellow, you can break the integrity.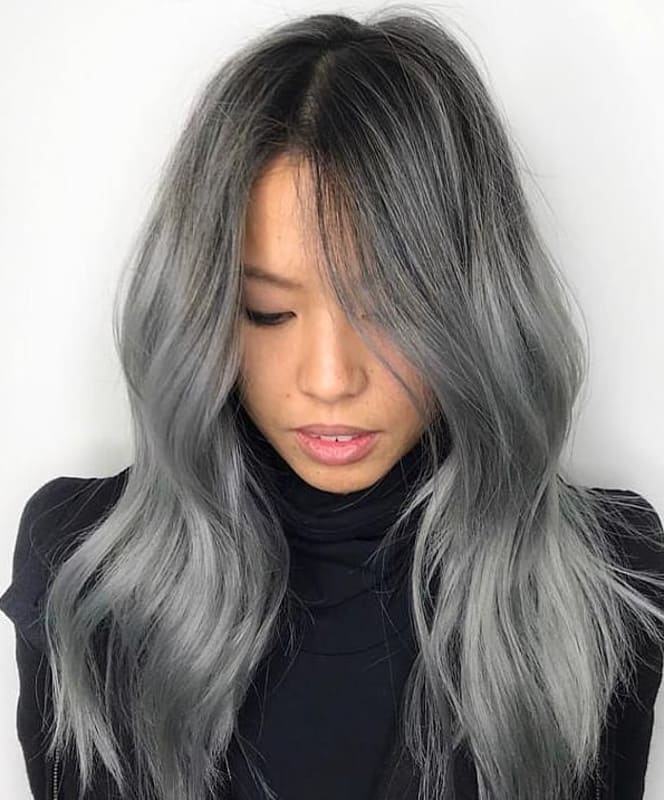 Long Ash Blonde Balayage Messy Hair
Long Ash Blonde Balayage hair has been very popular lately. In fact, ash blonde is a color that never goes out of style. Mostly ladies who love blonde hair prefer this color tone. If you have messy hair, this may be the hair design that will suit you best. In our example in the picture, our daughter, with her long blonde and bushy hair, shows very well what we mean. It is up to you to look beautiful like this. Just find a good hairdresser. Although balayage is not as popular as it used to be, it is definitely a great way to add shine to your hair.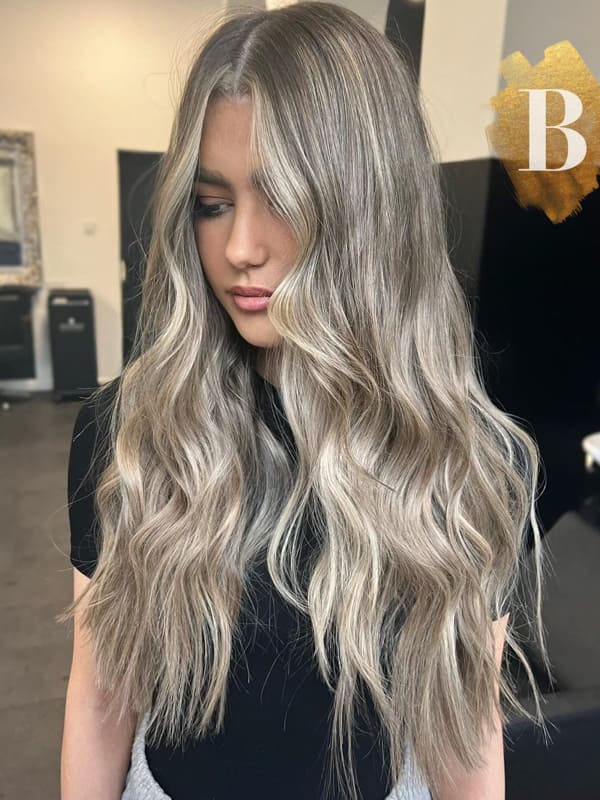 Wavy Ash Blonde Long Hair
We love them because wavy hair makes our hair look much more voluminous and lively compared to straight hair design. Therefore, women with messy and wavy hair mostly prefer wavy hair in their hair designs. However, if the structure of your hair is straight, it is very difficult to keep them wavy for a long time. For your long wavy hair, I definitely recommend you to try the ash blonde color.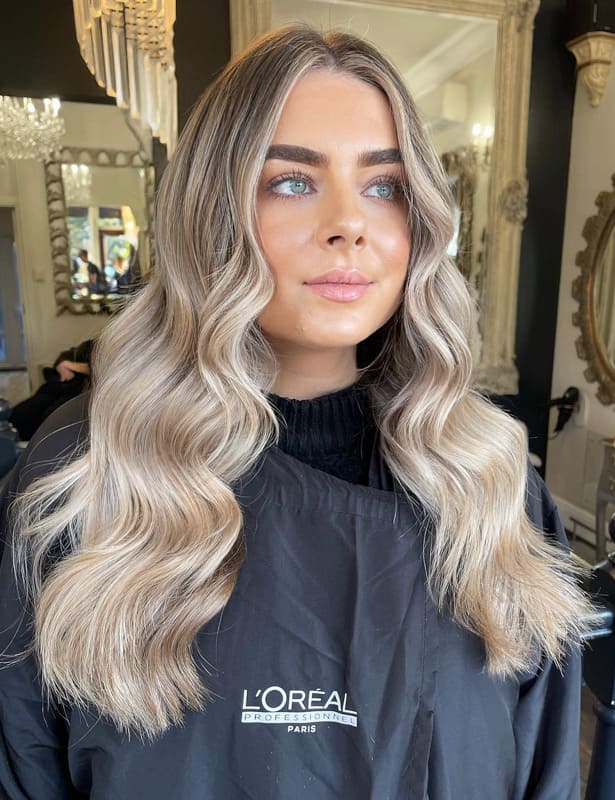 Long Wavy Balayage Ash Blonde hair
I would like to talk about the use of balayage to add sparkles in lighter tones to your long wavy hair. If you look at our example in the picture, you will see that blonde tones are thrown in lighter tones with balayage on straight ash blonde hair. This hair design will make you stand out in any environment. You will shine brightly wherever you enter. If you are thinking of having this hair design, we definitely recommend you to try it.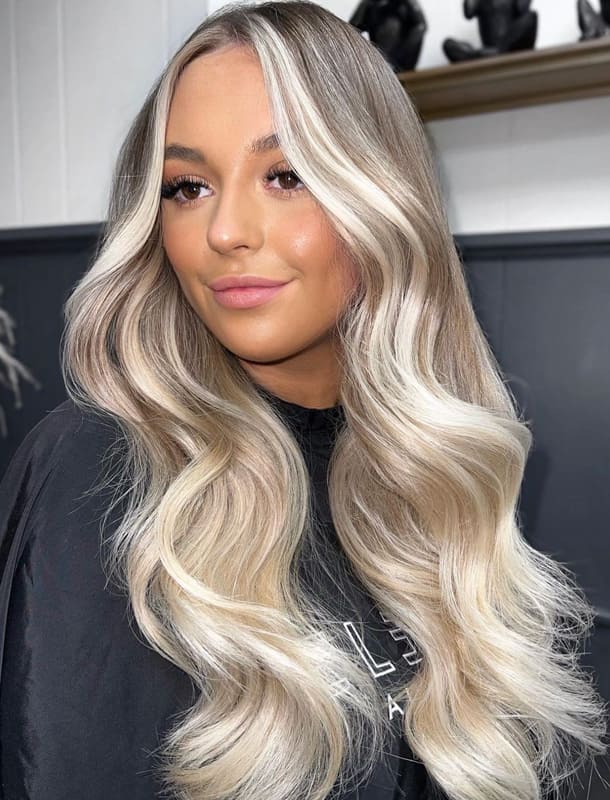 Long Ash Blonde Hair for Asian Women
Asian ladies are really beautiful. I have come up with a great example of hair design that will bring your beauty to the fore. Ash blonde hair color will definitely suit you very well. Although long hair is a little difficult to use, it is absolutely indispensable. Mostly ladies who are used to using long hair cannot give up on it. And asian beautiful ladies our example in this picture is a good example to show you how long ash blonde hair would look good on you.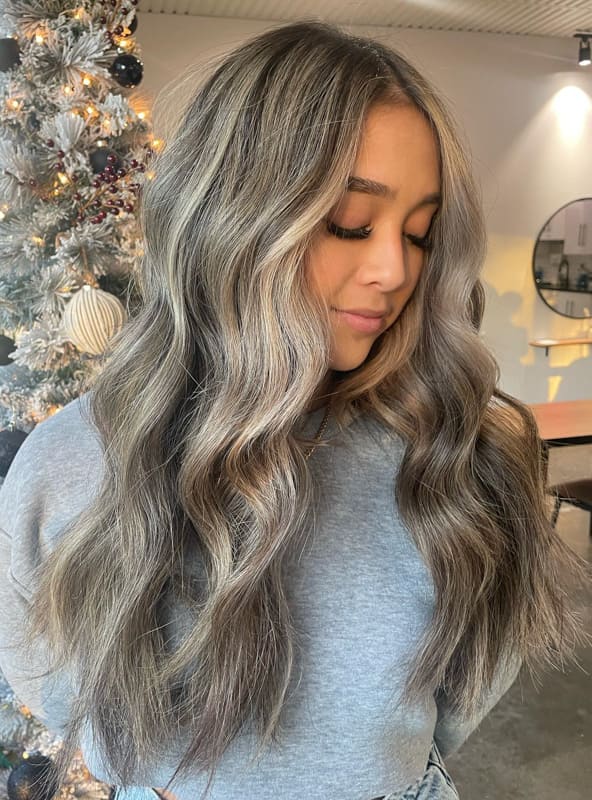 Medium Wavy Ash Blonde Grey Hair
We love them because medium hair provides ease of use. We especially love to use them a little choppy and mixed. Well, would you be surprised if I told you how great it would be to add gray to your ash blonde medium wavy hair? I think you would be surprised, but I think you will be even more surprised when you see our example in the picture. Don't you think the gray color, which looks like small touches, adds a wonderful glow?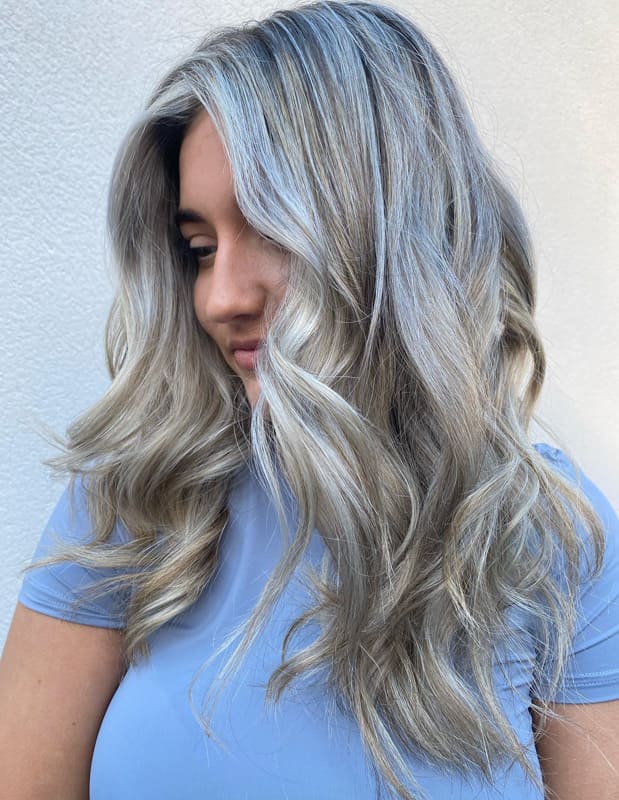 Medium Wavy Ash Blonde Hair
Let's go back to ash blonde hair. We know that we love ash blonde hair color and we often prefer it in our hair designs. However, you may find it difficult to use long hair. That's why I wanted to show you how the ash blonde hair design will look in medium hair designs. I suggest you review and try this hair design that I think you will like very much. Of course the choice is yours.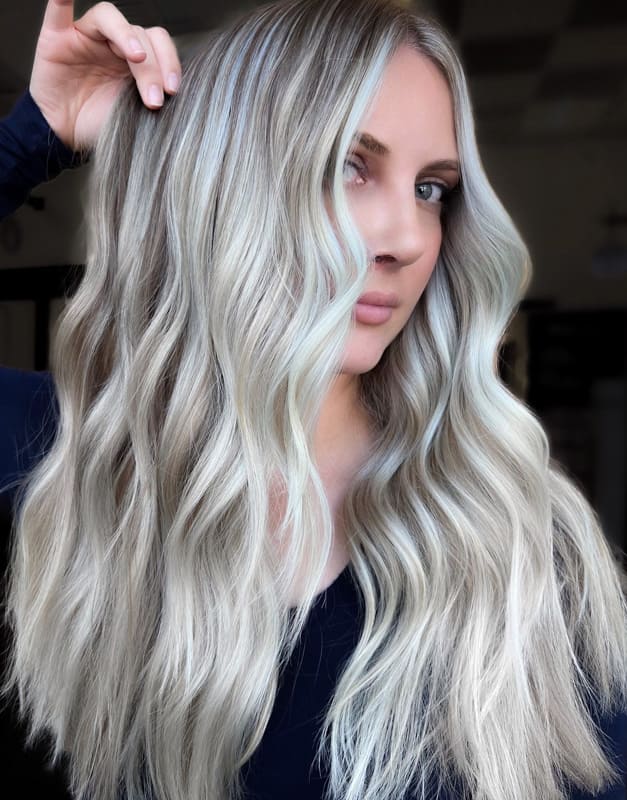 Long Wavy Ash Blonde Hair with Side Bang
It is definitely difficult to use hair with bangs. But we also gain the most beautiful looks thanks to them. It doesn't matter if you like the long or short hair design. Because bangs suit both of them very well. But it also helps your long hair look more voluminous than it is. The use of side bangs is also very popular. I definitely recommend you try it.
Medium Messy Ash Blonde Hair
Using medium hair is very popular lately. It is neither long enough to bother you nor short enough to dislike. For this hair design, you can choose ash blonde hair color. Especially if you have mixed hair, this hair design will be very suitable for you. Because it's easy to use and you'll always look like you just came out of the hair salon. I guess this is the dream of all women, isn't it?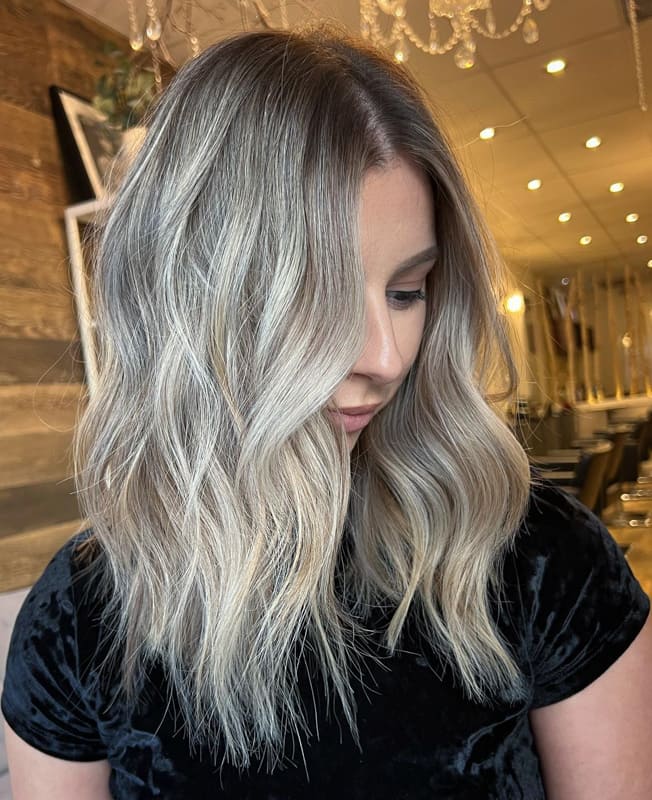 Medium Ash Blonde hair with Bangs
I want to give you a new suggestion for medium hair. In the last example of this article, I wanted to show you how the use of bangs will look on your medium length mixed wavy hair. In our example in the picture, our beautiful girl, who draws attention with her blue eyes, shows very well what I want to tell. Her bangs covering her long eyebrows are in perfect harmony with her mixed wavy medium hair. If you want to try this hair design, don't waste any time.