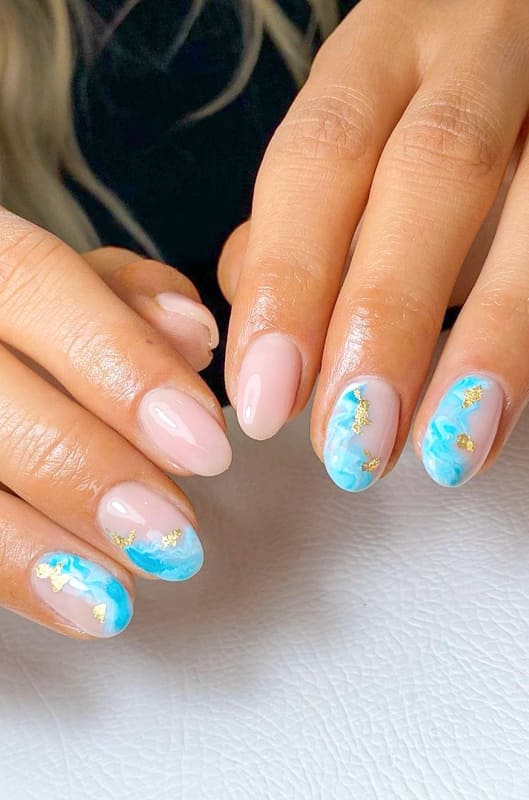 Nail polishes for marble nail design are not only one of the most popular nail designs, but also a preferred form of design for a long time. It is quite easy to make this design on the nails and I can not pass without saying that it looks very stylish. Nail polishes with a single color on the nails can be practical, but they remain quite ordinary for women who are willing to look different and stylish. In order to add change to your life and be noticeable, you can start the change with your nails first. What you need to do is spend a little more effort and time on your nails and you can make your hands and nails look gorgeous with marble nails.
23 Amazing Marble Nails Design Ideas and Colors in 2022
I can say that there are actually a few methods for making marble-patterned nail polish. These are actually somewhat lame methods. One of them is to create a marble pattern with the help of a sponge to give the nail a marble look. The other method is to create this color with the help of a plastic bag. Finally, the water marbling technique, which is a very old method. Since those made with the aqueous marbling technique are generally referred to as marbling nails, I will detail this method in that article.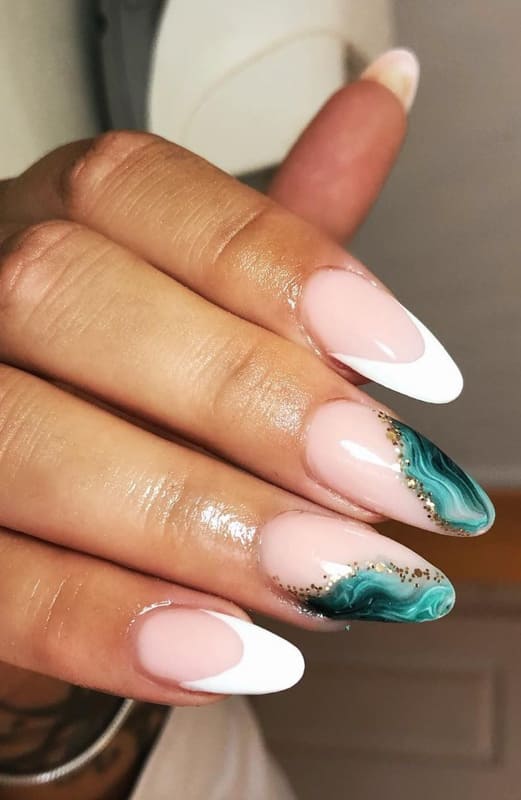 Marble nails have been the favorite of women who are bored with classic and single color nail polishes for a while. The reason for trying this nail pattern with marble nail design is that it looks like a natural marble stone structure.
First of all, it is useful to know that not every nail polish and color is suitable for applying the marble nail pattern. Generally, non-condensed and quality nail polishes are more successful in marble design application. When you look at the designs on the internet, you will see that marble nails made with high quality nail polish are much more stylish and flashy. If you've noticed, these are expensive nail polishes that we all can't get easily. That's why it looks perfect. So, is it possible to design marble nails with cheaper nail polishes? Of course it can be done, but rest assured it won't be the same look. If you care about your hands, do not hesitate to use good and quality care products. Now, without further ado, I would like to examine the different designs a little.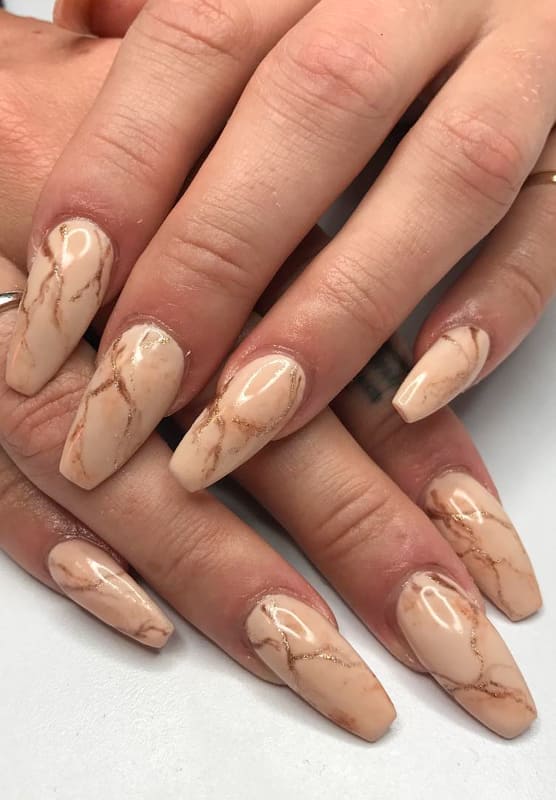 Acrylic red marble nails
Would you like to have wonderful marble nails made with magnificent shades of red? I want to show you an example to give you an idea. If you want to make a marble design on red nails, I would never recommend using white with red. It would be much more logical to choose a nude color instead.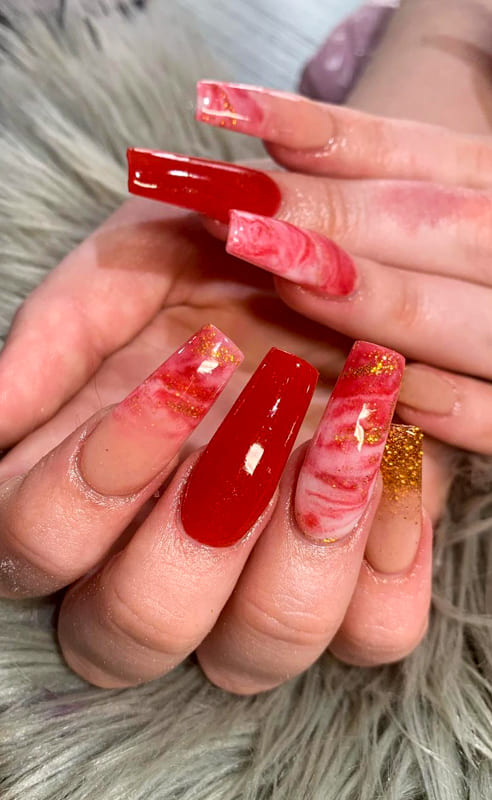 Black stone marble nails
I am sure that black nails that look like a real marble stone will make your hands look gorgeous. Especially women, who often prefer black color in their clothes, also love black color in nail polishes. In this way, white embroideries on black nails create a magnificent granite texture.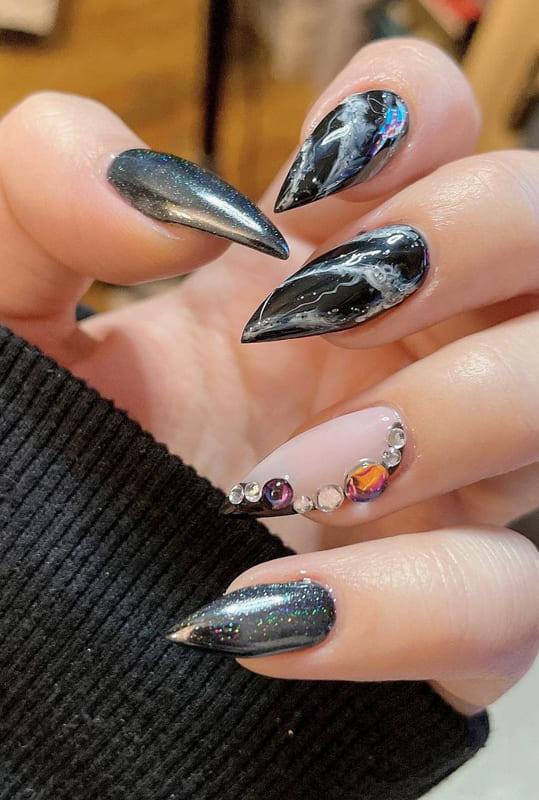 Blue marble acrylic nails
Blue marble nails are usually applied on white nails. If the nail is not all white, a blue marble nail polish is applied on an ombre white. In this way, more beautiful nails can be obtained. In addition, having tiny butterflies on the nails added a different atmosphere to the nails. All other nails are designed similarly.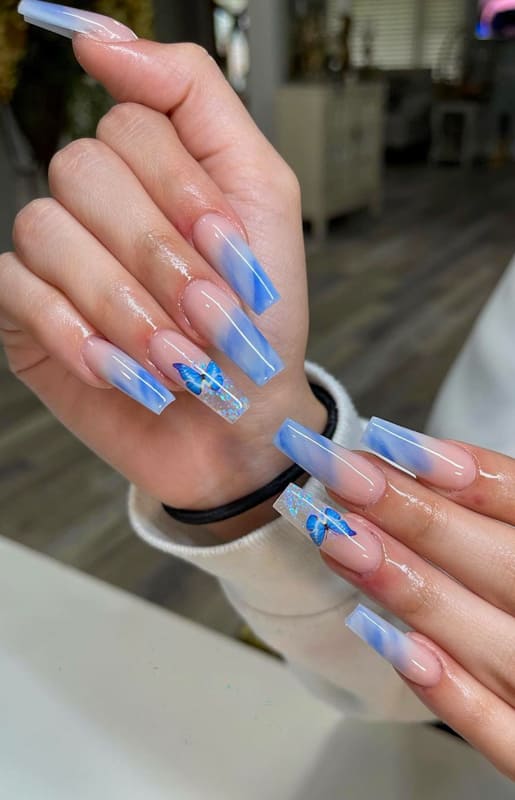 Blue marble coffin nails
You see a gorgeous marble nail design using different shades of blue on black hands. I must say that I especially like the marble design made with dark colors. Especially in the hands of dark skinned or black women, the blue color looks really nice.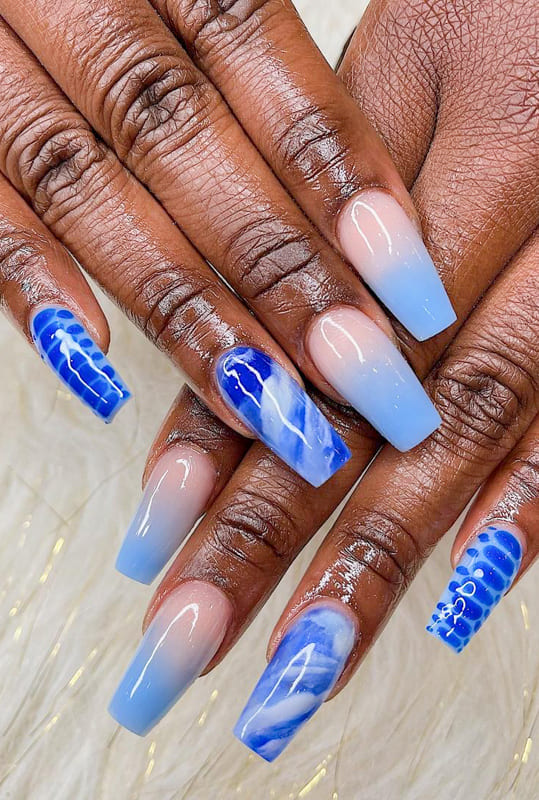 Coffin gold marble nails
Gold embroidered nails have become very popular lately. Many good designers now use real gold instead of gold paint on their nails. When real gold is used, it looks much more attractive and stylish. Also, real gold is much brighter and more impressive. Especially real gold nails designed in marble shape are very impressive.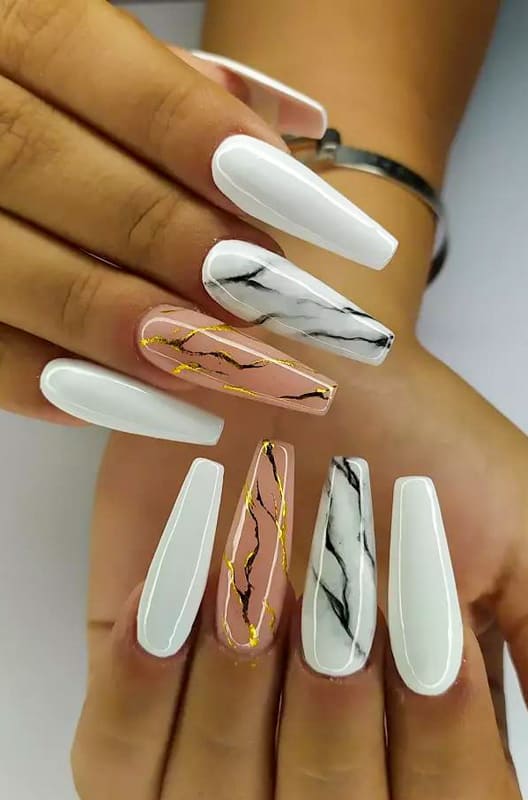 Cute water marble nails
Water marble nail design is quite a different model. It has a unique design. Although it is quite different from the classical marble design, it is basically applied with a mixture of colors. Such practices are called marbling art. Since this type of nail polish is applied with water, it is a completely original design. It is very difficult to reproduce the same design.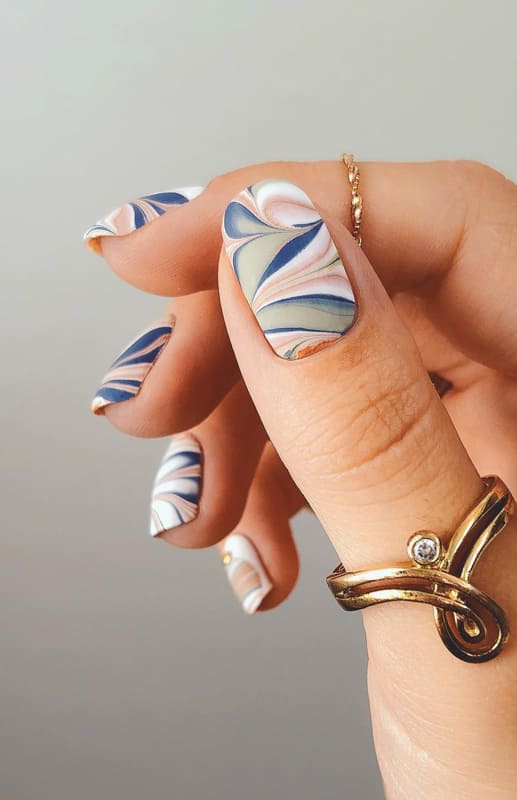 French marble nails
French nails have been quite popular since the past. It is one of the most preferred designs especially by middle-aged and business women. However, French nails have recently started to prefer different colors instead of white. One of them is in this picture. A marble nail model designed in the form of a pink marble pattern.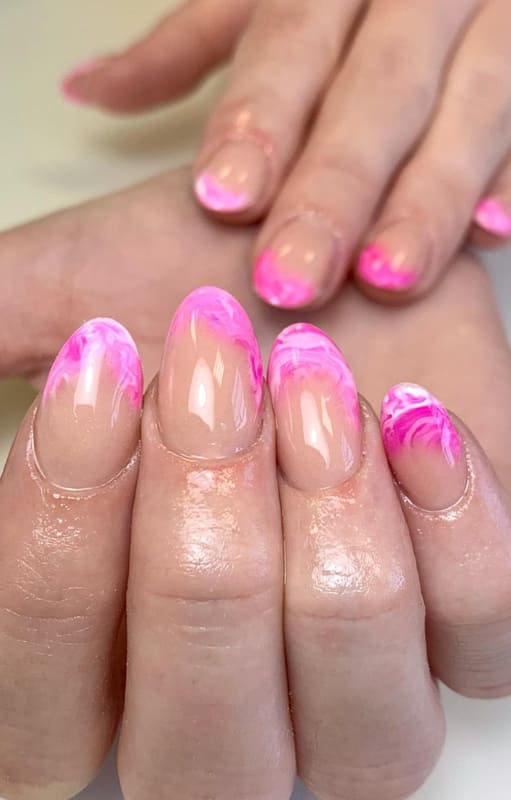 Liquid marble nails
Liquid marble nails have a slightly different structure than normal marble nails. It can look a little remarkable, especially since they are embossed. However, instead of having extra embossing on your nails, it can look much more magnificent to design them embedded in the inner part of the nail.
Long acrylic marble nails
As you know, acrylic nails are generally preferred more on long nails. One day you may wake up and say you want long nails. That's where acrylic nails will help you. Such nails look much nicer instead of prosthetic nails. As for the marble design, a very nice shade of green is used. Also, the gold-shaped liquid design looks very impressive.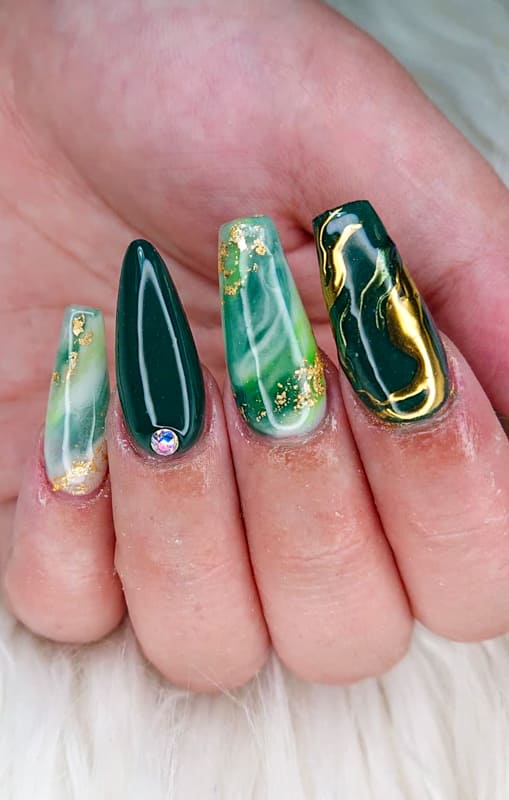 Long Coffin nude marble nails
Brown nails are generally preferred by black women. Especially the harmony of the color of the hands creates a magnificent image. The most impressive feature of coffin nails is that they look long and impressive. The shade of brown looks gorgeous and together with the marble design it creates a very attractive design.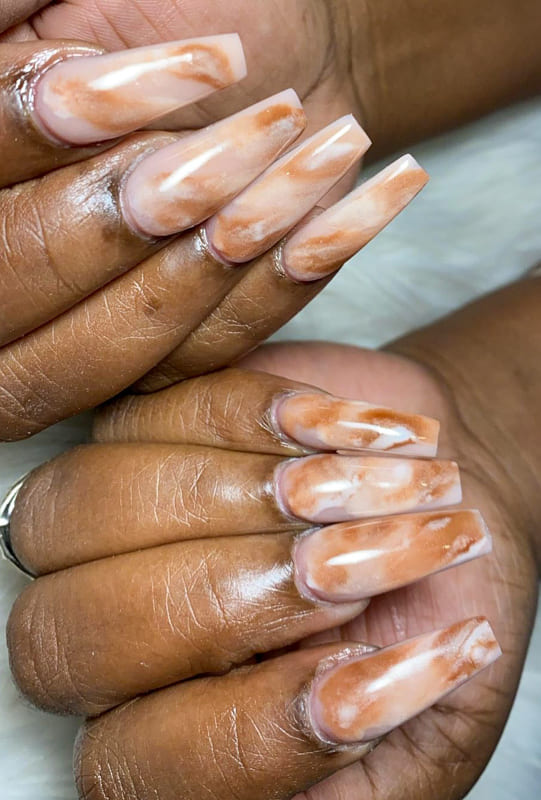 Long marble matte nails
Matte nails are the most preferred type of nail polish, especially by young women. It is quite difficult to apply ombre and marble design on such nails. Unfortunately, you cannot make such a design in your home. However, marble nails can be designed more easily as matte. In addition, due to the harmony of the color, it looks very stylish even though it is matte. The effect of pastel colors is also very important in this.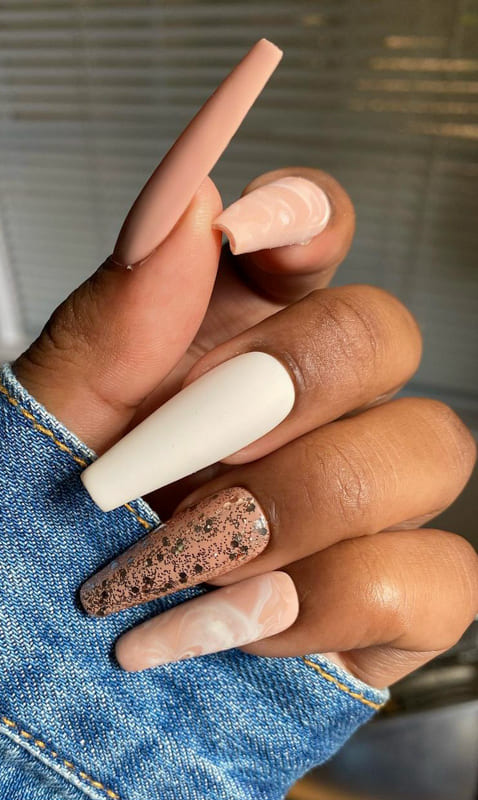 Pink coffin marble nails
In marble designs, ombre design is not preferred much. Usually nail polish is applied in the form of a flat marble design. Here, the pink color is applied to the nails in the form of ombre. Also, the marble pattern looks great. It is also very impressive and surprising that there are ornaments in the form of gold.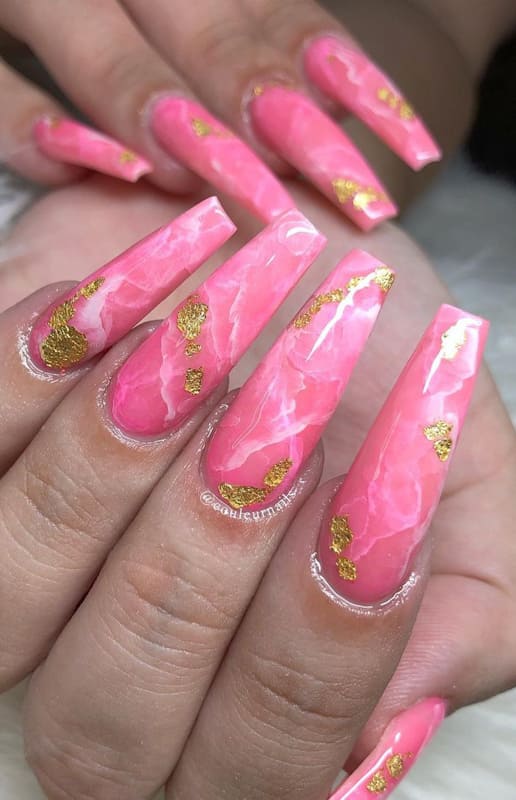 Purple marble cute nails
We all know that purple color represents spring. Maybe we can prefer purple color on hot summer days. Do you think it's a good idea to choose purple marble nails these days when spring is approaching? Applying nail polish in the form of marble is actually simple. However, it may take some time to color according to the nail structure and get used to the length of the nails.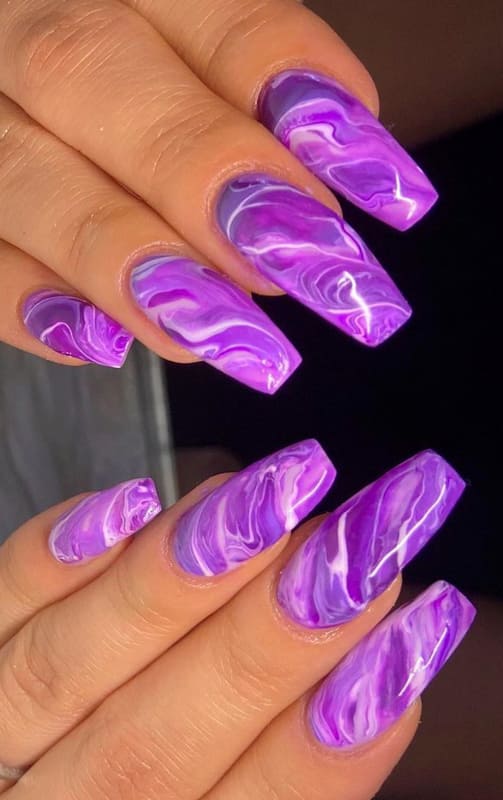 Rainbow marble gel nails
Today I want to share two very different rainbow nail designs. As you can see in the picture, the marble design is applied very differently. Generally, marble nails are designed with veins. Giving the natural marble structure in this way is a groin design. But recently, striking changes have been added to nail designs. You can see it in the nail design below.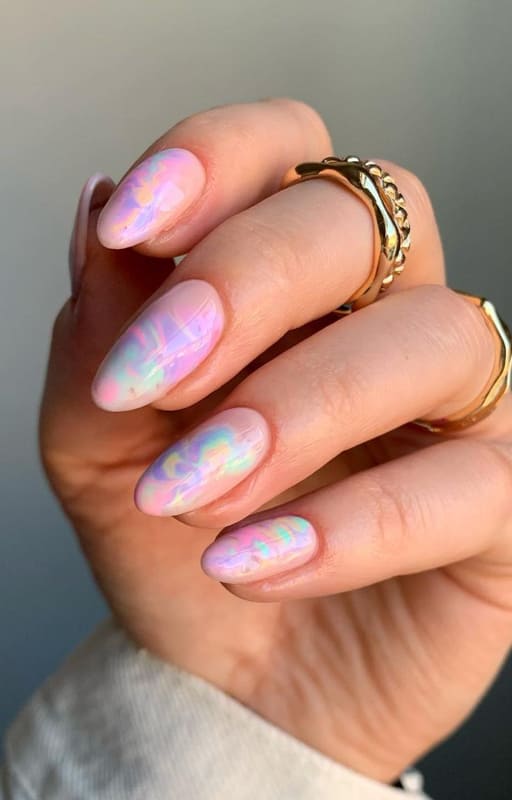 Rose gold marble nails
One of the most admired and most preferred colors is rose gold. The biggest reason for this is that it gives a very feminine and mature image. If you have these nails, you should take it slow. You have to step on the brakes a little bit in your life. You should impress men with your ideas, not your actions. In this regard, this nail polish will help you a lot.
Short gray marble nails
Short nails will be the right choice if you want to impress nearby men instead of distant men. I must say that the easiest way is to design marble. If you are living a life of simplicity, gray nail polishes are for you. Especially the shades of gray are an indispensable choice for women who lead a simple and calm life.
Stiletto black marble nails
Black marble nails are one of the rare nail designs. Such designs are usually applied on transparent nails. If you have a white or cream-colored nail, if you apply a marble pattern with black nail polish, a classic marble nail pattern will be created. However, when black is applied to transparent colored nails, your nails become much more striking.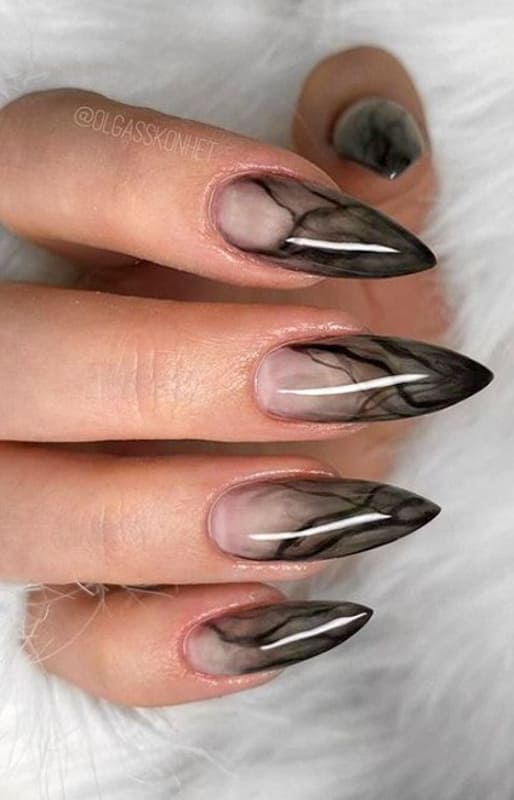 Stiletto rainbow marble nails
Stiletto nails are not preferred much in marble nail design. This is about the structure of the nail. Generally, coffin nails are preferred. However, in the design you see in this picture, rainbow marble nail polish was applied. One of my favorite designs. The only downside to this nail is that it looks too conspicuous.
Turquoise green marble nails
Turquoise colors are now being forgotten. Women generally began to prefer vibrant colors. The biggest example of this should be this thread. As you can see, I can only offer you one turquoise color design. Here, a turquoise green marble nail polish design is made. In addition, small gold details added a different atmosphere.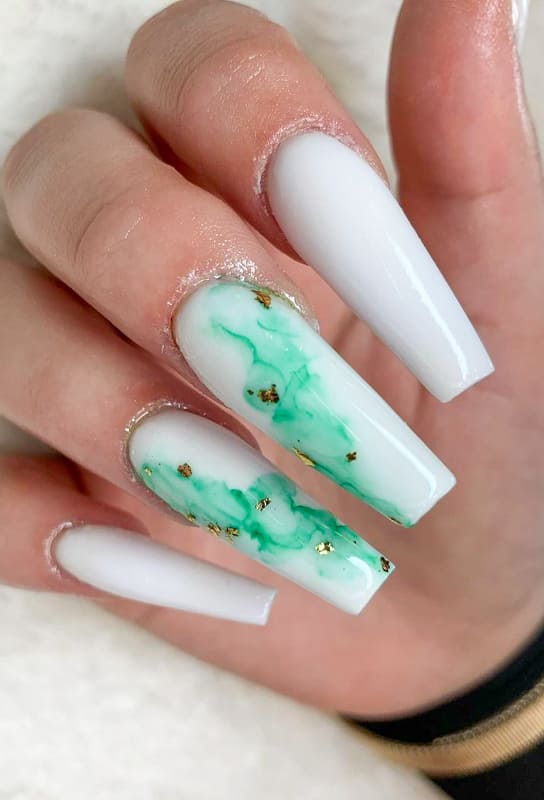 White acrylic marble nails
We come to the end of the subject with a beautiful nail model designed in the form of marble. A beautiful marble nail model was created using two different shades of white on the nail here. I can say that it creates a bit of glass feeling is a good example of how well the design is done. Creating a real shiny marble texture is an extremely skilled job.