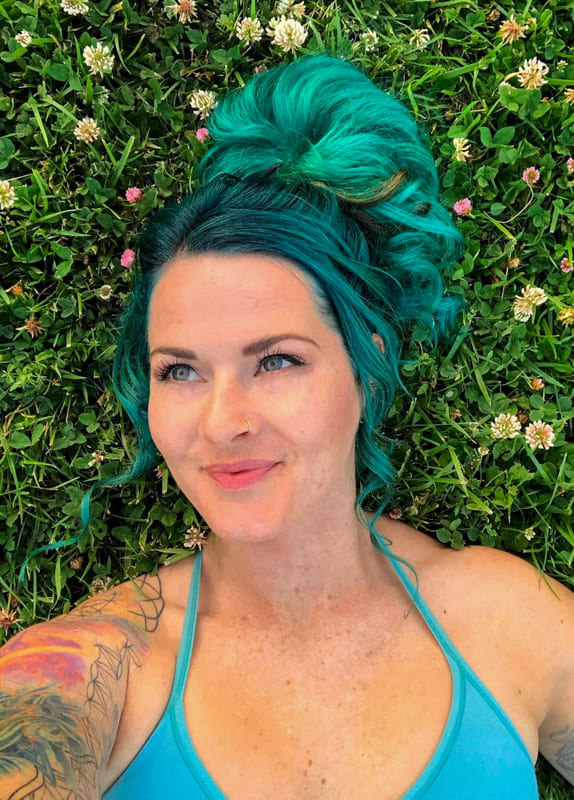 The first word that can be said about teal hair is, of course, fascinating. Sea blue hair, which we also know as the color of the princesses in fairy tales, is difficult to choose, but it will be an indispensable color when you get it done. Thinking of dyeing your hair teal? As you know, blue is an unnatural color and because it is a color that needs to be bright to look beautiful, extra care is required to help your hair look perfect. It's actually not that hard, you just need to take some time. Depending on the shade of blue you dye your hair, you may need to lighten the color or apply the dye directly. All you have to do is choose a suitable dye and treat your hair well. If you do not choose the right dye for your hair, it will wear out your hair and you may encounter irreversible results.
Best Teal Hair Color Ideas and Hairstyles
Before dyeing your hair teal, you need to decide on the teal shade you want. If you want a light teal, you must first lighten your hair blonde. If you want a dark blue color, you should lighten your hair to dark blonde. However, I definitely do not recommend doing such a procedure at home. It would be much more logical to have this done by a hairdresser who does his job well.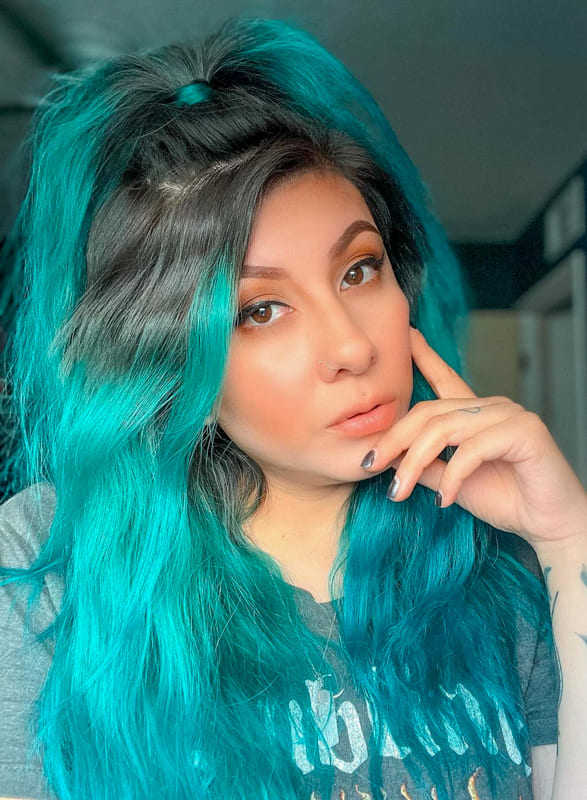 Now, how about examining teal hair styles in different and different color tones? Let's explore different hairstyles and colors together.
Blue teal braiding hair
It is very easy to style teal hair. Because your hair will be quite flamboyant, I can say that you are quite free in terms of hair style compared to other colors. Here, you see a blunt hairstyle. A hair with black bottoms and teal blue other parts, braided in the shape of a fishtail. I think it looks amazing.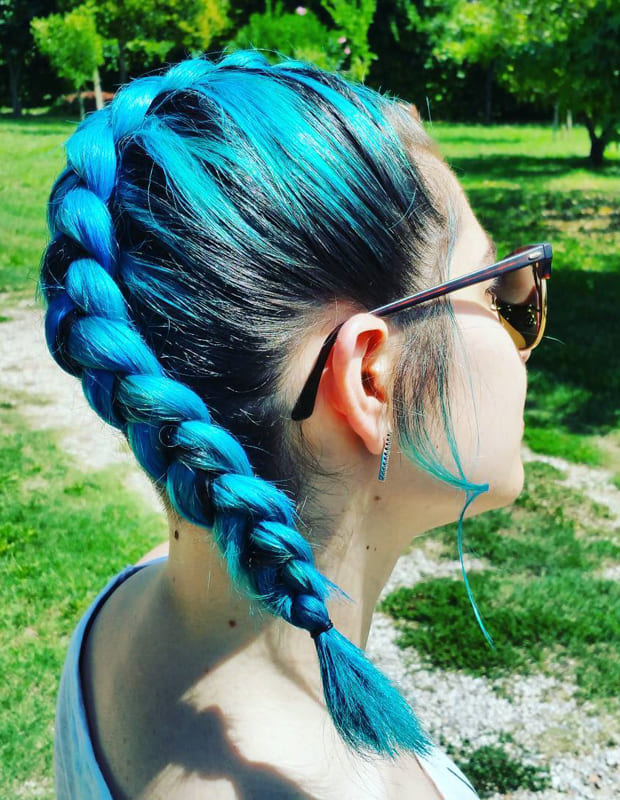 Cute teal short hair
Adjusting the blue color tone in short hair is a very important criterion. In the picture below, you will see a harmony of teal hair with gray color. This type of hairstyle has become quite popular. Making such changes on short hair is not so noticeable. Therefore, there is no harm in trying the unobtrusive tones of the teal color.
Green and black teal hair
There are different shades of navy blue. One of them is the turquoise color of green. In the picture, you see a black and sea green color. Black color and green color are applied to the hair in a different way. It's actually a pretty easy method of painting. If you don't want to wear your hair too much, you can have a design like this. Of course, it is important that your hair is long.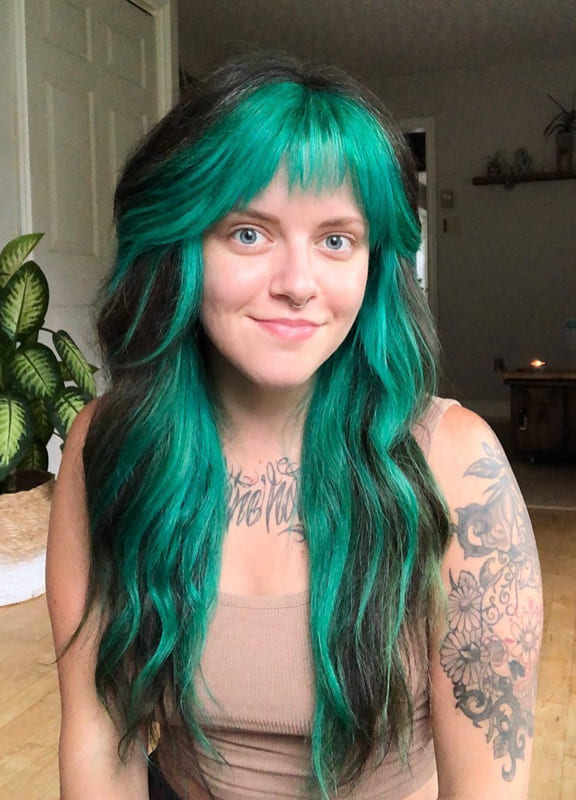 Long dark teal hair
Dark teal hair almost symbolizes the great ocean depths. Green and fine hair accompanying the dark navy blue adds a different harmony to it. Dyeing the ends of long hair with teal color will give you a natural look as well as make you look very impressive.
Long mermaid teal hair
Long mermaid teal hair is the color of our beautiful women who want to look different and love colorful hair. There are many options you can apply to your long teal mermaid hair that will look like you came out of a fairy tale. You may want to show this magnificent color more beautiful with light water waves. Or you can reveal that glamorous color of your straight hair. Mermaid hair is already a new trend. Although it takes courage to try, we are sure that you will look charming and like princesses in fairy tales.
Long pastel teal hair
Although long pastel teal hair is fascinating in appearance, it is a difficult color to use and apply. It will be very difficult to apply it at home alone, so you need a hairdresser who does his job well. Teal hair is both a fascinating combination of different colors and a wonderful color tone that connects unrelated colors to each other. Don't you think it was wonderful when the blue and green tones it contains combined with the red and its tones as in the picture?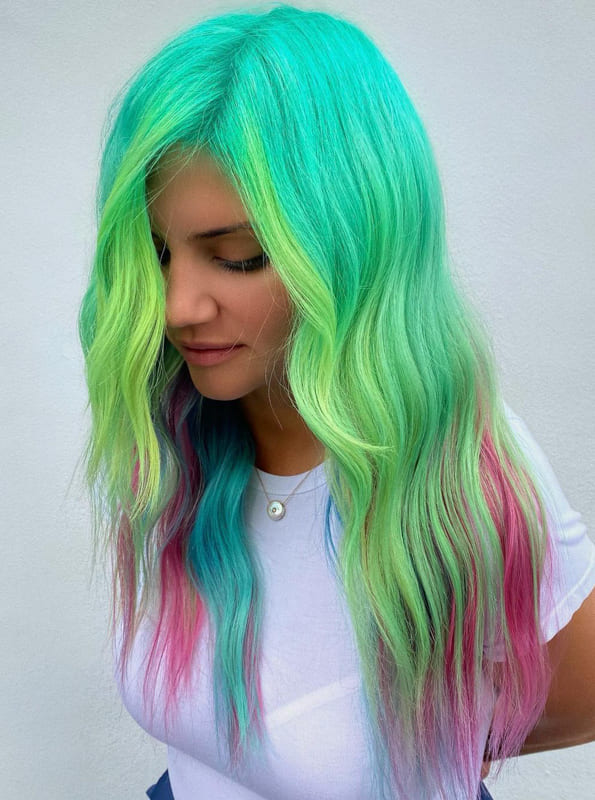 Long straight teal hair
Free-spirited ladies who love to use their hair straight and cannot give up on simplicity, this post is for you. Often the biggest attraction of using straight hair is your hair color and your straight, beautifully cut long hair. Every woman who likes to use her hair straight and has naturally straight hair knows this fact. I know teal hair may seem like a very pale color, but could you imagine it could look this good?
Long teal and purple hair
When we say teal and purple hair, of course, we know that you are surprised and think about how they can be together. As in this picture, you can choose teal at the bottom and purple at the ends. Or you can choose the color purple at the bottom of the teal hair at the ends. I would like to make another suggestion that you should definitely consider. Using the ombre process, teal turquoise blue and purple color and their tones at the same time. It will look as beautiful and fairy tale as you can imagine.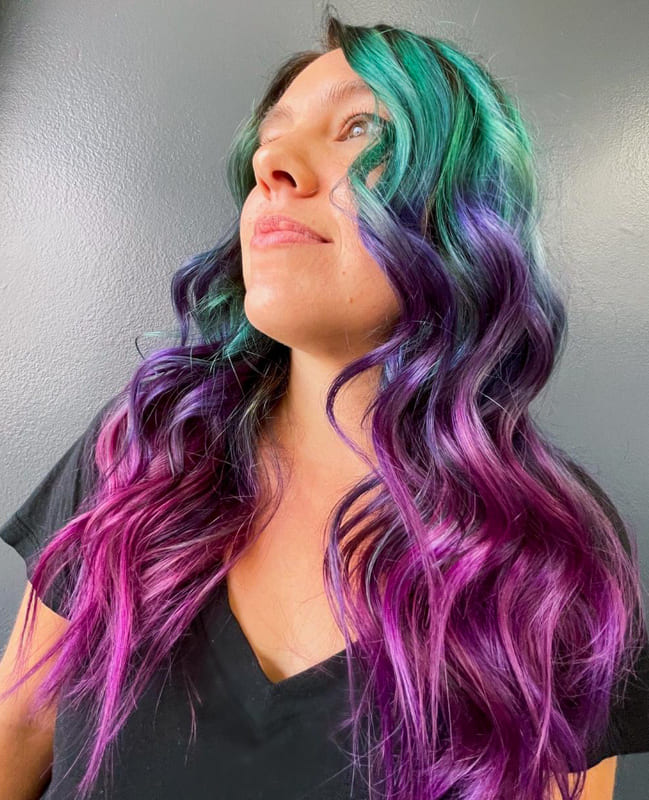 Medium messy teal hair
Using messy hair has recently become very popular among our ladies who don't want to spend hours styling their hair. One of the colors we can recommend you to add a different atmosphere to your medium messy hair and look different is teal. You can use different shades of blue for teal hair, it's entirely up to you. But remember that turquoise and teal go very well together.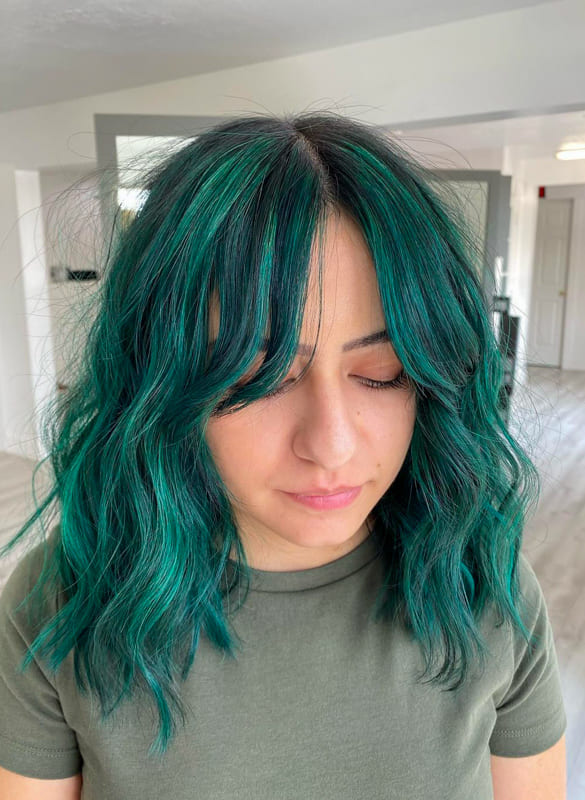 Medium teal and purple hair
We know that when you first look at the picture, you thought it was a wig. It takes courage to have this hair that looks too different to be true, so it is difficult to choose. Although medium sea blue and purple hair may seem unrelated to each other, as we mentioned before, they actually create a great harmony in the same combination. In this picture, we see a little orange color in between. Don't you think it adds originality?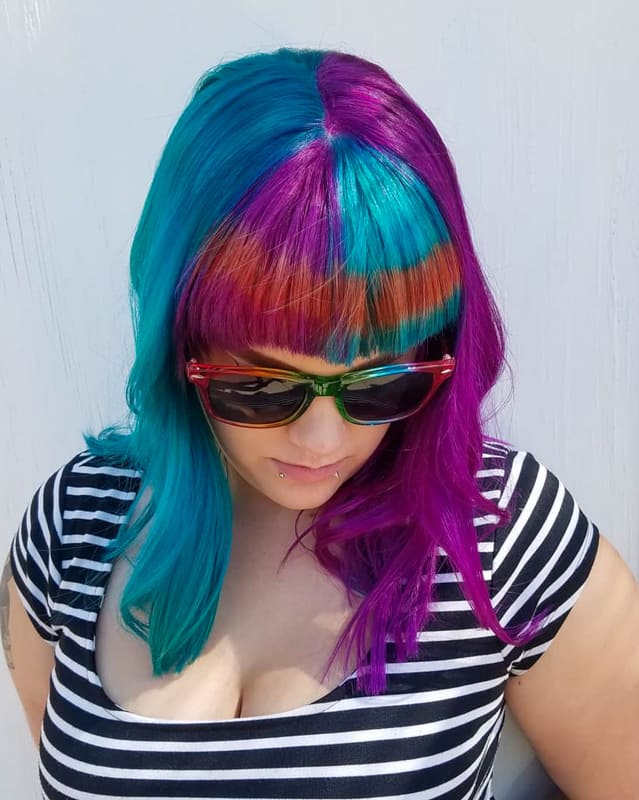 Medium teal blue hair
For medium teal hair, the first word I would really say would be how fabulous it looks. Especially if you have natural blue eyes. Think of those perfect make-ups you can do with blue and its tones. Using a dark blue mascara on your lashes, imagine how natural and unusual you can look with a light pale blue eyeshadow. Need more words?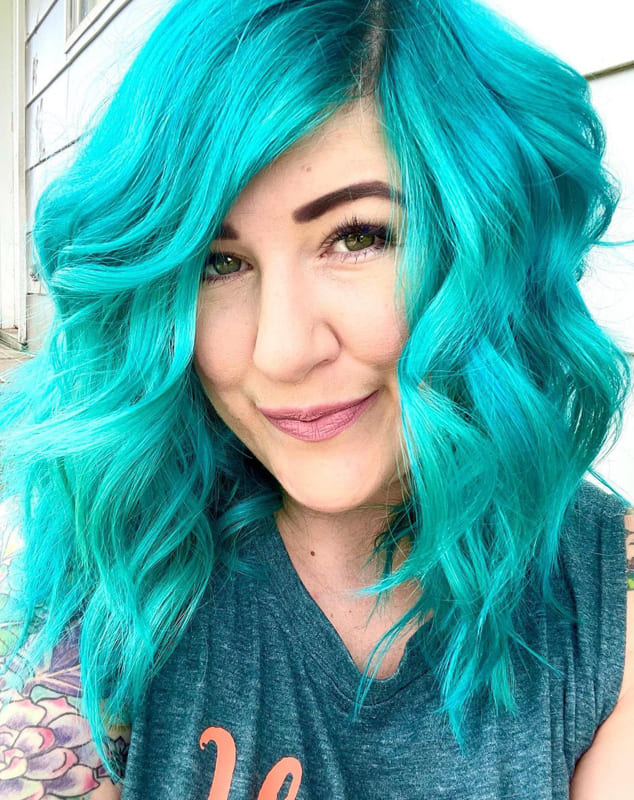 Medium teal green hair
Honestly, I would never have guessed that teal and green hair, a color whose combination makes me think, could look so enchanting when combined. Although you can choose every shade of green, you can use grass green as in this picture. I think the black and brown tones in between are also her own hair color. Medium teal green hair applied on black and brown tones is one of the best ways to look different.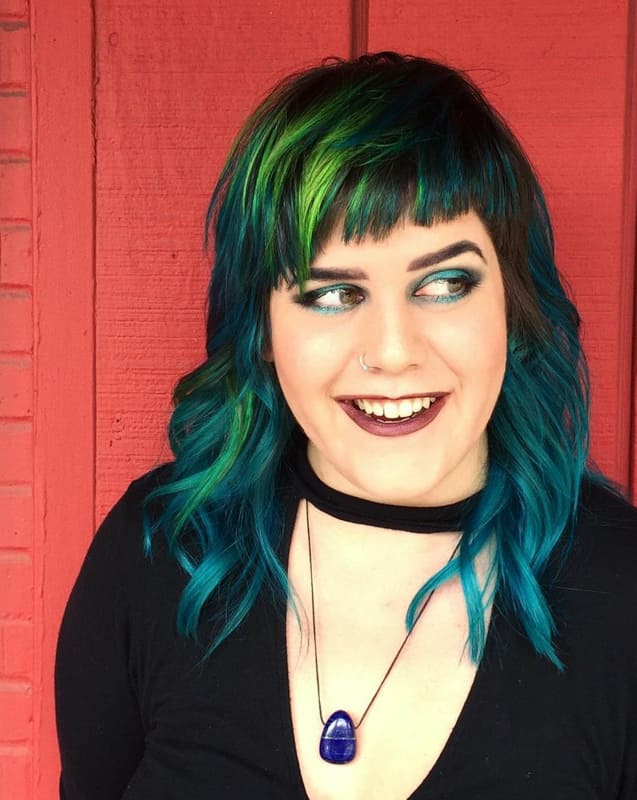 Medium teal ombre Hair
The middle-aged woman we see in this picture has chosen her own hair color and light ombre at the bottoms and a teal ombre at the ends for her graying hair. Don't you think it looks very different and original? It is admirable that it still defies youth and reflects how wonderful ombre medium teal hair can look. She doesn't even need heavy make-up. It will also look stunning with a natural make-up.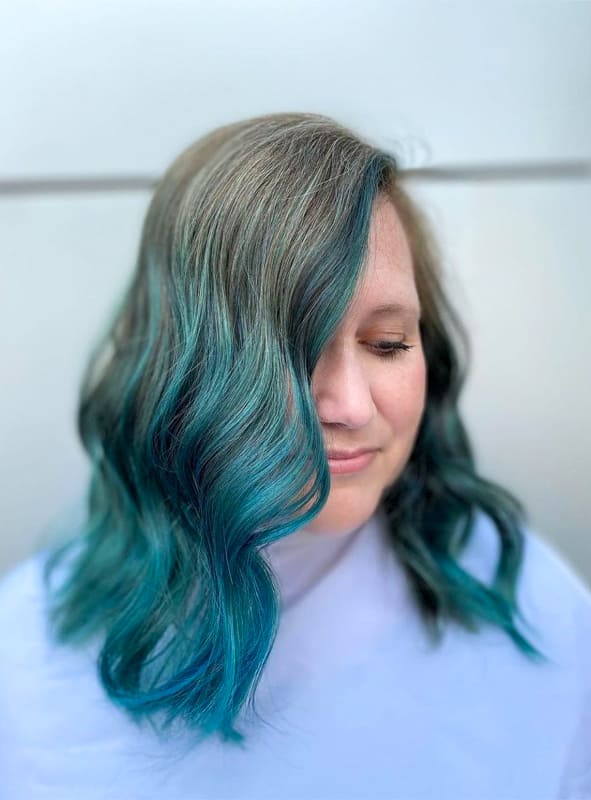 Medium wavy teal and pink hair
Medium wavy teal and pink hair together is a hair design that can look very striking and different. Although wavy hair is a hair treatment preferred by today's women, all women are bored with plain colors. The combination of different colors and colors that are not available to anyone but that will draw all eyes on you have become the new trend of recent times. Needless to say, in the picture we can see how different and fascinating the wavy teal and pink tones are.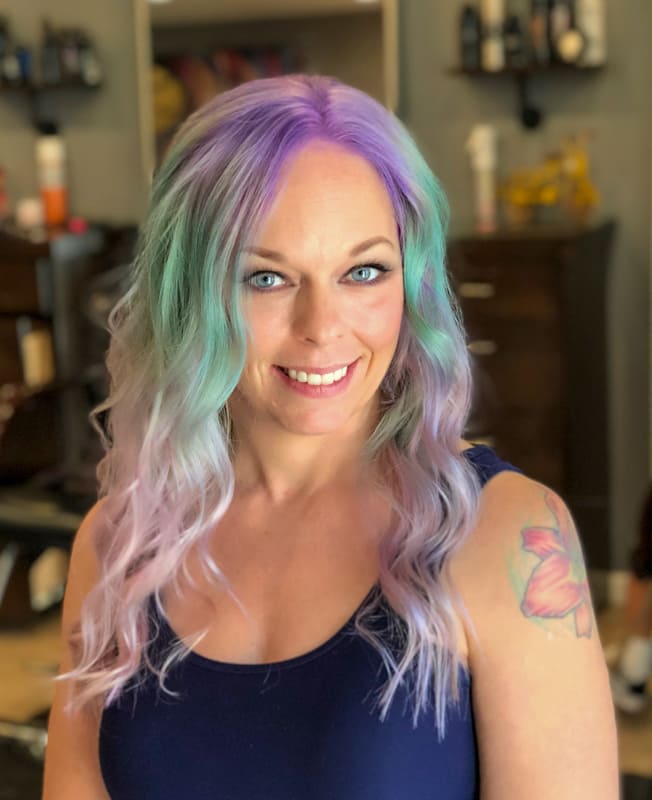 Short bob light teal hair
Short bob light teal hair is a hair design that our young girls who love bob cuts have recently preferred. The easiest part of short bob hair is the hair that you can wash and remove. If the structure of your natural hair is straight, the cut patterns will be much more pronounced. If you have a slightly wavy hair structure, you can use your bob cut light sea blue hair as messy.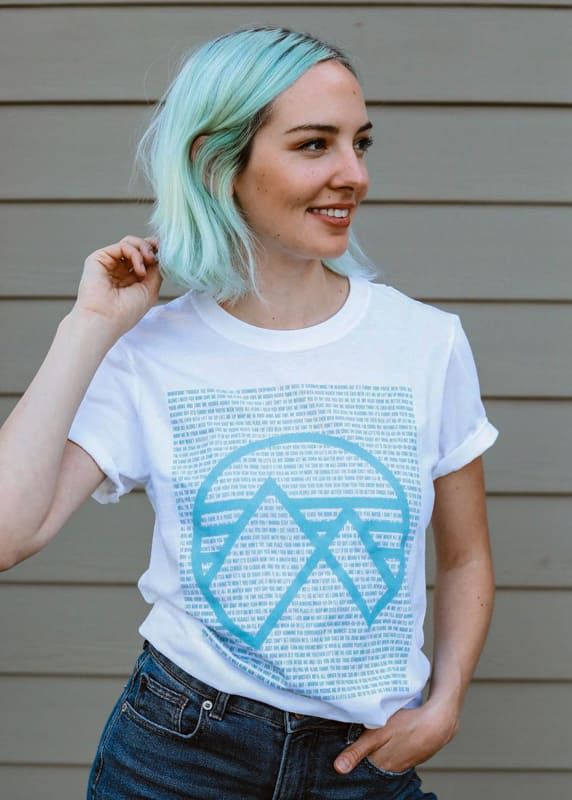 Short bob teal and pink hair
Let's face it, short bob teal and pink hair is not a hair design that we come across a lot while walking on the street. In this different hair design, you can use teal and pink tones as two different colors like our young girl in the picture, or you can combine them with the ombre process. In short, you design and find a good hairdresser and let your dreams come true.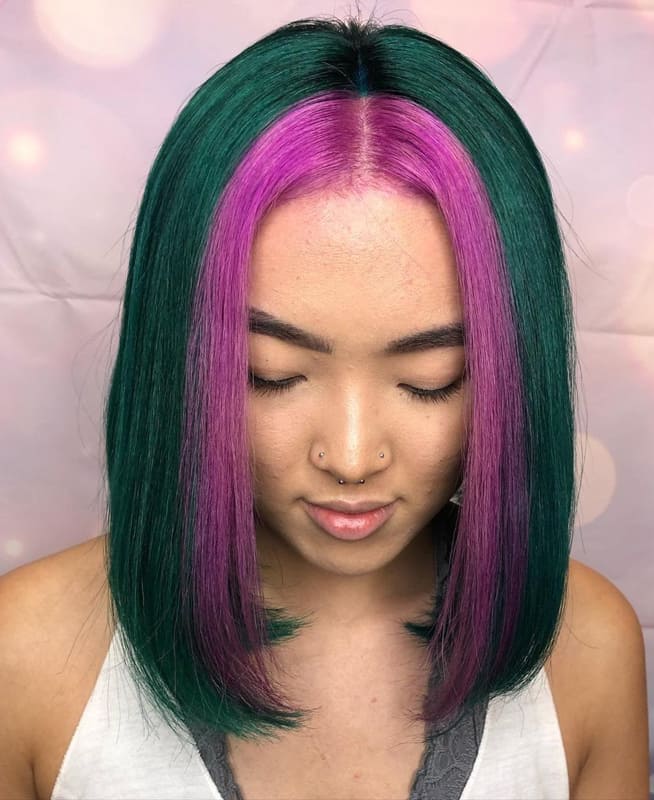 Short pastel teal hair
Short pastel teal hair will probably be the favorite combination of many women to combine with teal. Because pastel tones and nude tones have penetrated all areas of our lives, and many women are generally in love with pastel tones. We prefer pastel tones in our clothing, make-up and hair. Recently, the number of women who like to use short hair has increased considerably. Therefore, short pastel teal hair will be a good suggestion for you.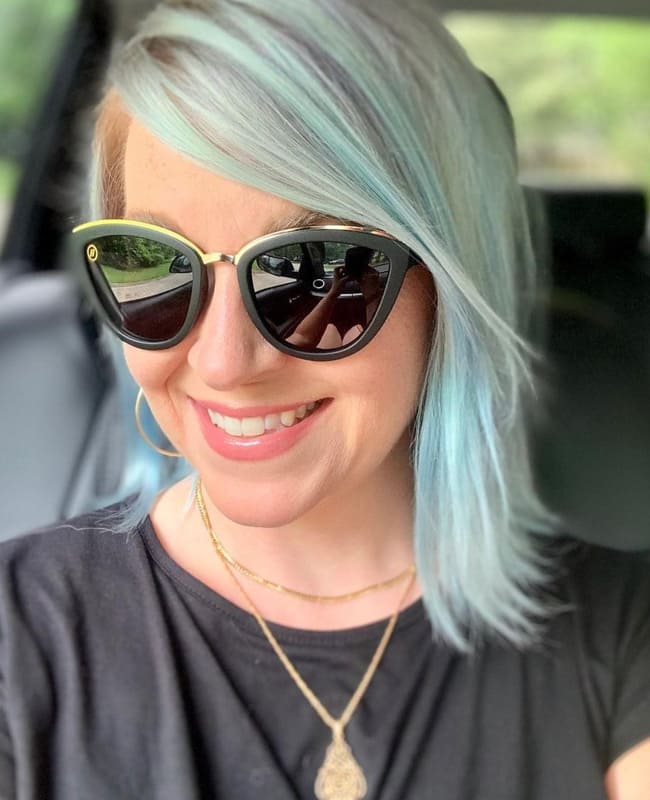 Short teal and black hair
Short teal and black hair together is a great combination. Many women with black hair want to add some color to the ends of their hair without damaging their hair color. In the picture, we see an example of teal hair thrown at the ends on black. Of course, you can use this teal color at the top or the ends of your hair in one size. Or you can choose to combine the two with ombre. It will be an advantage if it is applied on your own hair color.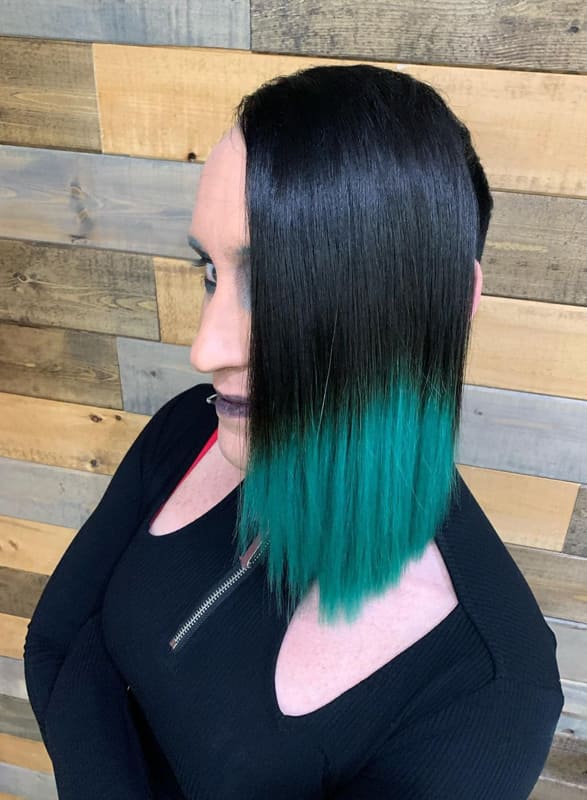 Teal curly hair for black women
It may be very difficult for those who use curly hair, but it has a hair structure that looks legendary from the outside. We know that many curly haired women dream of straight hair. But curly hair looks so sweet and sexy no matter how hard it is to use. For example, look at our young girl in the picture, how sweet she looks with her teal curly hair on her black hair. Try adding some color to your curly black hair with teal, pretty ladies. We are sure you will like the results very much.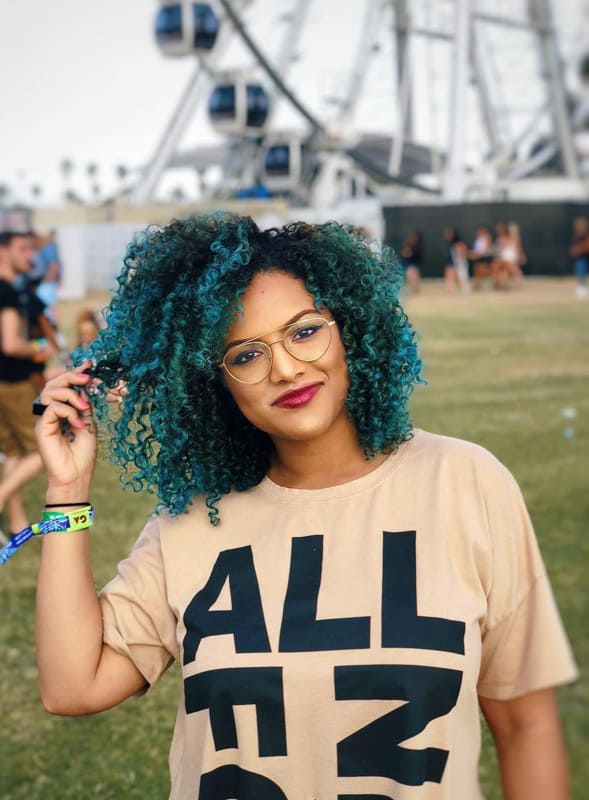 Wavy teal and brown hair
Brown and teal are colors that seem to be incompatible with each other, but actually make a perfect combination. Wavy teal and brown hair will be a very good example for women who love wavy hair, as wavy hair is a hair design frequently used by today's women. Needless to say, you can see how great it looks in the picture. You can also use teal tones with your light chestnut brown hair. Teal hair color will be perfectly compatible with any shade of brown.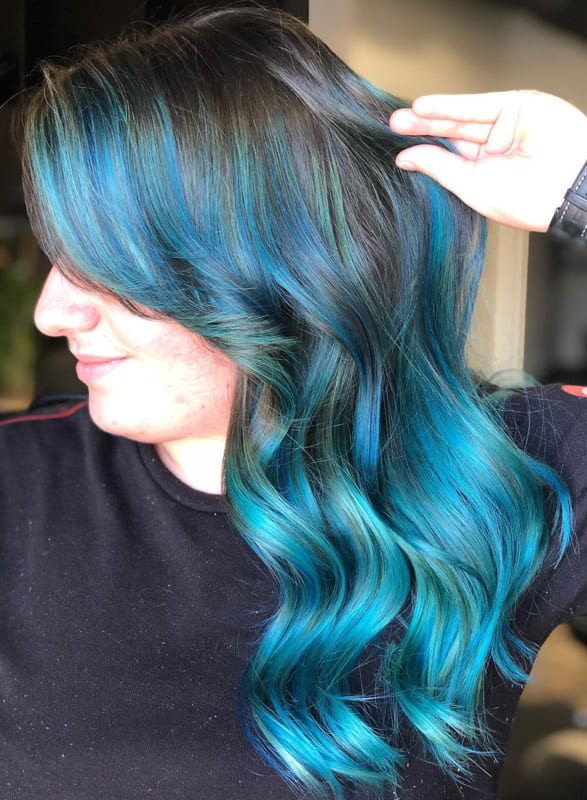 Yellow and teal hair
We know that yellow and teal hair is the combination of two different colors that seem impossible to think together. But look at the young girl in the picture, how different and beautiful she looks, right? Doesn't this story surprise you as much as it does me? If you want to look original, yellow and teal hair is just for you.