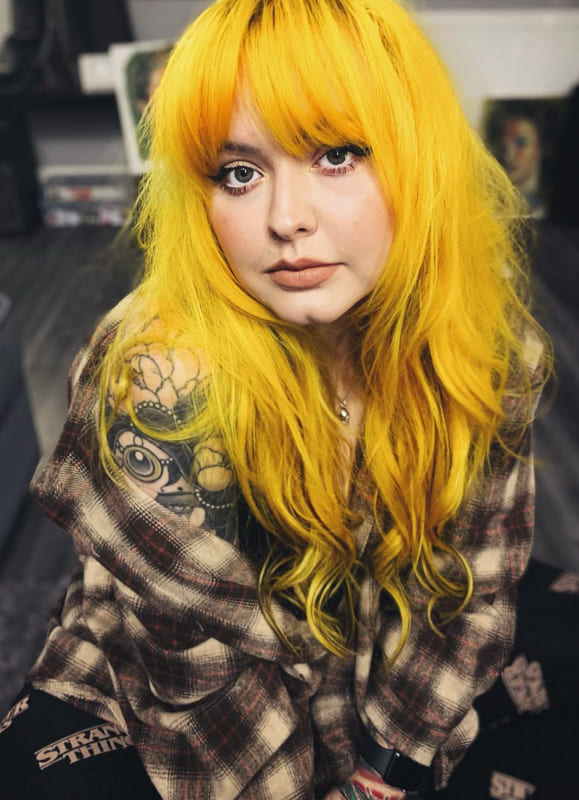 Yellow hair emerges as a completely different hair color from the natural look. Especially in the last 10 years, different colors and different tones of these colors have started to be preferred a lot. In addition to the developing technology, social networks and socialization began to be very effective. Preferring vibrant colors in hair has become a new trend. We expect this new yellow hair trend to continue at full speed in 2022. Yellow hair is quite striking and can have many different tones. Especially light-colored or neon tones are preferred a lot. Young people prefer this type of hair color very much. We can easily say this.
Amazing Yellow Hair tips and Color Ideas
Different yellow colors can be applied to haircuts and hair types. Of course, the most preferred of these is short hair. It is both easy to care for and makes young women feel freer. For example, you need to get out of the house urgently and meet with your friends. With short hair, you can quickly get ready and leave the house. However, this is very difficult for long hair. That's why I have to say that I give a little more weight to short hair in today's yellow hair colors and styles. We'll be reviewing 25 different hairstyles and different shades of yellow in a moment. If you're ready, let's start.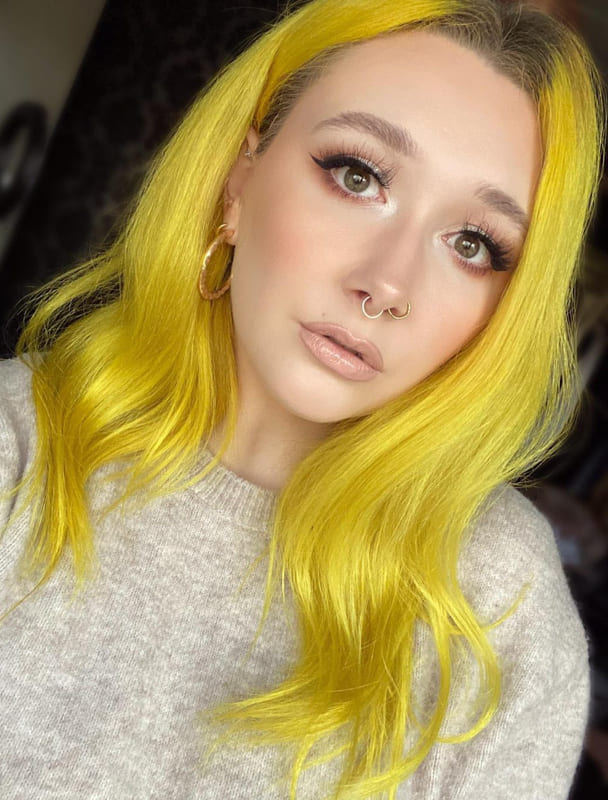 Black and yellow hair
Yellow and black can be very contrasting colors. However, when you apply these two colors to your hair completely independently of each other, it can be a beautiful look. Especially if the front part of the hair is yellow, it is a much more correct choice. In addition, you can create a magnificent and remarkable look with black hair on the back and black eyebrows and eyelashes on your face, that is, with a dark-toned make-up.
Blonde and yellow hair
I can't say that blonde hair and yellow are very compatible. Maybe it's because the colors aren't actually very close to each other. For example, it is really difficult to find the harmony of purple and pink. I think blonde hair goes best with brown hair. However, I will not go without saying that the yellow hue is magnificent.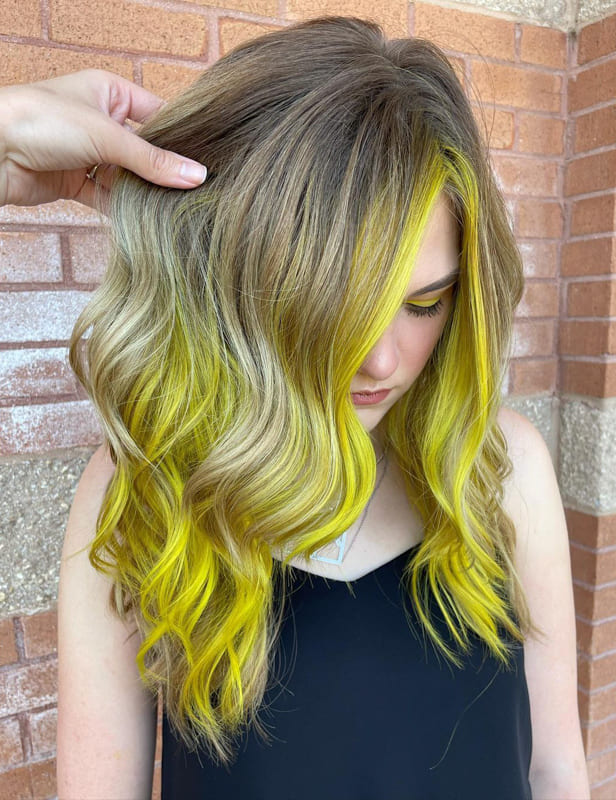 Burgundy red and yellow hair
Yellow is a very harmonious and stylish color with shades of red. Before I talk about the structure of the hair, I want to talk about the color. All of the hair is dominated by shades of red and there is a magnificent transition to yellow. Especially burgundy hair color is the color that dominates the whole hair. Then, yellow is dominant because it is in the front part of the hair. The hair looks pretty strong and it's styled in a very stylish way.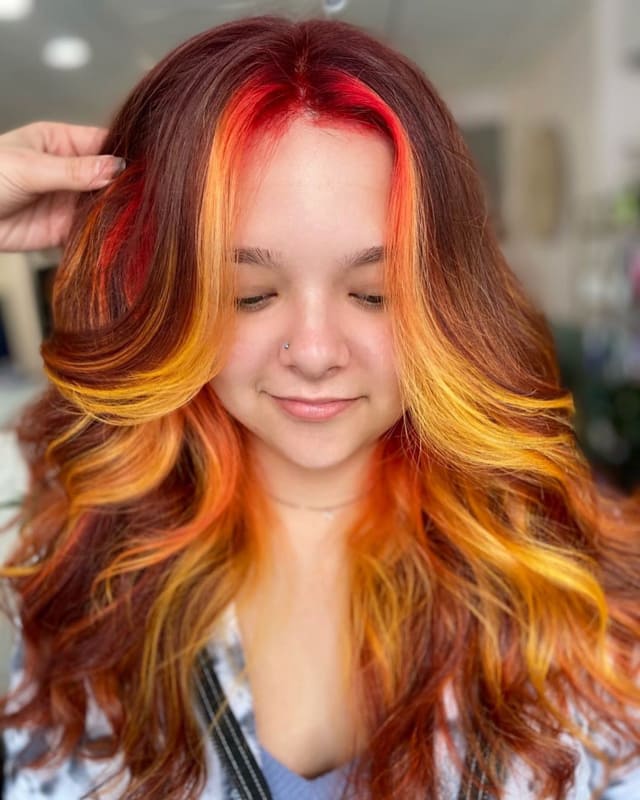 Curly yellow hair
In terms of curly hair, I think the yellow color gives a very cute and innocent look. You can see this in the picture below. Curly hair covers the face a little too much, it's true. However, having yelow hair will help you a lot in attracting attention.
Long brown yellow hair
Yellow will be a somewhat assertive color for long hair. It is not the right choice to dye hair with only yellow color. Because your hair will shine too much and draw unnecessary attention. I don't think it will look good either. However, it will be much more accurate if yellow color is applied with an ombre-shaped design from brown hair. Having the yellow color in the front of the hair will make your beauty stand out more.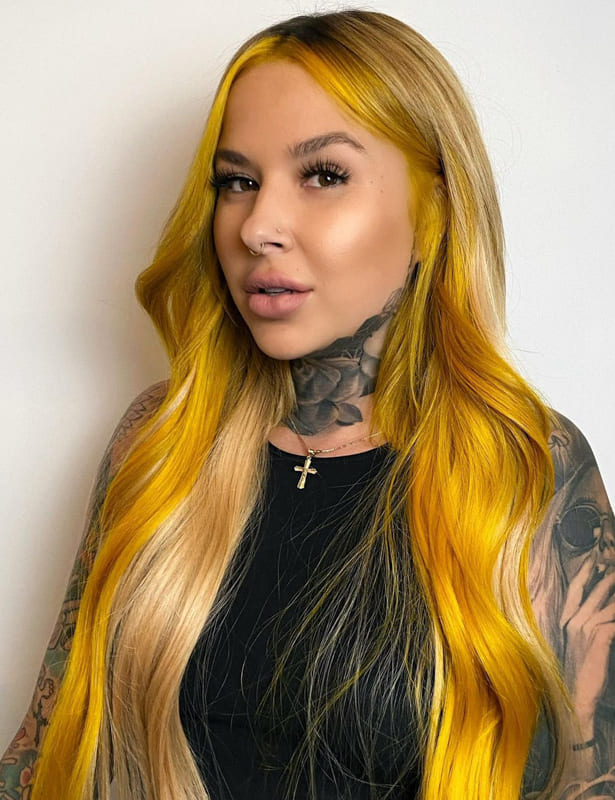 Medium orange and yellow hair
Blonde color is a good choice for medium hair. Yellow is a color that can be preferred by office workers or business women. Of course, it may not be suitable for some hair types. Especially for very fine hair or if your hair is very sparse, it may be logical to choose darker tones. I think this amazing hair style, where the orange color is blended with the yellow color, looks great.
Medium straight blonde yellow hair
We've reviewed yellow and blonde hair colors before. However, this is a different design. The hair is exactly half yellow and half blonde. It is not possible to use such hair colors all the time. Instead, ombre style hairstyles can be preferred.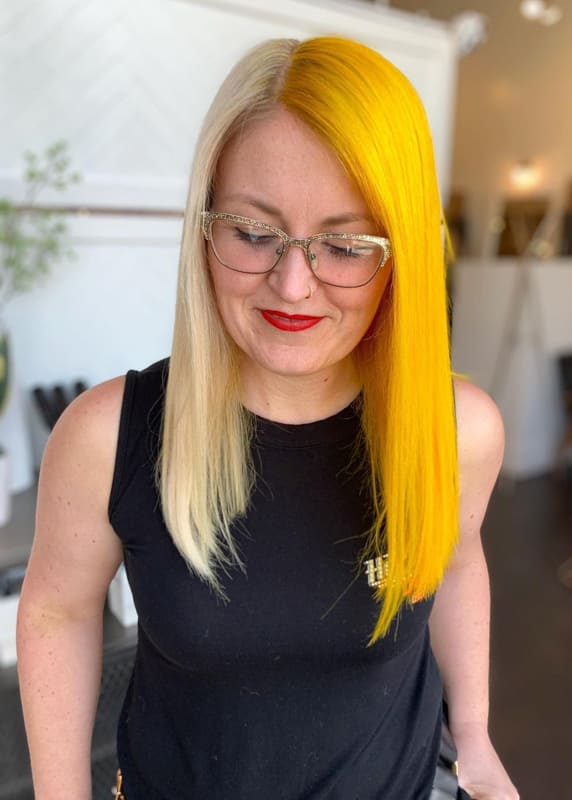 Medium straight bob yellow hair
On straight and medium hair, the yellow color looks very assertive. In addition, you can easily use this type of hair in daily life. Such colors are generally preferred very much in Britain. We can say that such amazing summer colors are among the most preferred colors in England and other northern island countries.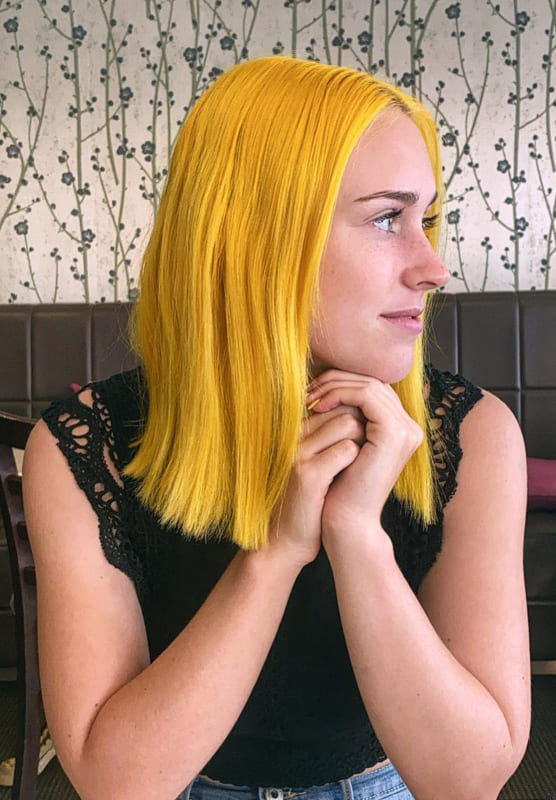 Medium wavy neon yellow hair
Medium neon yellow hair is the indispensable choice of sparkling nights. Especially if you are a woman who wants to attract a lot of attention in nightclubs, it is one of the hair colors you should definitely try. Your hair will shine magnificently and impress everyone.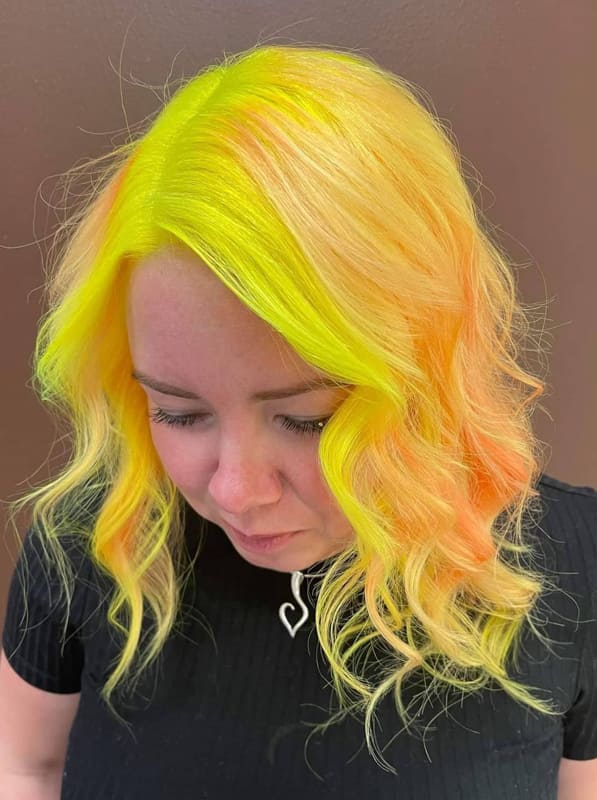 Over 45 medium yellow hair
Even as you get older, no one can say that your choices about hair color will be restricted. No one has the right to this. This should be your choice, completely freely. If you wish, you can try the tones of pink or the impressive tones of yellow in this way. Such colors will make you look much younger than you are.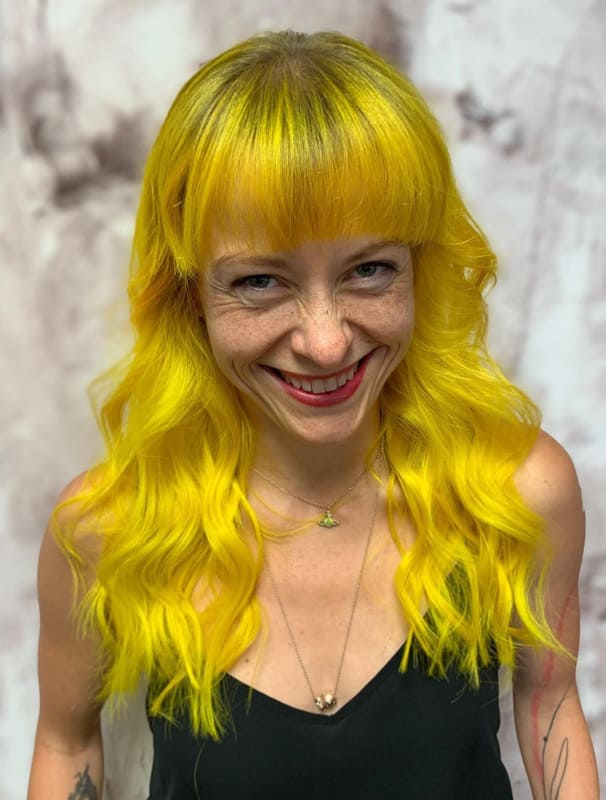 Pink and yellow hair
I can say that pink and blonde hair are among the most favorite colors of young girls. My own opinion is not to use pink or yellow as a single color. A color combined in this way looks much more impressive. Of course, pink looks much more dominant here because it is a pastel color.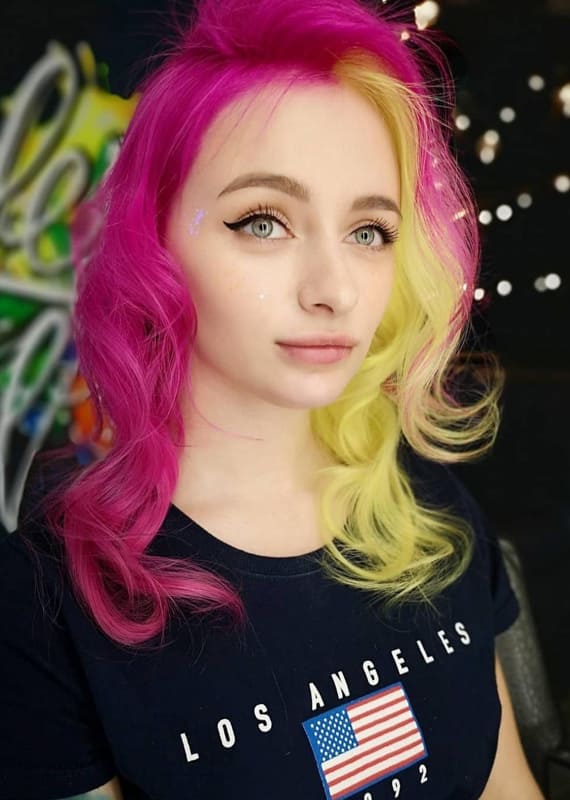 Rainbow medium yellow hair
In this picture, a different design is applied to the wavy hair. Although the dominant color of the hair is yellow, a rainbow-shaped design is applied to the front of the hair. But it would be wrong to call it exactly a rainbow. An astonishing look is usually created with shades of pink and green.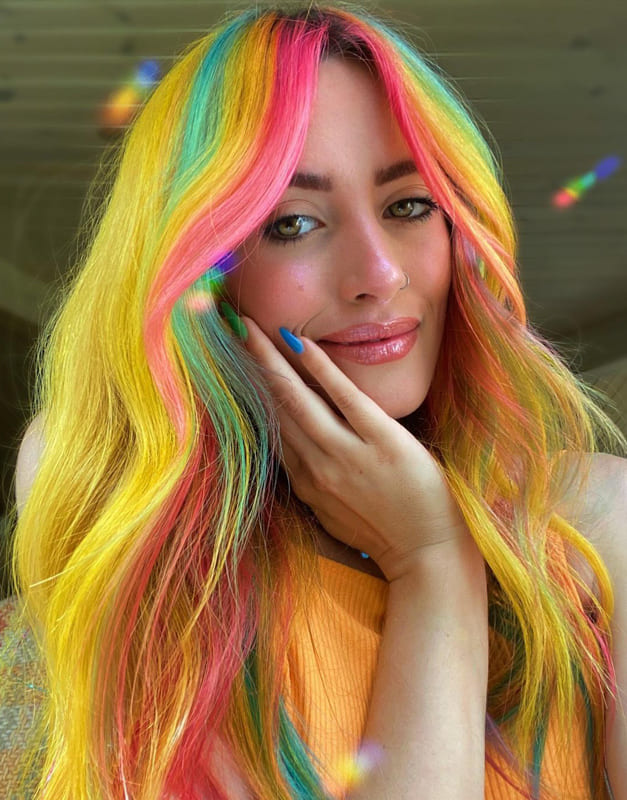 Short bob blonde yellow hair with bangs
First of all, I would like to say that it is a different and impressive design. An amazing haircut and hairstyle. The design of the hair as a bob is really magnificent and the yellow color of the lower parts of the hair looks really impressive. In addition, in parallel with this, I think it is wonderful that the lower parts of the eyes are decorated with yellow headlights.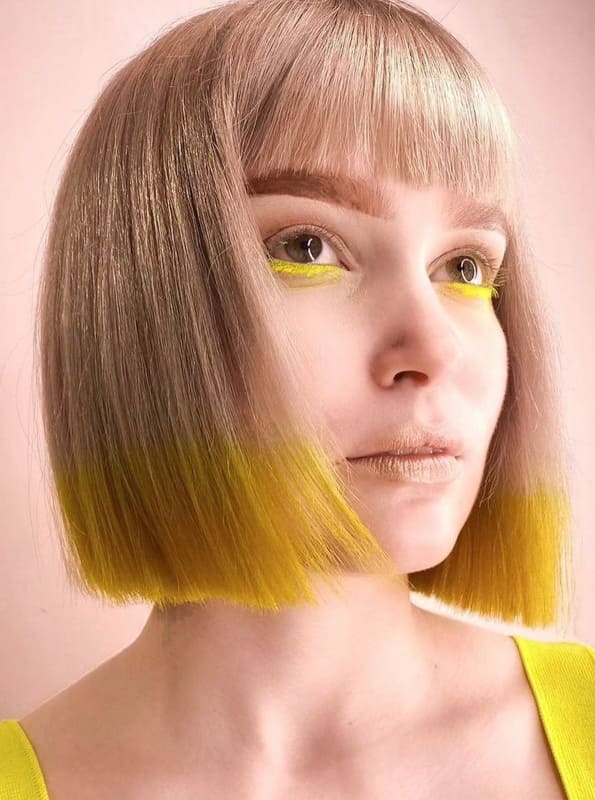 Short bob messy yellow hair
We can say that yellow is among the colors that can be preferred in messy hair. In this, the speed of daily life is very important. Some women do not have much time to care for their hair. These women generally prefer short and messy hair. If you don't want daily life to destroy you and your image, you should make radical changes in your life. Just one of these changes in yellow dyed hair!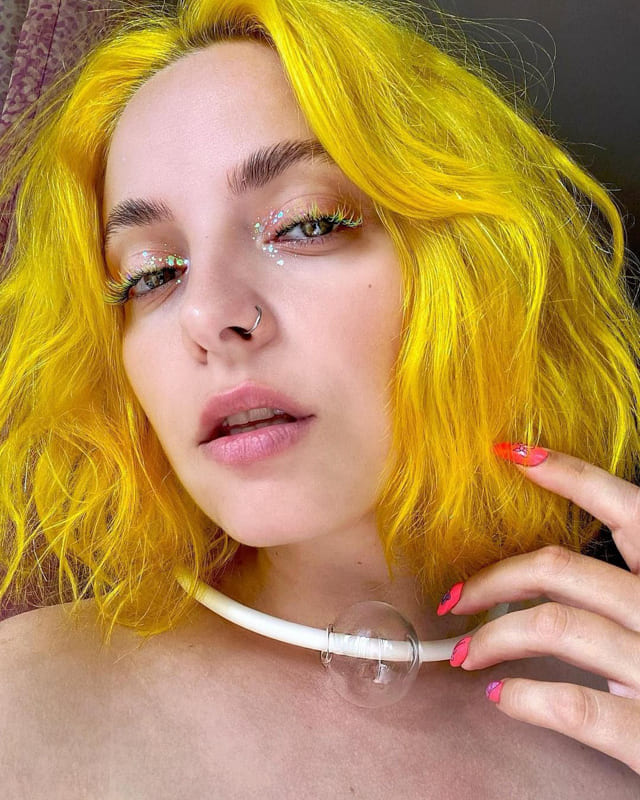 Short bob yellow hair
Short bob hair has many different designs and cut styles. I think the most impressive of these are short cuts like this, where the neck of the woman is exposed and visible. The fact that your hair is strong and bushy plays a very prominent role in this regard. After strengthening your hair with a nice care cream, you can dye your hair yellow by getting a bob cut like this.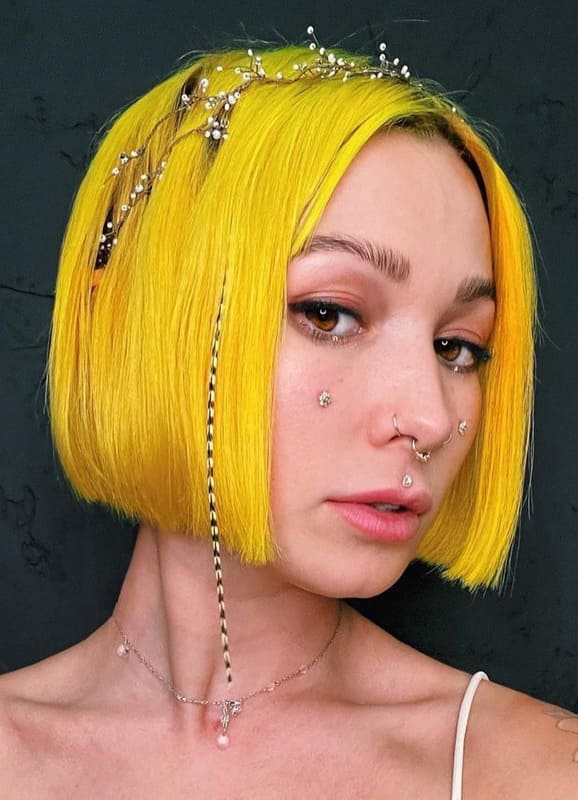 Short bob yellow purple hair with bangs
You see an example of a short bob and layered hair. Layered cut on short hair is actually not preferred much. However, if you prefer a sophisticated design, a layered short hair design will not be a problem. Having the hair in bangs is pretty cute in my opinion. The purple part of the bangs and the wavy application of the purple color are very impressive. Also, the yellow color seems a little darker. Maybe it looks like this because of the light.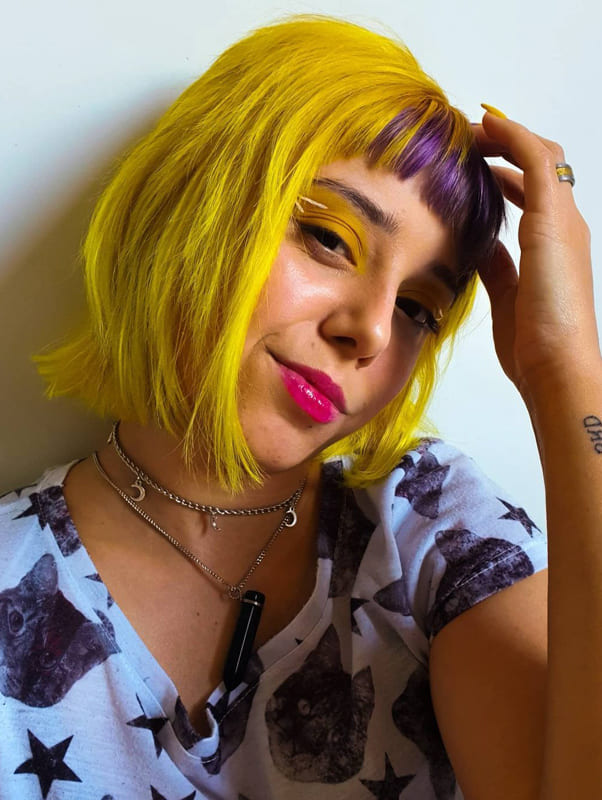 Short messy yellow hair with bangs
Unfortunately, not everyone has the courage to apply the color yellow to their hair. I told you that such women are different and extremely brave. Coloring your hair with yellow color will make you different than ever before in your life. And you can't even imagine how much attention you'll get. The bangs part of the hair looks pretty short. Maybe this part could have been a little longer.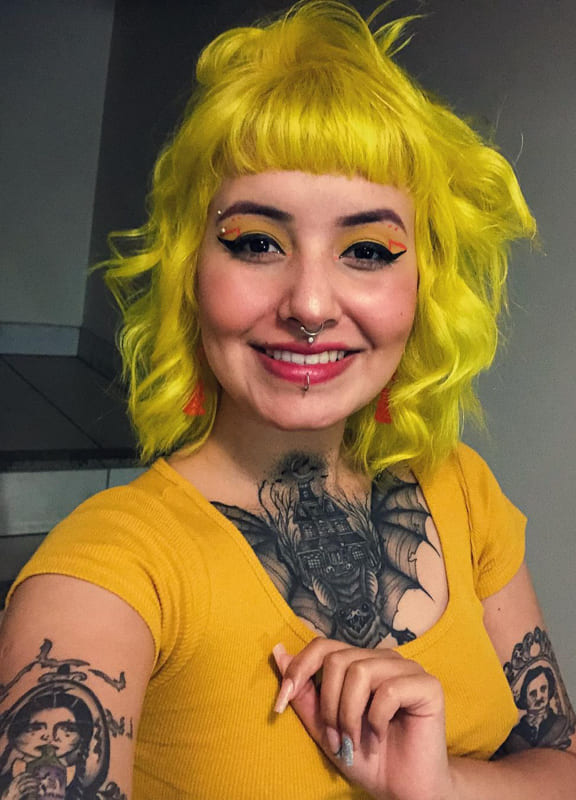 Short neon bob yellow hair
Neon hair usually looks like a green color during the day, but at night it appears as a very bright yellow in an environment where there is a lot of light. We all know this already. If you like attending parties, going to bars at night and if you are an active person in your private life, you can dye your hair yellow for a short change. This will give you a little getaway in your life.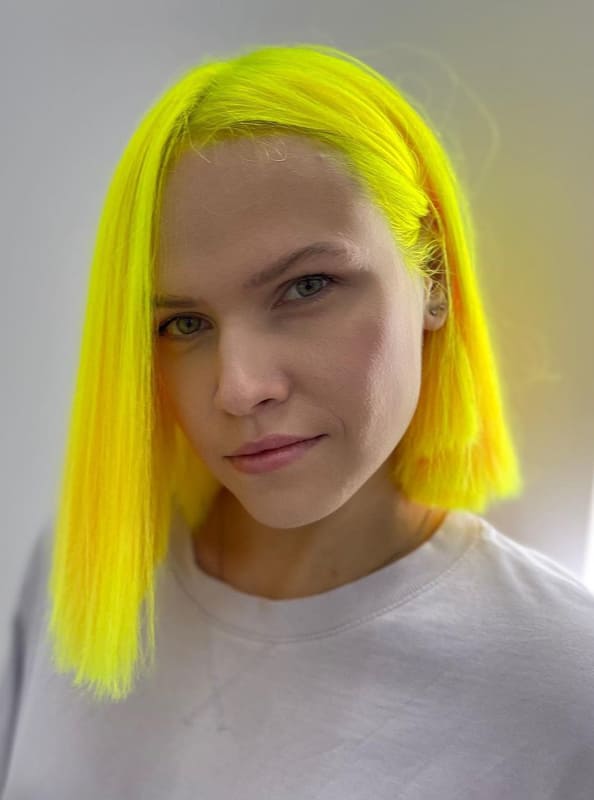 Short yellow pixie hair
Do I need to tell you that pixie hair is so cute? I don't think so! If you have noticed, as the length of the hair gets shorter, the harmony of the yellow color increases. In addition, the screaming appeal of yellow is somewhat diminished. If you are going to use such short hair, I think it is very important that the natural color of your hair is yellow.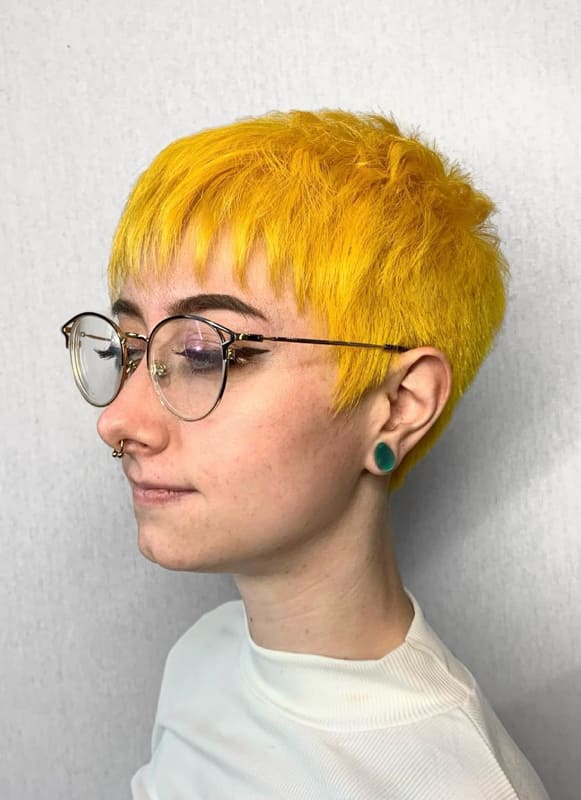 Yellow hair for african american women
Recently, African American women prefer this type and color of hair. Usually black women wear wigs. You can easily obtain yellow wigs. However, as a hybrid woman's hair has a different structure, she can straighten her hair as you can see and dye it yellow.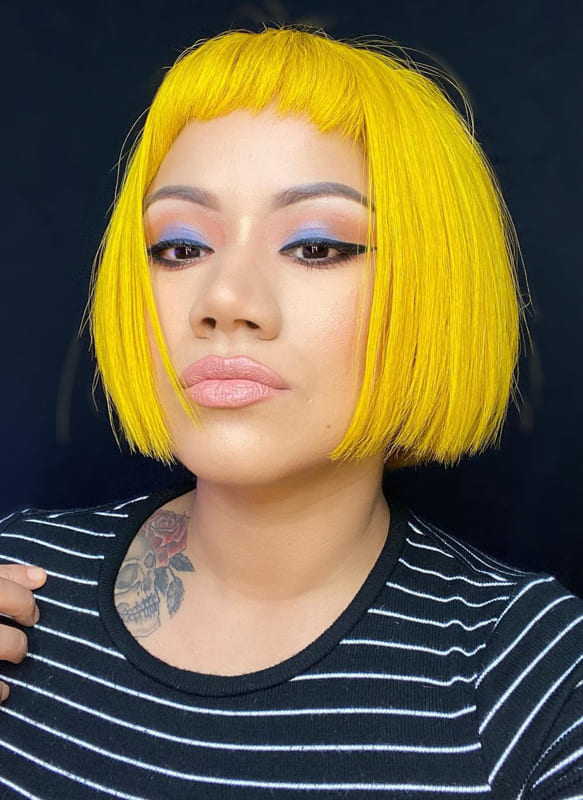 Yellow hippie hair
What is the most important feature of hippie women? Of course, the curls in her hair. Actually, this hair had a name, but I don't remember exactly right now. I would be glad if you let me know about it in the comments. Instead of calling it a curl, you can call it a braid. I think your hair color is gorgeous. The effect of the light is huge in this picture. So you can understand how impressive it looks in a closed environment.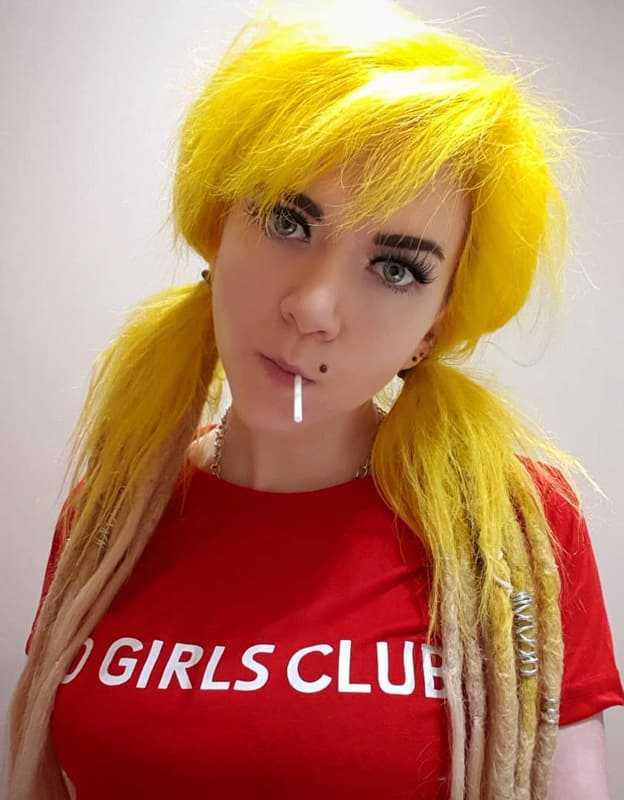 Yellow messy bob hair
If you are a woman in her 30s with white skin and colored eyes, there is no harm in choosing a dark shade of yellow for your short hair. The color of the hair looks remarkable but not screamingly impressive. I think it is a model and color that can be preferred by mature and married women. In short bob messy hair, you really have a lot of options when it comes to color preference.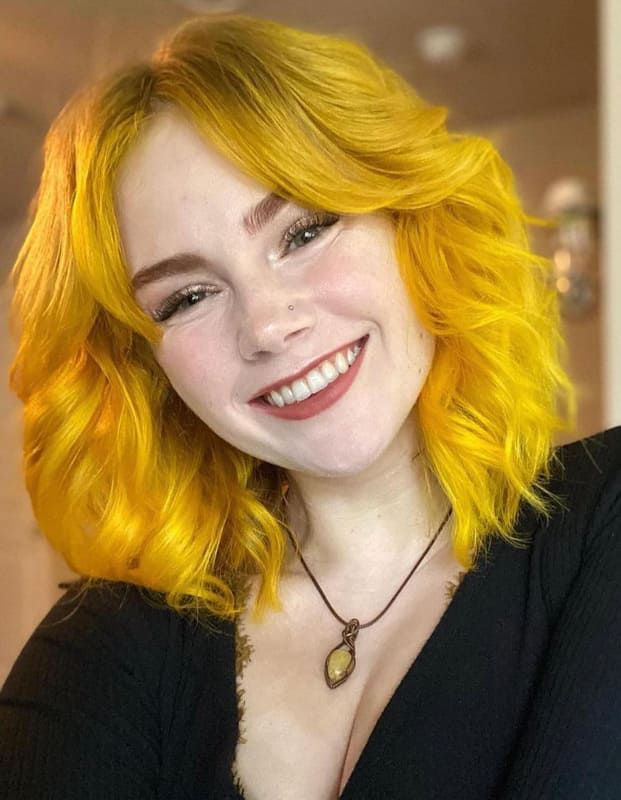 Yellow purple blonde hair
I saved one of the most amazing pictures of today's post for last. Actually, I wasn't aware of that. An amazing design has been made. Your hair cut is truly amazing. It is not for every hairdresser to be able to cut such a good cut on short hair. The distribution of the color and the way it is painted is tremendous. The bottom part is a natural blonde look. The yellow color applied on it and the purple color applied on the top. It is truly a magnificent design and very impressive.