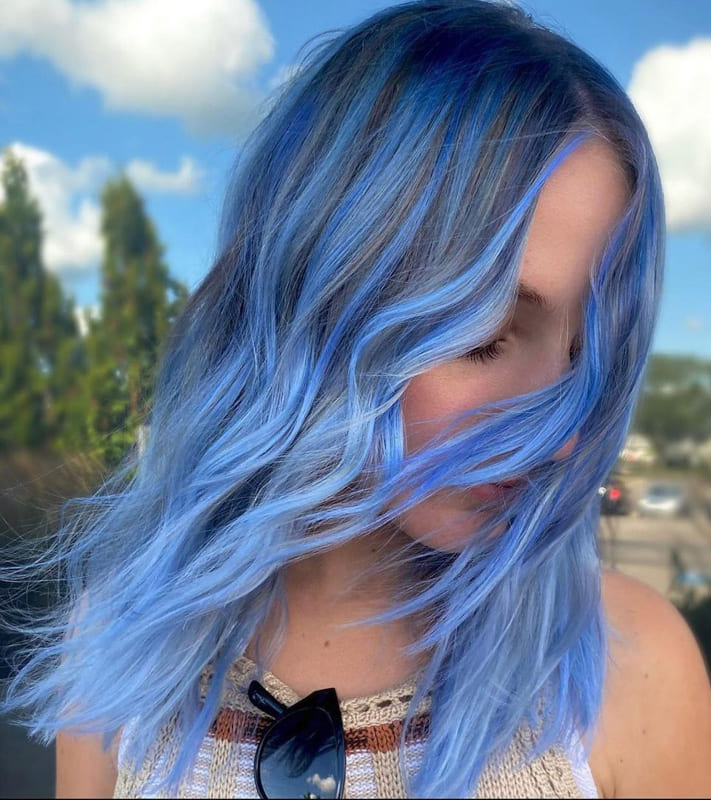 In recent years, hair colors have started to change with the ideas of women. Today we will examine 26 very different blue hair styles together. I will try to present new ideas and new colors for you.
First of all, colors like blue don't have much history. Such colors began to appear with the development of the modern world. The application to the hair is still very new. Today, you can apply many shades of blue to your hair. So, is the color blue the right choice? I think you should ask yourself this question. If you will feel compatible with blue hair, why not?
Blue Hair color and Design ideas in 2022
The biggest feature of blue hair is that it is quite impressive and remarkable. What I mean when I say remarkable is that it really makes people focus on you. Especially light blue tones are very successful in this regard. It doesn't matter if your hair is long or short. You can complete this by choosing the right hair style and shade of blue for your face and face type.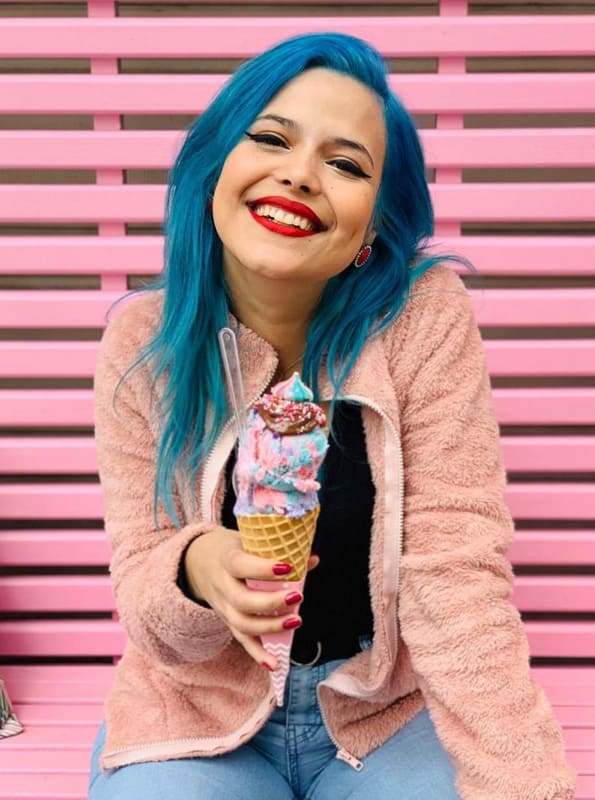 So which hairstyles is blue hair applied to?
I can easily say that there are no restrictions in this regard. When you examine the examples below, you will see the blue color applied to different hairstyles. Coloring hair with blue color is a somewhat laborious and difficult process. It will be the easiest and right choice to leave this to your hairdresser.
Blue hair styles and shapes
Now we can start to examine the blue colored hair and different hairstyles. I hope you can find the hair style and blue hue that suits you best.
Aqua blue hair
Recently, the number of people who prefer ordinary colors such as yellow, brown and black has decreased. If you are also willing to use different colors, you have a free spirit. Blue hair color reflects this very well. There are many shades of blue hair color. The aqua blue hair color that you apply to the other side of your hair that you have shaved on one side will look very stylish. If you are fair-skinned and especially if you have colorful blue eyes like in this picture, every shade of blue will look stunning on you. If you like tattoos, your aqua-colored hair will be a perfect match with your partially blue tattoos on your fair skin.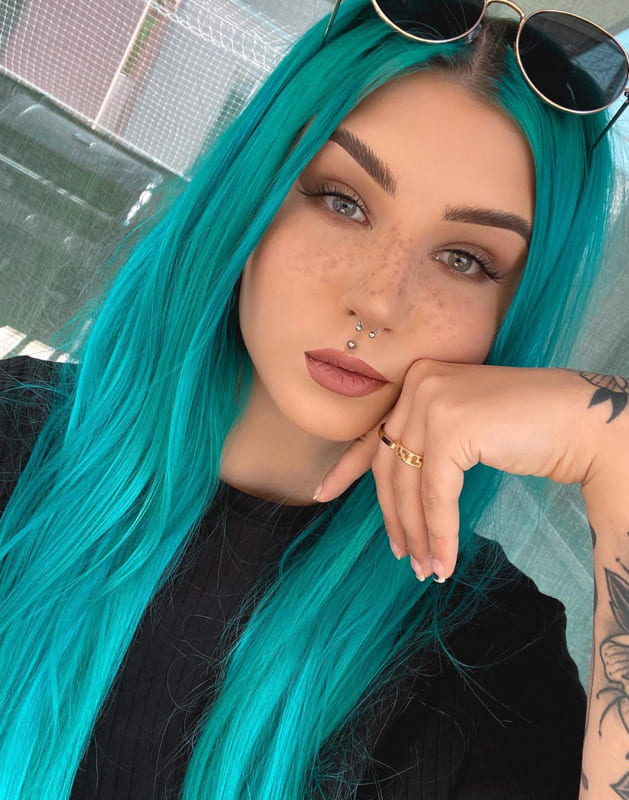 Black and blue hair
Undoubtedly, black is one of the most preferred colors of fair-skinned celebrities and working women who are fond of today's beauty. Women know that jet-black hair, a fair complexion, and glamorous red lipstick are a woman's greatest weapon. So have you heard about the new trend lately? blue black hair, especially blue hair that looks black at night but shines brightly in the daylight is very popular. if some women prefer it, it is a completely different combination with black bottoms and blue ends. The choice is yours because blue and black are two colors that go very well with each other.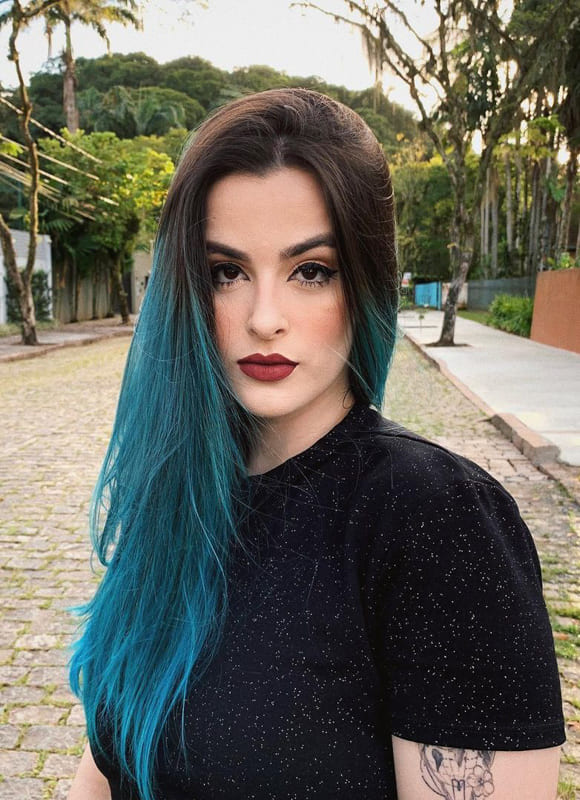 Blonde and blue hair
The most important feature of blond hair is that it looks very compatible with white-skinned women. When combined with the blue color, a very nice and quite different image emerges. However, this situation is a little different for thick and bushy hair. I think it goes very well with fine hair.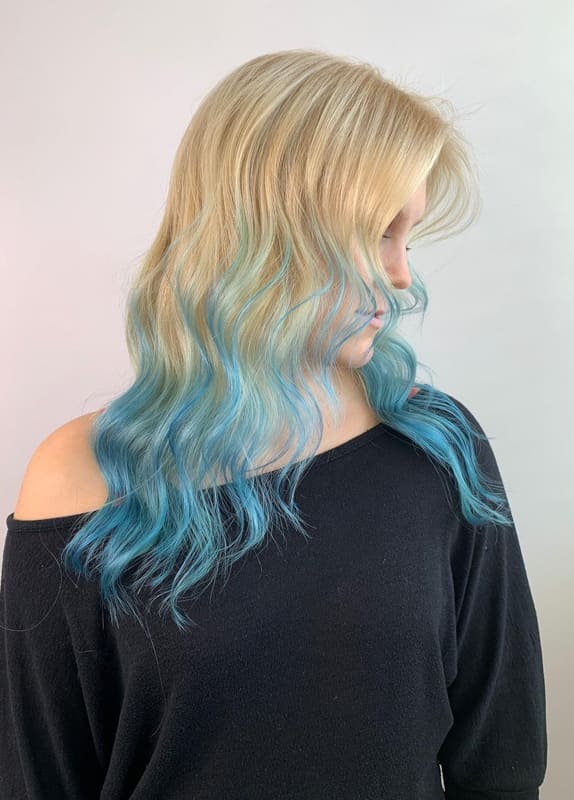 Blue and green hair
Green and blue are quite natural and harmonious colors. Although it is a rare color in hair, we can say that it is quite compatible. For free-spirited women, this color harmony is not so important. In addition, if you are going to use green and blue color together, it may be the right option to have short hair.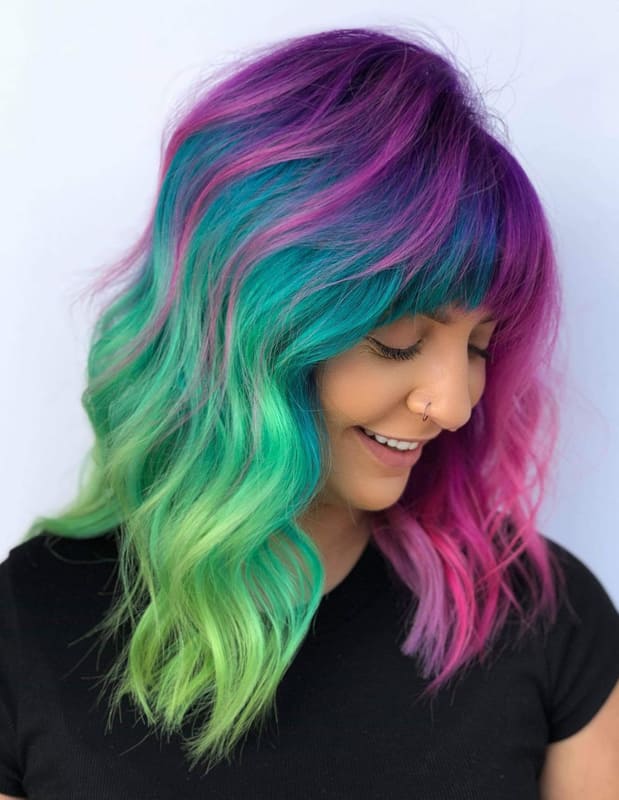 Blue and purple hair
Strong women love strong hair. Colorful hair is the best way for women to show their power. Especially if you are fair-skinned and like to make up in colorful tones, try a combination of blue and purple hair. You'd be surprised how compatible they can be with each other. Especially if you have blue eyes.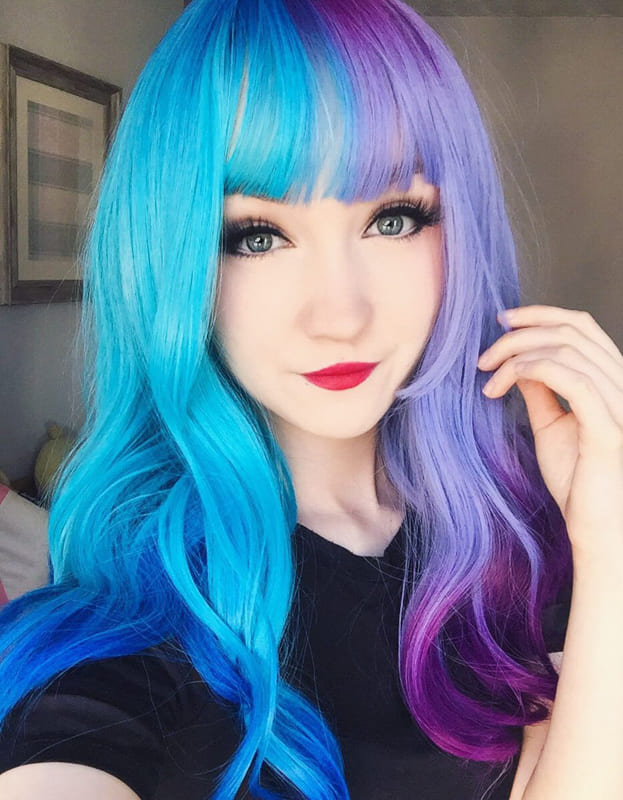 Blue ombre hair
Are you ready to completely change your perception of beauty? I want to talk to you about a hairstyle that seems completely unrelated to each other, but is gorgeous together. Blue and even yellow ombres that you will apply to your natural colored hair. You can be sure that it will suit your long hair very well and will attract all eyes. because we women deserve the best.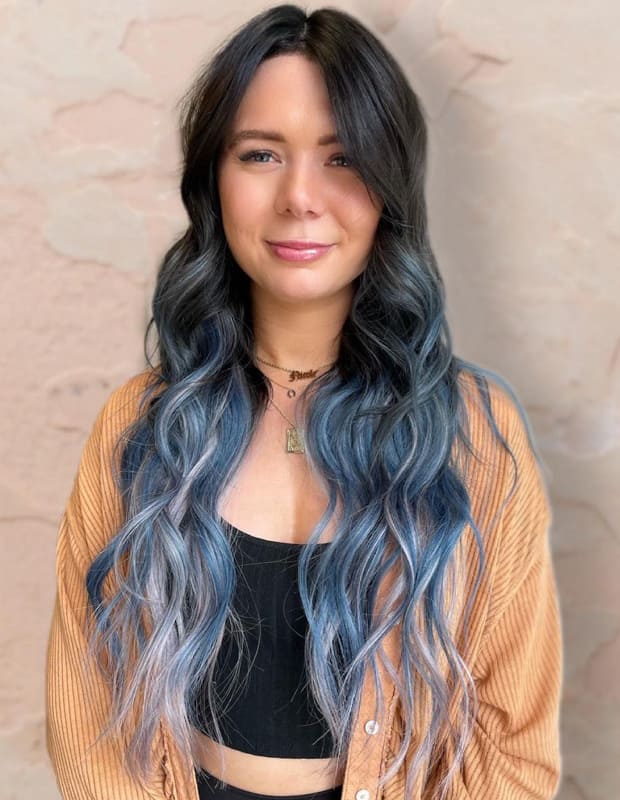 Bright blue hair
Do you love peering? So, do you like attention? Would you like to complete this soul of yours with a hair that reflects you? So take my advice, bright blue hair. I know you find every shade of blue gorgeous. But have you ever thought about how beautiful the bright blue hair, which sometimes looks like a blonde from time to time, can look beautiful? Especially if you're white. I say give it a try.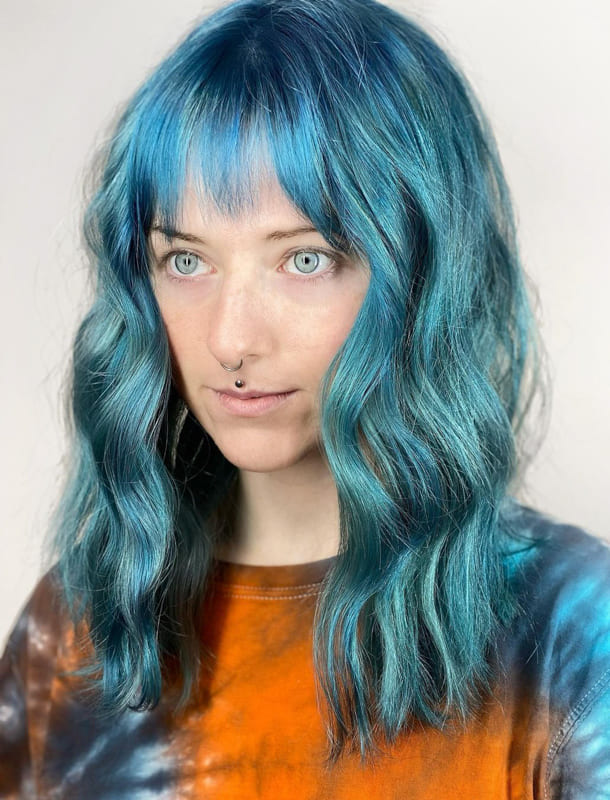 Baby blue hair
Baby blue is perhaps the most preferred hair color by today's young beautiful women. Besides being very sweet, it is the most beautiful tone of blue that suits white-skinned women the most. It adds beauty to the flawless beauty of women with crystal clear blue eyes. Baby blue tones, which you can combine wonderfully with light blue headlights, will make you look younger than you are and will gather all eyes on you.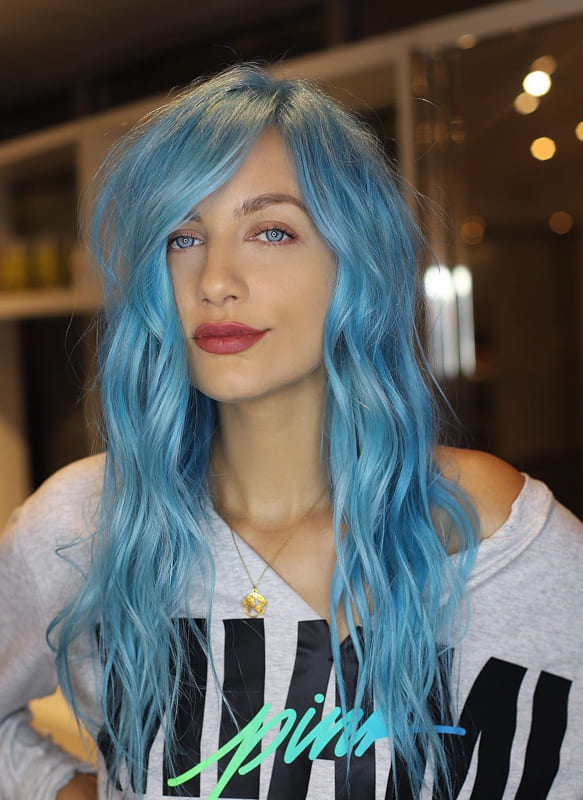 Dark blue hair
Maybe the darkest shade of blue. But it is the most preferred shade of blue. I know you all got it dark blue hair. In other words, blue black hair. These tones are colors that are not noticed as blue in the dark, but when you step out into the light, they attract all the attention with their eye-catching blue. I like blue eyes very well for every shade of blue. You have no doubt that you will shine as a woman who is completely self-confident and aware of her beauty with your white smile, especially when combined with a white skin.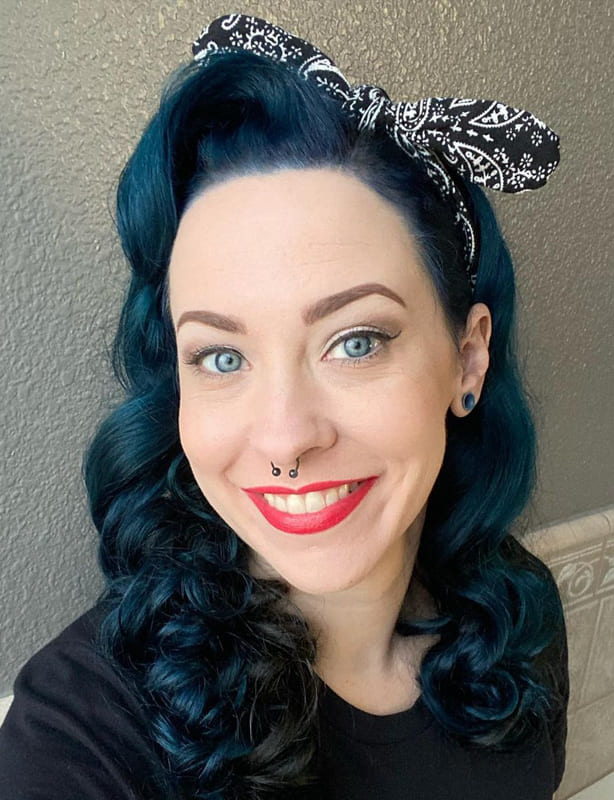 Denim blue hair
Women who prefer denim wear, we have a great offer for you here. Would you like to carry this beautiful color to your hair? A great color tone that will go great with any denim outfit you wear and will set you apart from many women. Whether you are brunette or light-skinned, this color that can go to any skin color will reveal your difference.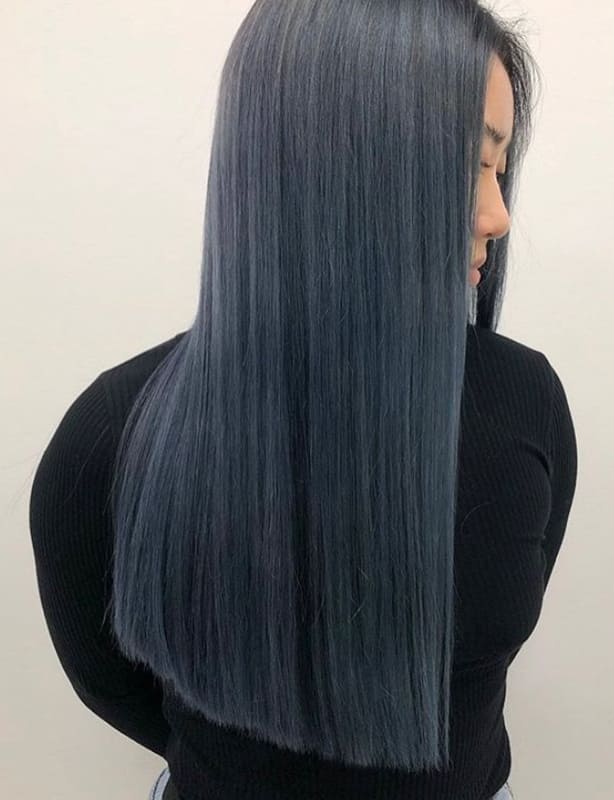 Electric blue hair
We have another color suggestion for you that will attract all the attention. Electric blue hair. This is such a color that it takes courage to have it done, and it takes a different kind of courage to carry this color properly. However, the electric blue hair that a really brave woman can get will match perfectly with your outfits in the same tones. It will reveal that there is a completely different tone of blue, especially in your denim clothing.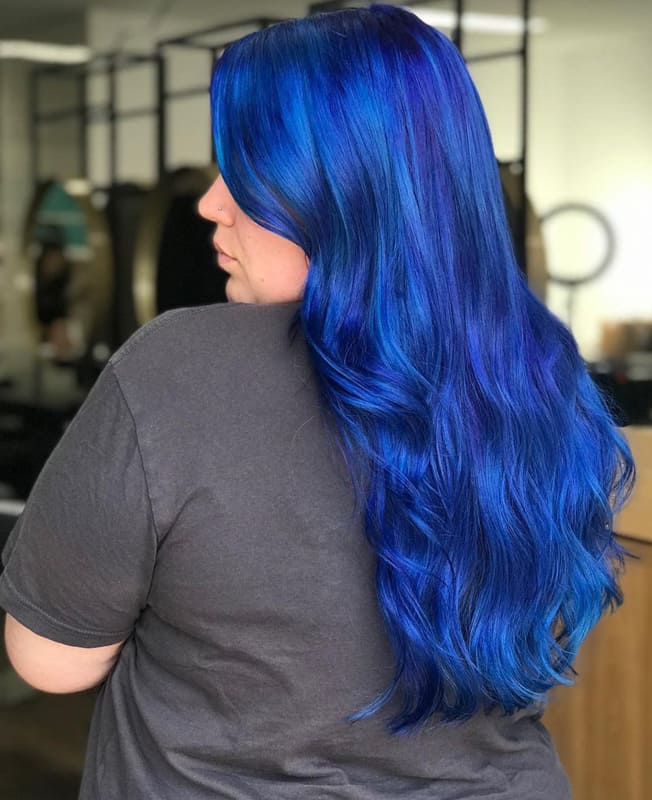 Faded blue hair
Is your hair structure thin and sparse? Do you still love to see yellow tones and different tones in your hair? I suggest you try the faded blue hair color. The faded blue hair that you will apply to the ends or upper parts as in this picture will hide the imperfections of your hair. Especially the headlights in nude tones will be your biggest complement.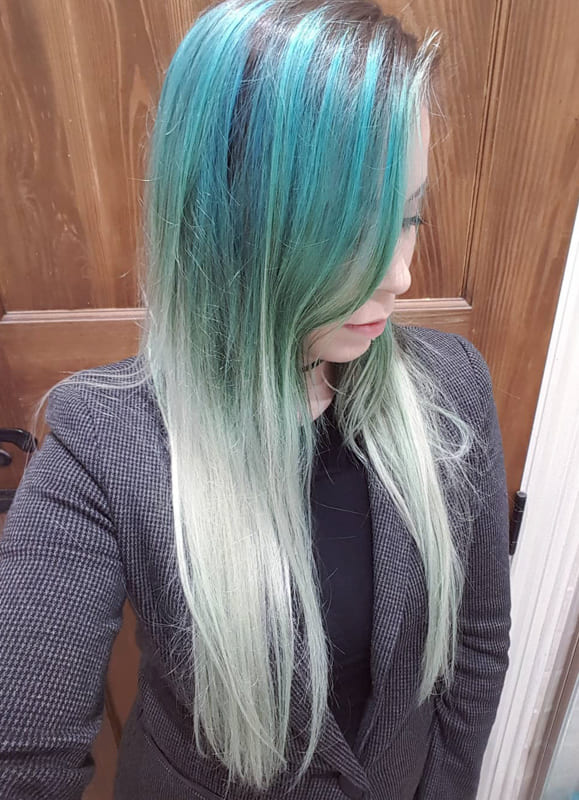 Light blue hair
Is it possible to look at this photo and not fall in love? Light blue hair is a recent must-have for white-skinned women. Everyone has yellow and brown tones or black tones. But this eye-catching color is the new trend of young people. This perfect harmony of platinum yellow and light blue, which is reminiscent of light white, will reveal your facial features and complete your beauty.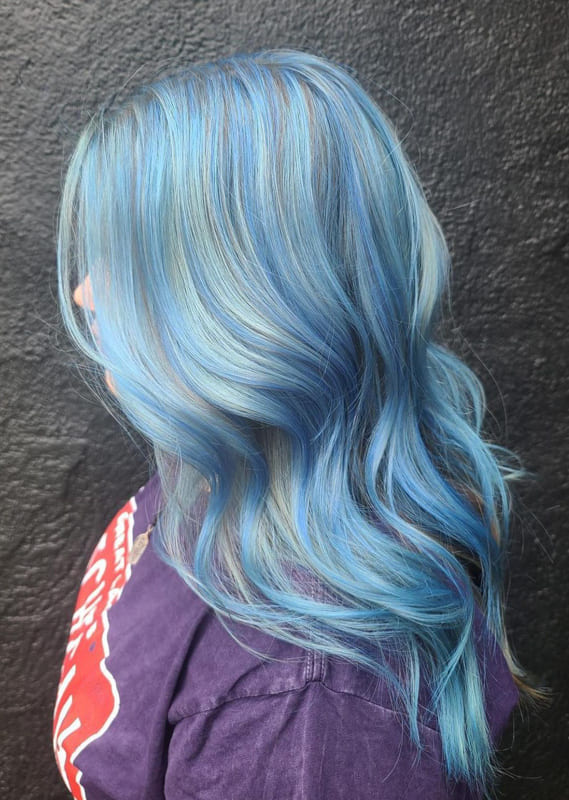 Midnight blue hair
Whether you're short-haired or long-haired, choosing midnight blue is a good way to keep your naturalness and at the same time show everyone who doesn't know you that you're adventurous. If you have beautiful and harmonious facial features and prefer light makeup tones, your color may be midnight blue hair. An eyeliner and mascara that you will use in eye makeup will usually be sufficient. Don't forget to use a gloss on your lips to add shine.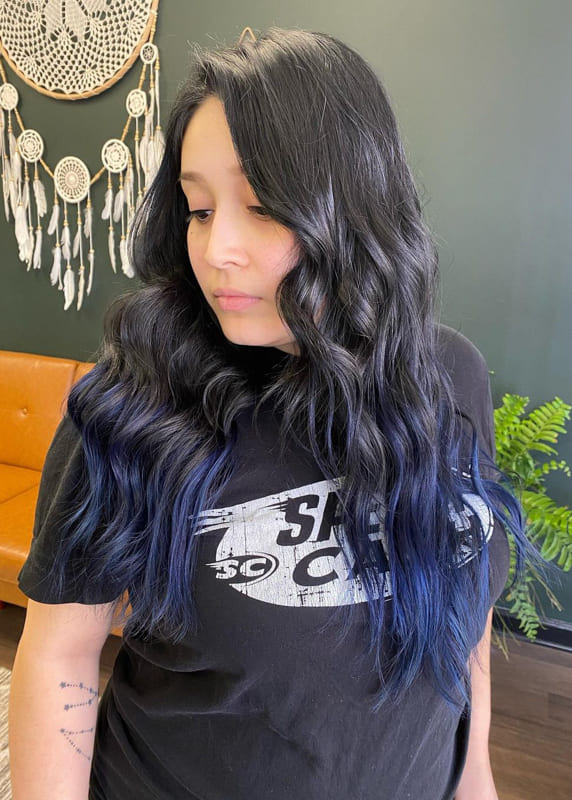 Navy blue hair
One of the color tones that those who love the hippie look generally prefer is navy blue hair. These women have their own unique style and different clothing styles from many women. The peercing and tattoos they use are in harmony with the contrasting color tones. I think every woman has a little bit of hippie in them. only some of us are proud to reflect it, while others prefer to hide it. Fair-skinned women I suggest you consider navy blue hair with your different haircuts.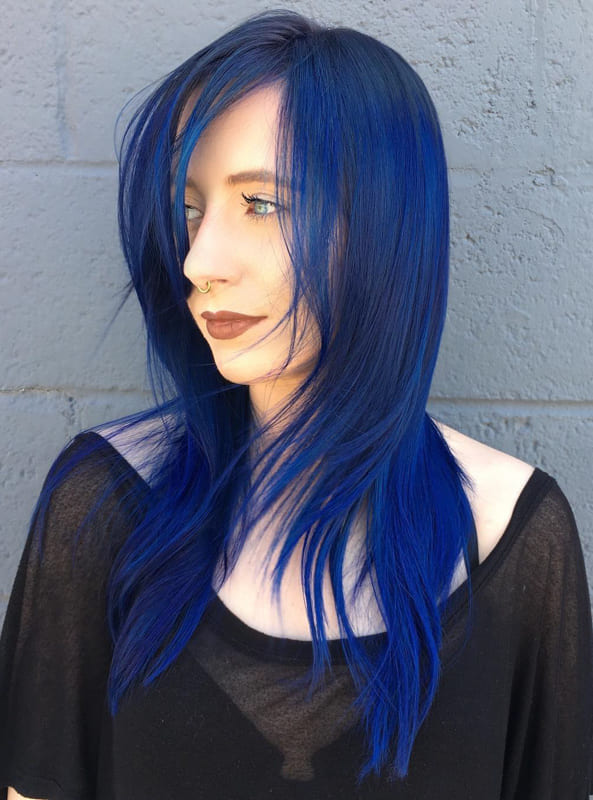 Pastel blue hair
Most women love pastel tones in their make-up, clothing and even hair. We especially love to combine our pastel-toned make-ups with pale-colored lipsticks. Pastel blue color tones also suit our hair very well. You can choose with ombre on platinum blonde, or you can use your hair with a single color pastel blue. But we would like to point out that you will have to make frequent dip dyes for a single color pastel blue hair color.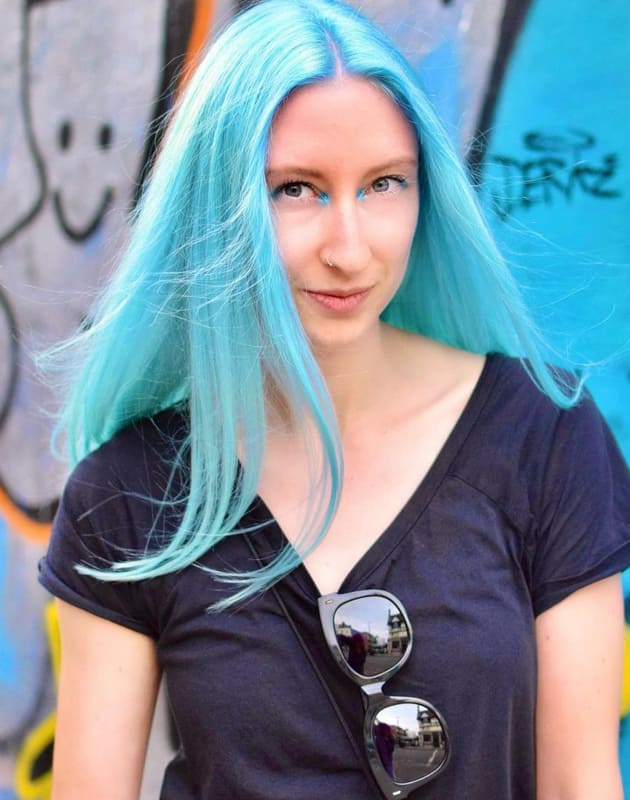 Pink and blue hair
Pink and blue hair are two colors that we both love individually but cannot believe when combined. It's a complete scene. We even know that some celebrities we all know use these color tones. We must say that combining these colors, let alone using them separately, is not something that everyone can dare. It is a hair color that should be considered by women who like to make up in bright tones.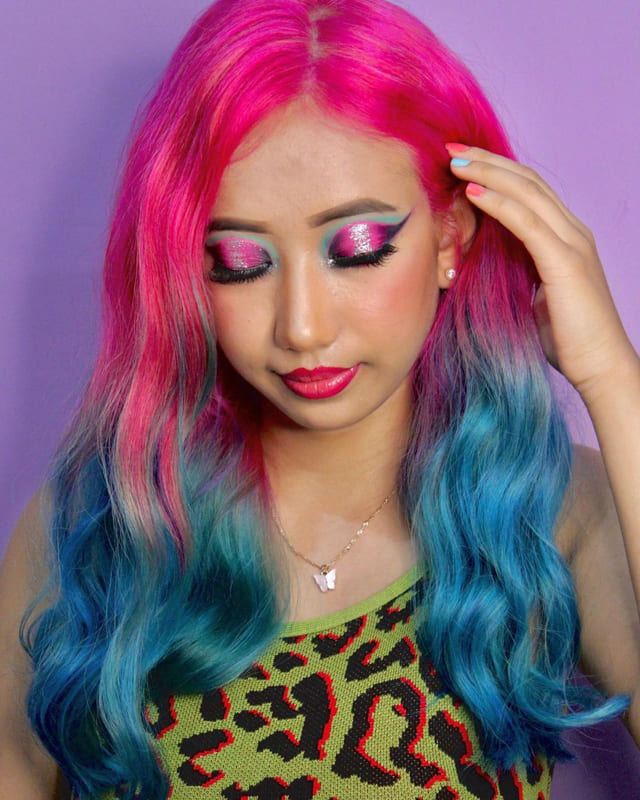 Red and blue hair
It is the dream of every young woman to look colorful and to be noticed in the communities. Especially our young people who are aware of their self-confident beauty, red and blue hair is just for you. These colors, which will fit perfectly with your white skin, will suit you well no matter what your eye color is. We strongly recommend this color to our beautiful women who are young and still feel young.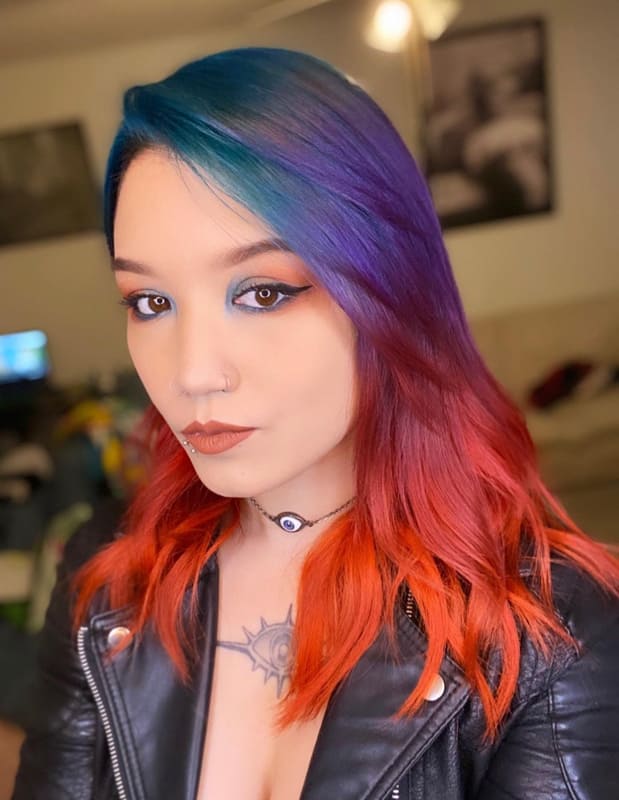 Royal blue hair
Royal blue hair is a very bold color that some celebrities prefer, as we all know. The interest of all of us in royal life makes this glamorous color more attractive to us. If you want to look like a megan, you should definitely choose royal blue tones. It will be compatible with every skin color and every makeup tone.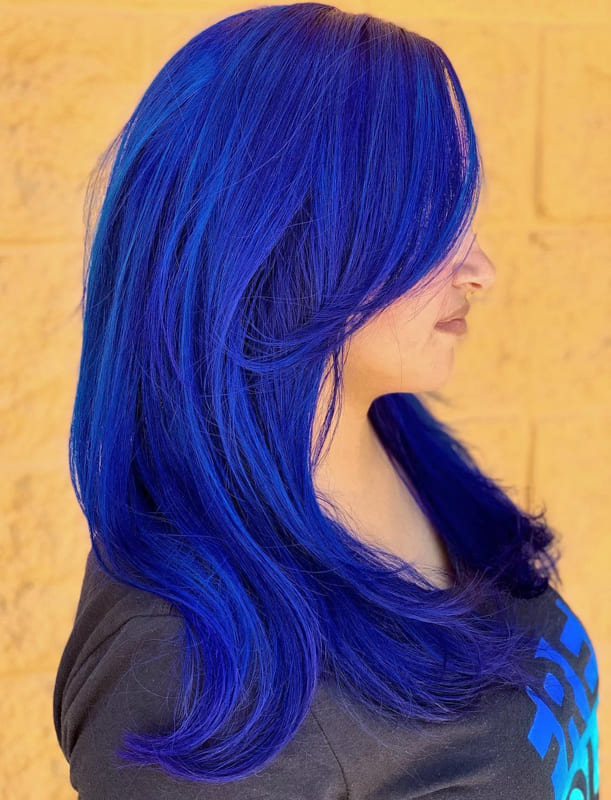 Short blue hair
Short cut blunt hair and even short hair used in different cuts never go out of fashion. How about adding some color to your short hair? You can use any shade of blue on your short hair. Especially the blue color that you will apply to the ends of your hair on your natural color will be ideal to prevent damage to the bottom of your hair. Even if it wears out, you can look flawless with the short haircut you want.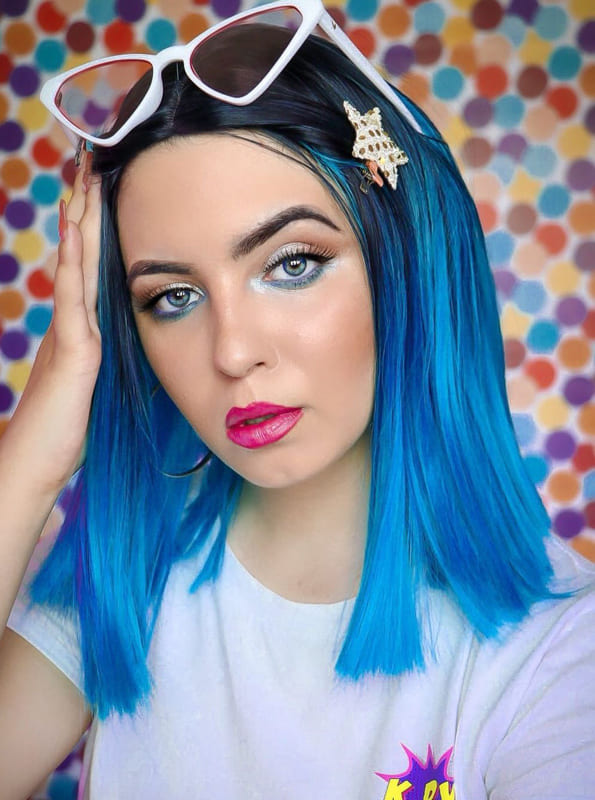 Silver and blue hair
Silver and blue are the colors we prefer for our dresses, evening dresses and shoes. The combination of silver and blue colors with each other is really great. You can animate this color combination that you will apply to your long hair with light waves. Your perfect look will be completed with silver accessories and a make-up in silver tones.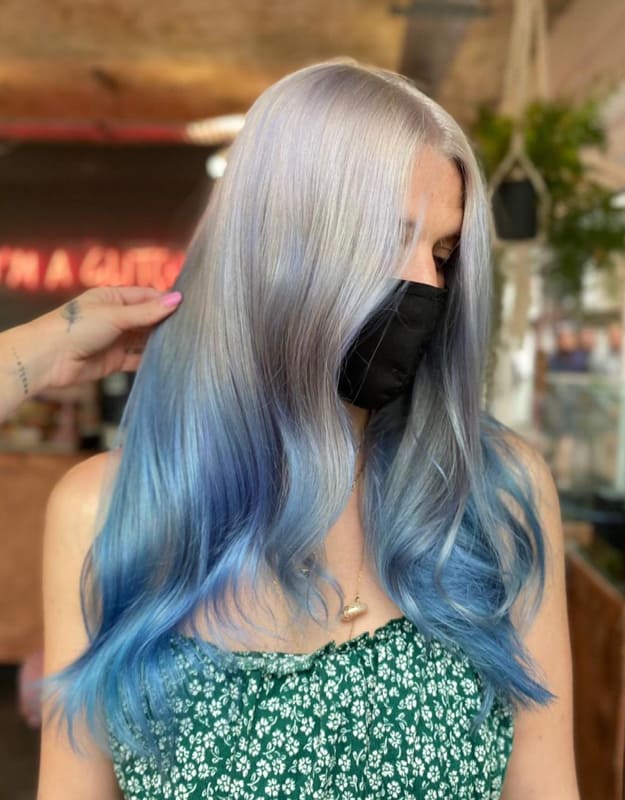 Steel blue hair
Steel blue hair is generally preferred when performing procedures such as ombre and sombre. It blends wonderfully with silver tones and white tones. You can choose to use it with these tones when making ombre. Although fair-skinned women mostly prefer it, it also adds a separate charm to brunette women. It shows itself very well both with your water wave hair and with your straight hair. The choice is yours.