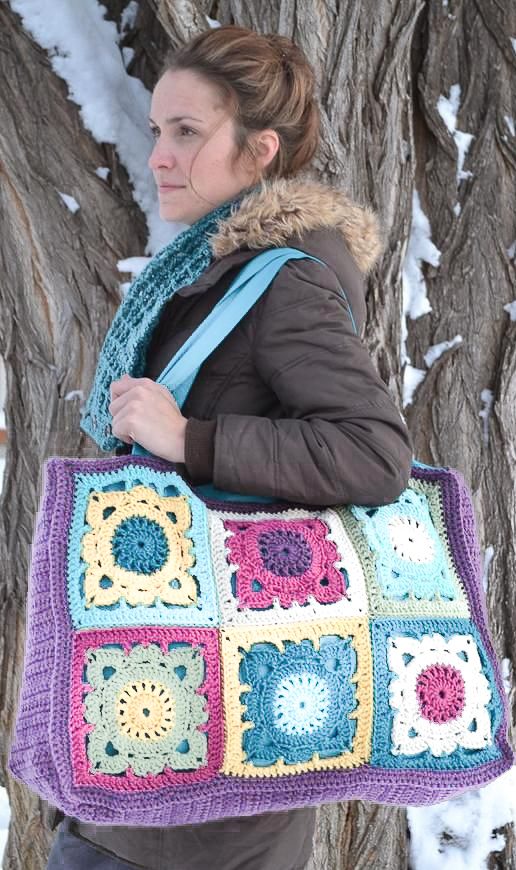 Hello to all my followers. I will write a different article today. I also intend to continue to give examples about knitting and crochet. I would be very happy if you give me your opinion on this matter. In our topic today, we will examine crochet bags. Unfortunately, I cannot share crochet patterns in my article. It will be very unfair to those who prepared these patterns. I share the pictures as an idea for those who can design or want to knit the same bag.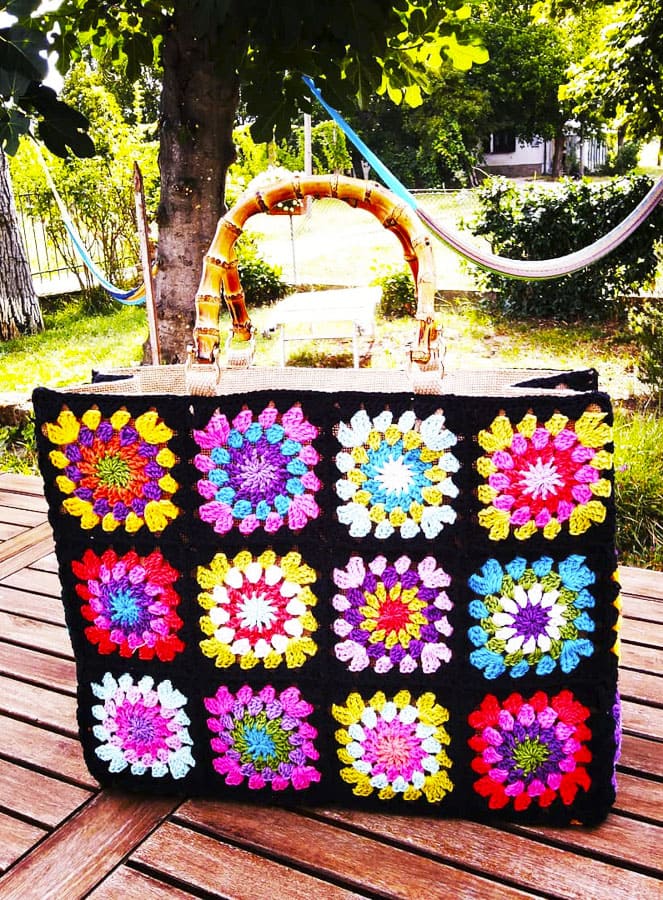 In recent years, crochet and knit clothes and accessories have become quite fashionable. We can characterize this as a longing for the past. Crochet work and knitting are definitely a big hobby especially for women who like to spend time at home. You can also earn money by working in your home with knitting or crochet. I will talk about this in a different article.+
Granny Square Crochet Bags
Now I want to tell you a little bit about granny square. This is a kind of knitting pattern. It took this name because it is a very old model. Being old does not mean that it is not liked. I am sure your mind will change after seeing the pictures I shared today.
Big Granny Square Crochet Bags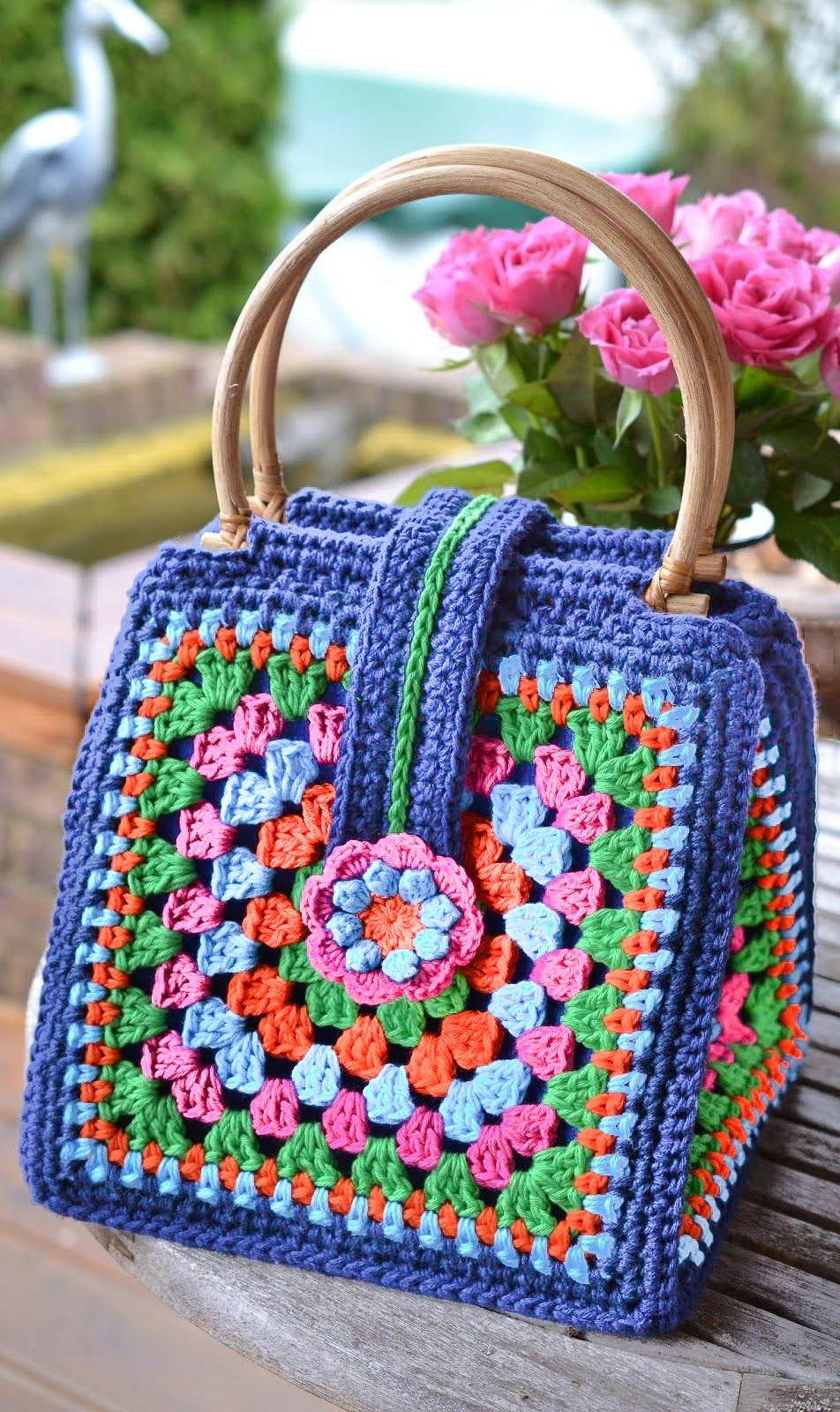 First of all, I want to share the most popular model. It is the most liked and highest rated bag model in a previous poll. It's actually a pretty simple model. Especially the fact that the handle of the bag is wooden has made it a bit classic. The button part of the bag is decorated with a beautiful flower motif, creating a different atmosphere. It also consists of 5 quite large granny squares. I can say that she is a beautiful model.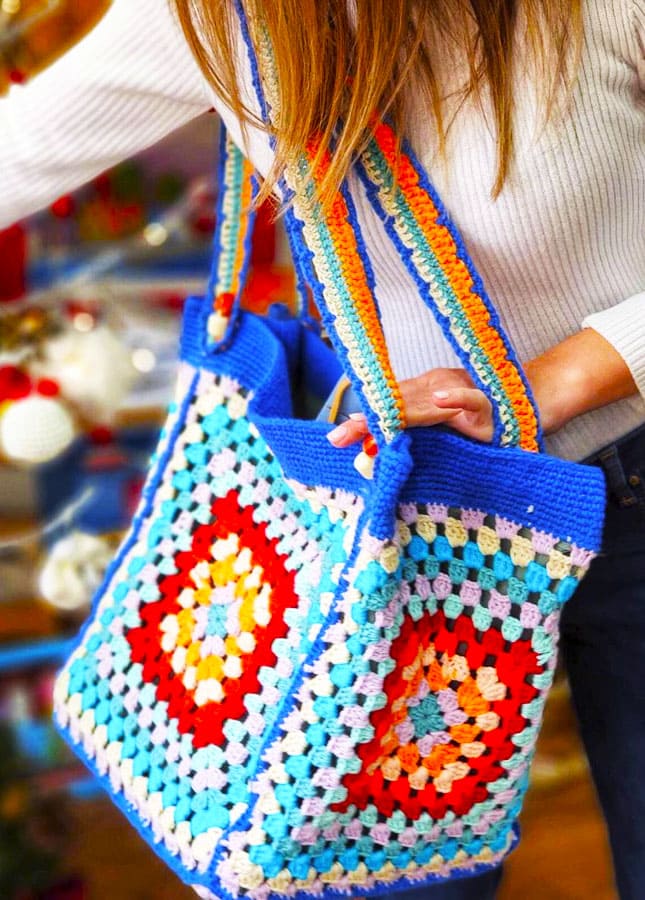 Let's move on to our second model, which was created entirely using a granny square. In the second model, the straps of the bag are designed completely different from the first model. The ports are also completely different. In fact, the rope-shaped bag hangers may seem a little simple. However, when a good color match is achieved, a truly quality job can come out.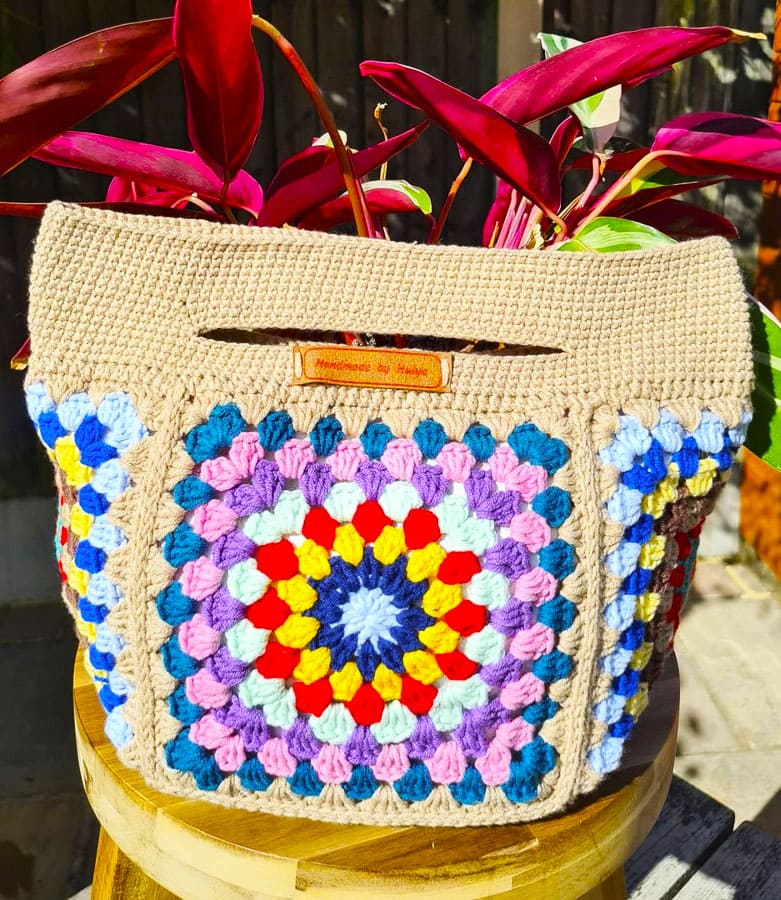 In our other granny square bag model, you will see granny squares created with different colors. The designer must have wanted to give it a different look. Thank you very much to Hülya who knit the bag. I can say that he designed a nice handbag. She used a slightly different design language due to the different knitting and crochet technique. The threads are used a little thicker. It also makes it more useful to have a handbag.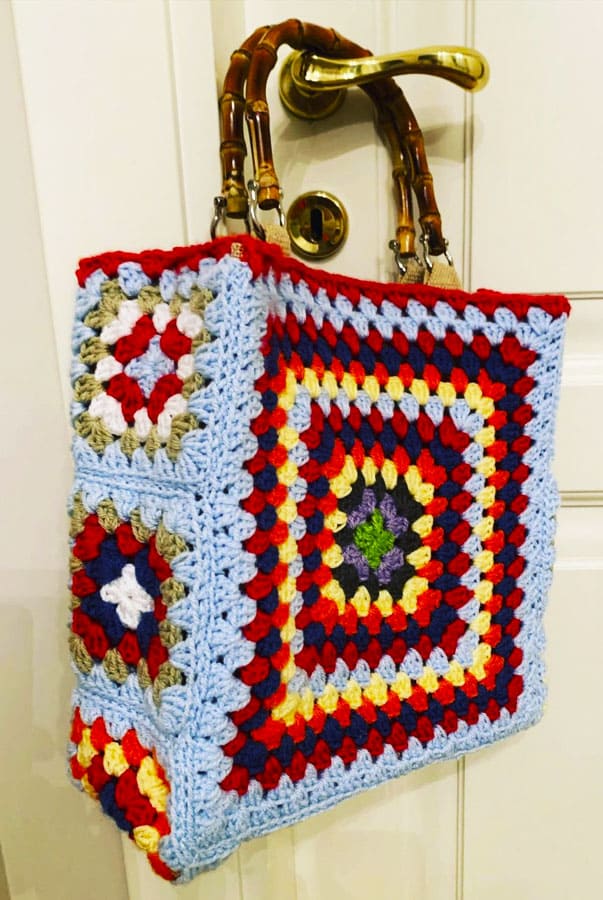 Having a handbag does not mean that the bag will not have straps. Here I am with you with a different model. First of all, a wooden bag hanger was used. This really gave it a muscular look. In addition, it is very noticeable that the connection points have chrome details. It may not be a good idea to use metal details in such bags. However, when you catch the color harmony, you can accomplish very good things.
Pink Granny Square Crochet Bags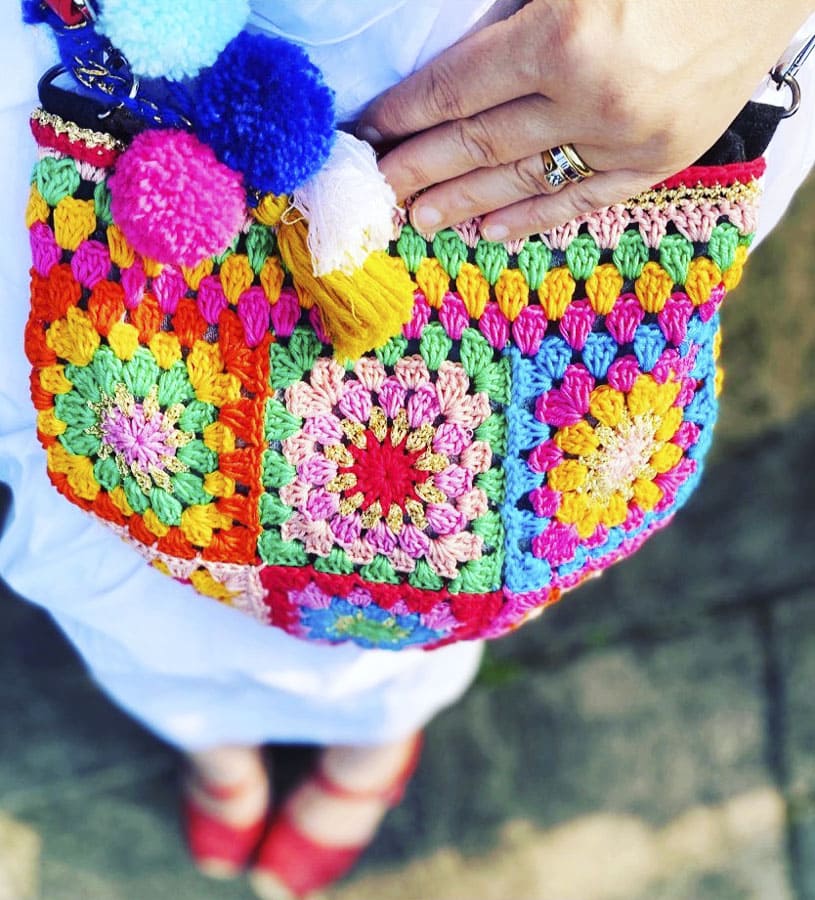 I must say that one of the most preferred colors by women is pink. I wanted to create a special area for the color pink. As you can see in the first granny square bag pattern, pink and its shades are quite dominant. In addition, a large number of colors are used. All of the colors used are very vivid colors. Using vibrant colors in such summer bags can make you look much more attractive. I think it will be a good choice.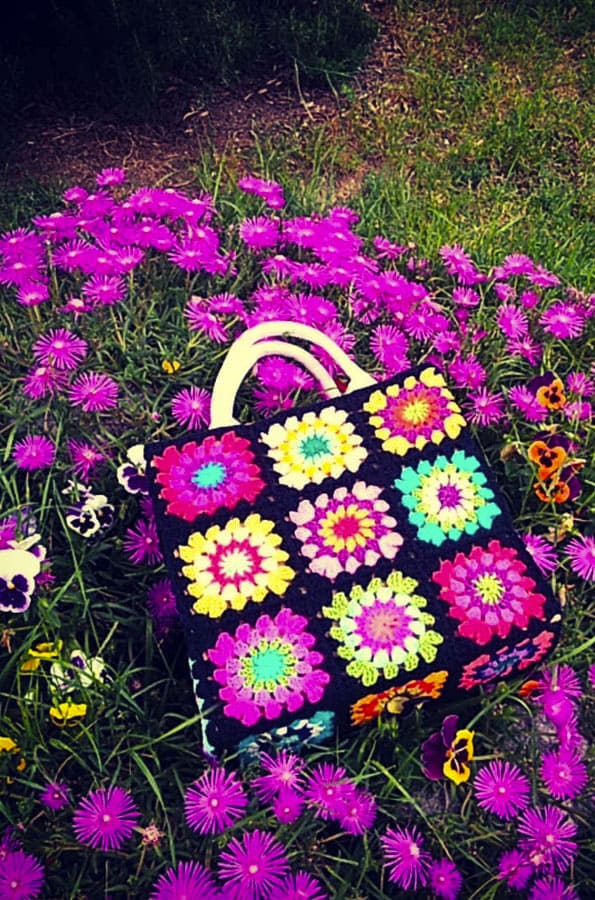 In this bag model, quite natural colors are used. Although it looks like purple, we can say that it is a very heavy shade of pink. Also, the color of the rope used in making the bag is very realistic. It is almost the same color of the flowers and the color of the rope used in the bag. These kinds of harmonious colors attract my attention. Especially when it's a natural look. The use of wooden materials in the straps of the bag gives a very characteristic appearance.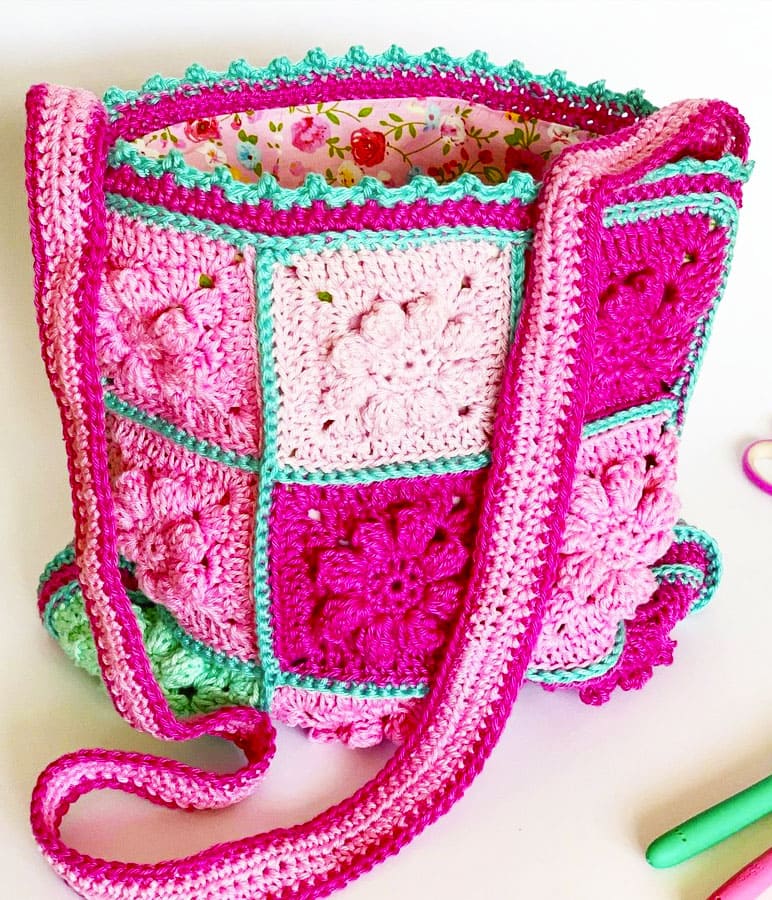 Our last pink granny square bag is a very simple model. More than one shade of pink and nature's green color were used. You can feel the harmony of the green color of nature here. It is a very good option to choose a rope as a hanger in the bag. I usually prefer these types of bags. I find it very useful to use it by hanging it on my shoulder. Can you knit one for me? :)
Little Granny Square Crochet Bags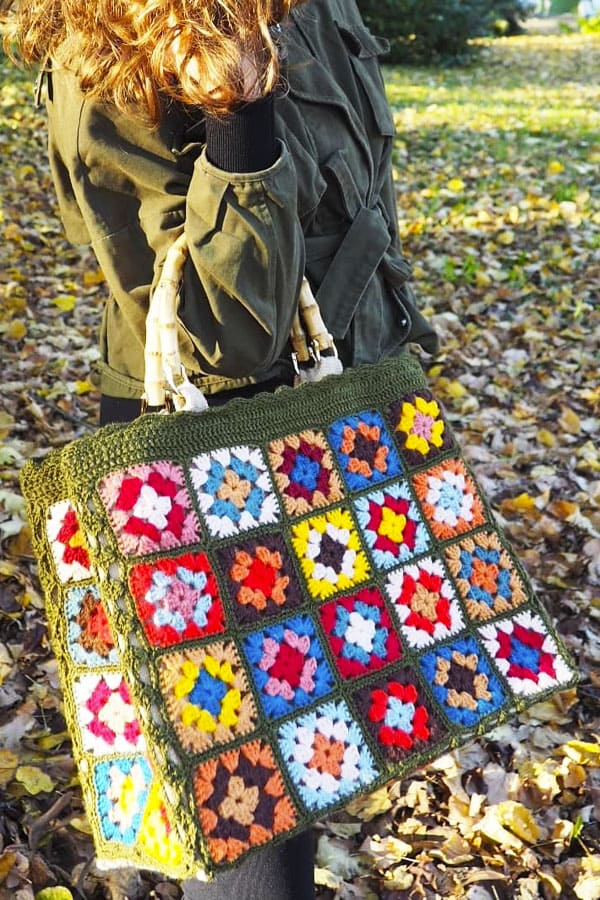 I think using small squares in knit bags can be a very good choice. Especially if you are a woman who likes to attract attention. When we examine the first bag, you can see that it is very easy to knit. Granny is knitted as a square, but the squares are created quite simply. Too much color can create a little disadvantage. If too many colors are used, you will have to constantly change the color of the rope.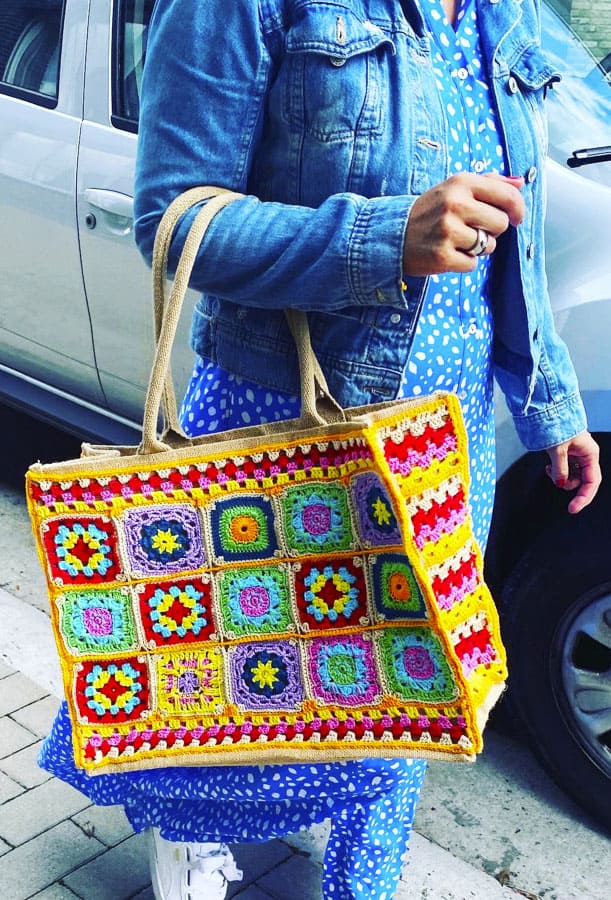 Although thick rope are used in the bag above, a thinner rope is used in this bag. A bag prepared with thin rope provides a much more elegant look. It has made it very useful in preparing the bag as a handbag. You can easily carry it in daily use. However, it takes some skill to use such light colors together. If there is an incompatible distribution of colors, a bad image may appear. You should pay attention to this.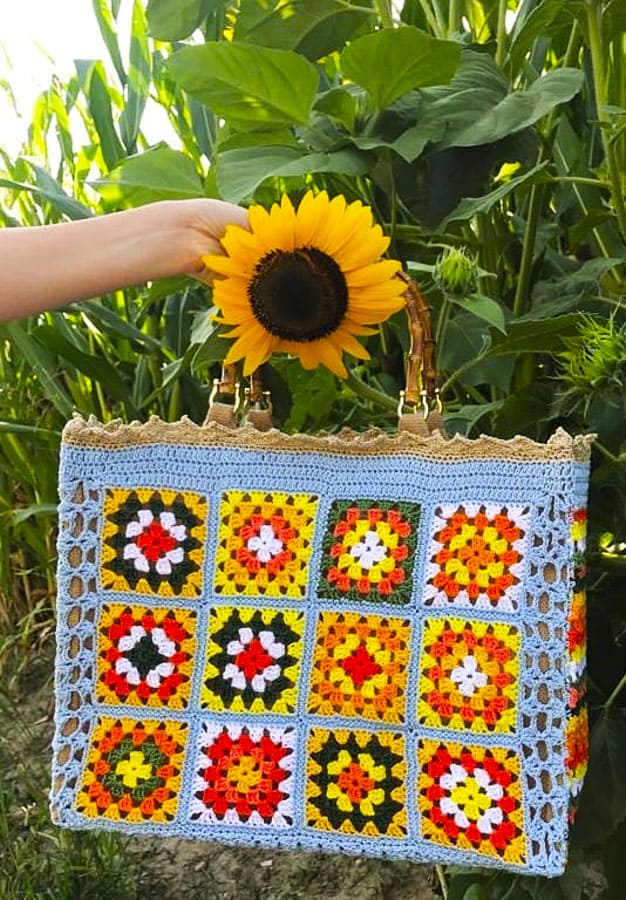 I can say that it is a good example knitted as crochet. As you can see, the bags are alike. So you don't have to worry too much. If you want to knit such a crochet bag, you can try it without hesitation. Such patterns are usually sold on etsy.com. You can buy it. You can also follow the designers on Instagram to see more ideas.
Best Granny Square Bags in the World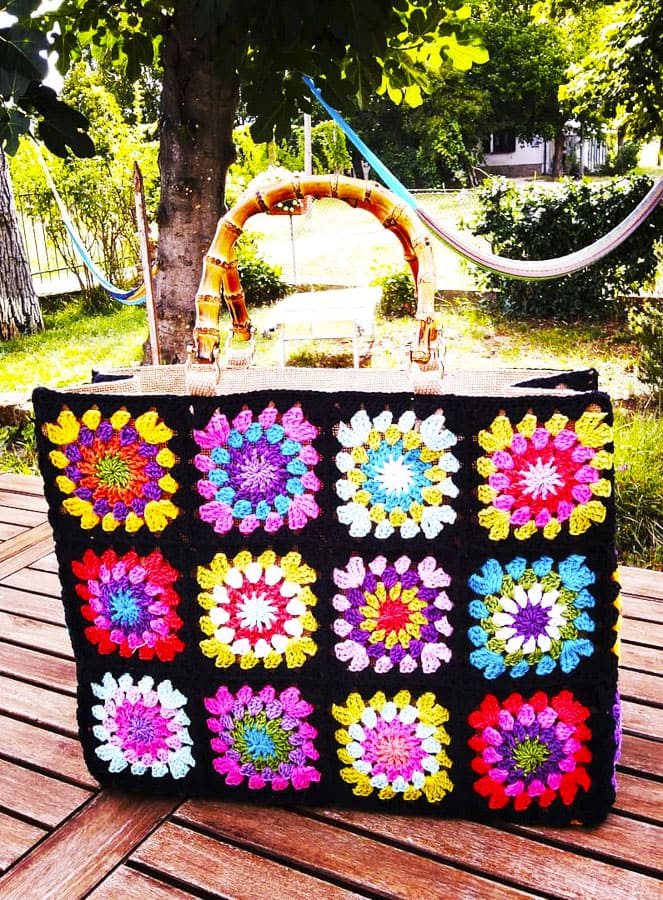 Granny square bags are usually knitted using very light colors. I can show the bags we have examined as an example. Black is not a preferred pattern. However, if you are considering a combination suitable for your outfit, you must have a black bag. I can't say that there are many recipes for free, but you can buy one paid pattern and try it out. In fact, the crochet patterns of all bags are very similar to each other. All you have to do is create the frames. The rest is very simple.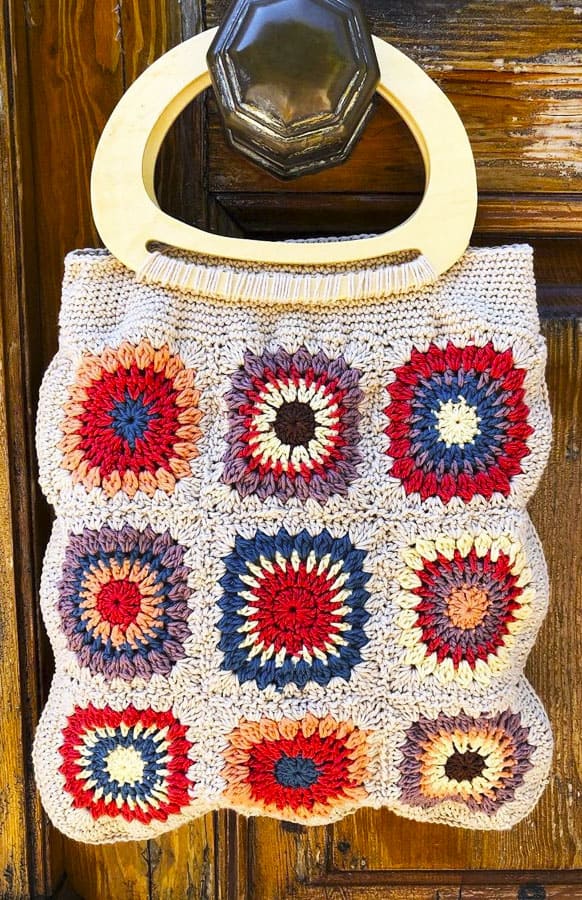 A granny square bag model prepared in an oval shape. I do not think it is a model that you will encounter much. It has an oval appearance on its outer surfaces. This may take a little work. However, the handle of the bag seems to be quite simple to make. Also, having a small bag can make it a little easier to make. I suggest you examine the bag in detail and watch the color harmony carefully.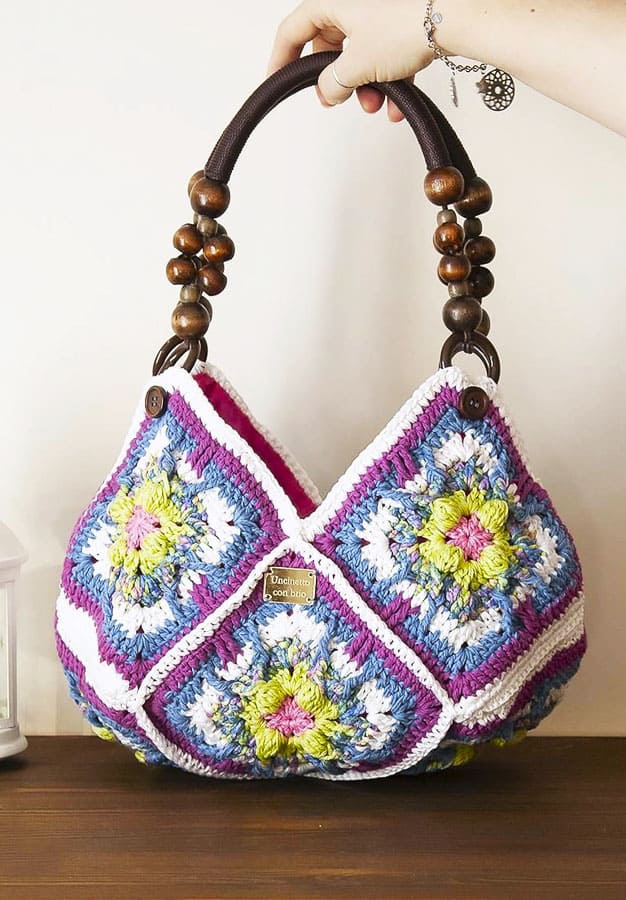 A very cute bag model with a prism shape. It is completely visually designed. It's like an ornament. So it's not very useful. Instead, you can make the bag even deeper. However, if you want to use it for decorative purposes, it is a model for you. You can contact its designer and purchase one.

Granny Square is the most useful bag pattern I've seen. While knitting the bag, you may need to make a lot of effort to give it an oval look from bottom to top. However, you can achieve this with a detailed pattern. The knitting part is not very interesting to me. I'm mostly interested in the models of the bags. My personal opinion is that it is a very suitable bag for daily use.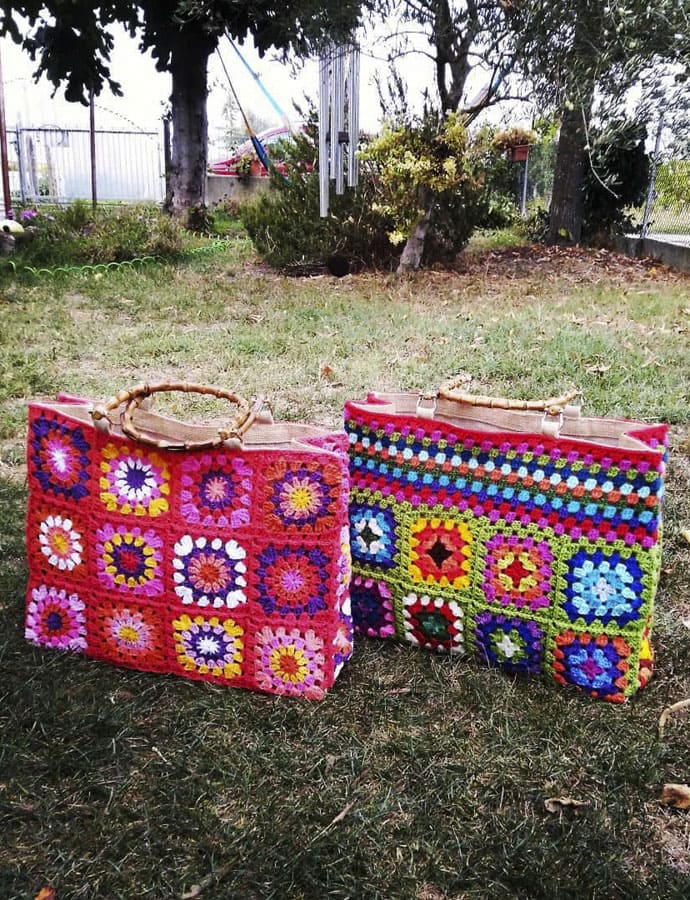 We have examined different models above a few pictures. Bags prepared in this kind of flower pattern are not suitable for daily use. The biggest reason for this is that it attracts a lot of attention due to the use of too much color. We can cite the bag, which is especially dominated by green tones. These types of bags are generally more prominent in women's conversations. You can knit a bag like this to look stylish when meeting your friends.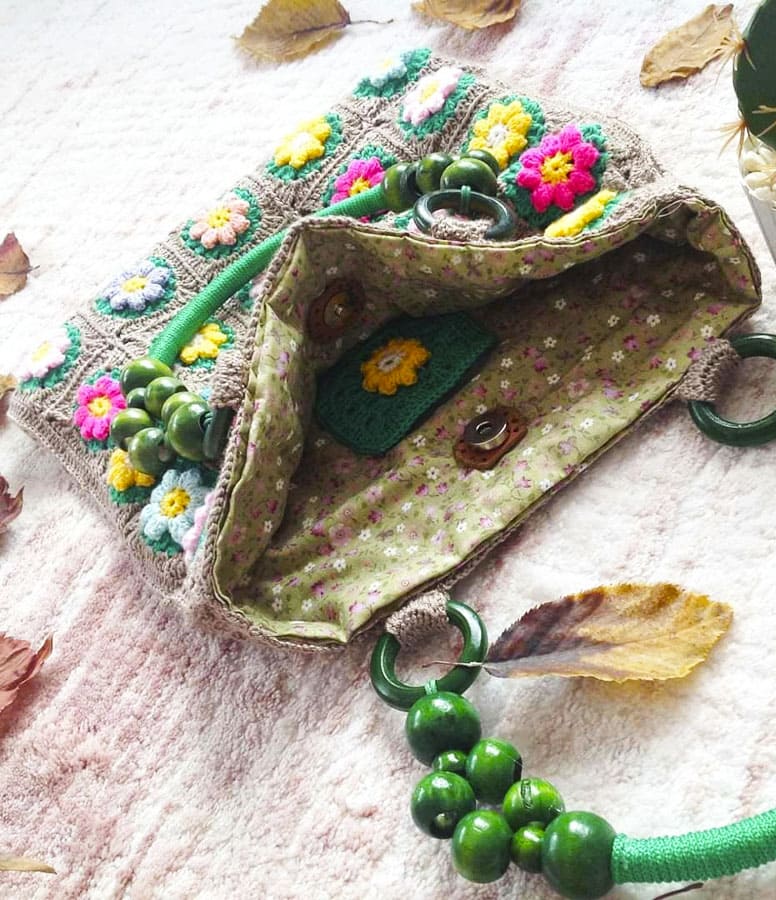 Perhaps the most suitable granny square bag model for young girls. When you take it with you when you go out, you can put all your small items inside. Since it is locked, your belongings will not fall out. It also symbolizes a very young look in color. A bag that can accompany you on hot spring and summer days.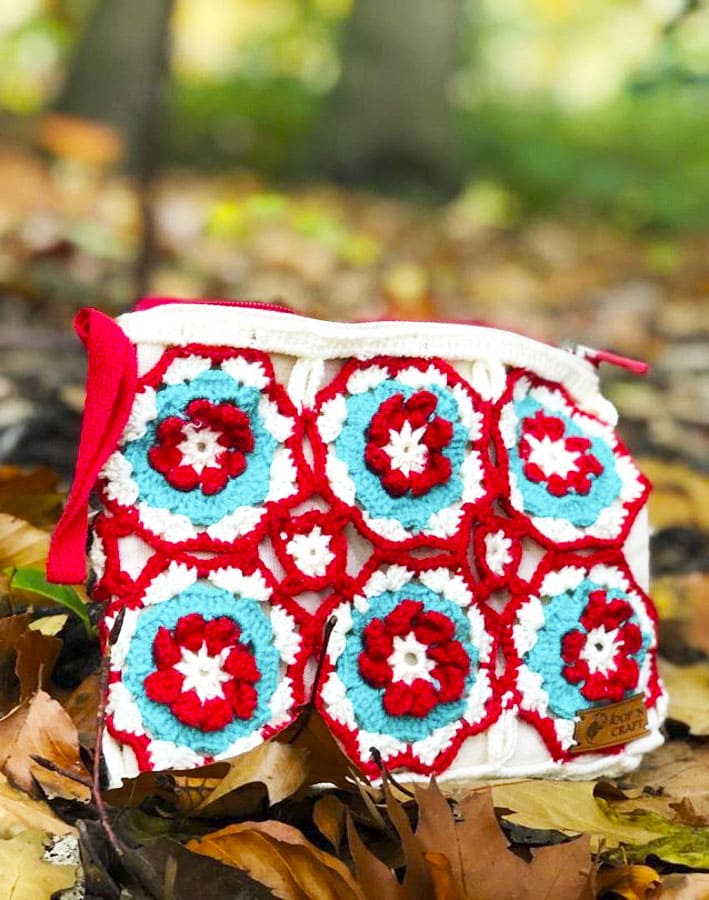 I can say this is one of the most difficult patterns to knit. The fact that the bag is as small as a wallet makes it more difficult to knit. Also, creating with granny square makes the pattern more difficult. As for the use of color, I think very harmonious colors are preferred. However, red might have been softened a little more. The fact that it is too prominent gets a little too much attention.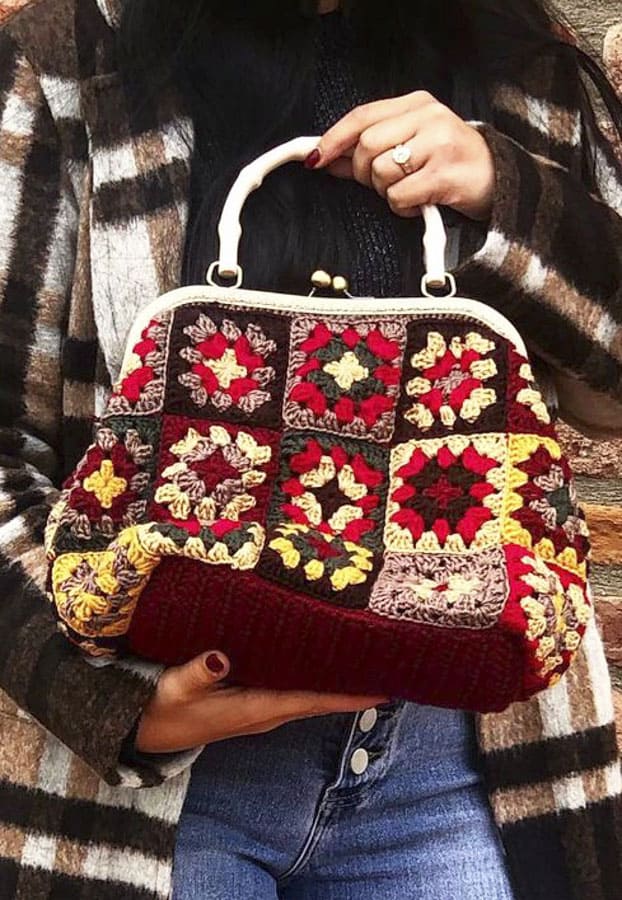 I have told you before that I conducted a survey on bags. However, this bag was not among the choices in the survey. If it was among the choices, I would definitely vote on this bag. I think it has a very impressive design for both daily use and special occasions. I intend to use this as the cover picture of the subject because it is a model that I really like. I have no idea about the crochet pattern. However, you can show this example to your expert friend and ask him to knit it for you.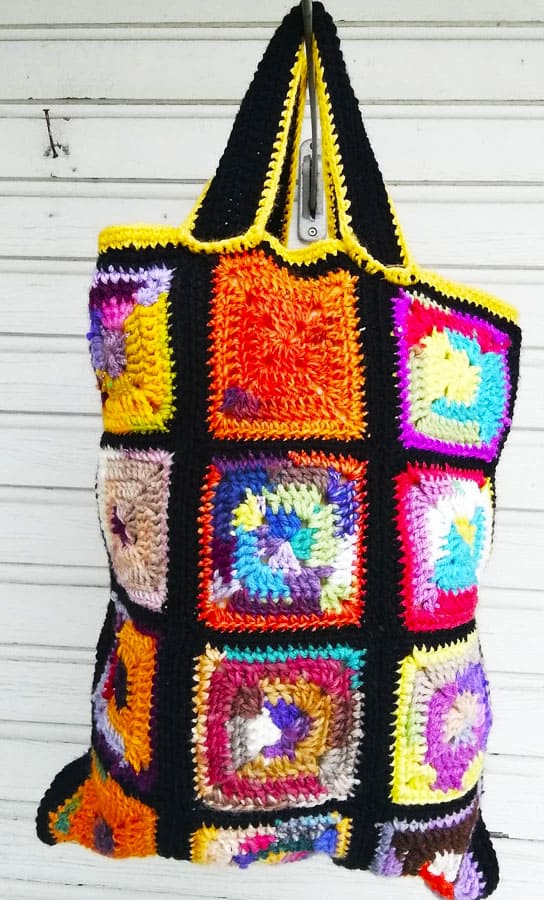 It's a bag that's purely for its purpose. If you say the bag is for storage and not for decorative purposes, this bag is definitely for you. It has quite a lot of carrying capacity. The fact that the handles of the bag are made of rope makes the bag much more robust. You can easily carry everything you put in it.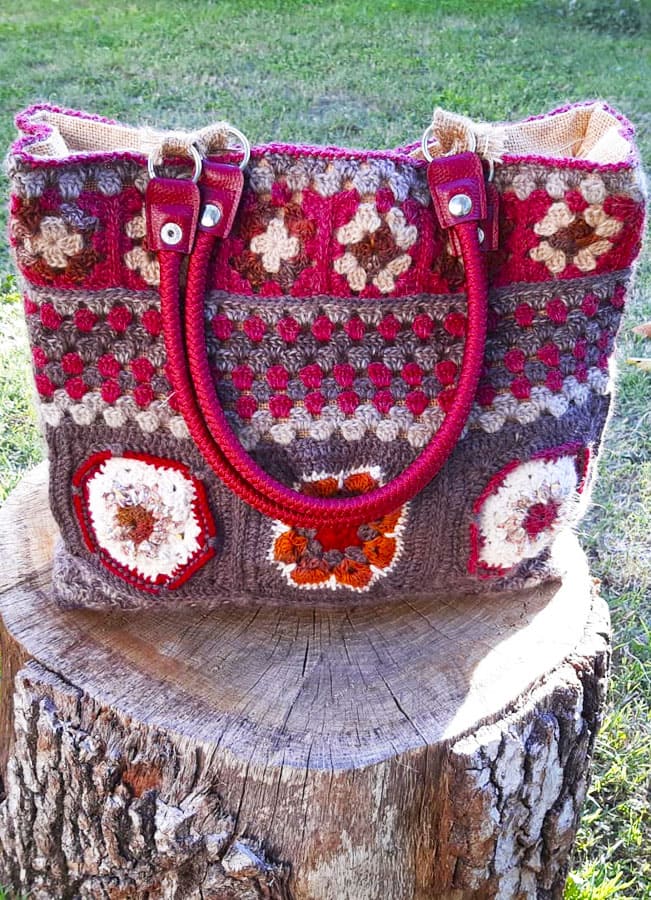 Today we have reviewed exactly 22 different granny square bag patterns with you. They were all beautiful and stylish. Before I conclude, I want to talk a little bit about the last bag. First of all, if you pay attention to the bag, you can see that different squares are used. This is a detail that makes the bag very difficult to make. Maybe slightly different colors could be used. However, it is definitely a great color match.
If you want this way to keep your opinion topics, please don't forget to mention it in the comments. Please contact me if you have a question on the subject.