There is very little left for the hot summer days. Now you need to take more care of yourself and your hands. Nail designs and models have changed a lot now compared to the old ones. You can see many different designs, many different models. Today, we will examine 25 different nail models designed for summer.
As you know, there are so many nail design centers now. Women attach great importance to this issue now. It is no longer preferred to make simple nail polishes at home. Beautifully designed nails can turn into a very impressive accessory. I definitely recommend you to take good care of your nails.
Summer and Spring Nails Design Ideas
Are nail models divided into summer and winter?
I do not think it will be different. However, I can say that impressive nail designs are not used much during the winter months. It may be necessary to use a lot of hand cream on cold days. Also, some women love to use gloves. For this reason, shorter nails are preferred. However, in the summer months, impressive nails are preferred as much as possible. Let's examine these impressive nail models together.
Awesome snake sticker nail
It should be quite difficult to embroider a snake model like this on the nail. However, it has a very different view. It is not a nail design you can come across very often. It is as if there are colors of summer fruits on the nail. I like the look overall. However, slightly softer colors could be used.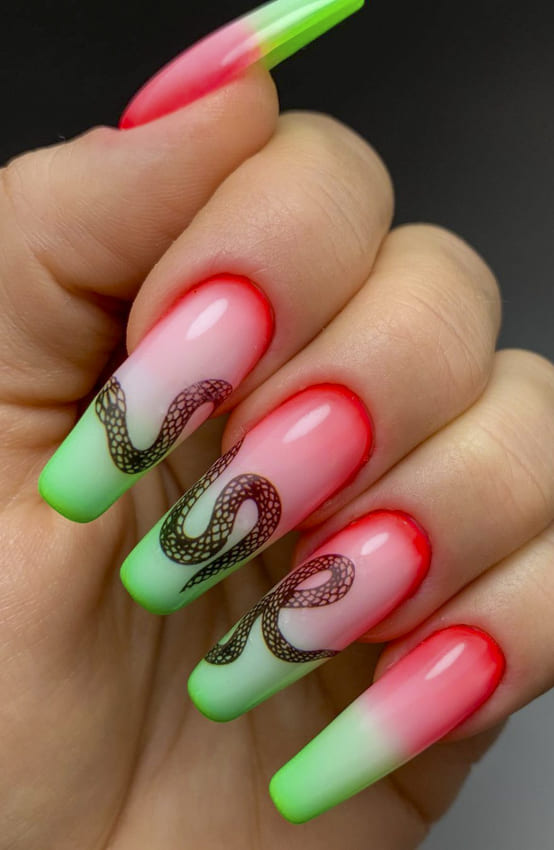 Blue and Glitter Nails
As you know, glittery nails are used too much now. However, there are models that do not turn this into too show off. As you can see in the picture, a very light glow is applied on the blue nails. I think it was a very stylish design.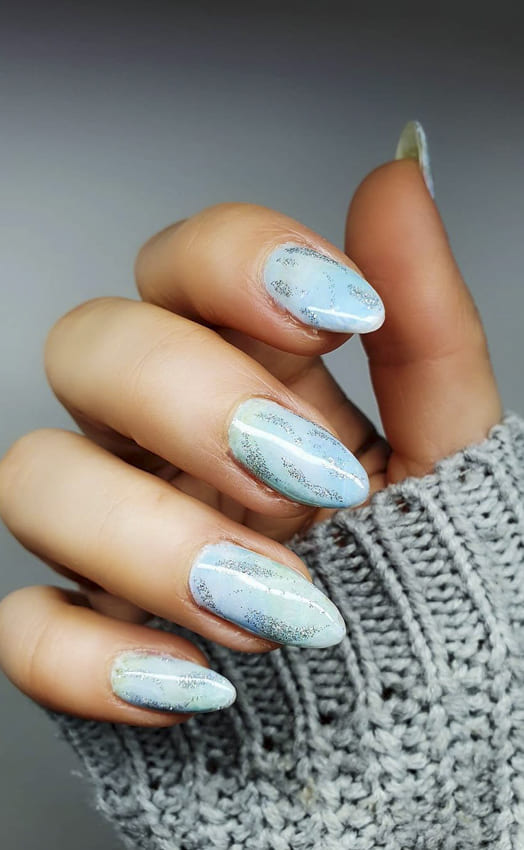 Coffin and long nails
Coffin nails are preferred quite often. However, if you have such nails, you should not use your hand too much. If you use your hand too much, I definitely do not recommend you to choose it. You will have a lot of problems, especially if you have a lot of work with the computer. You can try other designs instead.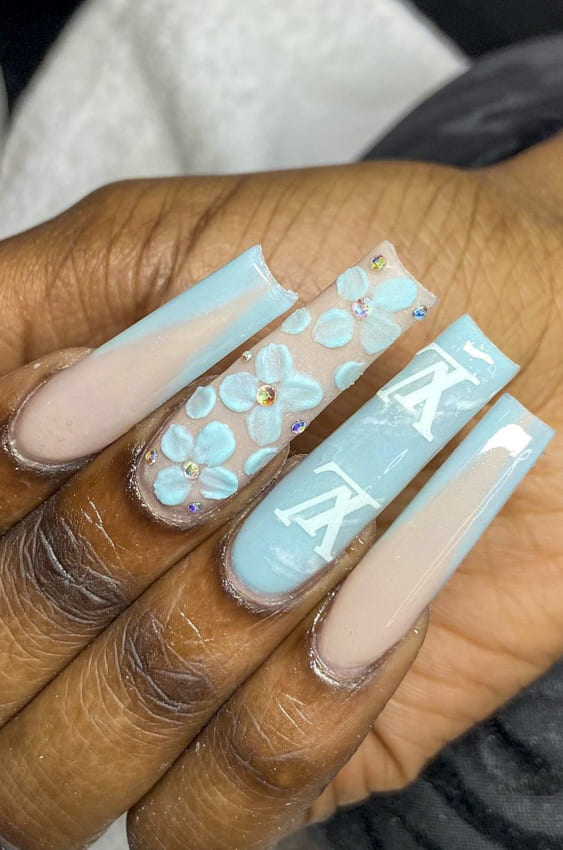 Coffin and flower nails
Short coffin nails are of course much more advantageous than long coffin nails. The priority is of course size. This way you can have a beautiful nail decorated with flowers and butterflies. Or when you take a long vacation, it will be a change for you to have your hands look impressive.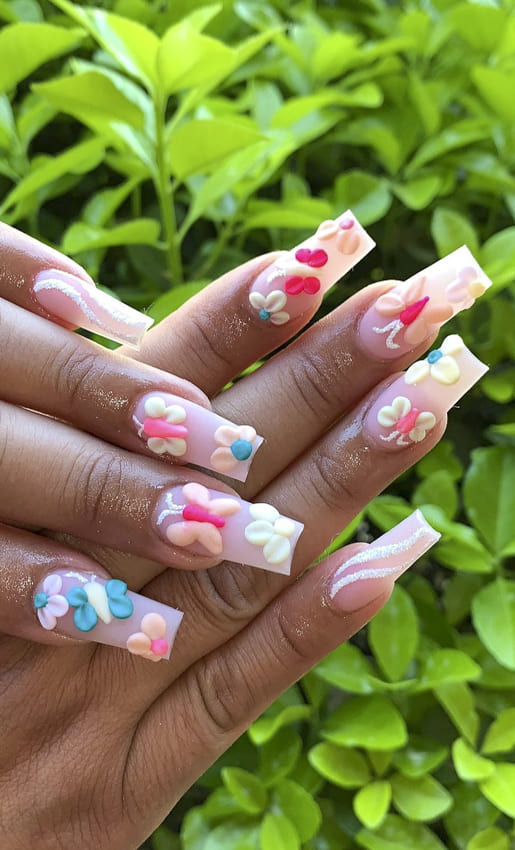 Complex Mood nails
As my personal opinion, I do not like nails made in this way. The biggest reason for this is that it symbolizes a complex mood. This makes me nervous. I feel a little uncomfortable. I can say that it attracts a lot of unnecessary attention. Everyone who sees you definitely wants to take a look at your nails. If you enjoy this attention, why not?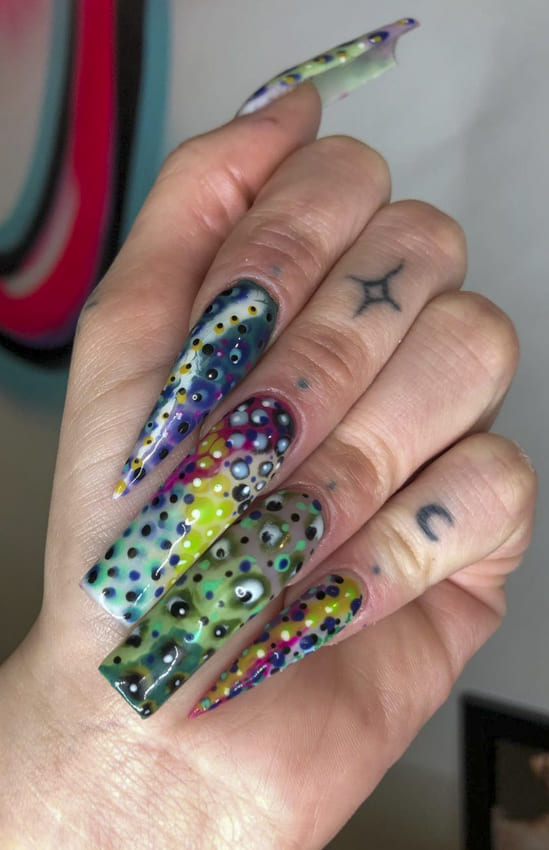 Dark pink, purple with diamond
Blue and purple colors are among the most popular colors used together in nail design. Since there is a lot of work space especially on long nails, you can give as much effect as you wish, just like a watercolor work, as you can see in the pictures below. However, there is a fact that your hands must match these colors.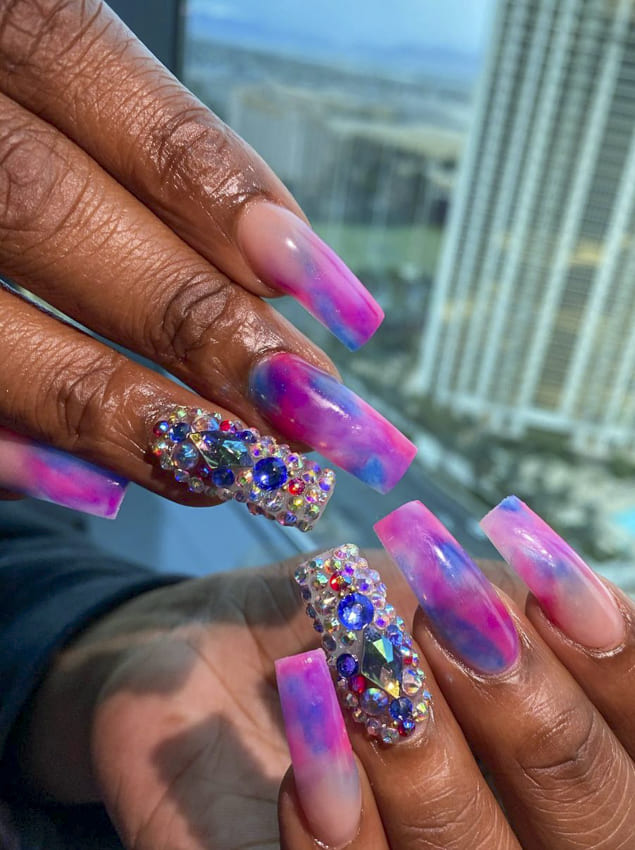 Floral Almond Nails
Almond nails are a very good choice for women who are active in daily life. You can see this in your working colleagues around you. If you want your hands and nails to look good at a busy pace, almond nails will help you in this way. You can express your inner freedom by using such colors in summer and spring.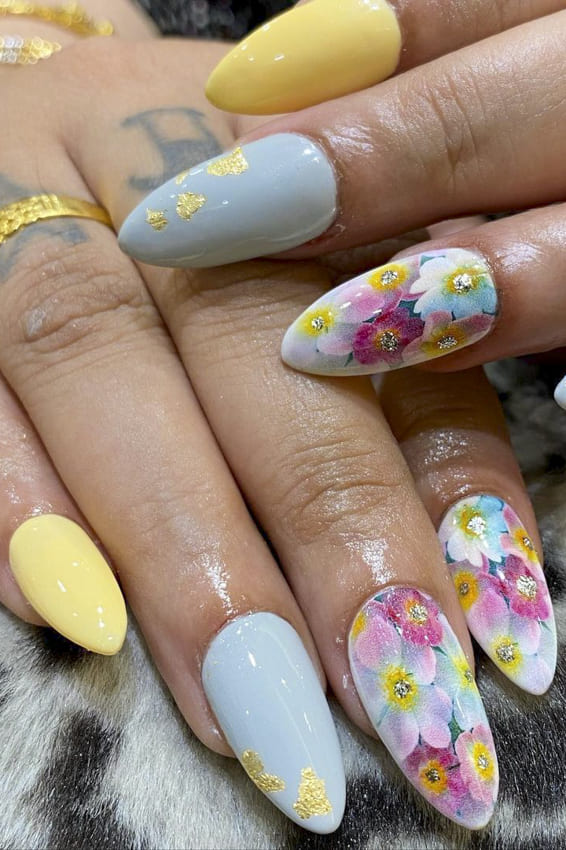 Floral short nails
Flower designs on the nails are among the first among the nail models preferred by young women, especially. Designs like this don't look very suitable for middle-aged women. I must say that she is a very beautiful model for young girls.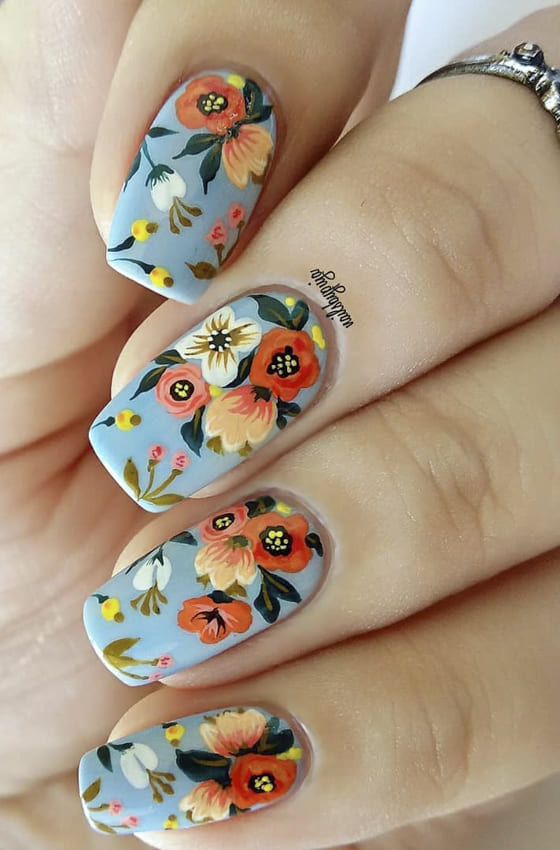 Forest green summer nails
I could not find an expression for this color, and I chose to express it as forest green. A very mysterious color has been used, isn't it? A very ordinary and simple nail has a very impressive appearance.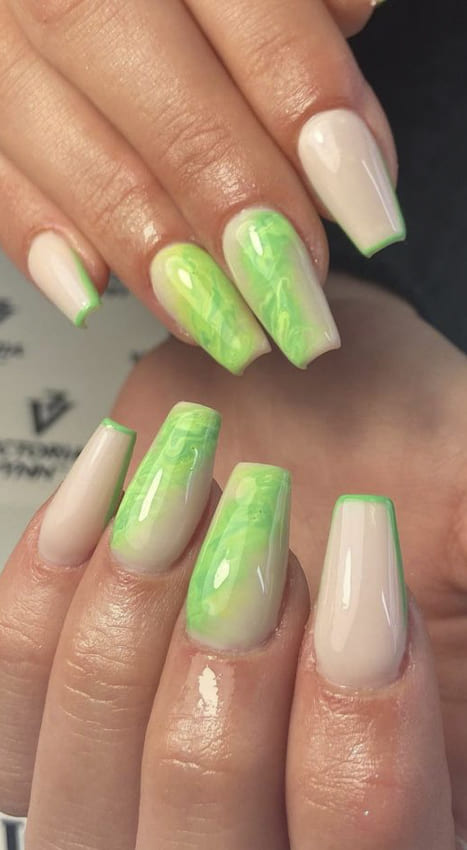 Glitter with diamond nails
An amazing appearance can be created when using glitter stones rather than color preference on glitter and acrylic nails. Especially on long nails. A diamond-like appearance emerges. As you can see in the picture, because the nail is very long, many symbols and diamond-like stones are used.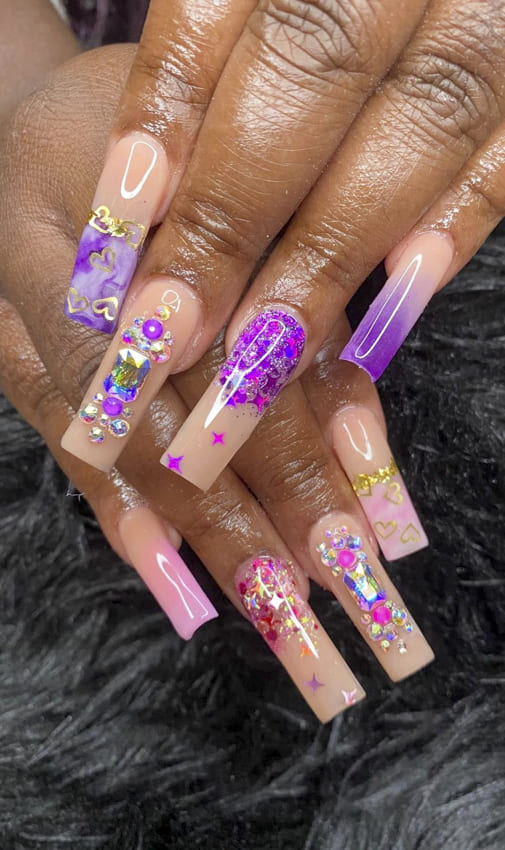 Green with butterfly summer nails
I really like this green color. Especially on such medium length nails. It is very impressive and surprising, even though it hasn't gotten a complete ombre nail look. It is also very stylish to use a butterfly on the nails on the middle finger.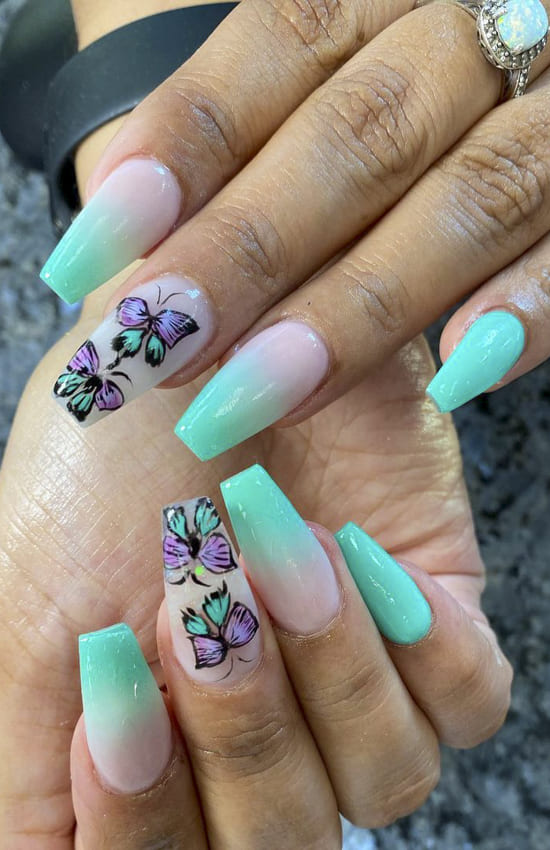 Light blue acrylic summer nails
A beautiful blue color. Although it does not look exactly like an almond nail, it is a very stylish design. Can anyone tell the full name of this color? It looks like the color in the sky that occurs in the morning. What do you think?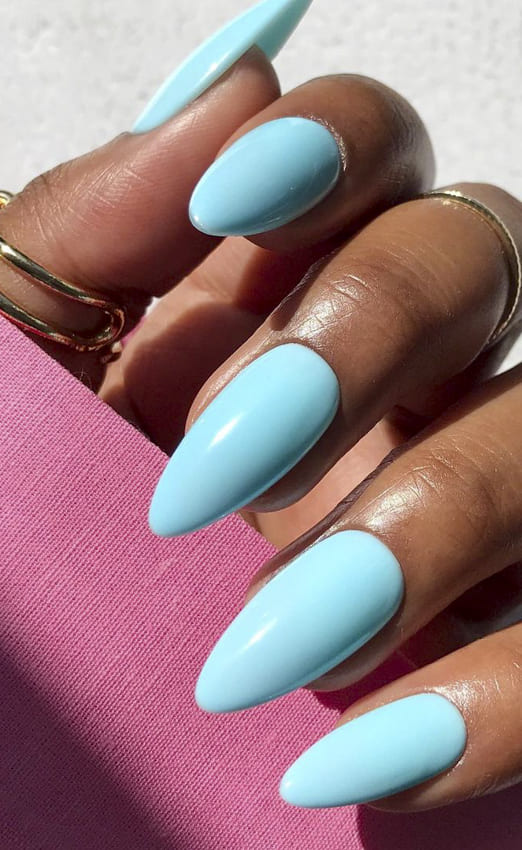 Light pink with diamond summer nails
If you want light pink nails, this might be a crazy choice for you. However, you should not use your hands too much. Care of such nails is very difficult, my dear friends. Especially diamond-looking stones are very likely to fall. You may need frequent maintenance.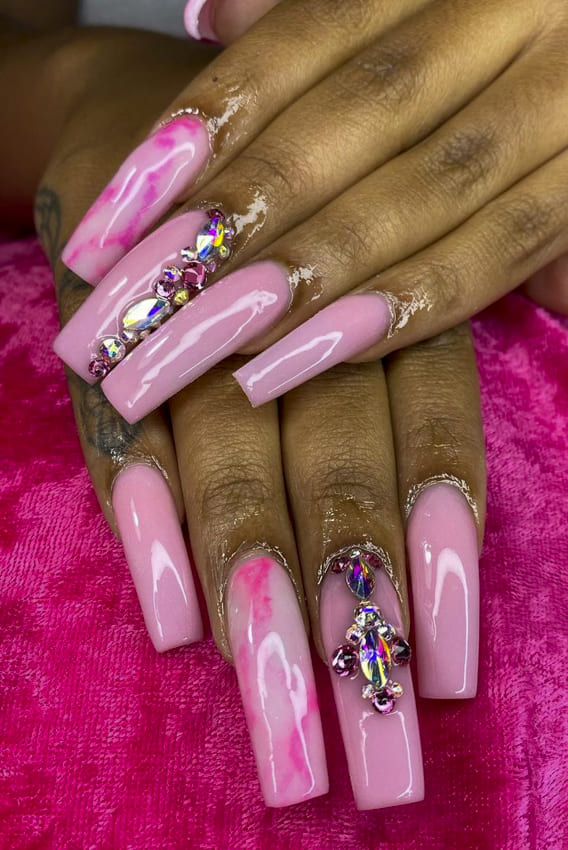 Long Stiletto summer nails
Long and nail nails are very impressive, but I know they are not preferred too: :). A little too ambitious model. I do not know what to say. If you prefer these types of nails, I think you have a very contradictory mood and character.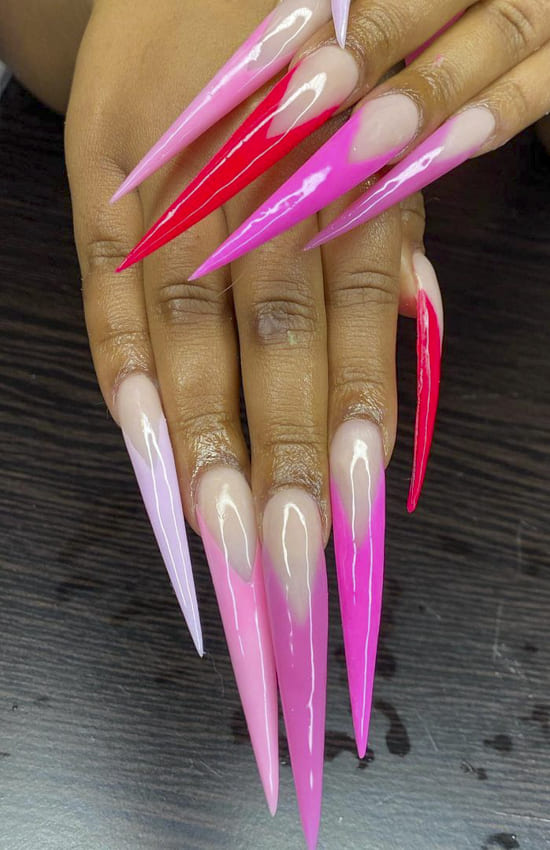 Long white and green nails
A wonderful green color is sprinkled over the white nails. I like the oval design of the nail more than the color in this nail. The nails that are bent towards the inner part make your job a little difficult, but it looks very impressive.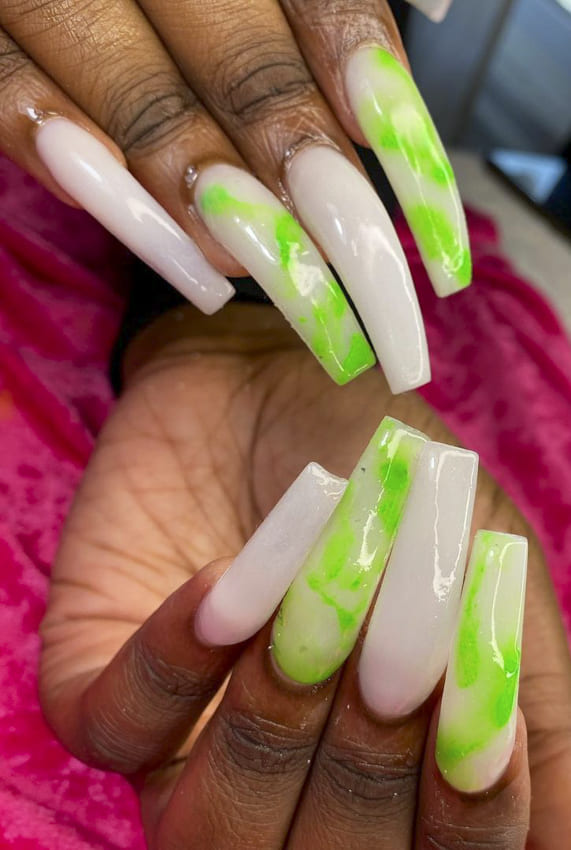 Cute smile emoji nails
Emojis on nails are used by young girls. Especially young girls who are going to school or going on summer vacation.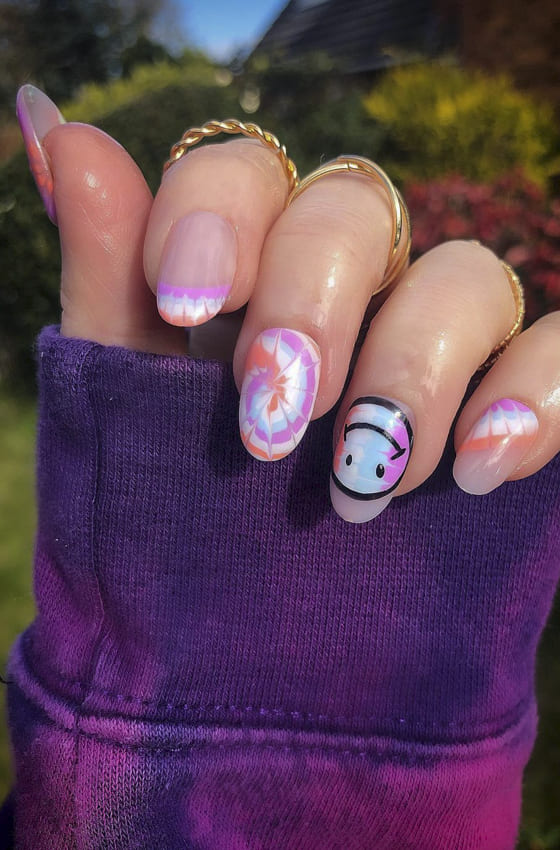 Nude white ombre summer nails
A model that can be a very good choice if you are a senior manager in the company you work for. Or if you own your own business. These types of nails are very difficult to maintain and use, my dear friends. Also, I really like the designs on the middle nails. It has a simple and different look.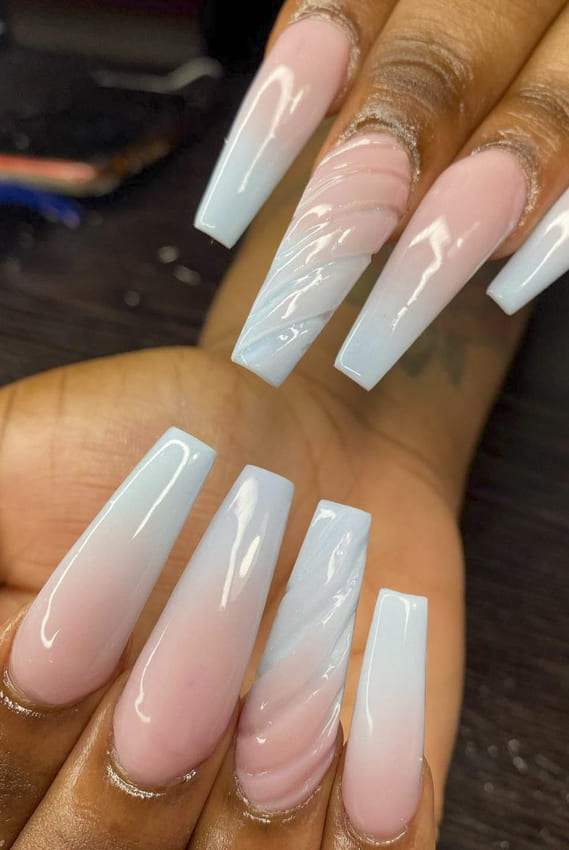 Ocean blue summer nails
It's really amazing that there are oceans with exactly this color in different parts of the world. It is one of the colors I love very much. Also, using oysters and starfish on the nails will be an indication that you are ready for a holiday.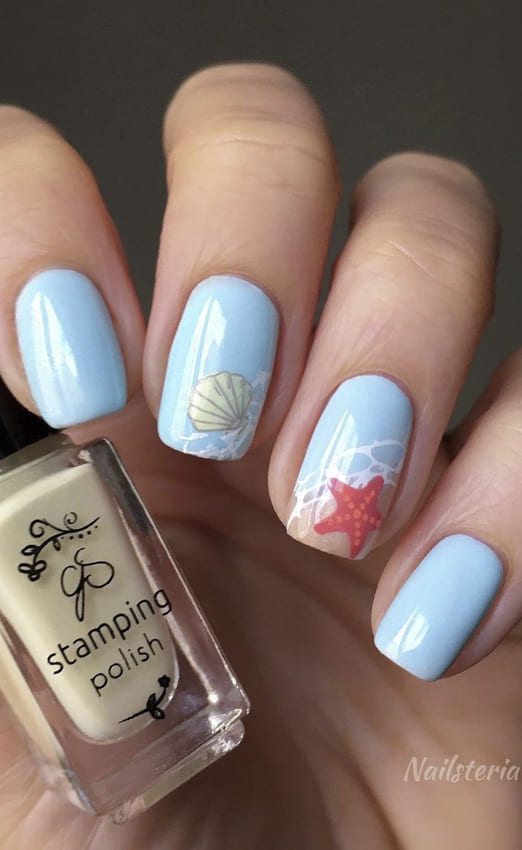 Pink, blue and soft blue ombre nails
The use of three different colors in this way in ombre nails has become widespread. Especially in the United States. Remember that there should be harmony as the color choice. Your nails may look ugly if you use colors that are too contradictory to each other.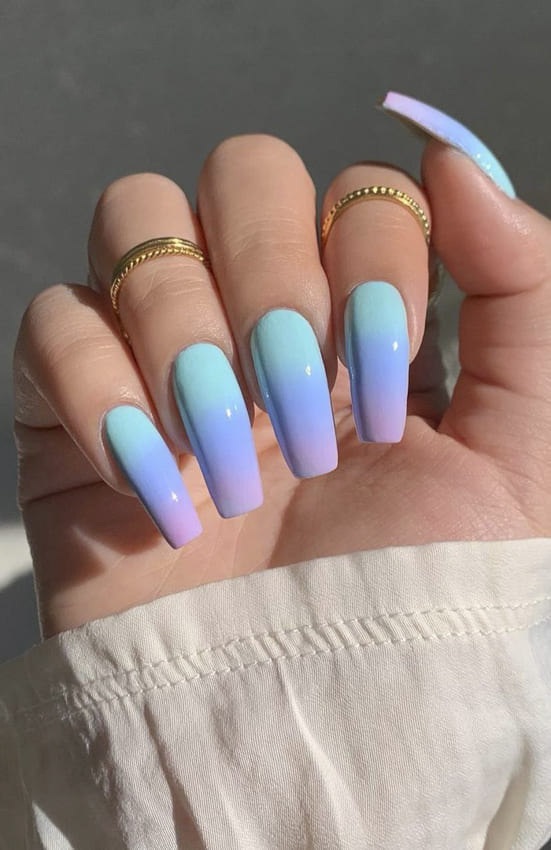 Coffin polka summer nails
I couldn't find a name for such spots so I named it polka. A nail model with beautiful spring colors. Very vibrant and soft colors are used.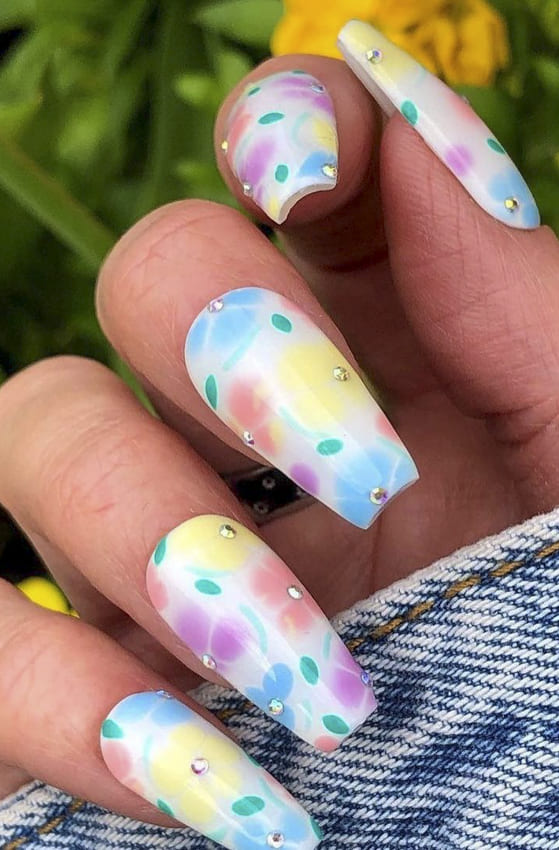 Rainbow summer nails
The use of all the rainbow colors was very nice to my eye. However, it can be quite impressive in such a design. Color transitions were used up to purple and yellow. I really liked it. Also, the nail has a very simple design.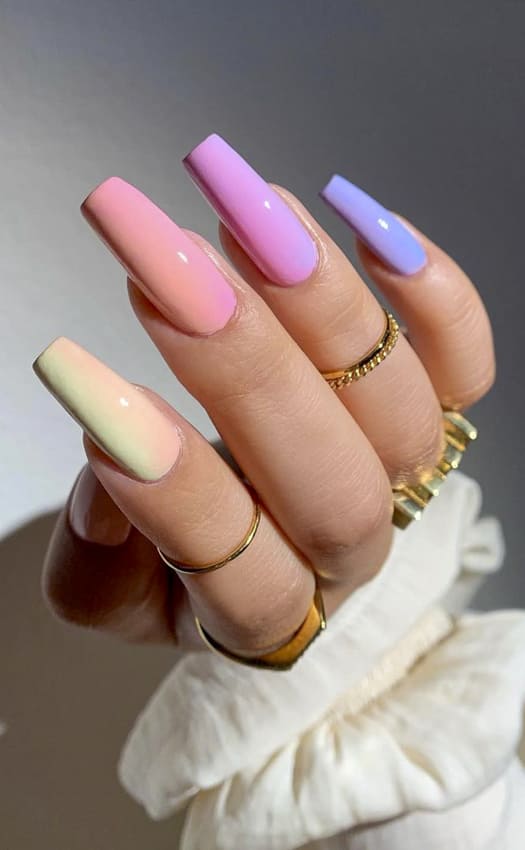 Snow Blue summer nails
Maybe it is a bad choice for hot summer days, but I really like this color. Perhaps it would be nicer to use butterflies or flowers instead of snowflakes.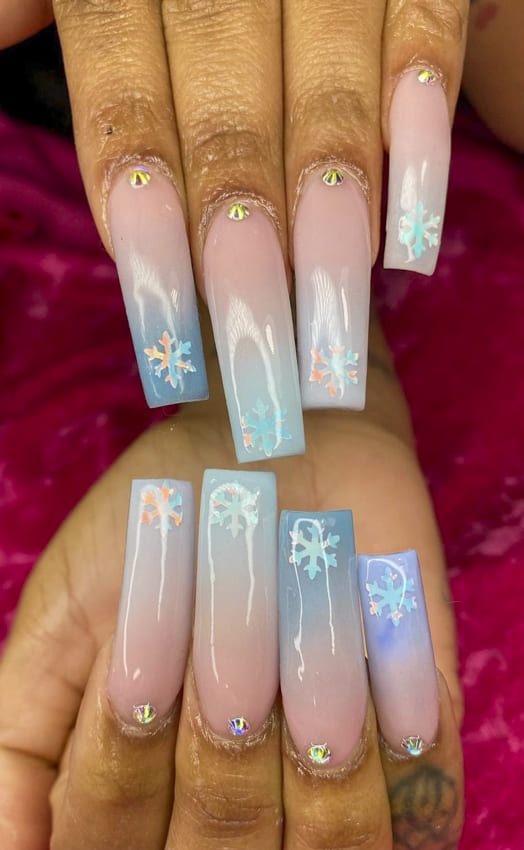 Sunny Yellow summer nails
A beautiful nail design that will warm you up for hot summer days!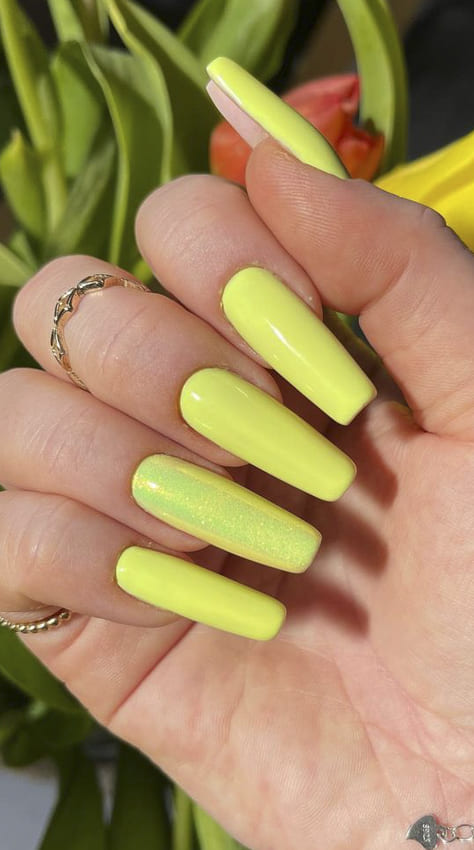 White and pink flower nails
In today's position, I can say that it is perhaps my favorite nail model. It looks a bit like a french nail model. But much longer. It is also adorned with a perfect flower figure.