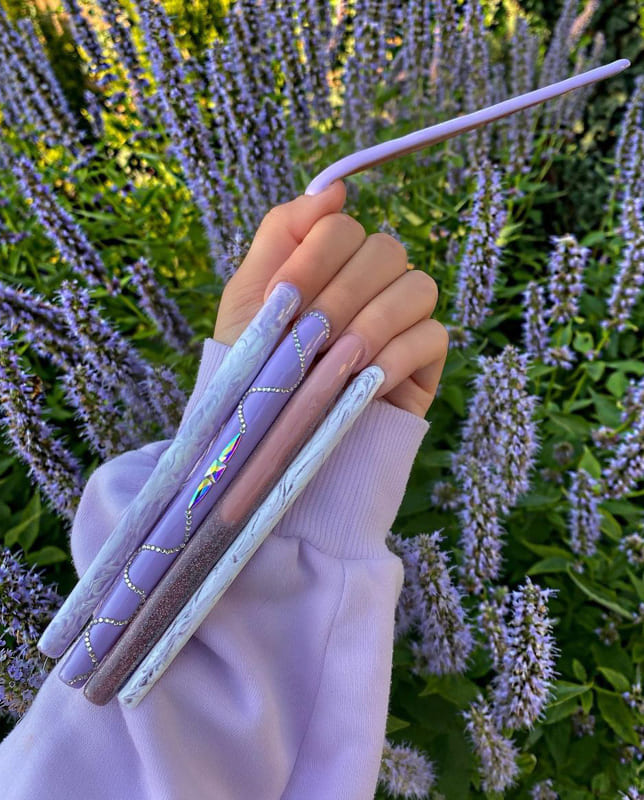 We have left another year behind and we are together with you in the new year, that is, in 2023, with new nail designs. Many women prefer their manicures in lavender, which is cute and cheerful, and they like to display it that way. Best of all, each brings their own personal style and develops their nail designs uniquely. If you are interested in this nail design, you can now create your own designs. Lavender color is so versatile that you can apply it to a glossy or matte surface. You can even make different decorations on top of it. Believe the lavender color, everything looks good.
Lavender nail designs, trendy color of summer and spring 2023
One of the colors that will be very fashionable this year is lavender, also known as lilac. Recently, it has started to be used quite a lot in nail manicure. We all know that it is a very popular and preferred color in spring and summer. However, if you have an office life, it is a fact that we can always choose this nail design. In addition, for some women, the love of lavender is so great that having a shirt, a jean and 2 dresses that will not contrast with the lavender color can make you spend a whole season in fashion.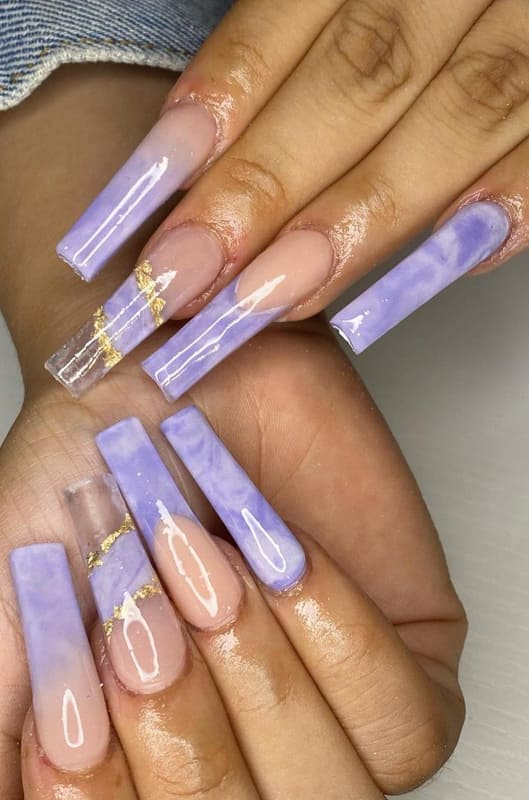 The designs made using lavender nail polishes are truly gorgeous and at the same time quite feminine. Many famous women are now much more insistent on choosing this color. It is not a coincidence that lavender nail polishes are used this season!
False nails are an option for girls who always want to have perfect nails. If you have brittle nails or just want to have longer and beautiful nails, we recommend using any of the methods to have false nails such as gel nails, porcelain nails or acrylic nails.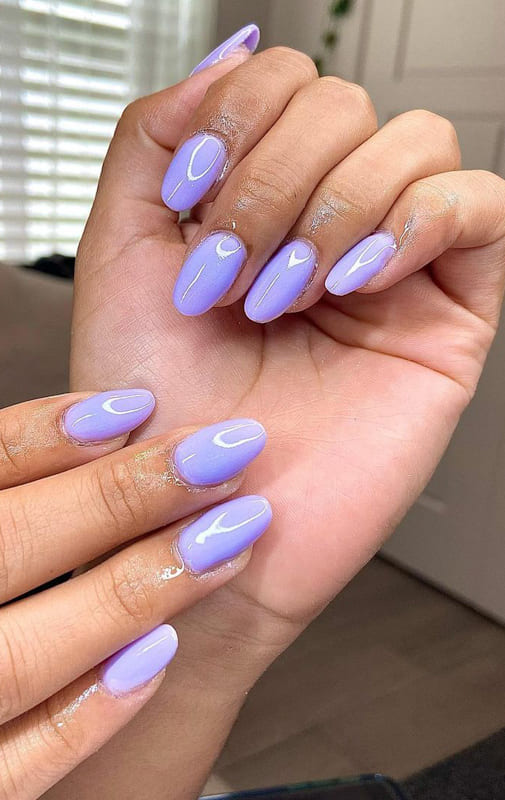 As the seasons change, not only the clothes or accessories change, but also the colors and designs you choose. The colors used in make-up and nail polishes also adapt to seasonal changes and we use more seasonal colors. If you need a color change in both your clothes, your make-up and your nails, that season is spring.
In the joyful and sunny spring season, it may be the right choice to choose and display more vibrant and heartwarming colors according to our mood. The colors preferred by women change every year. However, feminine colors like lavender never lose their popularity.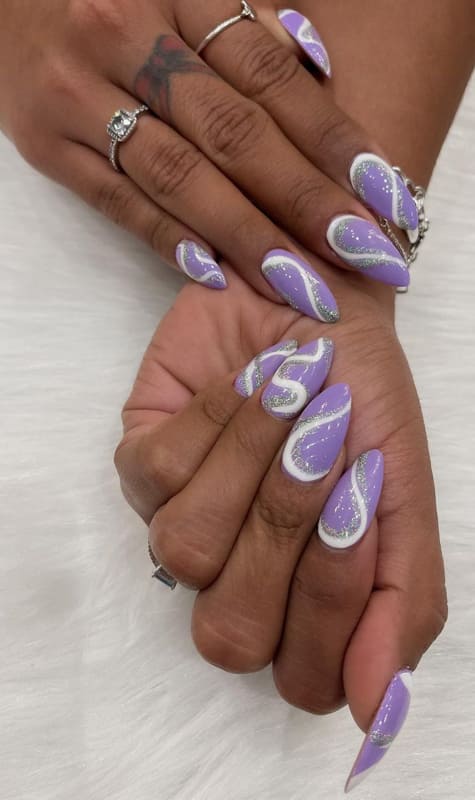 I think it would be the right decision to take a look at Pinterest, where we can follow new trends and discover them, and examine the designs. In this way, you can see nail designs with very different tones of lavender and brand new ideas for you can occur in your mind. It would not be wrong to say that the lavender nail polish color is already the right decision, but it will be an even more successful color in summer and spring.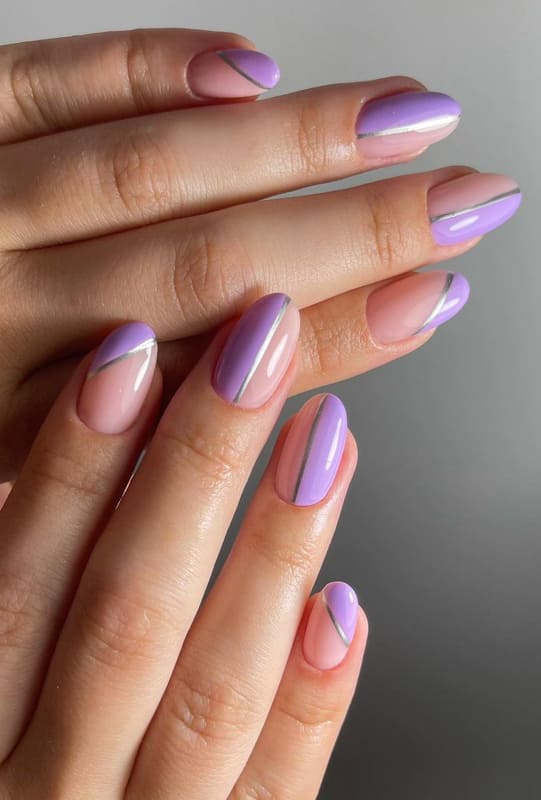 Blue and lavender nails
You can now choose a lot of colors and designs when choosing nail polish. You can also make different color combinations on lavender nails. Blue color is one of them. You can even see that the blue color is more intense on the nails. The dark tones of blue are very close to lavender and work very well in revealing the beauty of lavender.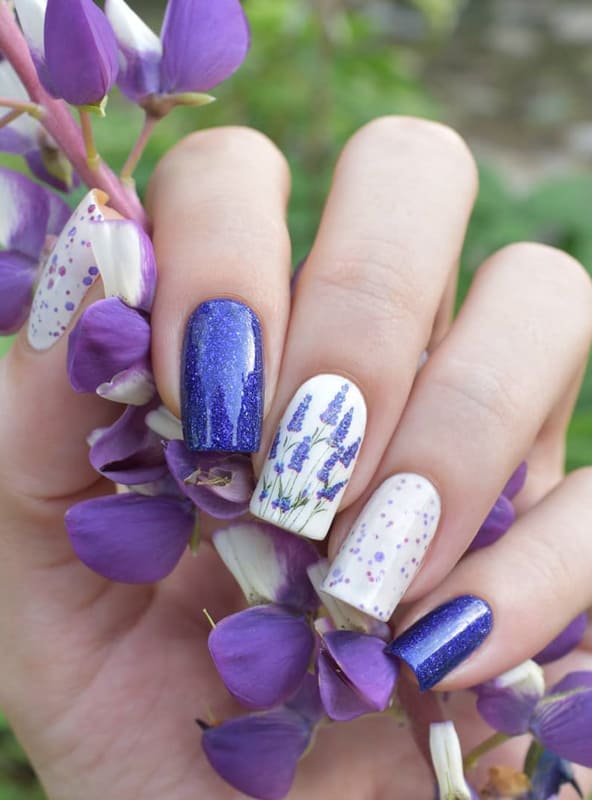 Daisy french lavender nails
Using different colors instead of white in French nail designs has become a trend in recent years. Using lavender color instead of white will be a good choice for the spring season. In addition, making small decorations on your nails will increase the show on your nails. The best example of this is adding small daisies.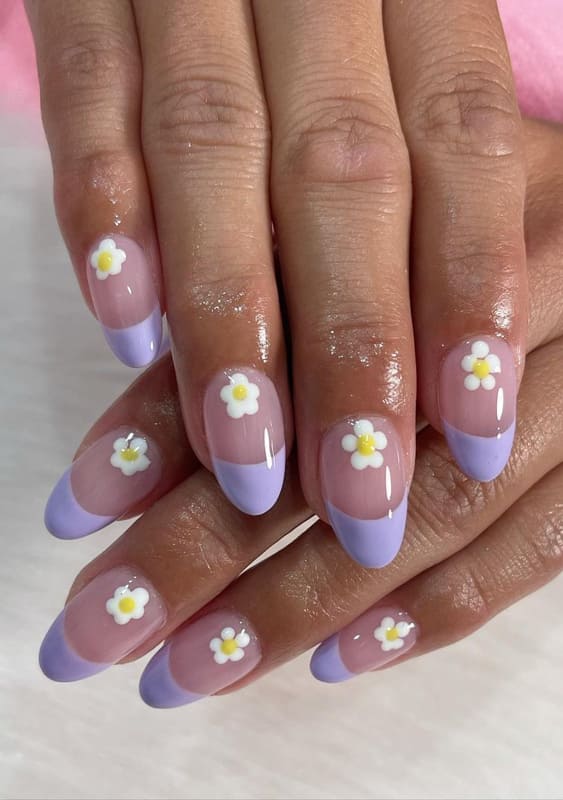 Cloud and Stars lavender nails
I have said before that the lavender color is used more in the spring and summer seasons. I would like to give a very specific example of this. Tiny star prints are applied on the nails. Also, tiny cloud effects are used. The color of the clouds is white, symbolizing spring.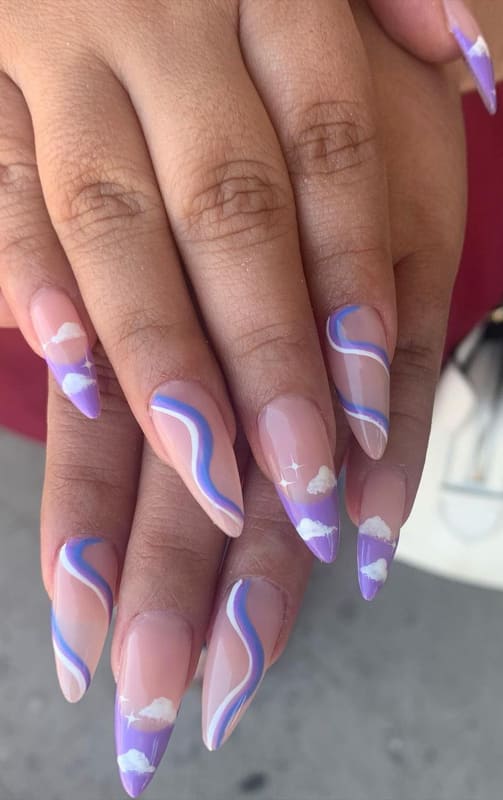 Crystal and lavender nails
The use of crystals on nails has recently become fashionable. It is extremely difficult for women to keep up with this new trend. Because these types of nails are very difficult to maintain and use. I can say that the place of lavender color here is its harmony with flowers. As you can see, it is in perfect harmony with the crystals in purple tones.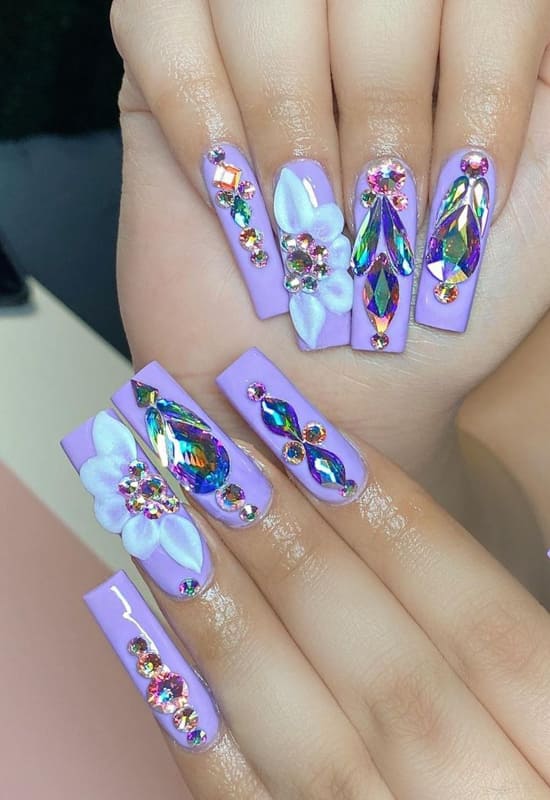 Easy and long lavender nails
If you are not too concerned with the care of your nails, choosing such easy designs would be the right choice. The choice of white color, especially at the ends, is a reference to French nails and provides ease of use. In addition, it has not lost anything from its magnificent appearance.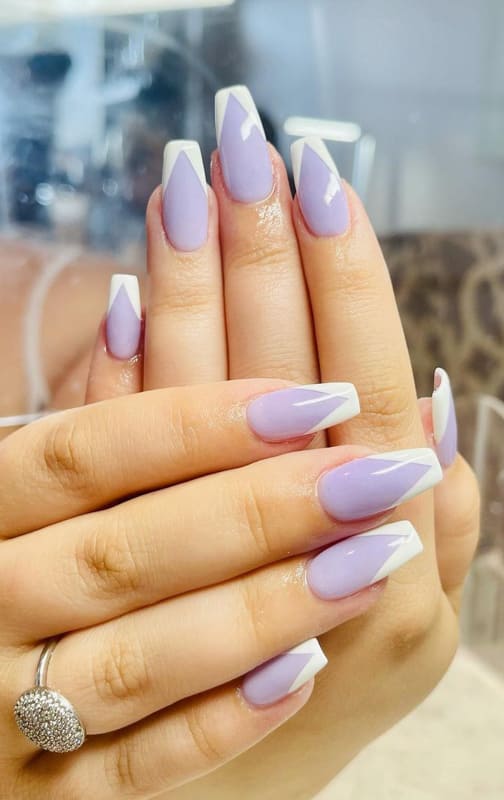 Flower ombre lavender nails
As you know, ombre nails are very popular and preferred a lot. This has emerged as a new trend in the past 10 years. It has become a magnificent trend with the influence of other women along with the celebrities who made this trend rise. You can apply ombre nail design to almost all colors. Lavender color is just one of them.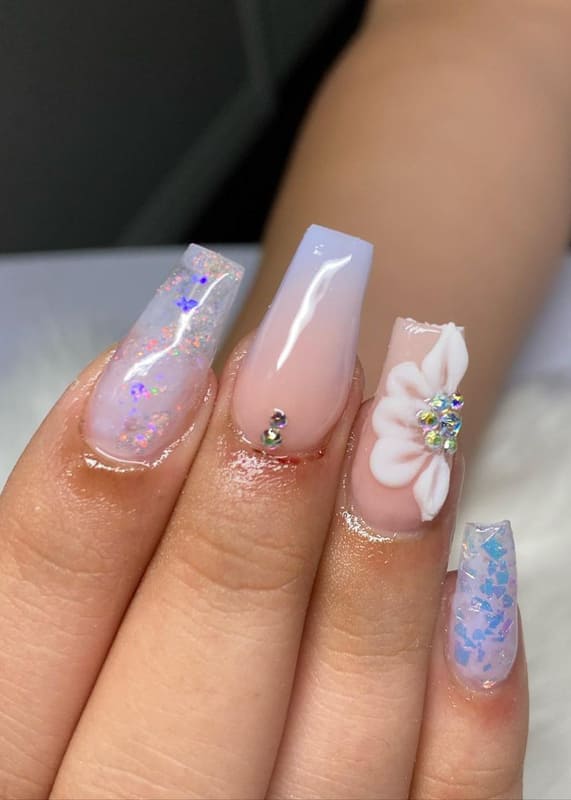 French lavender nails with flowers
French nails have become a new trend in recent years. The most important reason for this is that different colors can be preferred instead of white. In the past, such designs were not preferred. New french nail designs have emerged thanks to brave women. Other women saw how right this was.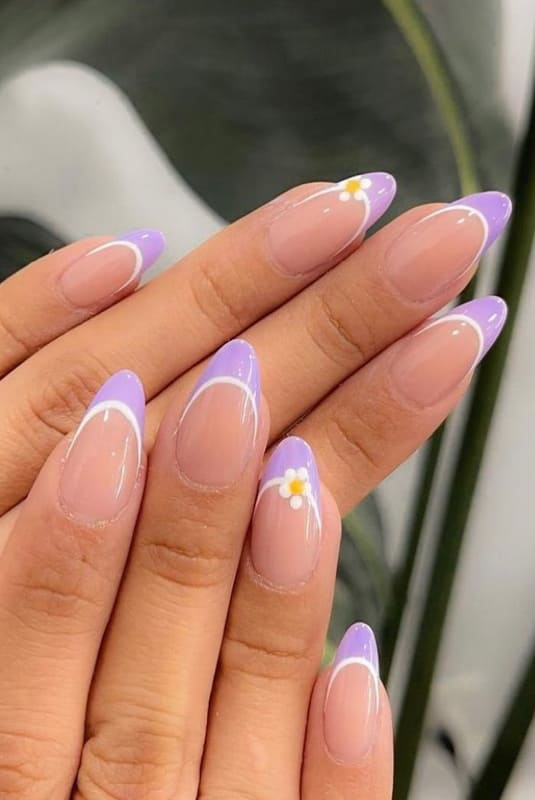 Glitter and crystal lavender nails
It is used a lot with lavender nail polish on glitter nails. Purple color is a very common type of design when applying glitter on the nails. You can also use shades of gray if you wish, but since lavender is a very light color, your glitters may become invisible.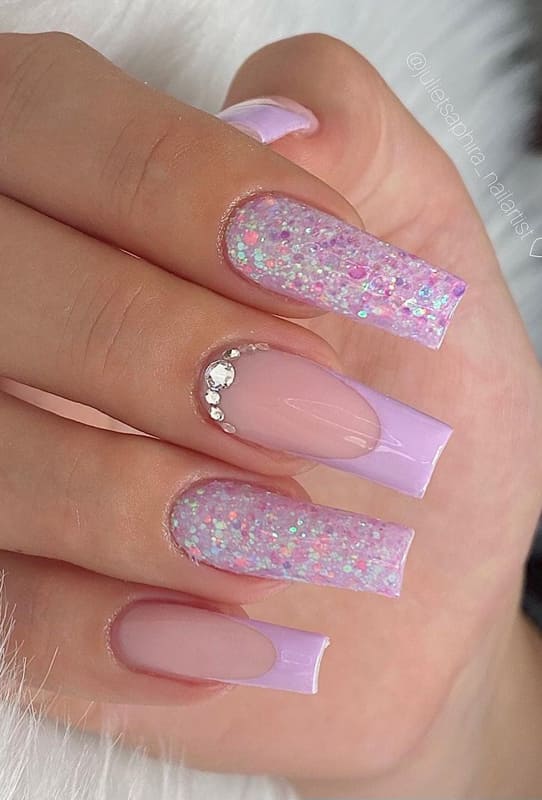 Glitter blue and lavender nails
Now, we see a picture that almost lies in the article I wrote above. However, the main difference here is that the nail polish used has a matte appearance. You see the nails made using metallic glitter. You also see a beautiful shade of blue accompanying this lavender color.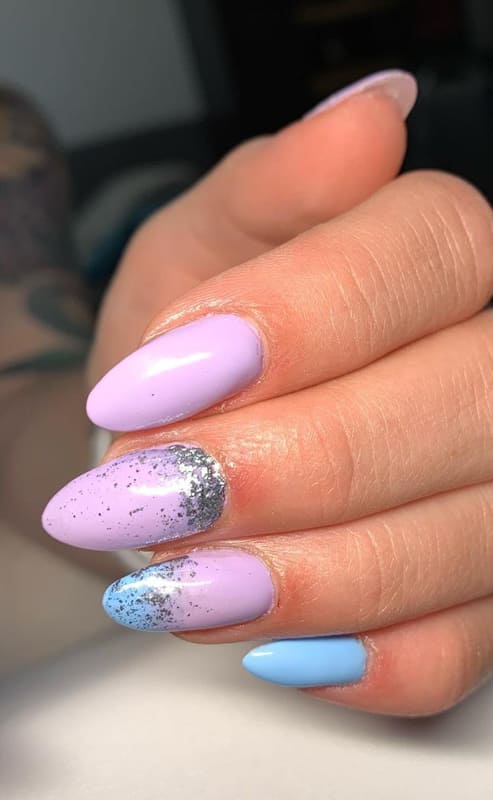 Glitter short lavender nails
Today we have reviewed a very glittery nail design. However, we continue to investigate. It's also about the enthusiasm of spring and summer. Glittery nails contribute a lot to the sun's rays making your hands look charming. however, slightly different decorations are used here. Again, the color purple is preferred.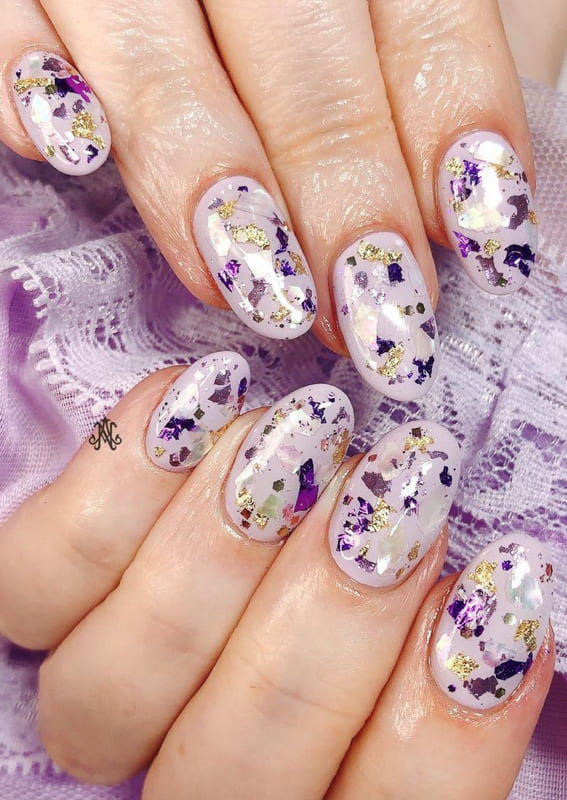 Lavender butterfly nails
Perhaps the most valid reason for choosing long nails is the large areas on the nails. You can make beautiful decorations to fill these areas. As you can see in the picture, pretty cute butterfly patterns are applied on lavender nails.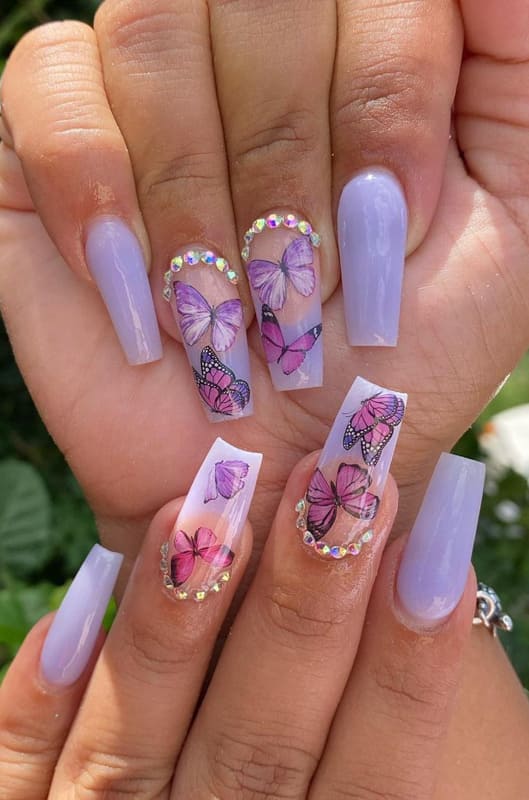 Lavender flower print nails
Flower-printed nails are preferred by young women. Charming ladies usually prefer this type of nails in the spring season. Of course, shades of pink and purple are used as colors. Lavender color is one of them. In fact, the use of lavender flowers here is a nice reference to spring.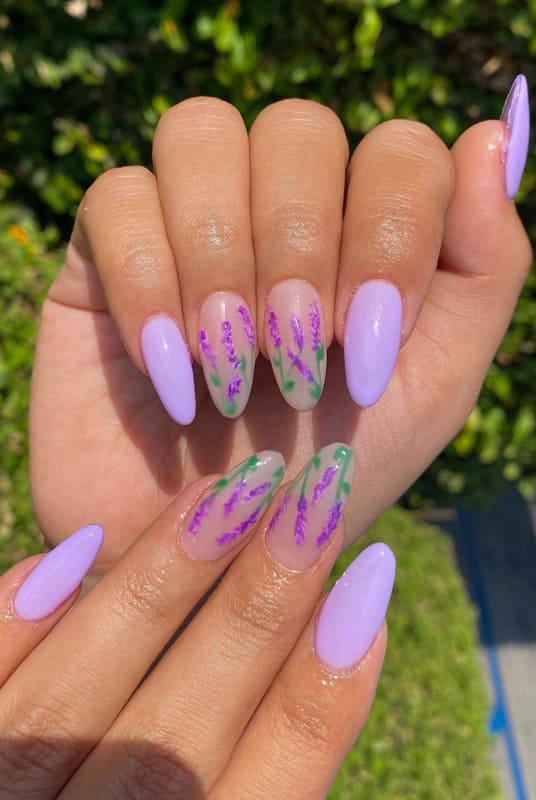 Lavender ombre nails with flowers
We have already covered the topic of applying ombre nails to lavender color. But here is a different design. Do you like this kind of flower designs? As you know, these designs are completely designed by the manicurist. It is quite difficult to make. In addition, I think it is very correct to design the nails in different ways. However, it is a pretty dominant design. I can't help but mention that the marble design is used.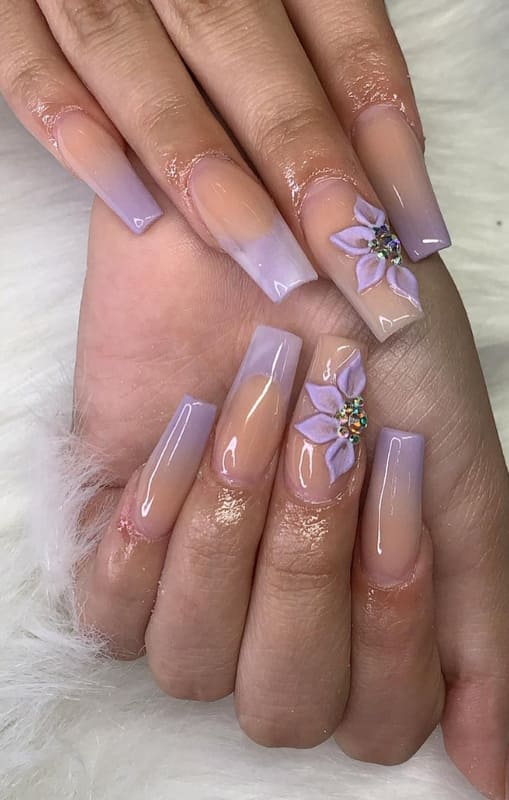 Light blue and lavender nails
Another lavender flower nail design! You see the perfect harmony of lavender and blue. I think it was a very good choice to apply the lavender flower with its green branches. The tone of lavender nails could have been a little lighter. Be careful when applying light colors and dark colors to different nails.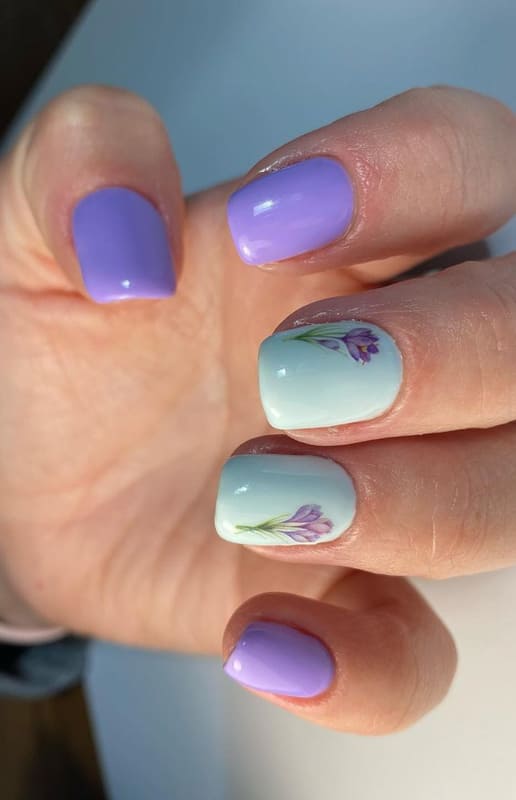 Long and emoji lavender nails
Using emoji on nails is very trendy now. Especially in large nails, the options are much more. The biggest reason for this is that the nail has a very large surface. Coffin nails are the best example of this. Although the nail designs on both hands are symmetrical, a different design is made on each nail and a different expression is used.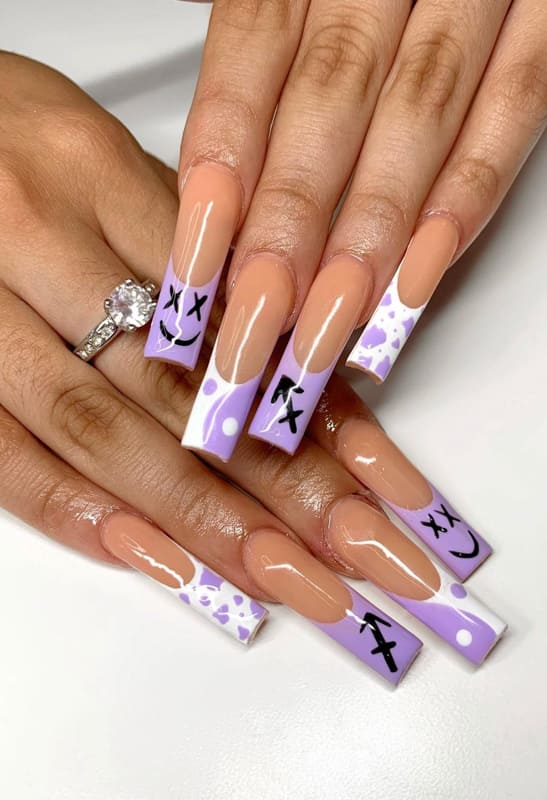 Long coffin ombre lavender nails
Long coffin nails are of course one of the most indispensable choices of women. I can easily say this. It also causes a rivalry among women. Whose nails are longer and well-groomed? Coffin nails are really difficult to maintain and use, but when you choose colors like lavender, your job gets a little easier.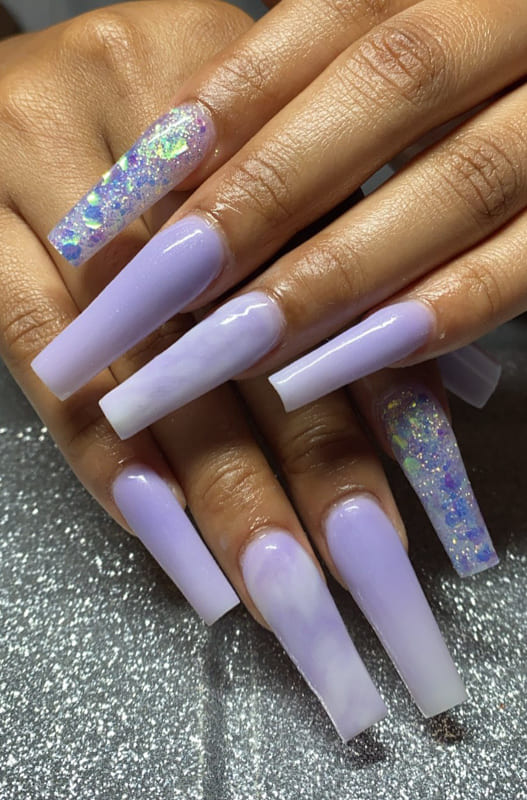 Long coffing pink and lavender nails
Although it seems like the right idea to apply the light shades of pink and lavender color to the nails in an ombre way, these two colors are very similar to each other. For this, applying such ombre designs on long and coffin nails seems like the right decision. I think the separation of colors is quite decisive in the coffin and long nails you see in the picture.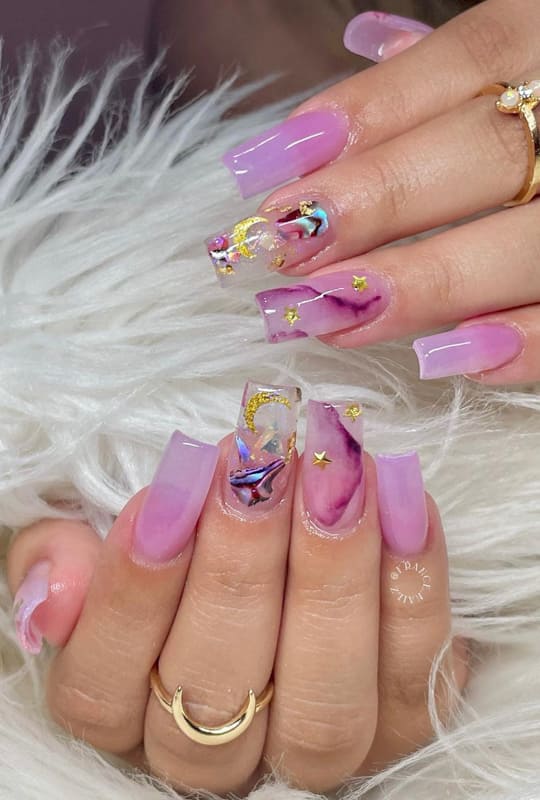 Long purple and lavender nails
Lavender nails are also preferred as matte. This is not a new trend. However, when purple nail polish is applied to long and coffin nails, you will have more assertive and remarkable nails. If you do not want to attract attention in this way, you should avoid choosing matte nail polish.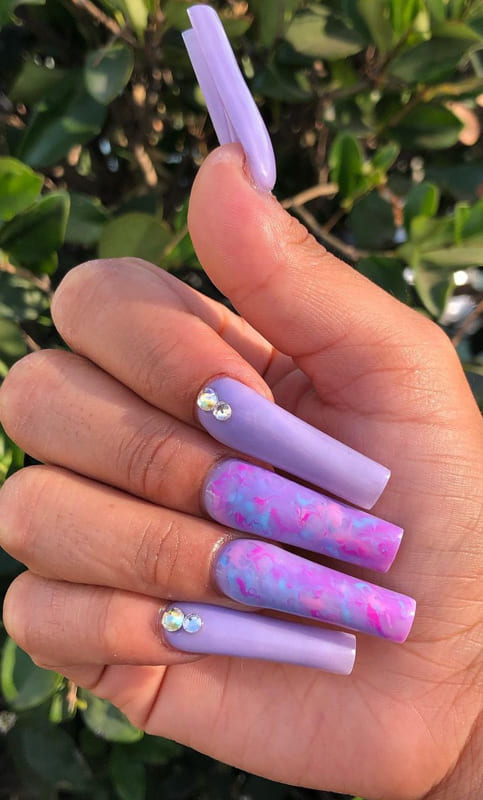 Spring lavender nails
When spring comes, nail designs and colors are highly sought after by women. Couldn't these hands that work during the winter just want to look a little more delicate in the summer? I think it's a very valid reason. Coming to the design of the nail, it is a beautiful lavender nail design designed with flowers and green leaves. Also, I think the length of the nail is quite enough for a working woman.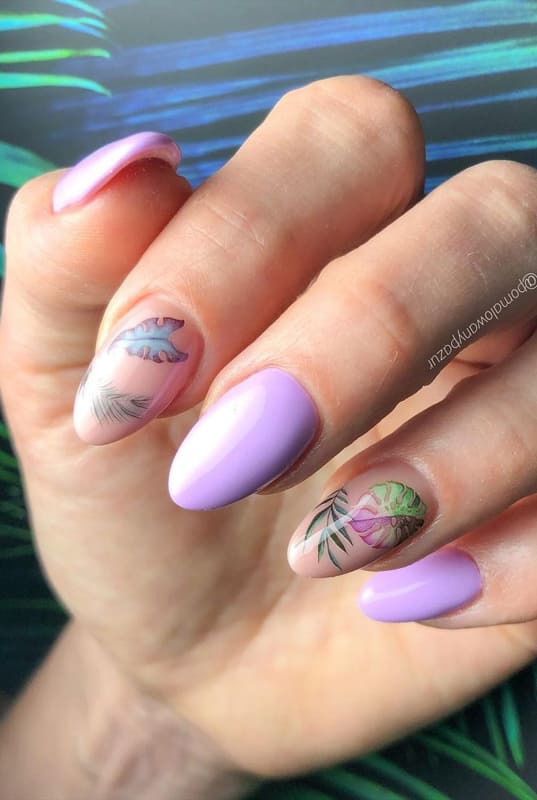 Summer ombre lavender nails
Choosing lavender, which is one of the most harmonious colors of the beaches and the sea in summer, will provide some benefit for you to look magnificent and attractive. Here, instead of a plain lavender color, applying different colors to the nail will increase its attractiveness. This includes gold.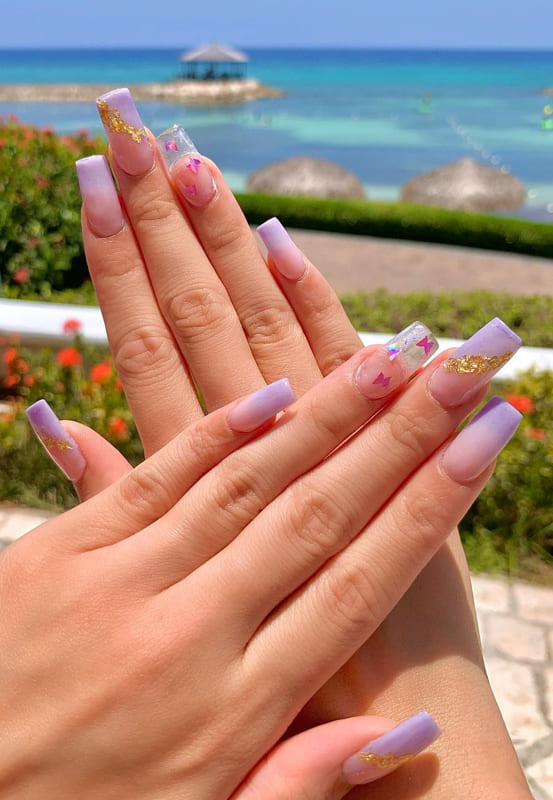 White and lavender nails
Here, you see a design of lavender and white separated by glitter. The nails are designed like almond nails and are very well-groomed. Maybe it was made with acrylic. Using a little glitter in nail design will contribute a lot to your fascination.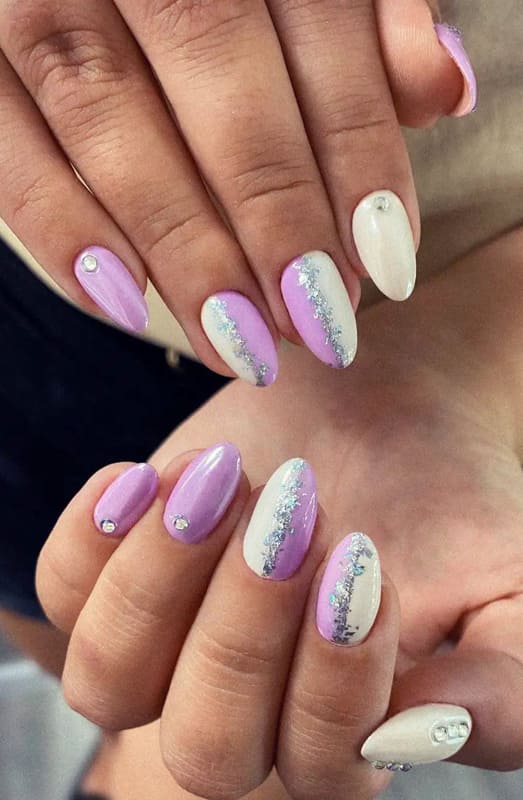 Butterfly Lavender Nails
I think that using small stickers or symbols in the form of butterflies symbolizes spring a little bit. I think it can be a nice choice, especially for lavender nail designs. Although the nail design has a very simple structure, it has become remarkable thanks to the butterfly figures.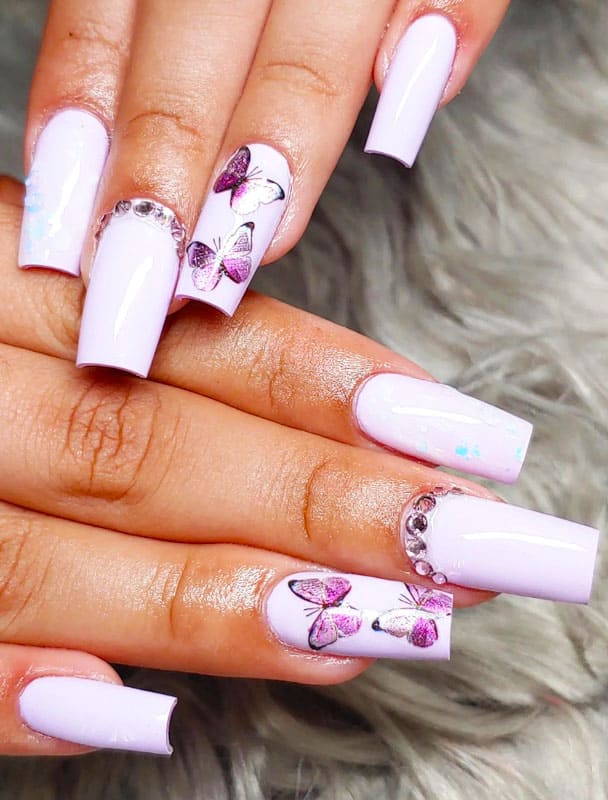 Long Lavender Nails for Sping
Instead of using a single color, you can also use lavender nails as you can see in the picture below. Lavender is a very assertive color. Therefore, it will be to your advantage to use it in simple designs.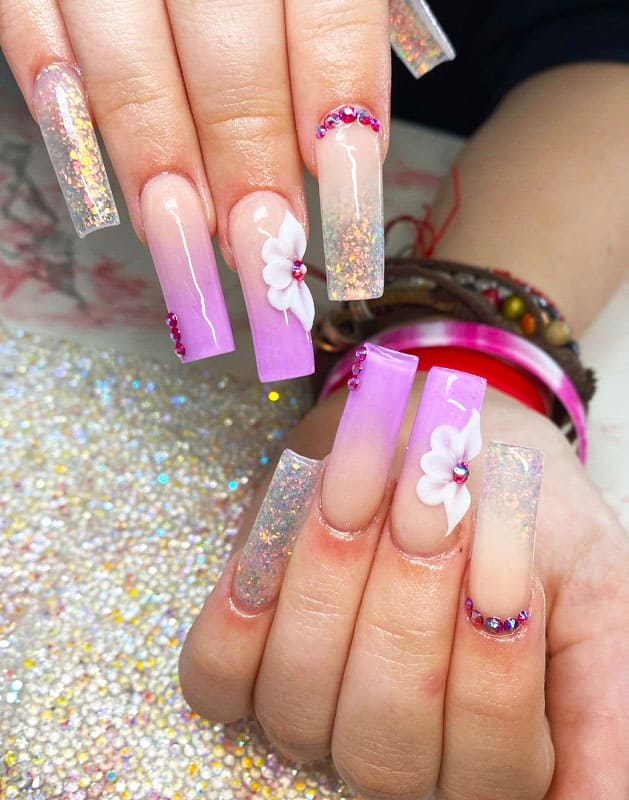 French Tip Square Lavender Nails
On the nails, which have a square-shaped structure, especially french and ombre are preferred without excess. A nice swirl accompanies these glittering nails with lavender color. It looks very nice, doesn't it?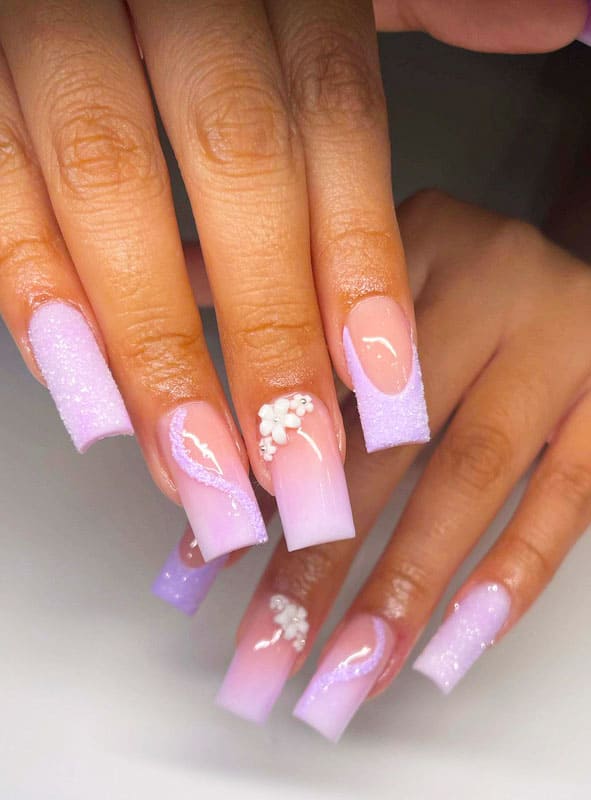 Long Coffing Lavender Nails
For long coffin nails, it is not wise to choose bright or metallic colors. Therefore, by choosing colors such as lavender, you can give your nails a nice look with simple design subtleties. The oval shape of the nails also looks very impressive.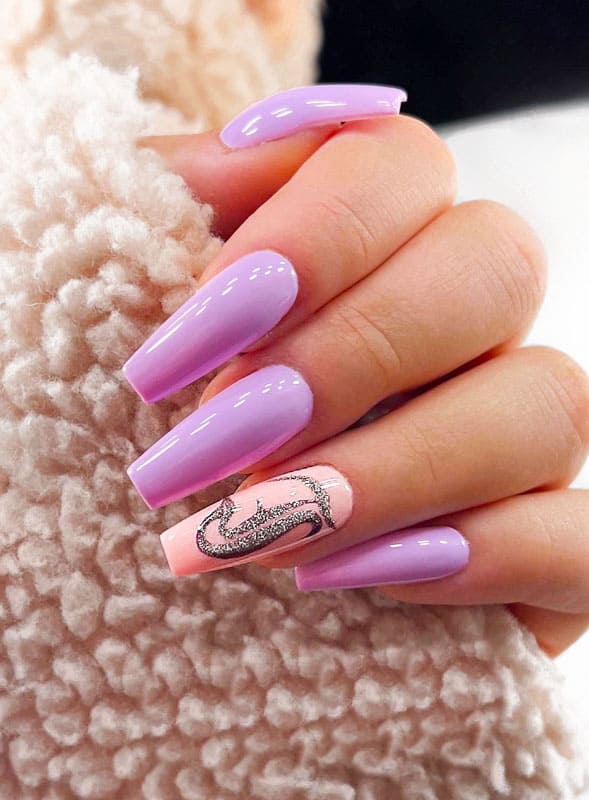 Summer Lavender and Glitter nails
In fact, although long nails are preferred in summer, if you need to use your hands a lot, you can choose this type of medium-length nails. In addition to the lavender color, glitter and swirl are used on some nails. I think it's a good choice.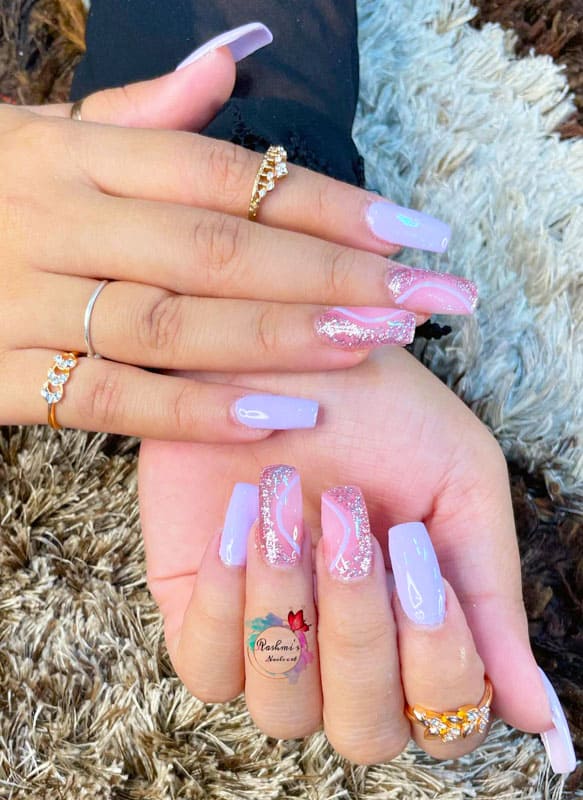 Short Lavender and Glitter Nails for Sping
How about nails decorated with lavender flowers and sparkles? If long nails do not interest you, you can choose short nails. If you want your short nails to be remarkable, you may want to choose designs as you can see in the picture.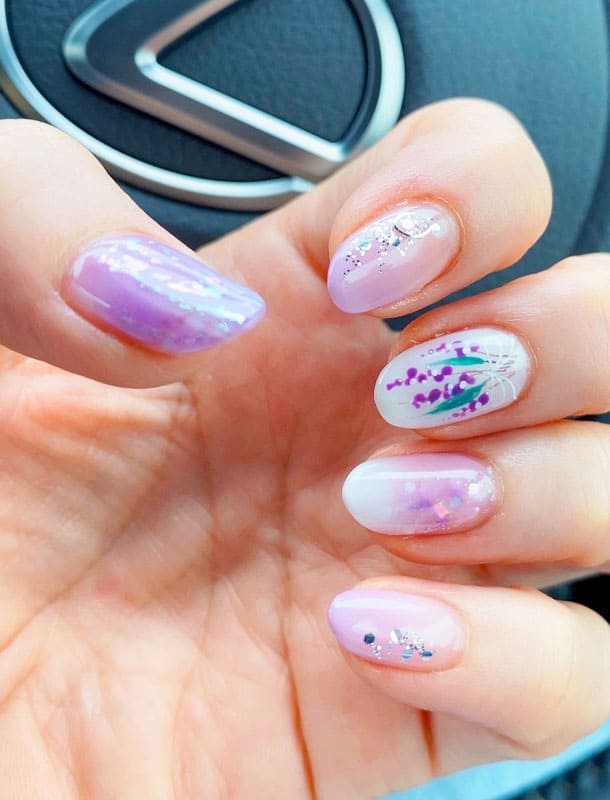 Snowflake Lavender Nails
Snowflake designs are among the designs preferred especially in Christmas and New Year celebrations. Although it is not wise to choose such designs with lavender color on your nails, it is obvious that it looks nice.