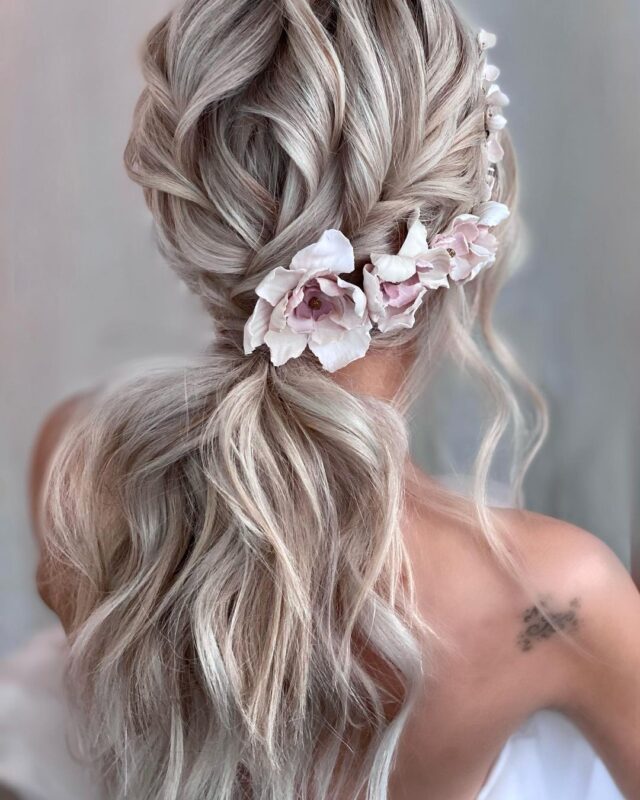 If your hair is long, you are luckier than those with short hair. The reason is that you can style it as you want and there are many ways to style it. When it comes to wedding, every girl wants to have long hair as it has many options. You can have the look of your dreams by choosing the right hairstyle. Don't worry! On this beautiful day, you will have what you have always dreamed of.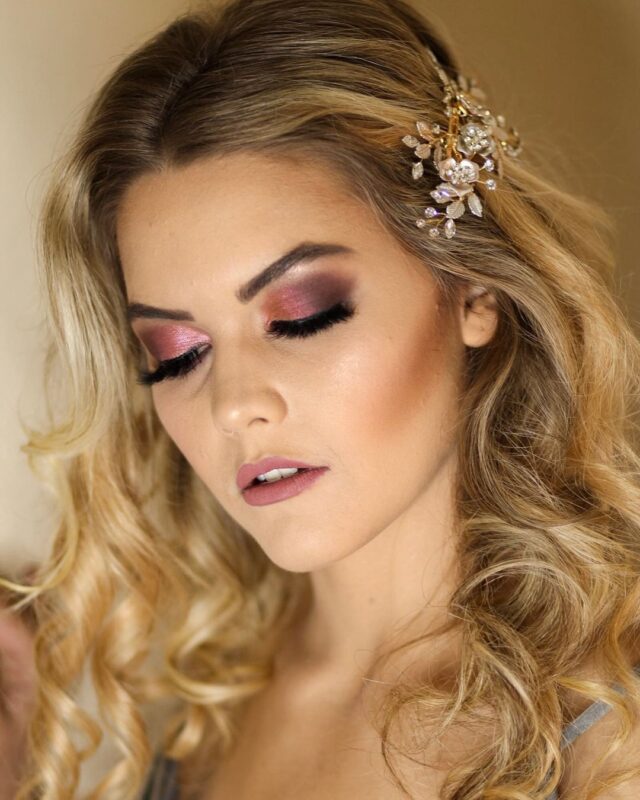 You can curl it up with a curling iron and catch an amazing look if your hair long enough. If your hair is thick you can use this model. You can also make an updo by sweeping the hair from the face and pinning to the back of the head. You can also use an eye-catching accessory for this hairstyle.
59 Long Wedding hairstyles for Brides and Bridesmaids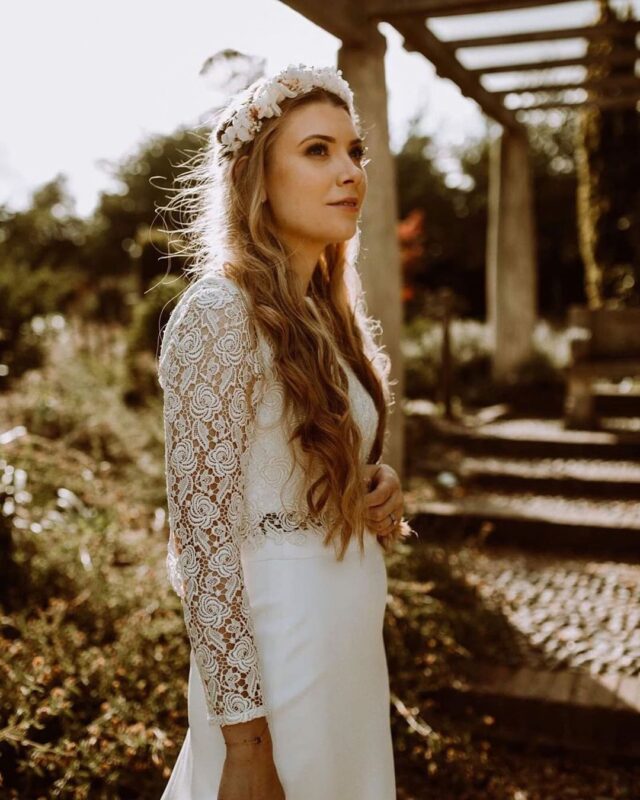 Half up hairstyle is also preferred mostly. For this hairstyle, curl your hair up softly and pin it up halfway in barrel curls in the back. Sweep both sides away from your face in order to reach the result. You will definitely look great with this style. This style is best for fine hair. You can also prefer a side ponytail or soft curly updo to catch the best look on this most important day of your life.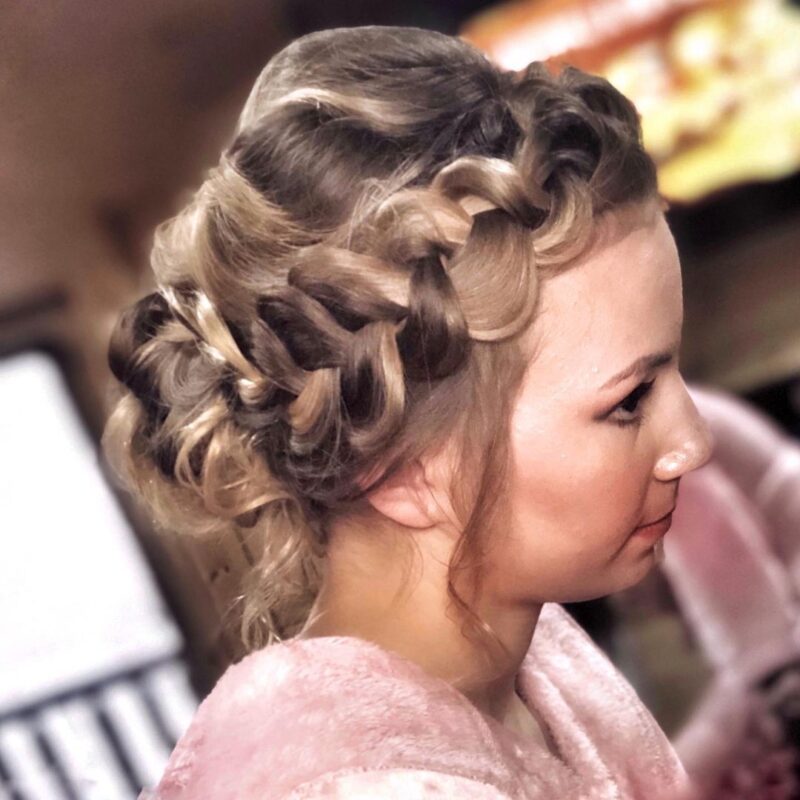 wedding hairstyles for long hair down
Do you want your hair to flow like this on the day when you need to look the most beautiful and most impressive. Down hair will be a model for you. It looks a bit like a half up half down hairstyle. After some of the hair is done half down, it is not done half up. In this way, the beauty of your hair is gathered at the bottom. You can use different hairpins or accessories in the back of your hair. Perhaps you want to continue with the fishtail model. In the first model we reviewed, a fishtail and down hairstyle was made.
When making a half down hairstyle, you should consider whether your face shape is suitable for it. Since your hair is long, half up half up or down hairstyles are quite suitable for you. However, if you don't give your hair the right position, it can cover your shoulders. It can cover your back décolleté. I suggest you pay attention to this when choosing a wedding dress. The length of your hair is effective in this regard. If you wish, you can also examine the topic of short bridal hair.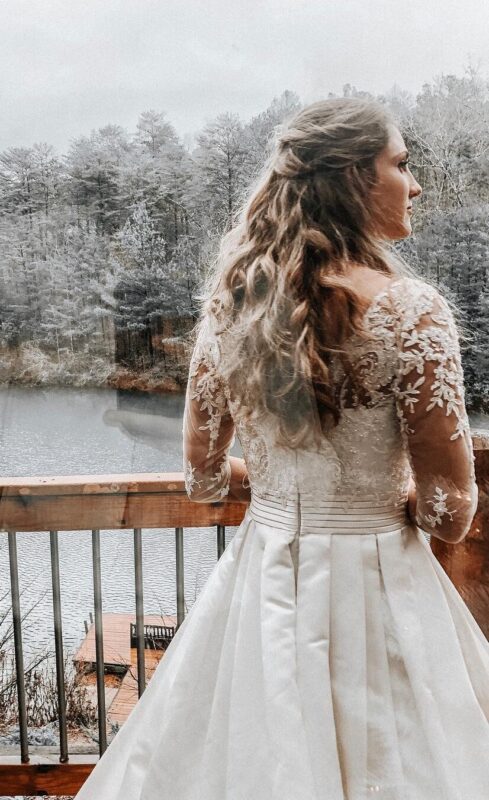 wedding hairstyles for long hair half up
One of the most popular bridal hairstyles is half up half up hairstyles. I can imagine that you are very indecisive. If you are stuck between updo or down hairstyles, you should now make your choice. Now, in this article where we introduce different hairstyles, you will see two different examples of half up half up hairstyle. In 2021, the most popular hairstyle as usual will be the half up half up hairstyle.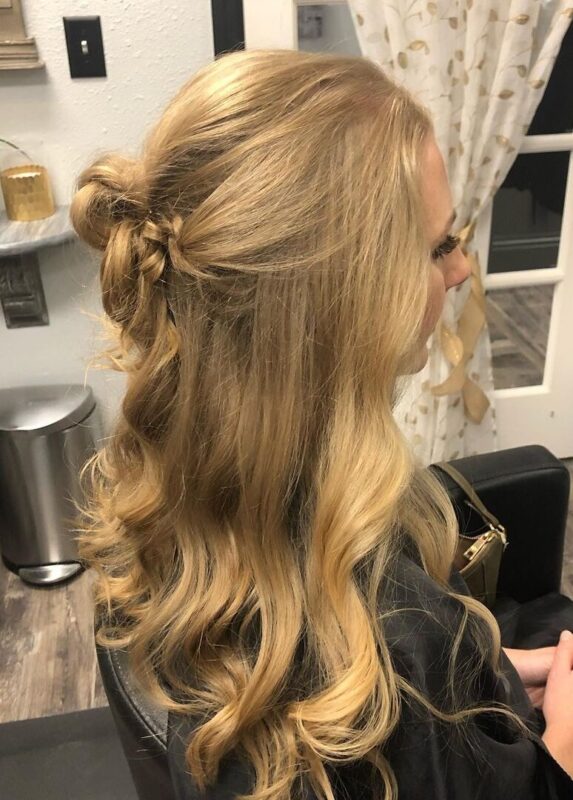 If we come to the second picture, I can say that it is a very flashy model. Although it is half up and down, the difference is added with small touches. It has become quite ostentatious. Especially small braids add a different atmosphere to the hair. In addition, decorating with small flowers increased its beauty. The big wavy curls in the hair made the hair more fluffy.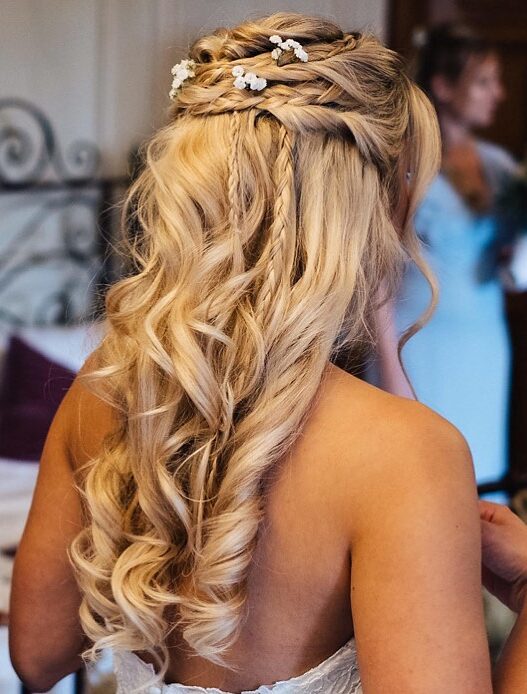 wedding hairstyles for long hair with veil
There is no limit to the choice of veil. In addition to choosing the perfect wedding dress for the wedding day, you should choose a perfect wedding hairstyle. Of course, most women will prefer long hair in this regard. You will attain a unique beauty with a long veil. First of all, you should choose the veil. Long or short is your choice. If you have chosen the veil to wear, you should consider the hairstyle that will accompany it.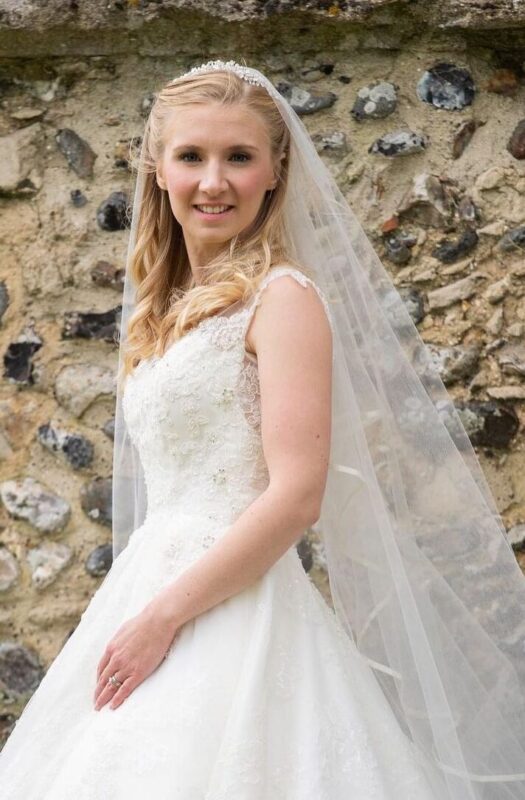 Many women prefer the veil to be less flashy. He wants his hair to be more prominent. However, some women may prefer to cover their hair with a veil. This is about your appearance and preferences. As shown below, even if you have chosen a veil that covers your hair, it will not spoil your innocence. It will not turn off your glow. Even if you cover your hair with an elegant veil at the wedding, you will want your hair to shine like never before during the wedding feast and dance. Please think carefully while choosing the design.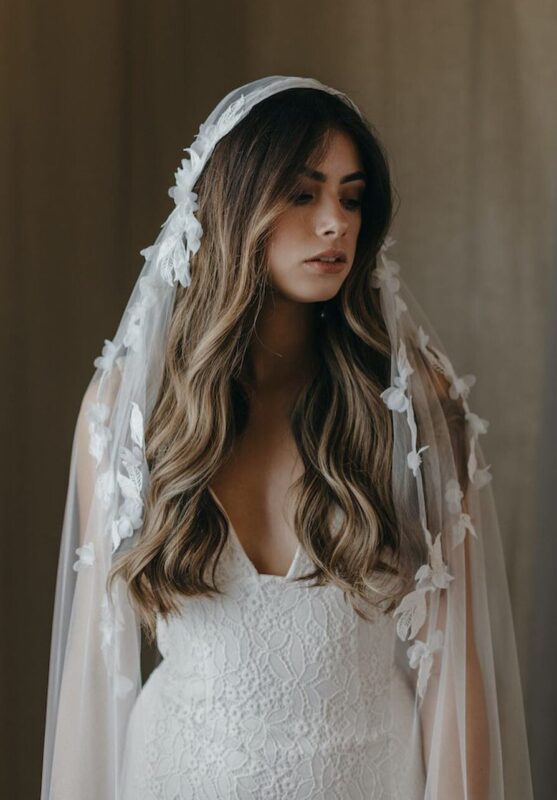 wedding hairstyles for long hair updo
Dear dostar, have you thought about all the details for your most important day? I think you've studied different hairstyles. So would you consider doing updo hair at your wedding? You need to think about all this in advance. In 2021, we expect almost all weddings to be simple. Don't bother with too many details. After choosing a beautiful wedding dress, I suggest you choose a model that will bring out your shoulder and neck beauty. I'm sharing a few elegant models with you for this.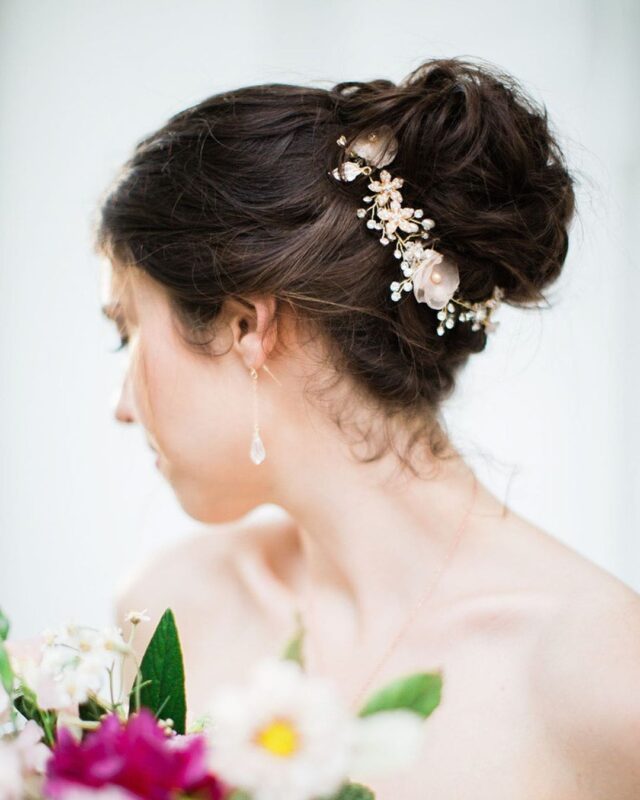 Do you want to have a updo hair decorated with flowers? I can safely say that it is a very elegant model. Especially if you have blonde hair color. While you get a classic look with your heel and flowers, you can get a modern look with the color of your hair. This will give you a great combination. Especially if you prefer strapless or open-backed wedding dresses, these hairstyles are for you. But you should choose according to your hair type. If you have bushy hair, you can make a very nice top. You will be perhaps the most beautiful bride of 2021.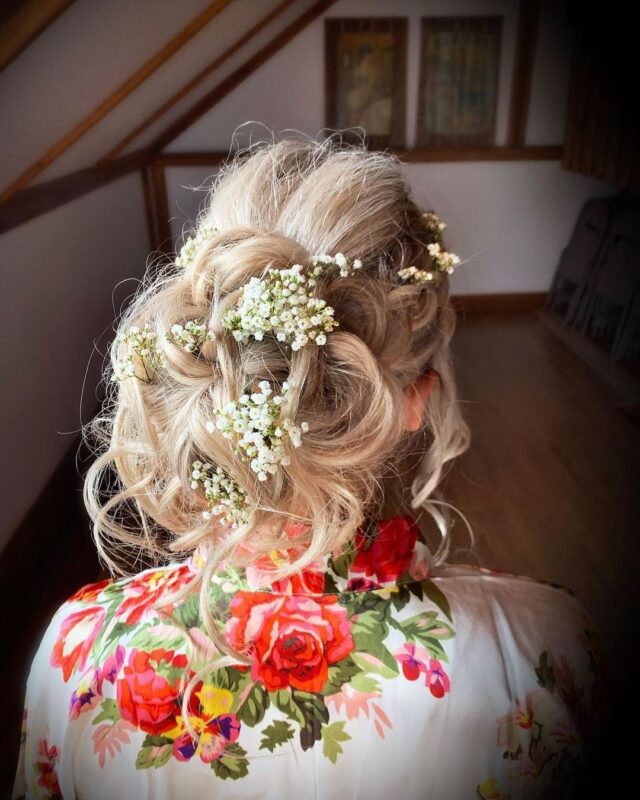 wedding hairstyles for long hair black african american
For black women, a long hairstyle can be a good choice. An impressive look can be achieved especially when decorated with a beautiful crown. Black women often have curly or wavy hair. Whether it is curly or wavy will not prevent you from growing your hair. We will examine wedding models for black women in detail on a different topic. So I'll share the address here.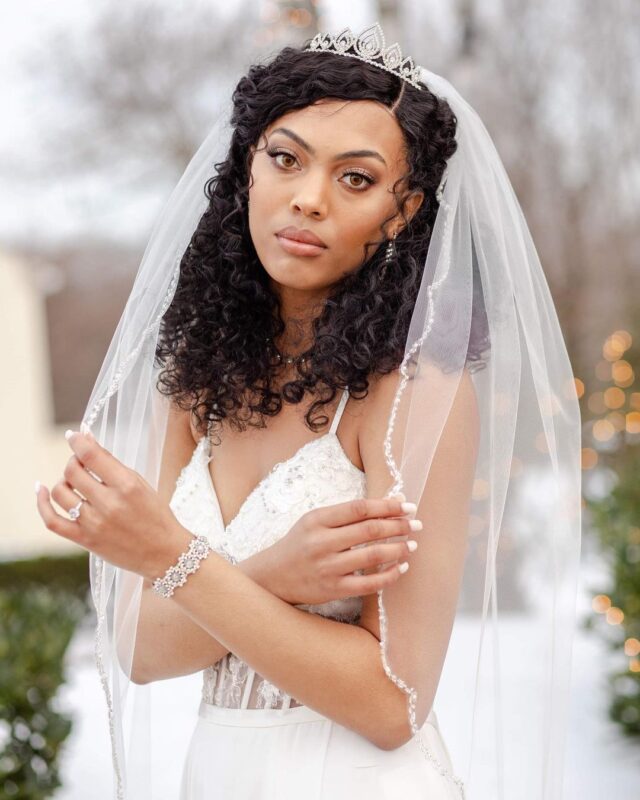 If you are a lucky black woman, your hair can be straight or wavy as below. If you have such a hair type, you may have the chance to try too many styles. In 2021, plain models are generally preferred. That's why you can choose only one wavy hairstyle like the picture below. A simple hairstyle will not diminish your radiant appearance.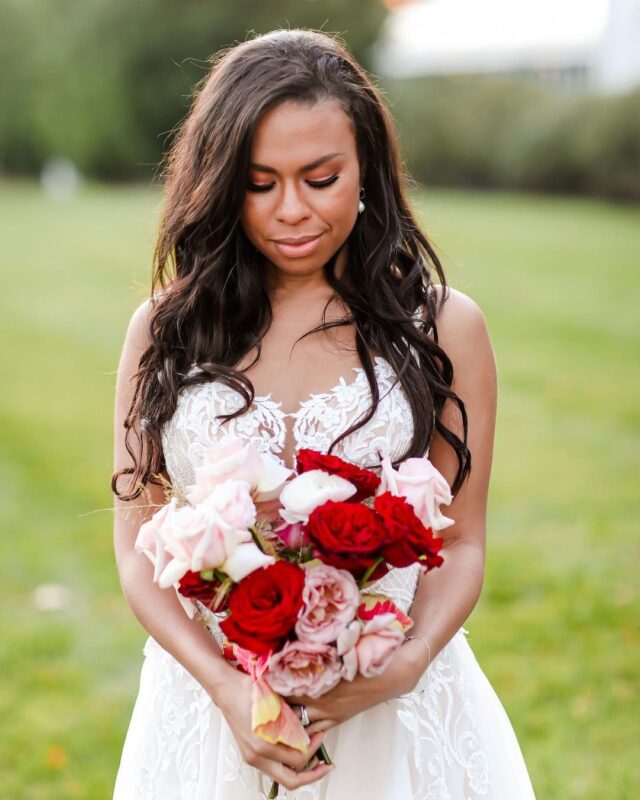 wedding hairstyles for long hair with flowers
Decorating your hair with flowers might be a good idea for a wedding. But if you do this on a normal day, it may be a bit of an exaggeration. If you prefer a floral hairstyle, you should make sure that your wedding dress is simple. You can place flowers between them by braiding your hair. This will allow your hair to turn into a flower net. You will get a great look. You'll need a lot of time to get your hair ready on your wedding day.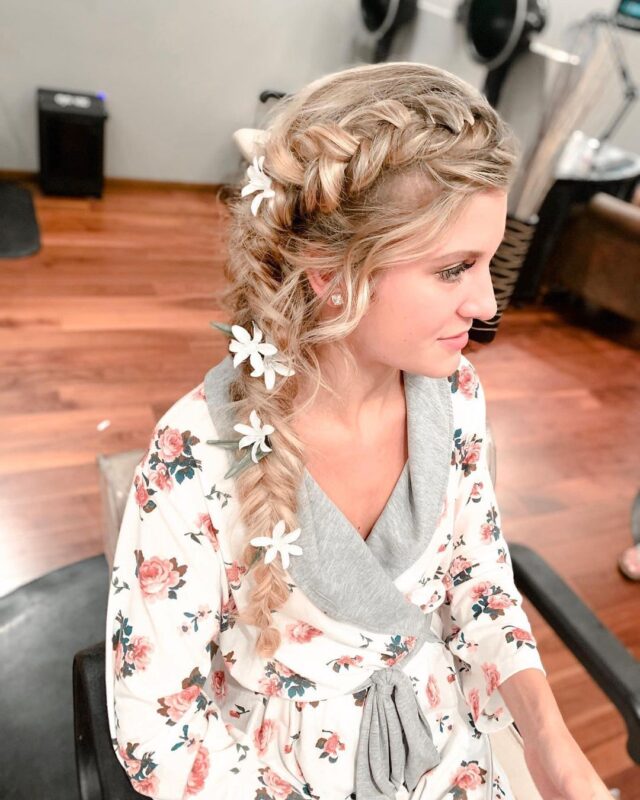 You can also decorate your hair with flowers by doing it half or half up. Do not choose to use a buckle. Flowers will give you a natural look. You can also be a little freer in the color selection of flowers. For this, do not forget to buy flowers of different colors. After trying the appearance in your hair, you can ask your hairdresser to place it in your hair. You can choose your wedding dress as simple and lacy as in the picture. The open back of the wedding dress will offer a more impressive appearance.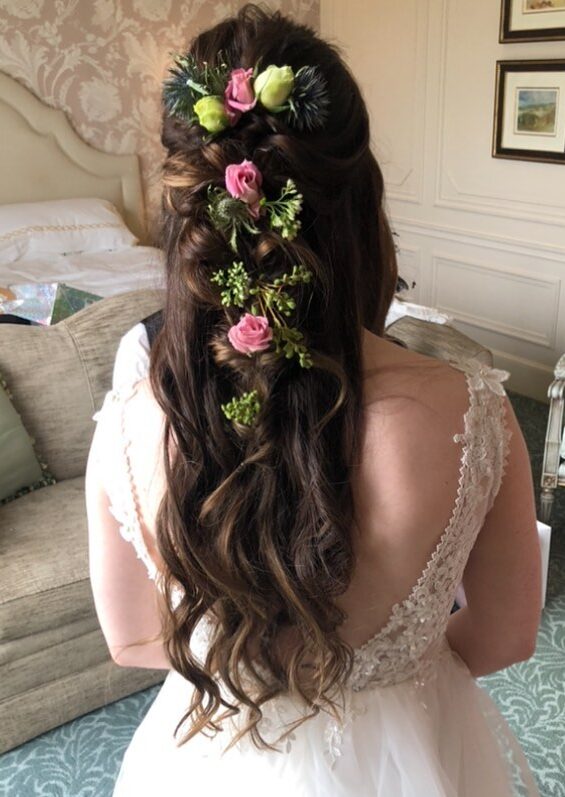 wedding hairstyles for long hair bridesmaid
Weddings are magical days that adorn every woman's dreams. For bridesmaids, this period is very limited. You won't have much chance to show off your impressive hair at weddings until the day you get married. First of all, I'd like to show you a preemly from up do hairstyles. If you want to try a hairstyle in the form of a bun down, you can try a model with this shape. Don't forget to decorate your hair with a nice buckle. Also do not try to have a more beautiful hair design than the bride. I think 2021 will be a good year for bridesmaids.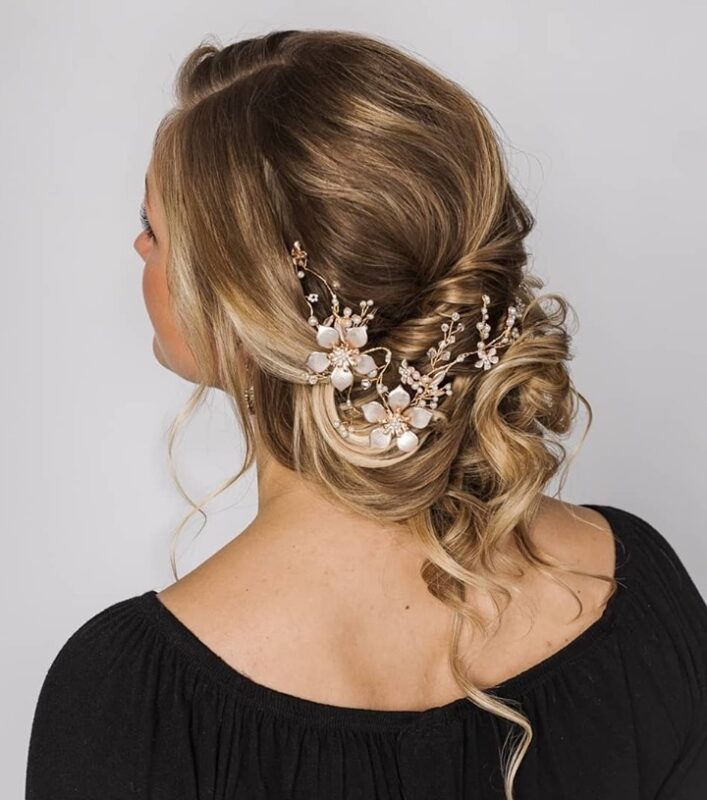 Weddings will be a lot of fun for you if you have long and wavy hair. You can use a different hairstyle at each wedding. You can try one of the bridal hair above as you have long hair. But you can also choose a wavy hairstyle as below. It will reveal the beauty of your face. It will also help you hide your ears if you have large ears. If you have a large area, you don't have to worry. Long and wavy hair will create a beautiful harmony.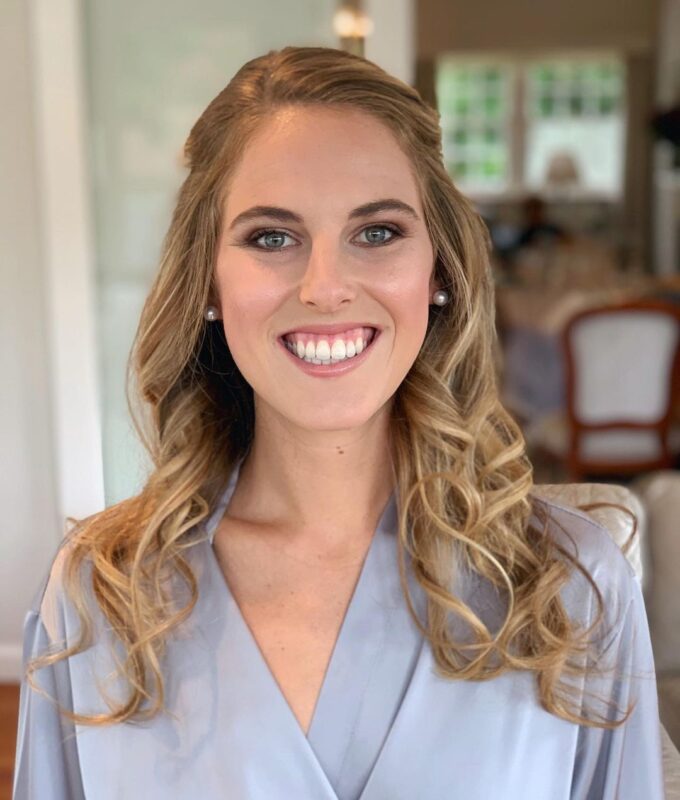 Bridesmaids are very effective at the beginning of the wedding. All eyes are on bridesmaids, but they should not overshadow the bride with her appearance. Long hair bridesmaid candidates can try on a fishtail hairstyle. It's pretty easy to knit. A friend can help you with this. It is also important to tell the girl how glamorous the hair is. You can affect all men, especially if you are white-skinned.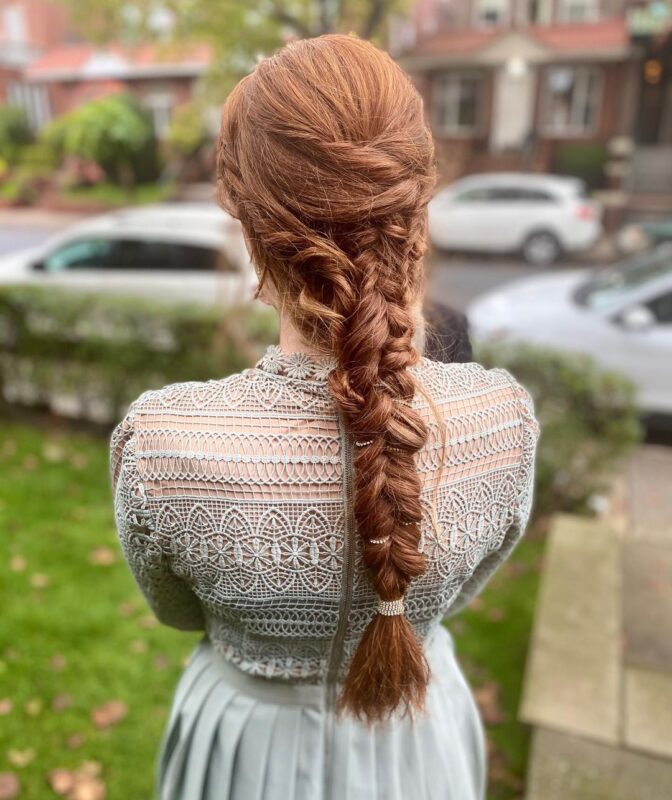 Asian long wedding hair
Asian women generally prefer long, straight and wavy hair. Especially black hair. Different colors don't look very nice. Therefore, you can continue in the same way.
Black color long wedding hair
What you see in the picture is very nice black and wavy hair. Particularly the parting of the hair in the middle and the flowing of the curls to the shoulders are very impressive. It will look amazing when finished with a beautiful veil.
Black long vintage asian wedding hair
Here you see an Asian woman again. But her hairstyle is somewhat reminiscent of her vintage style. It is especially preferred by women with straight hair as an outlet. Before you try vintage hairstyles, continue to review our topic.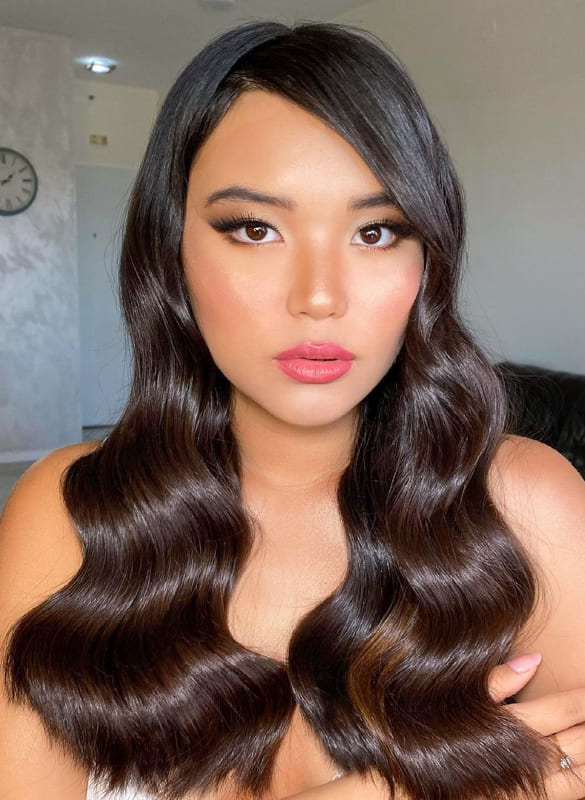 Curly and braided norvik long wedding hair
This hairstyle is a bit of a viking style. The hair is quite strong and voluminous. I think braiding hair is very successful. It's really wonderfully executed. The layers in the hair look quite impressive.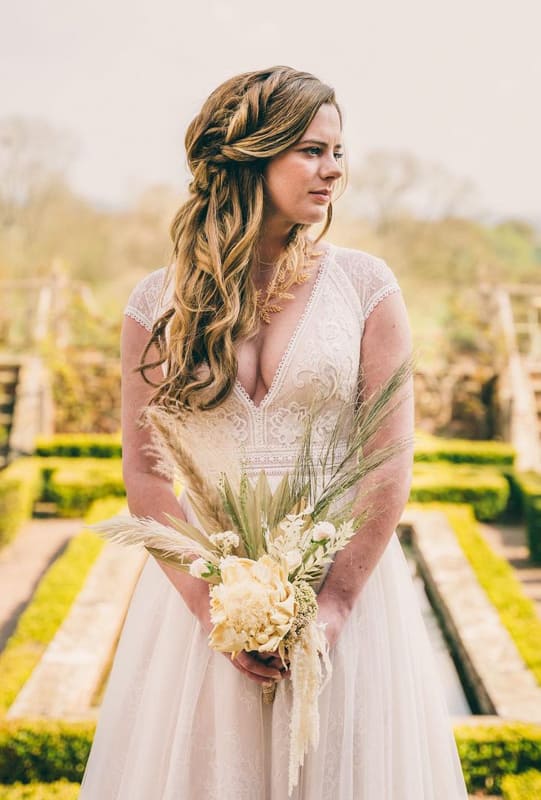 Haalf up half down curly wedding hair
We're going to talk a lot about half up and half down hair today. This is our first example. A beautiful harmony has been achieved with a black-weighted make-up together with the ombre hair color. The main reason for this is perhaps the excess black on the roots of the hair.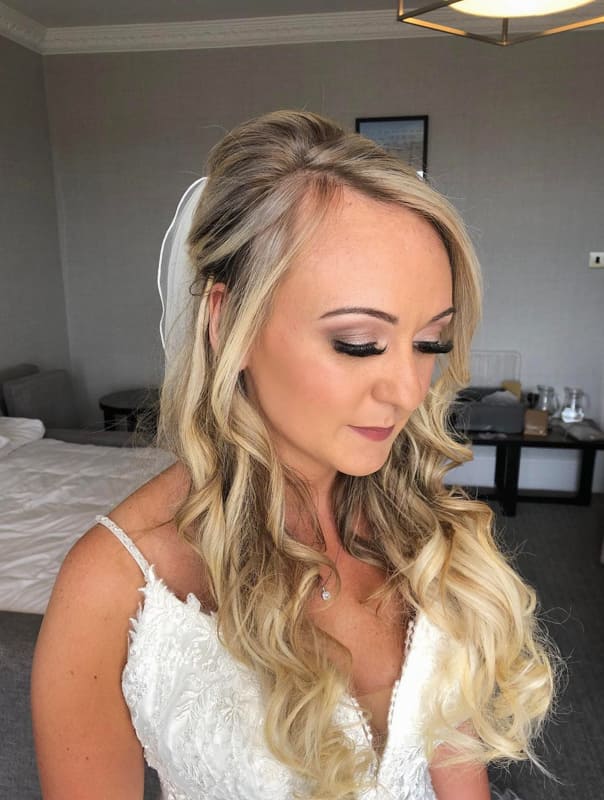 Half up half down black long hair
If you want to use a half-up half-up hairstyle, you can add a different atmosphere to your hair with a small hair accessory or hairpin. Such applications are frequently used, especially in plain and monochrome hair.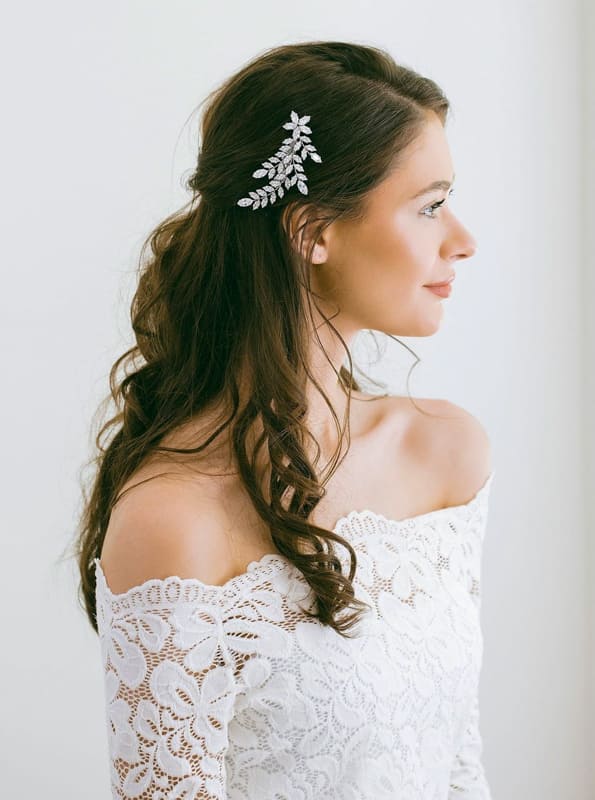 Half up half down long curly wedding hair
My favorite hair is red hair! :) Friends, keep it a secret between us. I love the color red very much. As you can see in the picture, you can be a magnificent bride when you come together with a reddish makeup tone.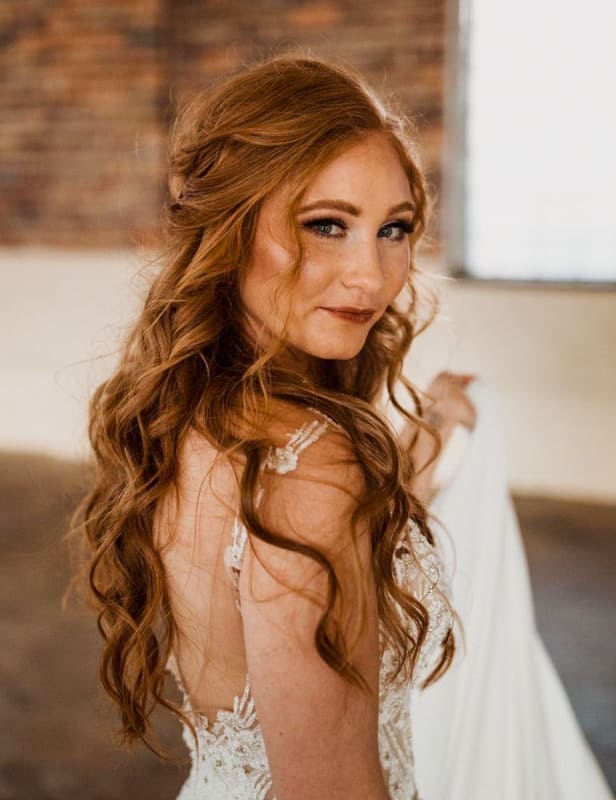 Half up half down long wedding hair
Natural appearance is generally preferred by young brides-to-be. This is about the beauty of youth. Also, some women may like messy hairstyles. This is perfectly normal behavior.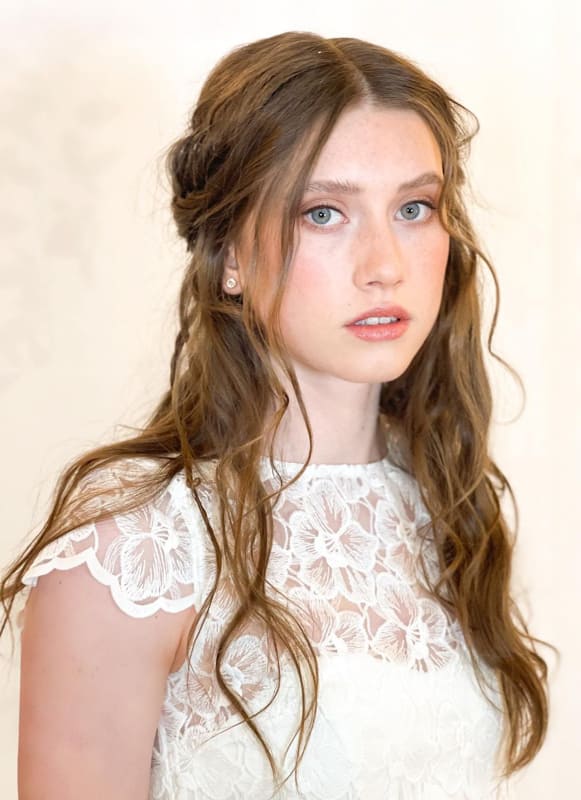 Long and vintage wedding hair
Long vintage hair can be an impressive choice for brides. I really like brooches decorated with small diamonds like this. I also really like this shade of yellow.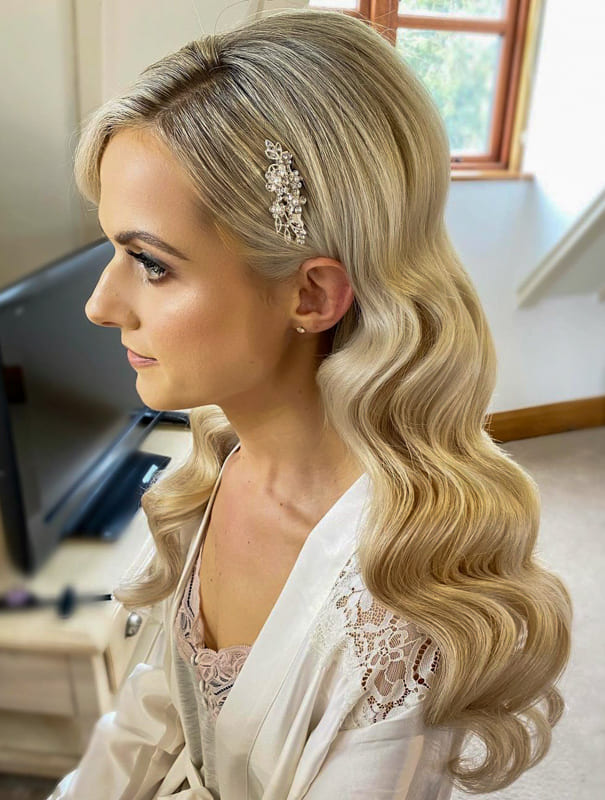 Long Blonde natural wedding hair
Come on ladies! Take some care of your hair. Don't stay deflated with a simple hairstyle like this. Find a good hairdresser for your hair. Have your hair styled in an extremely impressive way! This is your most special day.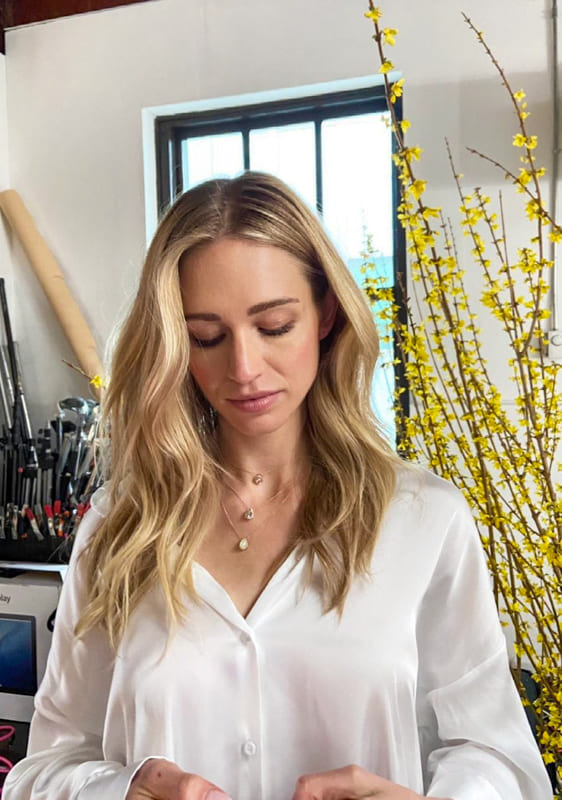 Long blonde ombre wedding hair with flowers
A beautiful combination of red and blonde. A wonderful ombre color is designed. The length of the hair is quite adequate. It is also very cute that the hair is used in a tiara with beautiful and expressive flowers.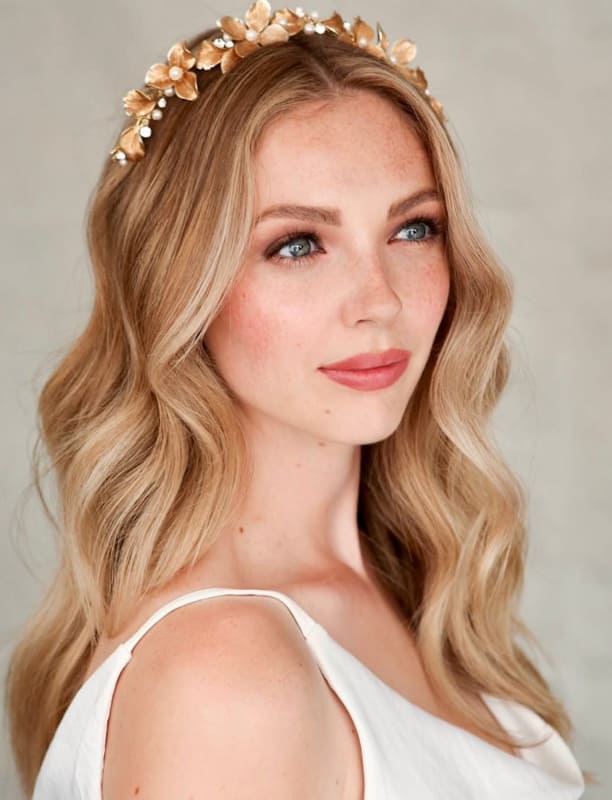 Long blonde ombre wedding hairstyles
Half down half up ombre hair can also be among your preferences. We've reviewed solid colors before. However, if you are going to use a veil in such designs, it may not be a problem. Your veil will cover most of your hair.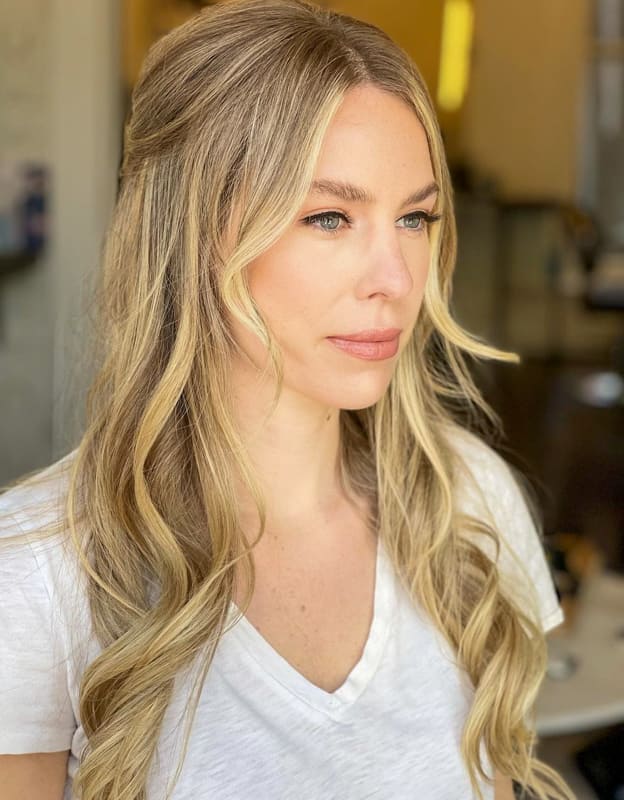 Long braided wedding updo hair
Some women do not like to use veils. That's why she often prefers the updo hairstyle. An updo hairstyle with small braids can be much more surprising than a straight hair.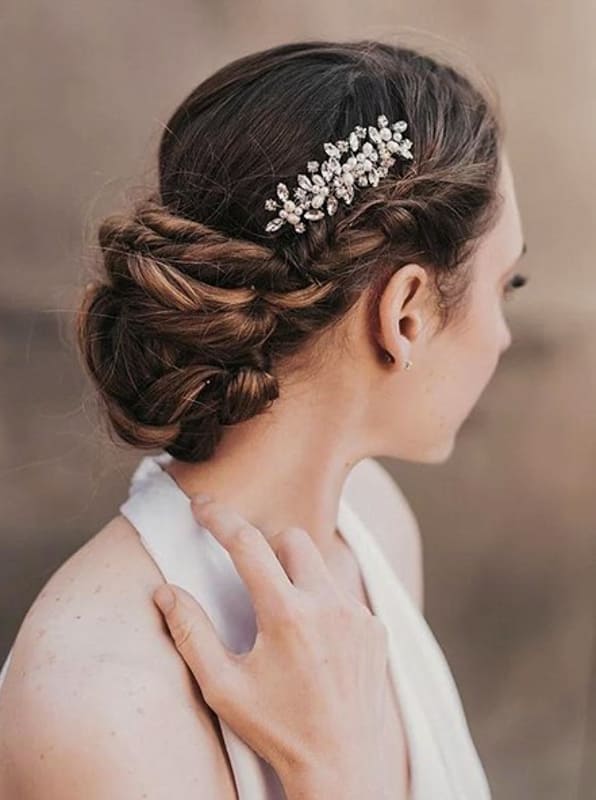 Long brown bridesmaid wedding hair
For bridesmaids, I can show this model as an example. In fact, our topic today was usually about brides' hairstyles, but let's take a look at bridesmaids' hair. Wavy and very impressive hairstyle.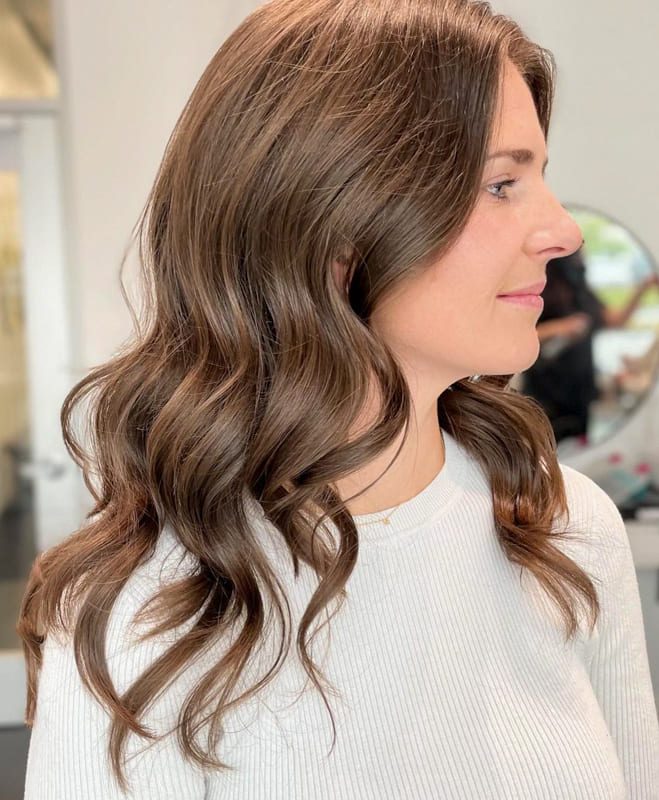 Long brown wavy wedding hair
Another brown and wavy hairstyle. But the color is slightly different. We can't say exactly brown. Hair color and make-up go very well. I really like this type of makeup.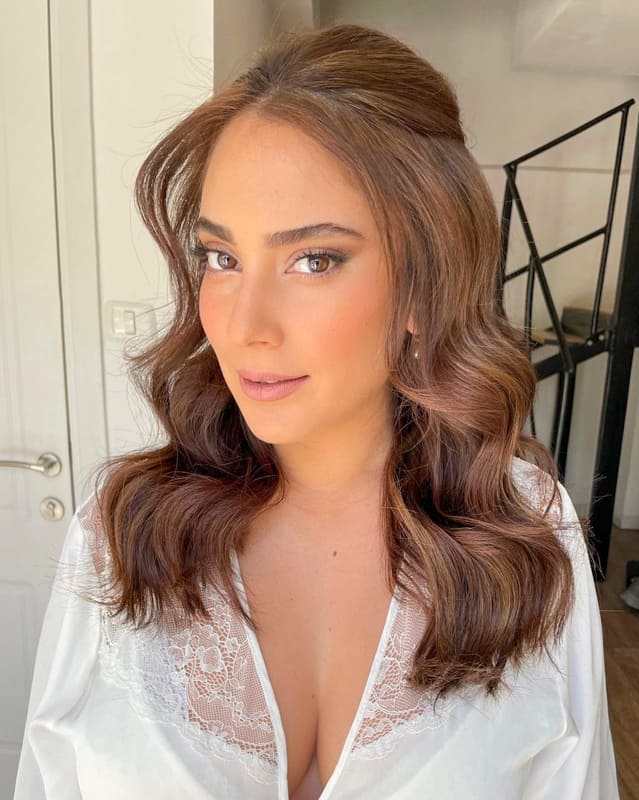 Long curly and side braided wedding hair
Blonde braided hair is not preferred too much. Instead of braiding the whole hair, you can braid a part of it and give your hair a different look. As you can see in the picture, you can add a different atmosphere to a very simple design.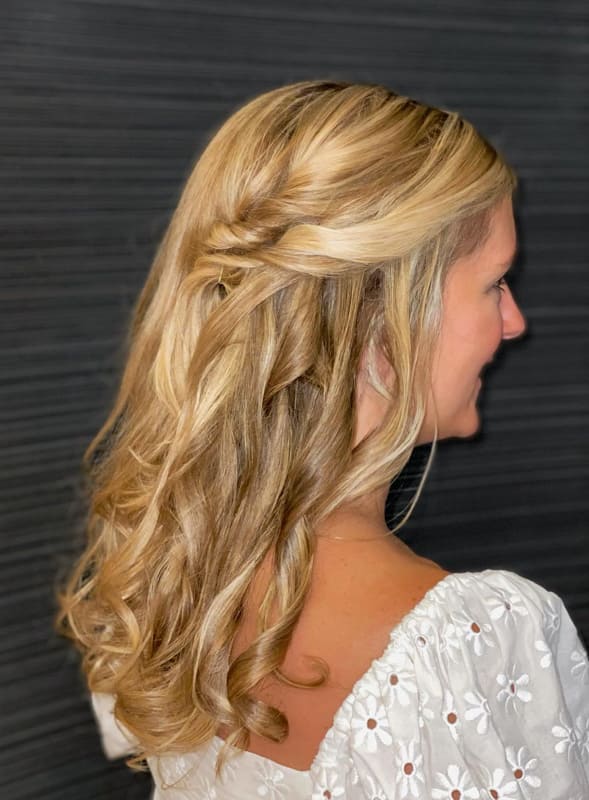 Long curly blonde wedding hairstyles
If you have long hair as you can see in the picture, I recommend that you leave your hair free. Believe me, it is very difficult to care for such long hair and it is not easy to extend the hair that long. A woman who takes care of herself can achieve this.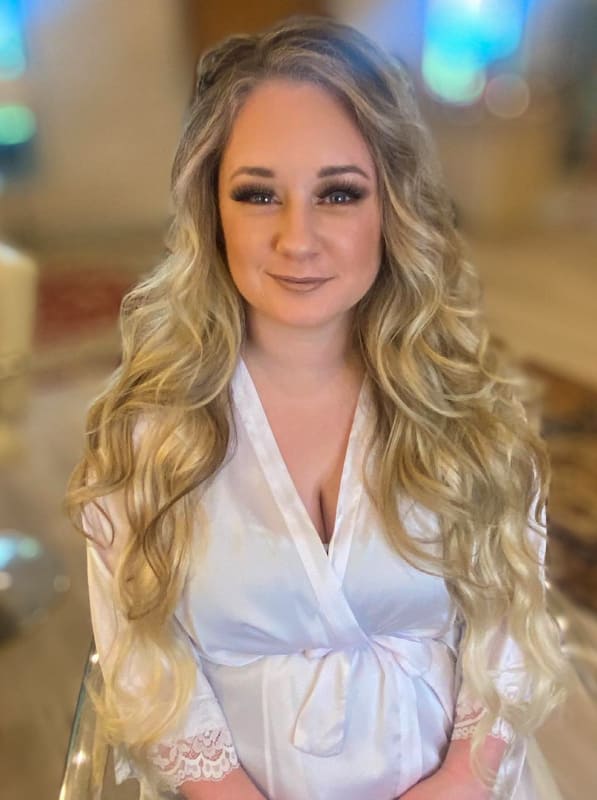 Long curly wedding hairstyles
Black women, on the other hand, love to make buns. Especially black women with curly hair.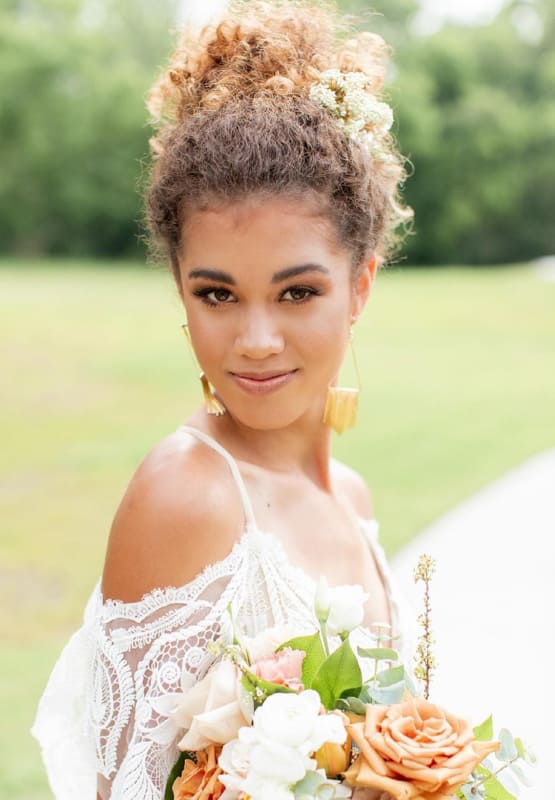 Long fishtail ombre wedding hairstyles
I do not recommend this kind of thick fishtail braided hair for brides. However, it is a hairstyle that can be preferred by bridesmaids.
Long half up half down wedding hair
Yet another bridesmaid hairstyle. But this hairstyle is a bit flashy for a bridesmaid. Half down and half up hair is used a lot on special occasions.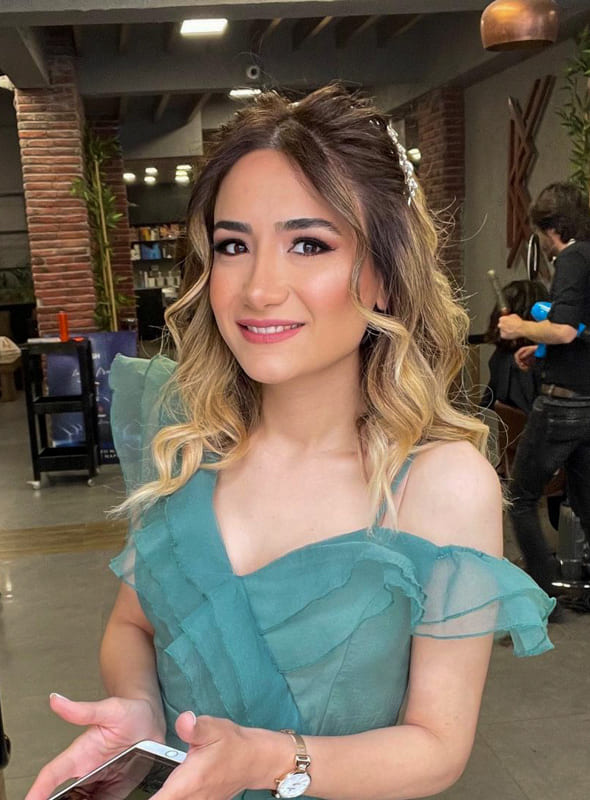 Long layered and wavy wedding hair
Layered and wavy hair can be used very comfortably, especially with a long veil. First of all, I have to say this. You need to take a careful care of your hair a while ago. Then you can give your hair this shape.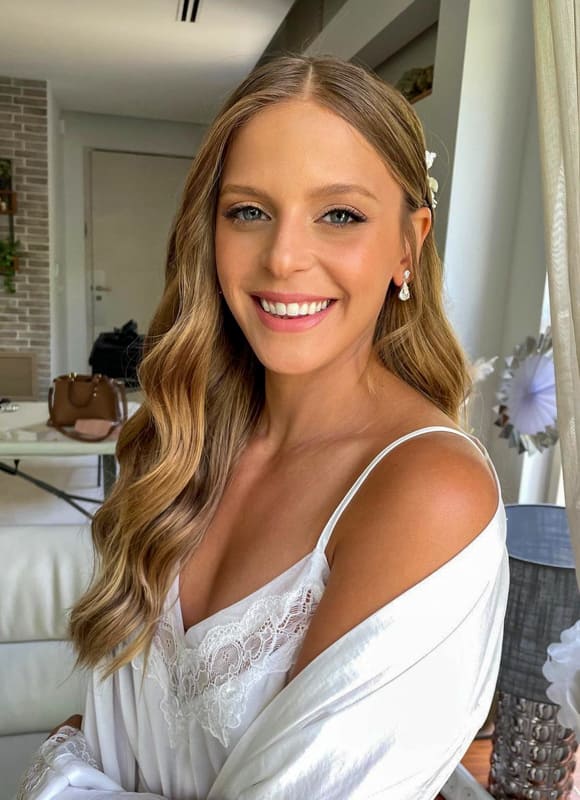 Long layered wedding hair
Another feature of layered hair is that it draws attention even from a distance. You will like this very much. But the length of the hair is not enough. It could have been a little longer.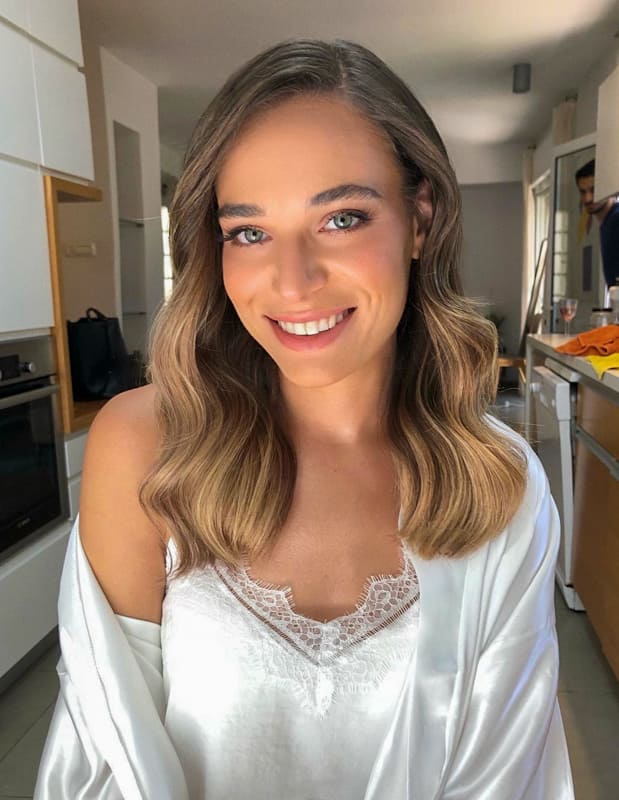 Long ombre wedding layered hair
Another good example of layered hair. The hair length is pretty good. In addition, the collection of hair in the front will prevent it from closing together with the veil. In this way, your hair will preserve and display all its shine.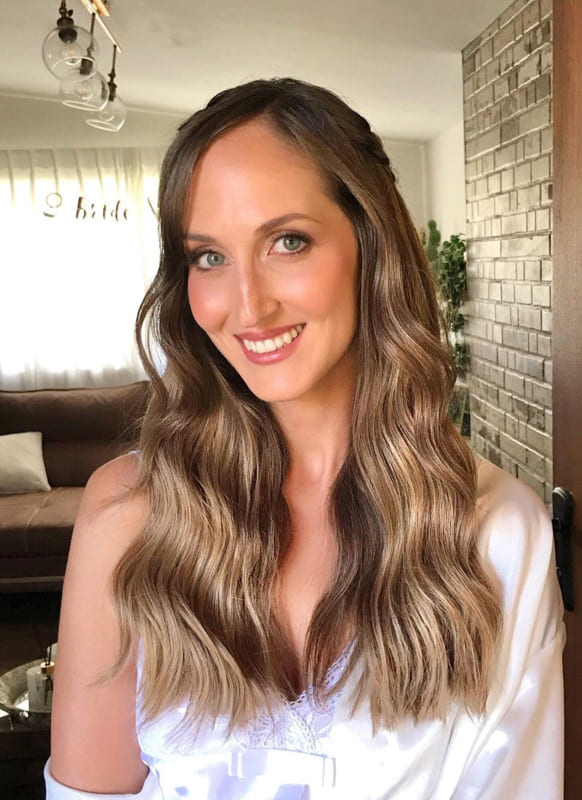 Long platinum blonde updo wedding hair
What you see in this picture is a simple updo hairstyle. My favorite thing is that part of the hair is laid to the side. I like the hair that covers the eyebrows and I am impressed.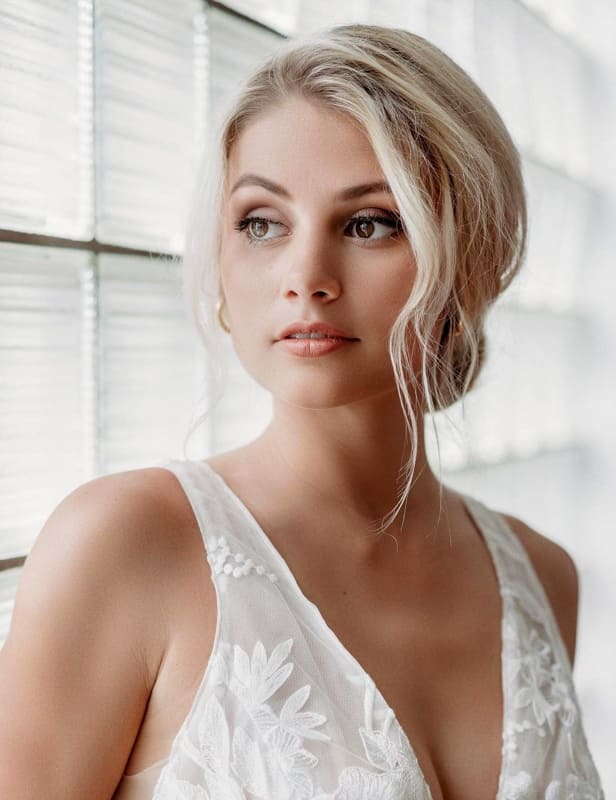 Long ponytail wavy wedding hair
Now it's time to continue with different models. Now we will examine a beautiful ponytail hairstyle. It is very nice to tie the middle part of the hair with the hair. It is also very impressive that the hair is wavy.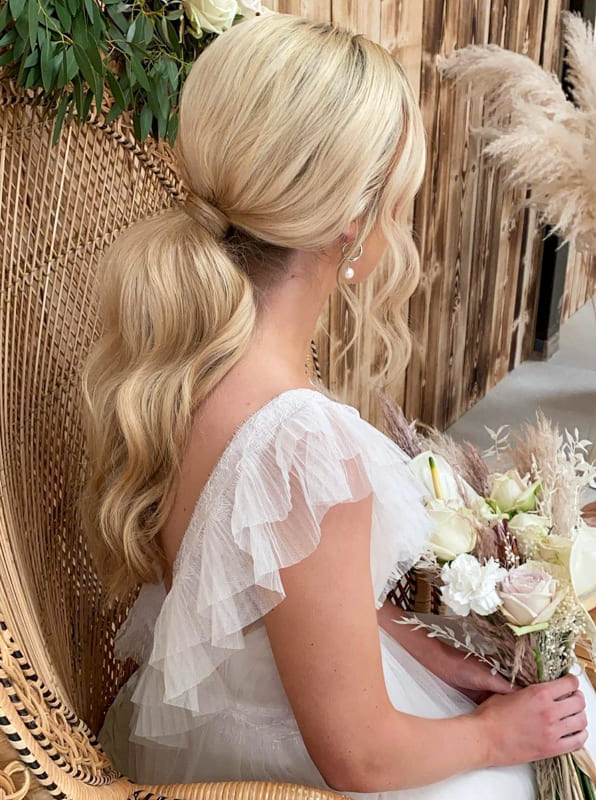 Long ponytail wedding hair
Having a ponytail at the top of your hair is not very useful. Especially for brides. If you are a bridesmaid, you can definitely choose it. Especially if you have a suitable face and head structure.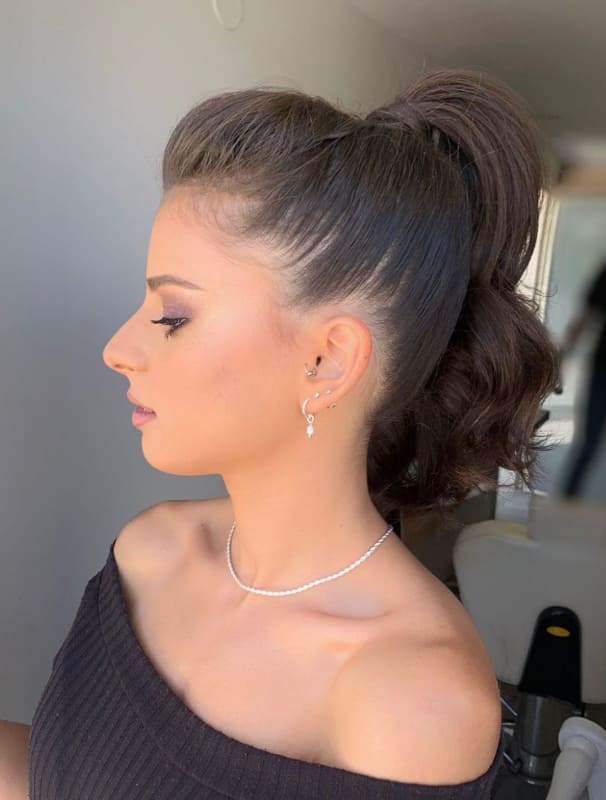 Long red bun wedding hair
You see a red and very simple bridal hair. The hair is actually long, but because the hair is very thin, the bun seems a bit lifeless. Don't mind it and take a look at how impressive it looks.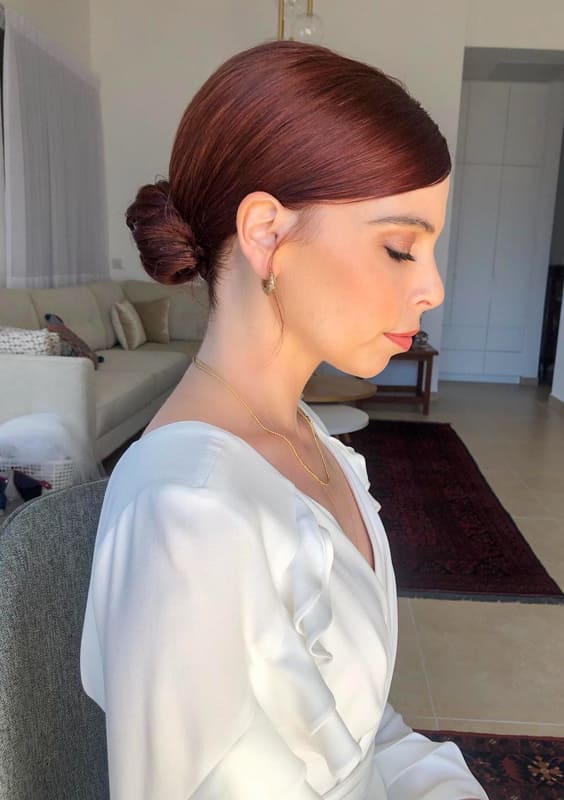 Long side braided wedding hair
Another beautiful bridesmaid hair. Side fishtail braid hairstyle. The thickness of the fishtail is quite impressive and remarkable. I was very impressed with the way the hair was laid back.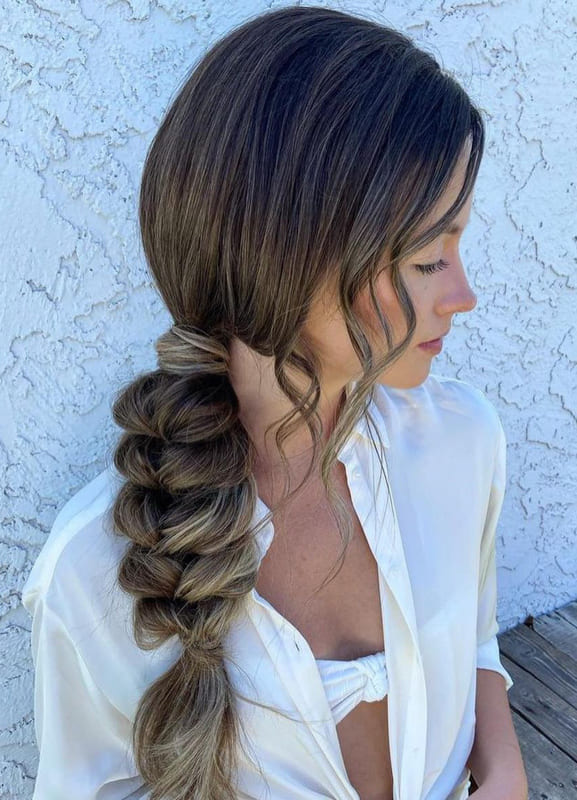 Long side wedding hair
This retro hairstyle really impressed me. The brown hair does not fade because of the impressiveness of the model. On the contrary, it looks quite impressive with shiny hair.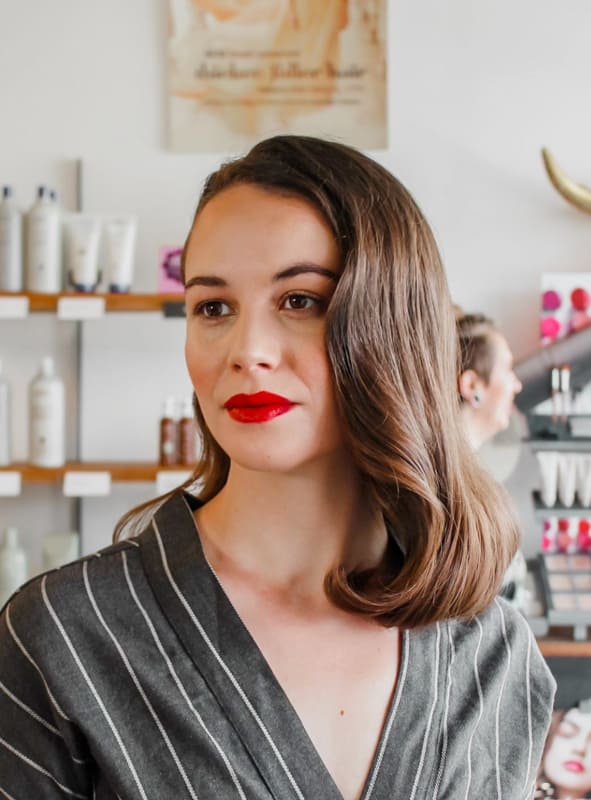 Long updo wedding hairstyles
A bridal hairstyle crafted using a beautiful feathered crown. Black color was used in this bridal hair. Also, it is a good choice to have the hair updo. On such a hair, you can use a beautiful veil.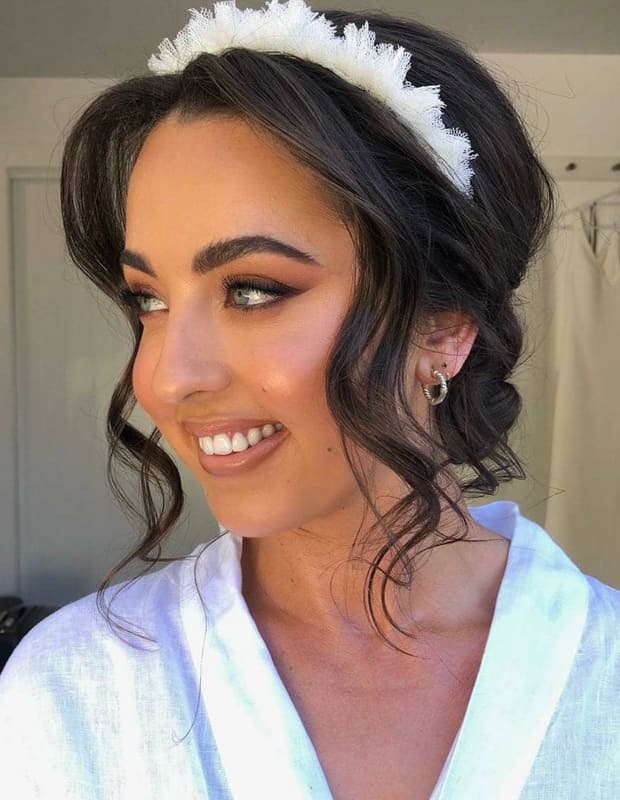 Long wavy black hair for wedding
I don't know if you like wavy hair. I like it very much. However, I don't know how right it is to try retro or vintage style hairstyles on this type of hair. In addition, the use of brooches or hairpins is necessary in my opinion.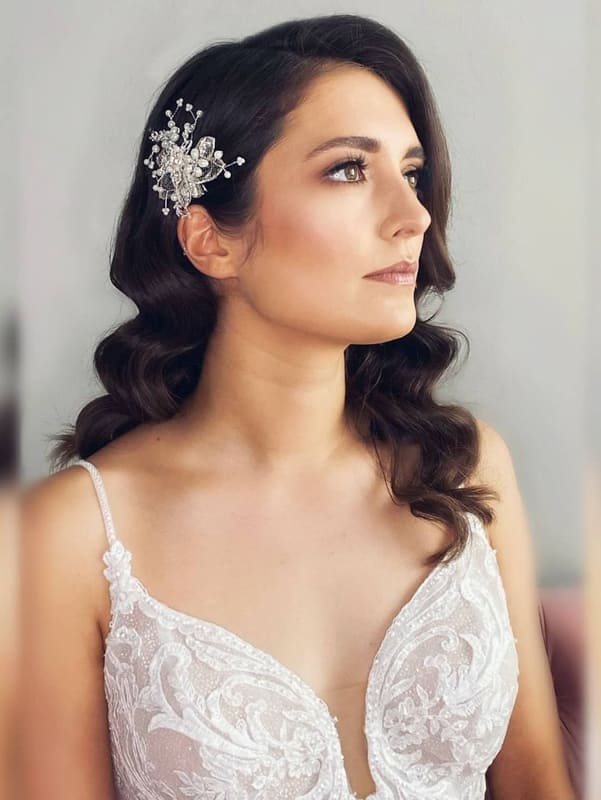 Long wavy blonde wedding hair
Gorgeous long hair in golden color. The waves in the hair are amazing. You can see in this picture how important it is to have strong hair. A few pictures ago, we reviewed a bun picture. Just look at this picture. You will be surprised to see how voluminous the hair is.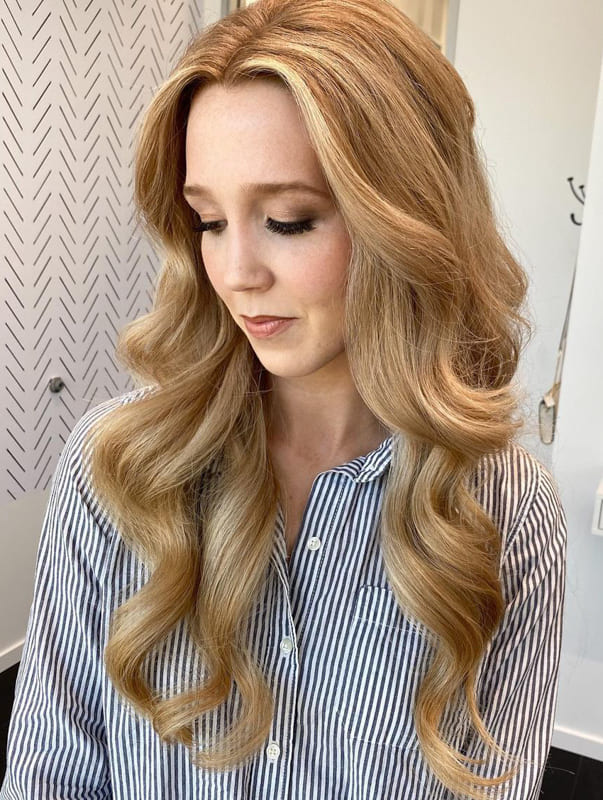 Long wavy bridesmaid wedding hair
Another stunning hairstyle for bridesmaids. Ombre hair style is used. A wonderful combination of yellow and brown. Even if the hair is a little voluminous, it can be very surprising when integrated with the beauty of the face.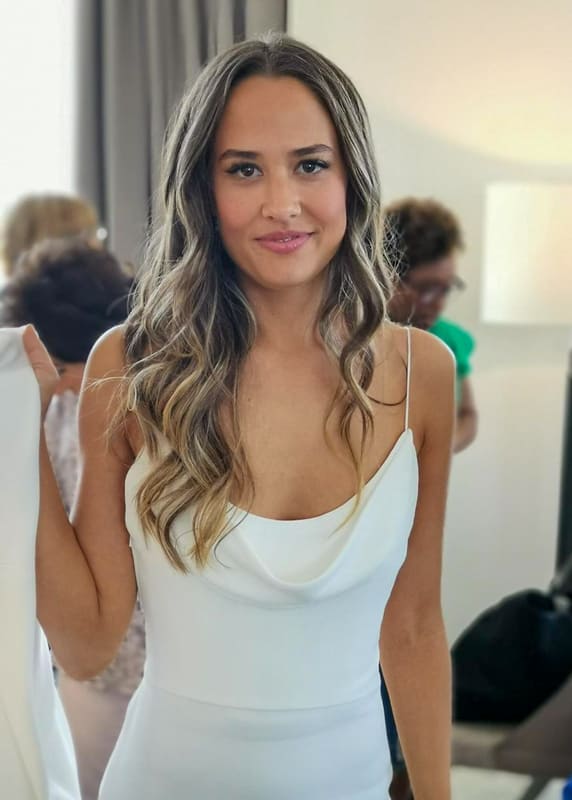 Long wavyy blonde wedding hairstyles
Long hair is preferred by blonde and white-skinned women. My advice to you is to start preparing your hair 2 3 years in advance for your wedding. What kind of hairstyle you will use, prepare for it. Growing your hair or trying a different method.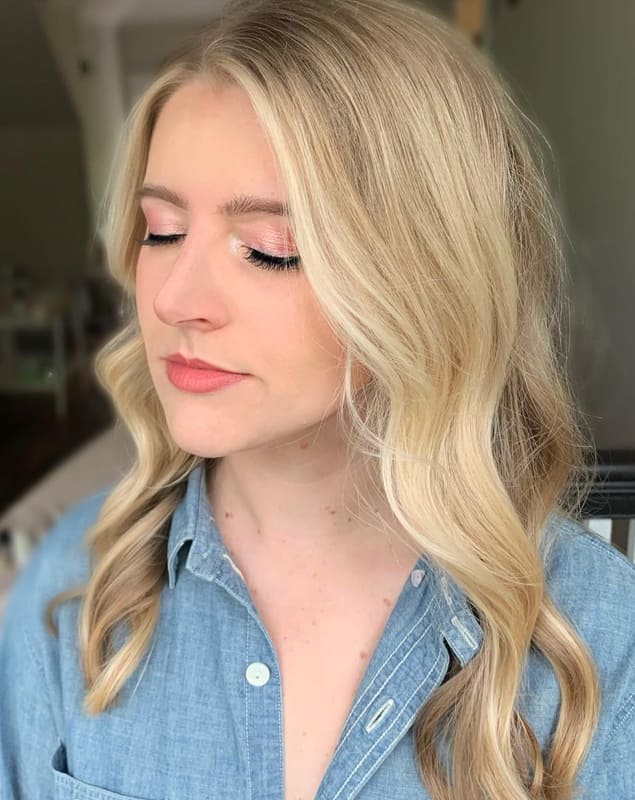 Long wedding easy hair
If you are going to use glasses, I do not recommend you to use them today. You can use lenses instead. There is no need to say much about hair. It's a pretty simple hairstyle. It will look very nice when combined with a veil.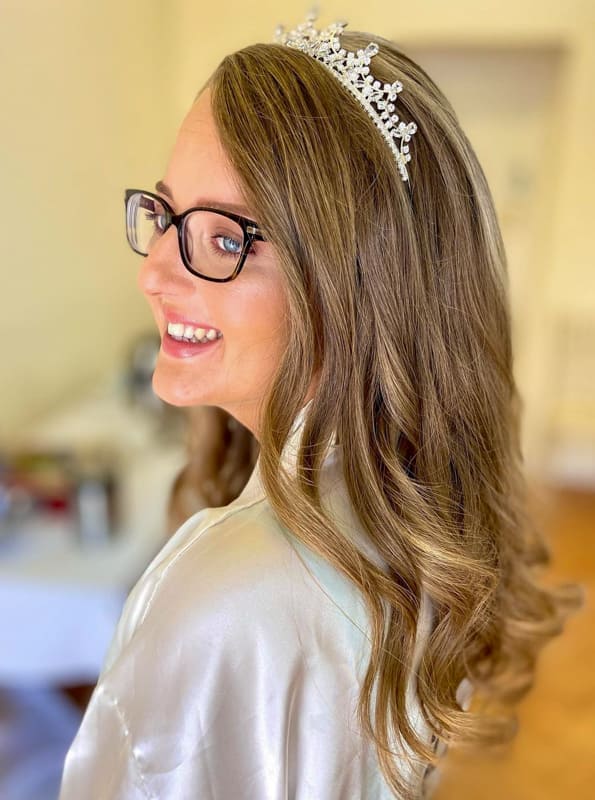 long wedding low updo wedding hair
Red and updo hair. I dream of the stones used in these hairstyles being diamonds. Imagine it will look shimmering until under strong lights. :)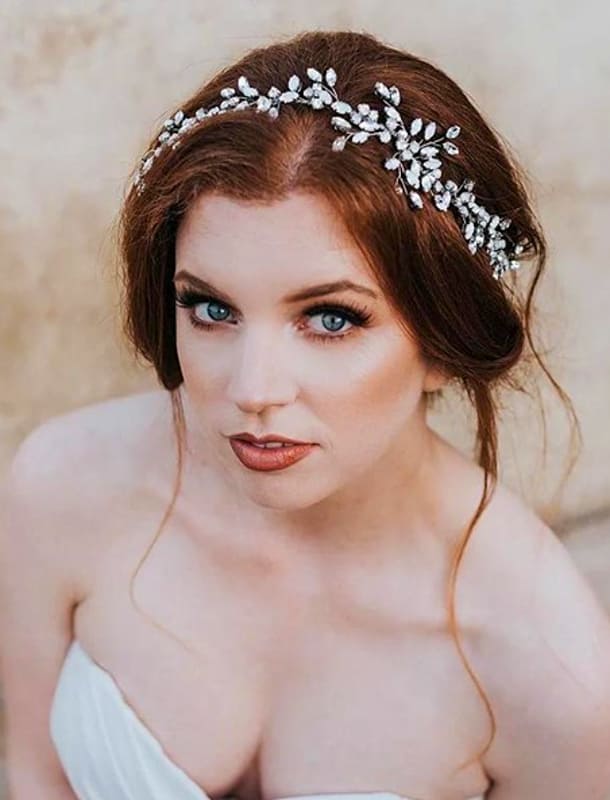 Platinum blonde long wedding hair
A very beautiful bride in her 30s. Her hair is absolutely perfect. The beauty of her eyes and face is integrated with her hair. This is a very important criterion. Try a hairstyle that suits your face shape.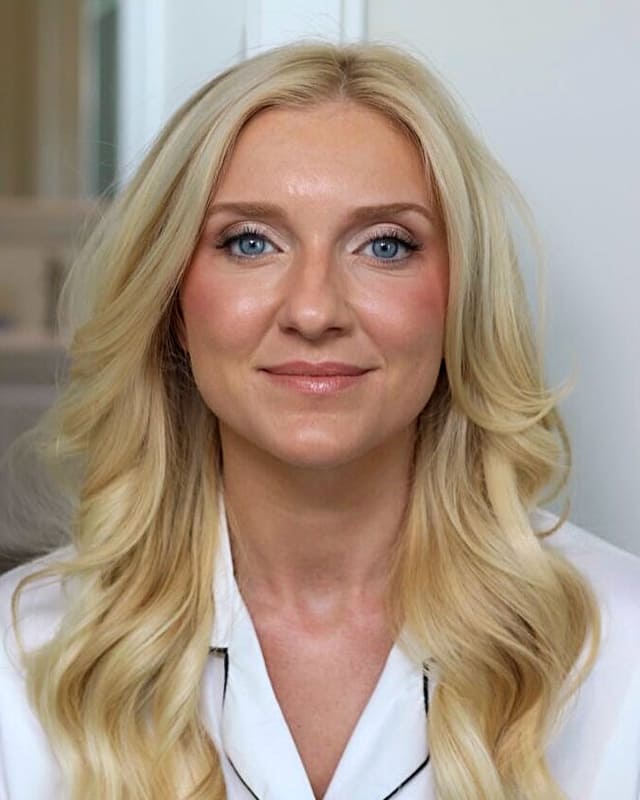 Red natural long wedding hair
If you like country weddings, such a simple hairstyle can work for you. You can choose natural hair for country weddings.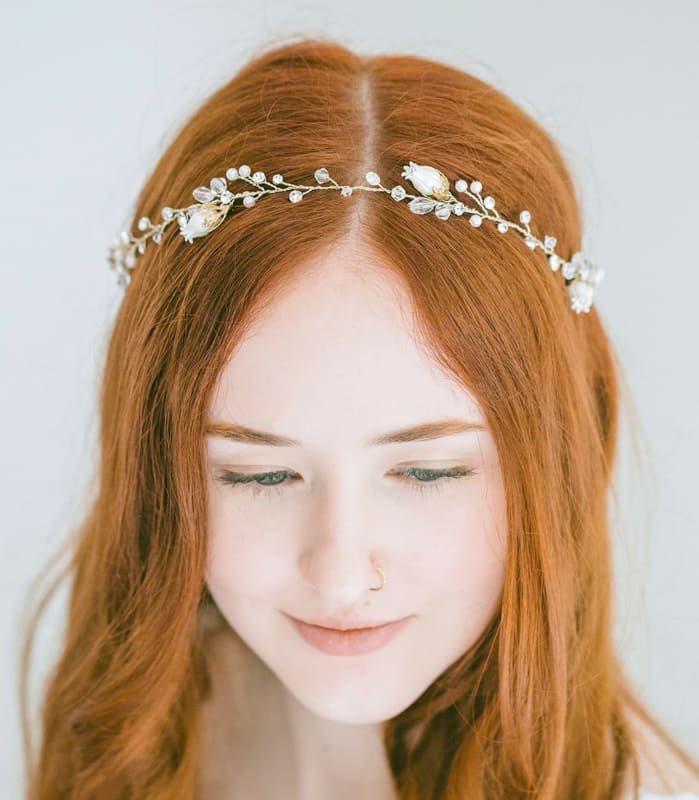 side braided updo wedding long hair
A great updo hairstyle combined with a beautiful braid. The hair color is really light. We call it platinum blonde.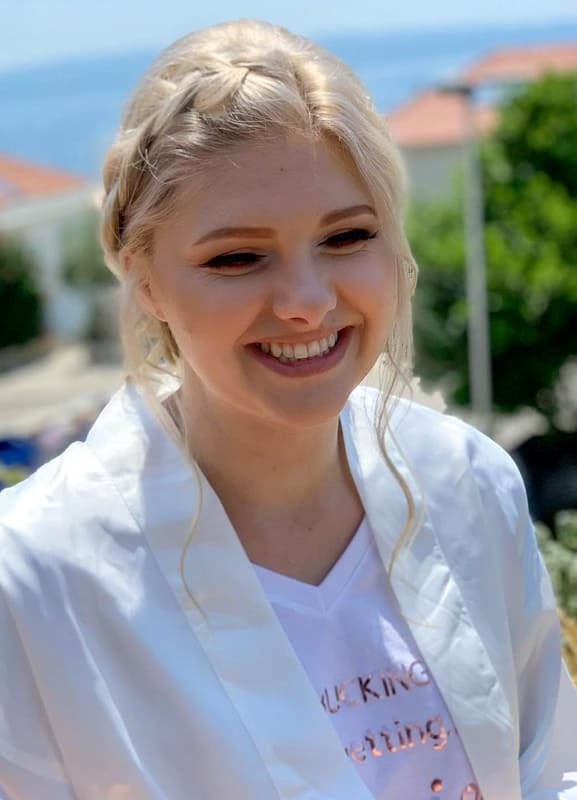 Side fishtail braided wedding long hair
Finally, I would like to share a very impressive fishtail braid hairstyle with you.