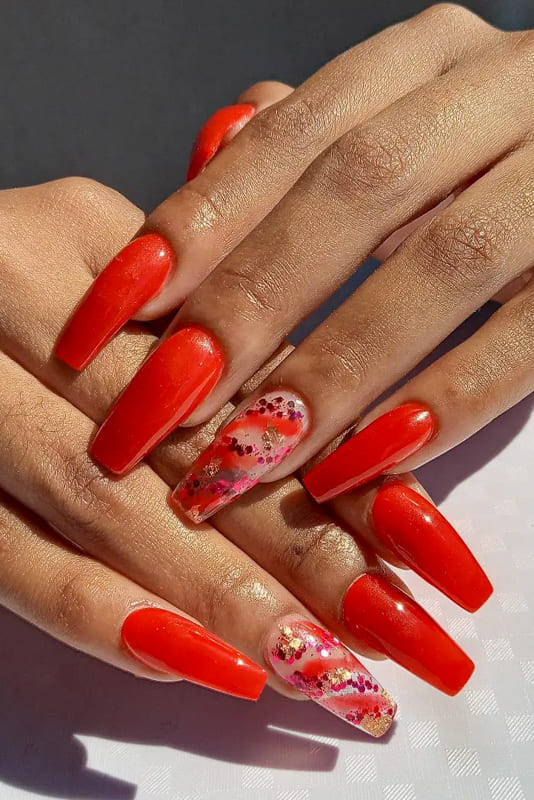 I am here with a wonderful color and nail designs that will warm you up on these summer days when we feel all the warmth of the sun on us. Surely you all understood that I meant the color red. In addition to being very assertive, red is one of the colors that shows our femininity the most. Red is the color of love and attraction. We know that women often prefer red tones in nail designs. Today I will talk about the combination of red tones and acrylic nails.
20+ Red Acrylic Nail Designs and Ideas & Tips
Although acrylic nails look very stylish, they are a design that we women often have difficulty using. We often have trouble in our daily activities because we use it in tall heights. But isn't it worth it to look beautiful? Red color can be a great choice for your acrylic nails. When used correctly. By the way, the nail sizes you choose are of course important. Acrylic nails that are too long may seem unattractive to some men. Others may think that the woman brings her femininity to the fore. At this point, it is up to you to choose the nail size you want. It is useful to choose according to your own taste. Although the choice of red color for your acrylic nails is very correct, you can also choose these colors and shades for your coffin nails. You can also add a different atmosphere to your nails with different decorations.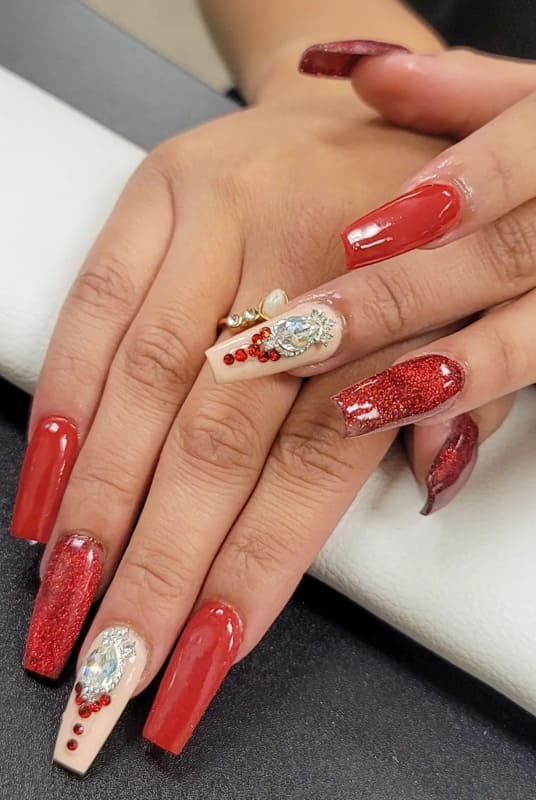 Glitter application will be great for your red acrylic nail designs. While you may prefer only red color for some finger nails, applying glitter on red nail polish on two finger nails would be a good design example. Or you can try the red glitters on your transparent nail polish. In our article, we will see examples of this and examine this issue in more detail. Now, in this article, we will discuss the harmony and different designs of red color and tones for our acrylic nails. So let's get started.
Long red acrylic nails
The long red acrylic nails we've covered in this article are probably the most understated nail design. As we can see in the picture as an example, you can achieve this look by using a plain red matte nail polish on our long and beautifully made acrylic nails. Of course, the choice of nail polish you want is up to you. You like the design, but the color is too pale for you, so you can choose a brighter red nail polish. Or you can use different shades of red. For example, pomegranate flower will be a very good choice for summer months.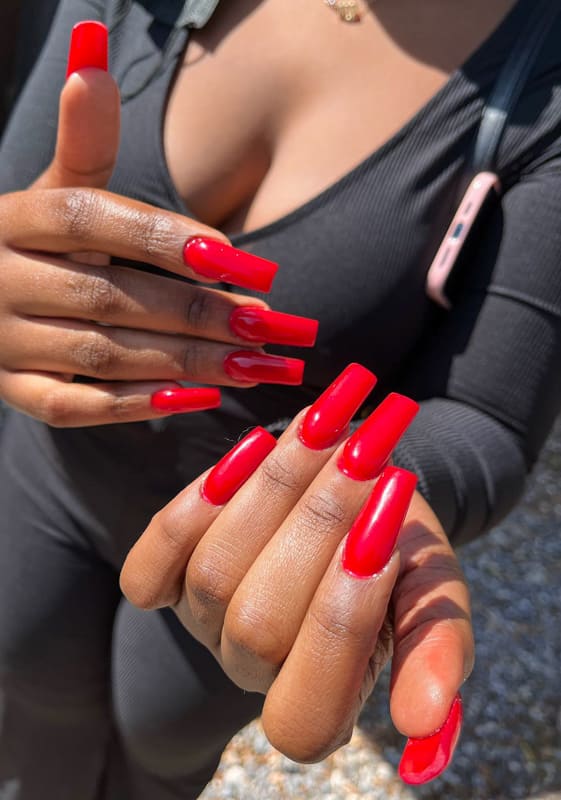 Long almond glitter red acrylic nails
As I mentioned above, shimmering red nail design is highly preferred. This nail design, which we see in the picture, will be a great choice for women who want to be assertive. It is entirely up to you to choose how you want this design. In our example in this picture, we see that almond nails are preferred instead of acrylic nails. We can see how great the red glitter colors look for almond nails. Whether you prefer acrylic nails, coffin nails or almond nails, the choice of red glitter nails will be great for all.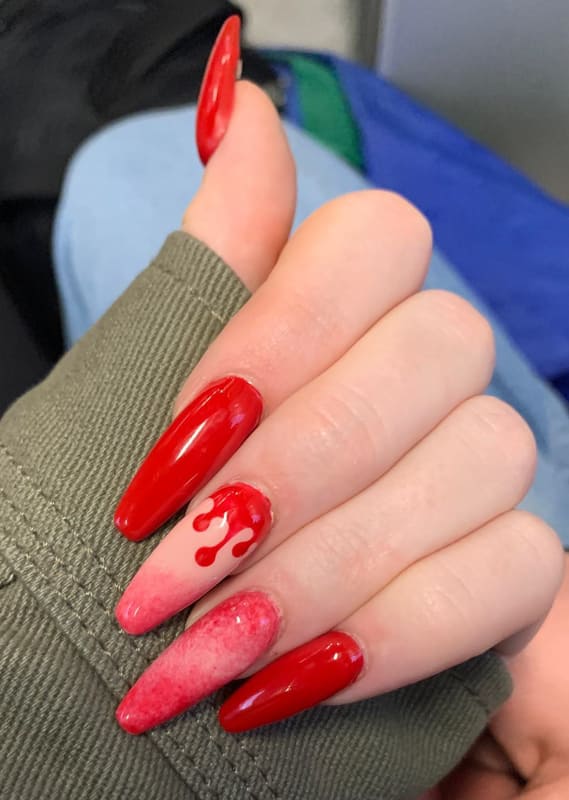 Long coffin red acrylic nails
It is very important for us women to look stylish. That's why our accessories, even our nails and nail polishes, should be compatible as much as our clothing. We love long nails. But we also find it very difficult to grow our nails. It is breakable and not durable. That's why we prefer acrylic nails. If you love to use the coffin nail model, you must have acrylic nails. The choice of color and design for these, of course, is up to you. But I would definitely recommend using shades of red for your acrylic coffin nails. Give it a try.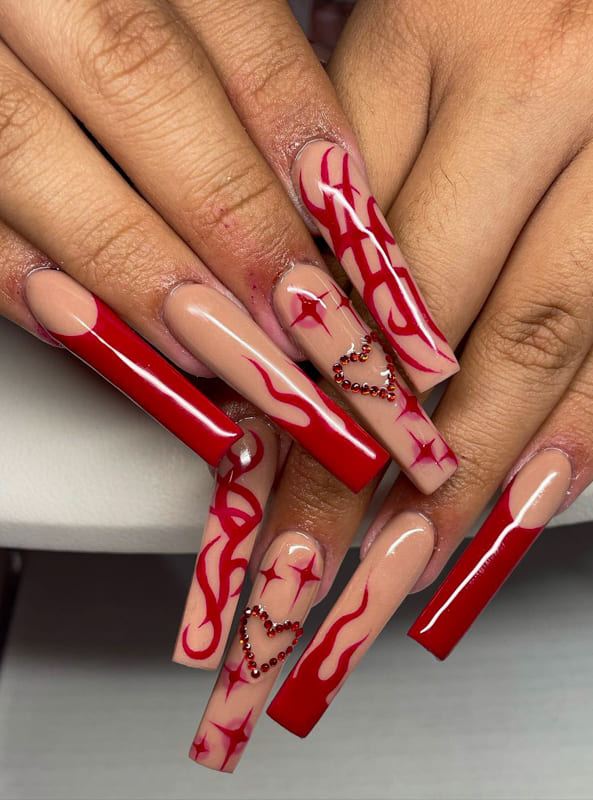 Red coffin glitter acrylic nails
We talked about acrylic nail design for your coffin nails and using red tones in these designs in our example above. Now I want to add glittery red nail polishes to these. Although it is difficult to explain in writing, our example will be very helpful for this. As you can see in the picture, red glitters are used on transparent nail polish. For some nails, glitter ornaments are attached. Do we need to tell you how stylish and different she looks?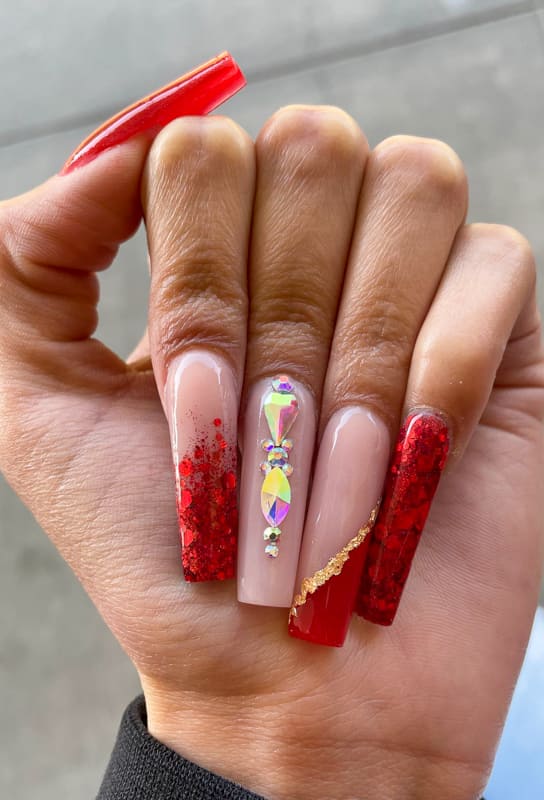 Red almond acrylic nails
Almond nails are a nail design model preferred by most women. Using almond nails is much easier than acrylic or coffin nails. It is often preferred because of its stylish appearance and ease of use. In this example, narcissus. We can see that some of the almond-colored nails are decorated with gold embroideries. Although it is usually a simple image, gold embroidered details animate the nail design and add a different atmosphere. Don't you think it's a very simple and elegant look?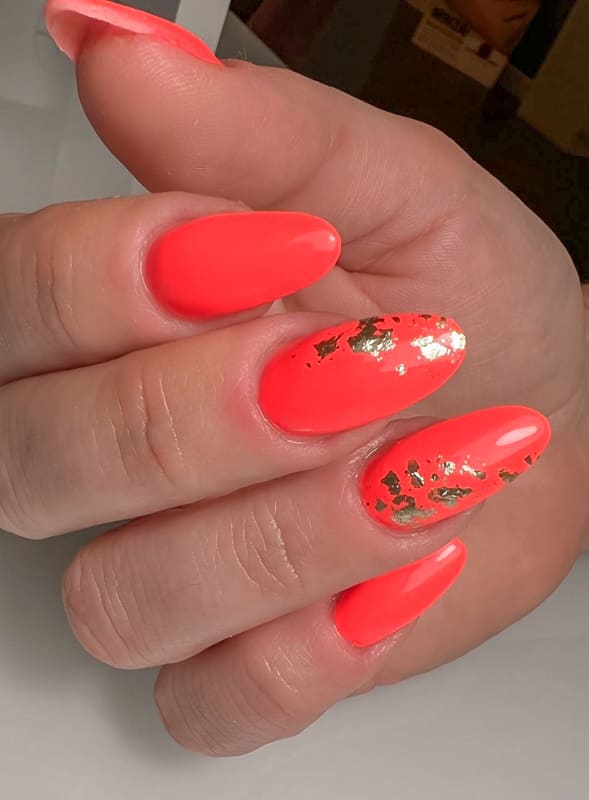 Long nude and red acrylic nails
Nude nails are actually the nails we love and often prefer because they will be compatible with every outfit we wear. Combining red and nude tones creates a great design. I am sure that the harmony of these two tones with each other will surprise you. I want you to look at the short picture. Look at the harmony of the glittering decorations used with nude and red acrylic nails. The choice of red tones in these pasted ornaments also added a different atmosphere. Especially if you are going to prefer your acrylic nails long, I definitely recommend you to take a look at this nail design.
Long red acrylic marble nails
Long red acrylic marble nails are a nail design that I love very much. Although marble nails look great for every color tone, I would like to say that they suit especially red colors and tones. In our example in this picture, the gloss in marble appearance also draws attention. Moreover, the red acrylic marble nails used with nude tones are in a wonderful integrity. We recommend you to try this nail design, which is so beautiful in harmony with each other.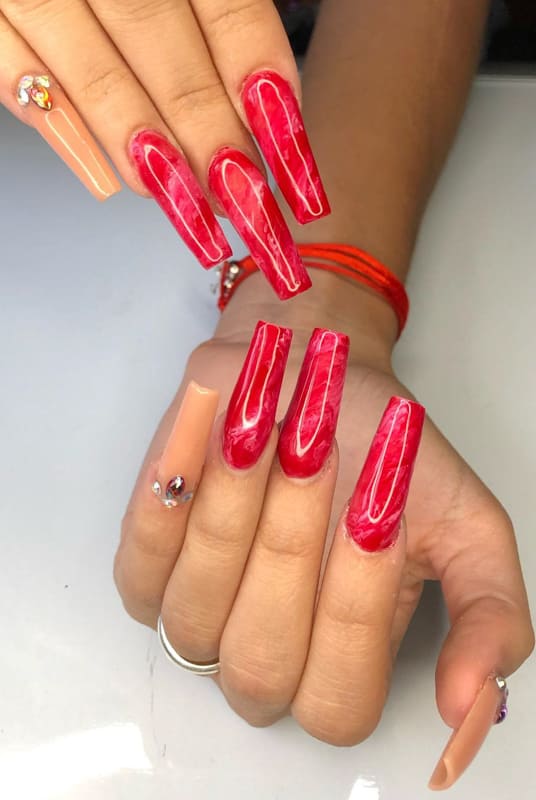 Red acrylic french stiletto nails
If you are following my articles, you know that french nails are my favorite nail design. All of the French nail designs suit women very well. In this article, we will see the harmony of red nail polish and french nails on stiletto nails. We know that acrylic application is used on coffin nails or stiletto nails. If you also like to use long nails, make sure to try red nail polish and french application in your coffin nail or stiletto nail designs. As you can see in the picture, they go very well together.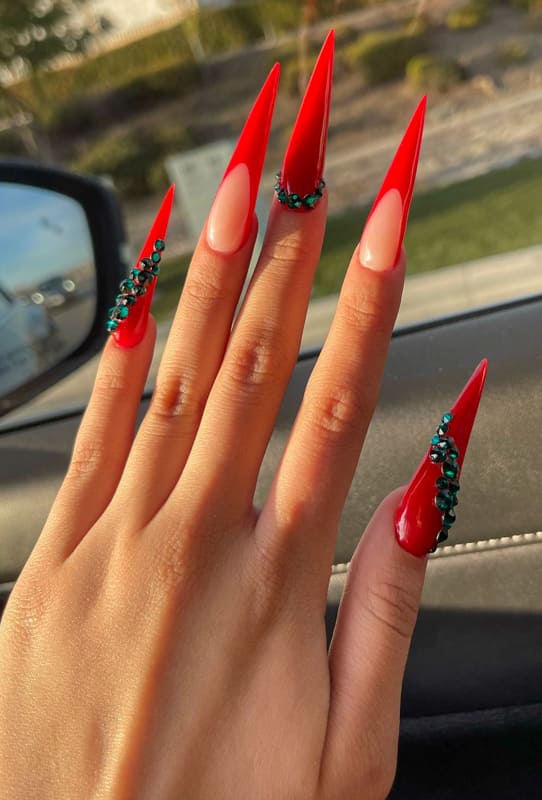 Coffin french red acrylic nails
We continue with French nails. I am with you with another suggestion that will be great for your coffin nails. French red acrylic coffin nails are very fashionable this year, as every year. In fact, it would be more accurate to say that it never goes out of fashion. In this picture we see a different nail design. You can use this nail design, which reminds me of halloween nails, whenever you want. As an example, you can make different applications for your acrylic nails with different designs, as in this photo that I want to show you, or with french and red nail polish. The choice is up to you.
Extra Long Square red acrylic nails
Extra Long Square red acrylic nails is a very different design, isn't it? Would you like to have these nails, which are very difficult to use, so every woman dares to try? We wanted to show you how beautiful it is in this sample picture. Of course, you have to be a little crazy to have these nails. Although I say that you will have a very difficult time doing your personal work, I would like to admit that you are very good. Especially the red decorations on the nails complete the design.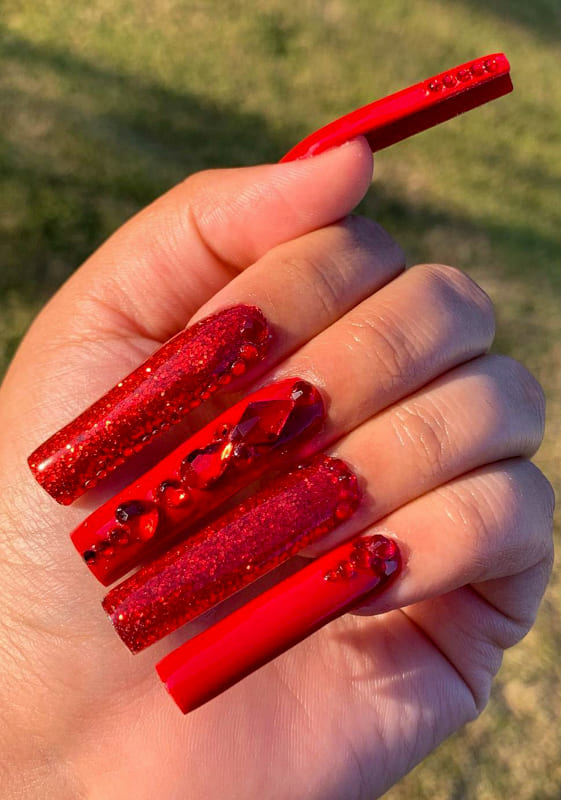 Red acrylic nails with flowers
You would be surprised if you knew how common the use of floral patterns in red acrylic nail design is. Of course, in this painting, the flower motifs are handled a little differently. We see that the flower pattern is made with red nail polish on transparent nail polish. This adds a very different air to the nails. If you want, you can make flower motifs with white nail polish on red nail polish, and you can choose a nail design in this way. We recommend that every woman who is open to innovation should try it.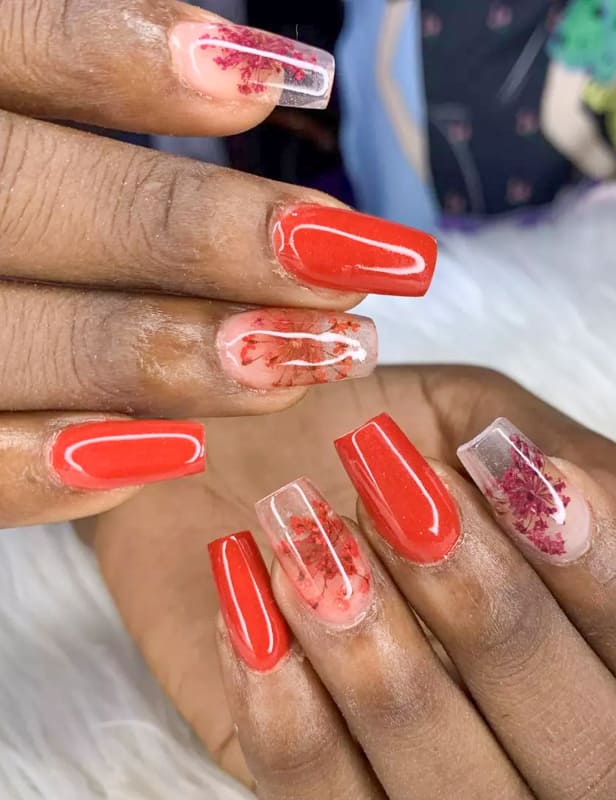 Red acrylic Stiletto nails
We saw the use of plain red nail polish on red acrylic nails in the first picture of our article. I would like to tell you about another design that is very similar to this simple and elegant design. You should definitely choose red nail polish for your stiletto nails. For your acrylic stiletto nails, you can use plain red nail polish like in this picture, or you can get a wonderful and different nail design with glitter nail polishes or nail decorations.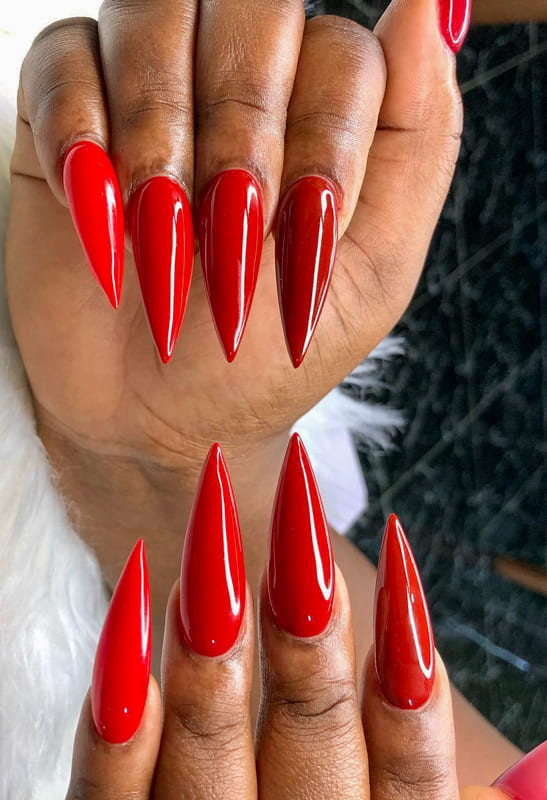 Long glitter red acrylic nails
We have another great suggestion for your long red glitter acrylic nails. The nail decorations in this picture caught your attention, right? When nail decorations are used correctly, great nail designs come out. Don't you think heart-patterned nail decorations look great on transparent nail polish? The bright appearance and nail decorations and the red tones used definitely look very attractive and well-groomed. You should definitely try it.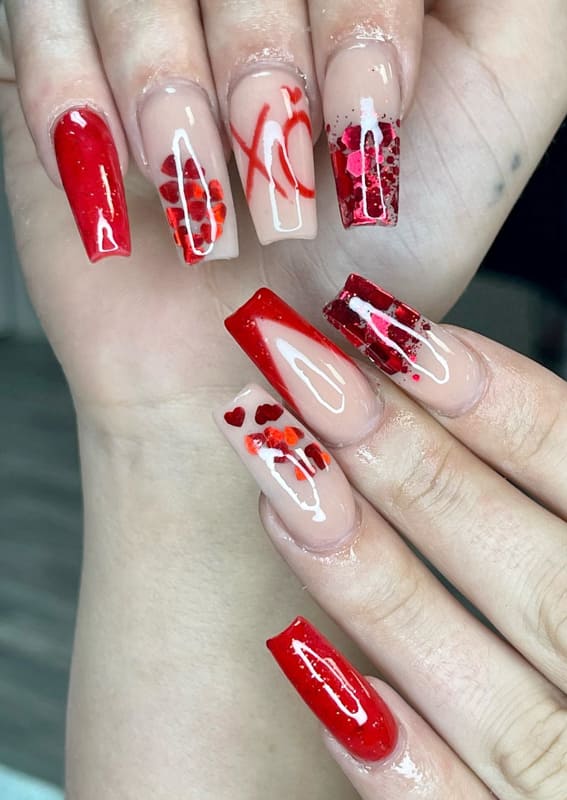 Coffin red glitter acrylic nails
I am with you with a very good example of gluing glitter on coffin nails. In our wonderful example in this picture, the harmony of red glitters with transparent nails is almost eye-catching. We have to say that the nail decorations and flower motifs used on it also add a very different atmosphere. Preferring acrylic coffin nails is also very right for such a design. The gold-colored details of the nail ornaments do not tire the eyes. One is fascinated by the harmony of transparent and red tones.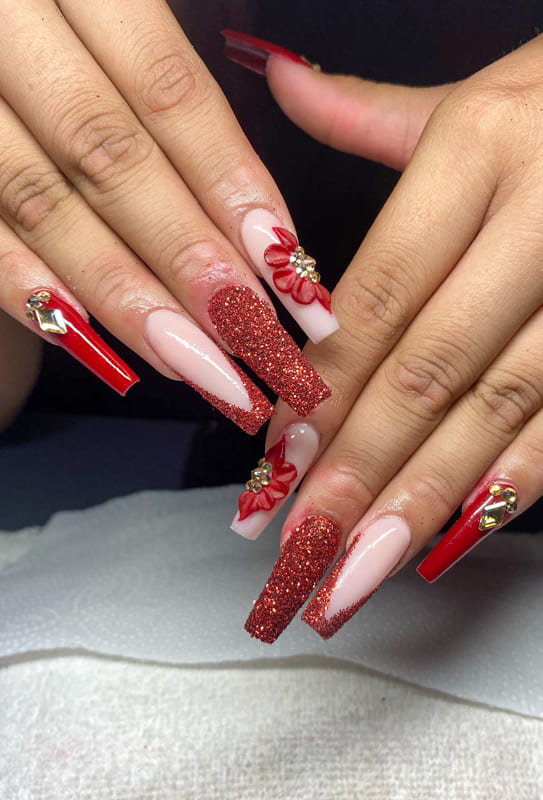 Red and nude winter acrylic nails
We were always talking about nail care and nail decorations in the summer. In this article, we see the winter design. In our example in the picture, the beauty of the snowflakes is striking. Moreover, snowflakes were applied on a single nail, and on other nails, red nail polish and french were preferred. In this respect, exaggeration has been avoided, and a simple yet elegant harmony has emerged. Would you think that french application with red nail polish on transparent nail polish would look this good? Moreover, while white and blue are generally preferred as the bottom color in snowflakes, could you imagine that the color red would look so good?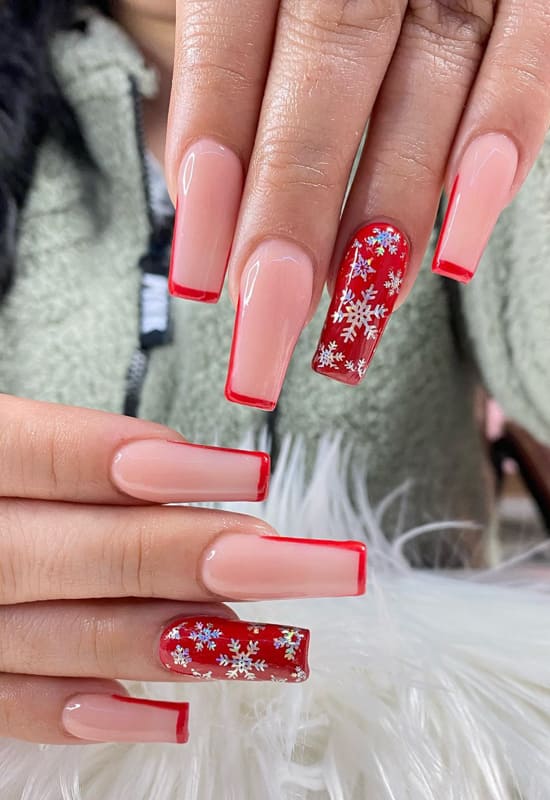 Long red french acrylic nails
In this article, we will look at French nails from a different perspective. As we know, a thin straight line is preferred mostly in french applications. As we can see in our example in this picture, a different design is made on long nails. Acrylic nails have gained a magnificent look with the nail decorations used. We must also say that the letters used in the red sections made in French attract a lot of attention.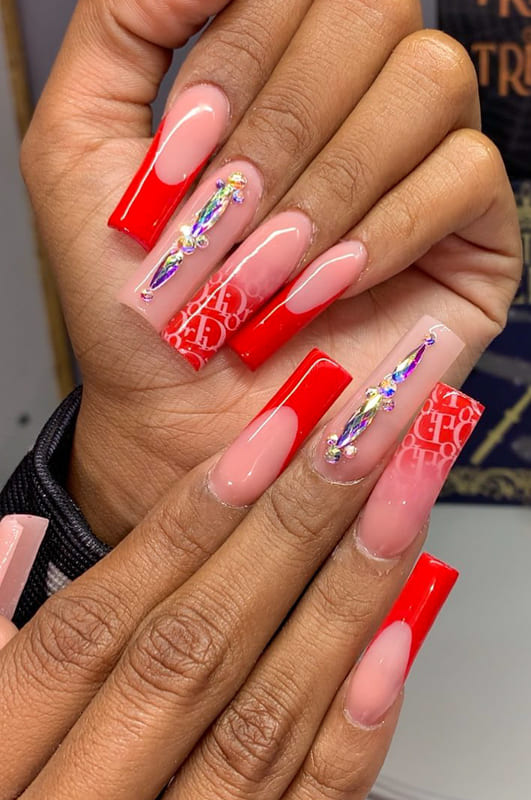 Red acrylic nails with lips
Lips are not a very common practice for decorations on red acrylic nails. But we want to say that she looks very beautiful. It will be the right nail design model to add a different atmosphere with different patterns such as heart, lips or flower patterns on acrylic coffin nails made with french with red nail polish. If you want to try it, as in our example in this picture, you can complete your nail design using nail decorations.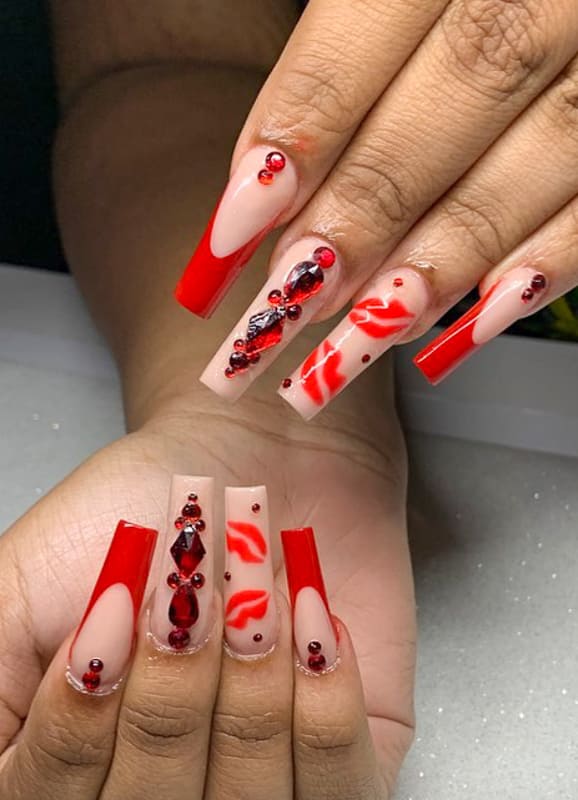 Red acrylic nails with hearts
Heart application on red acrylic nails can be done with nail polish as you can see in the picture. It can also be pasted as a nail decoration. Using heart nail decorations on your acrylic nails, especially red and its tones, will be very accurate. In this picture, we see that plain red nail polish is used on some nails, and face motifs are drawn on red heart patterns on transparent nail polish on some nails. This can give you ideas and you can also use emojis in your nail designs. We hope this article was helpful to you.