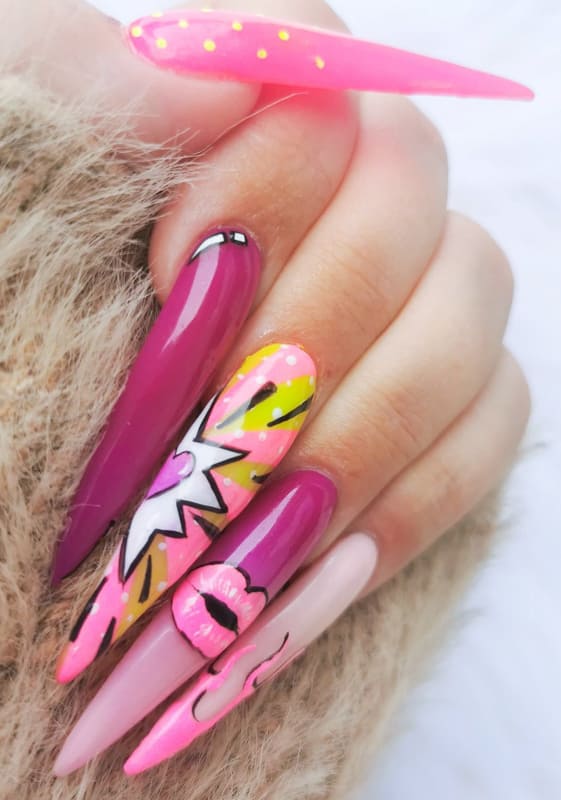 I know that there is a lot to be said about the size of the nails. There may be articles written on this subject, but today I want to talk about long nail designs as a short summary. In this article, which will include different nail designs, you will see how long nails will be in harmony with other different designs. You should think very carefully to change your nails or to prefer long nails. Choosing long nails really entails great responsibility. You need to take very good care of your hands and use them as little as possible. As you can see in the picture above, you need to know that if you have very long nails, they can deteriorate very quickly.
Awesome Long Nails Design Ideas For Beauty Women
So what would you like to do after choosing long nails? More precisely, which type would you prefer? As you know, there are quite a lot of design techniques and a huge number of design types. In addition, when you consider them together with the nail polish color, you have a huge choice scale. I have prepared a great topic today so that you can choose the most suitable color and design. I hope you enjoy reading it and reviewing this wonderful topic. Today we are going to review 21 different long nail designs. Now if you're ready, let's get started.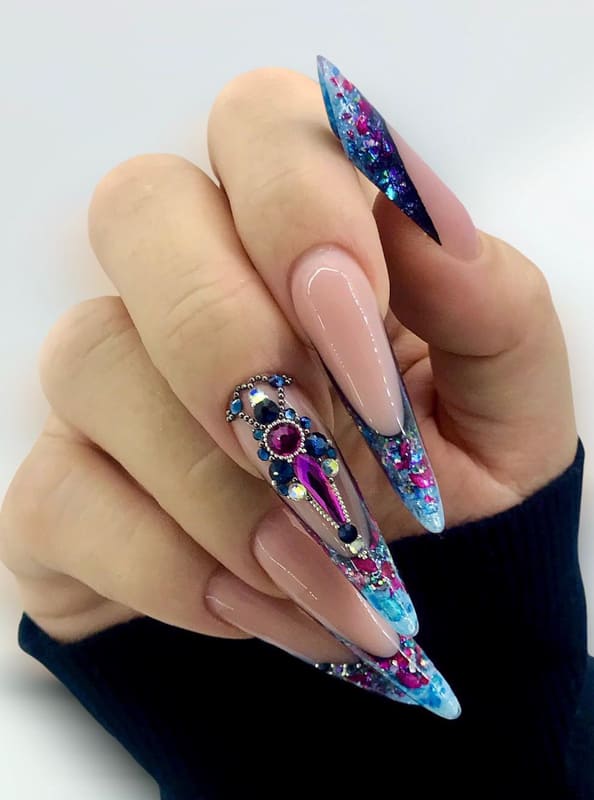 First of all, I want to start with long and pointed nails. However, I would like to talk about a few magnificent designs without going into the sub-titles. I want to at least have an idea about the flow of the subject. First of all, purple and blue tones are used in this nail design, which is made in a french style. However, I think that the nail on the middle finger has a very assertive design. I think it would look both very useful and very stylish if it wasn't so overdone.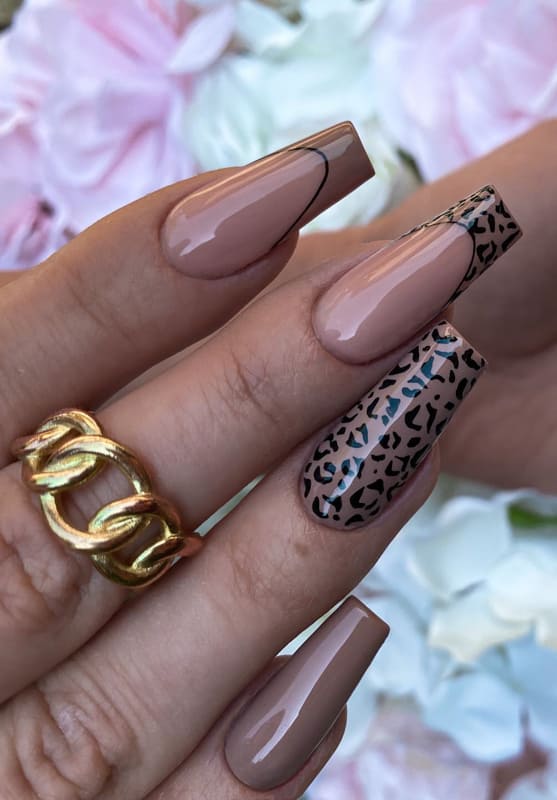 In some of our examples, I will share designs where the length is somewhat normal. However, you should know this. Long nails are relative. Some nails can be really long. Some nails can be as long as you see in the picture above. The color selection is quite dark tones. This is the right choice. Especially for mature women. Women aged 40 and over feel closer to such colors.
Long acrylic french tip nails
In the continuation of our article, we continue on our way with white french nail design. Many women love French nails. I think french nails are both flashy and impressive. However, I am on the side that thinks that some changes should be made with the changing era. In the past, it was almost impossible to find long french nail designs. He was not well received among women. However, it has become highly preferred in new trends.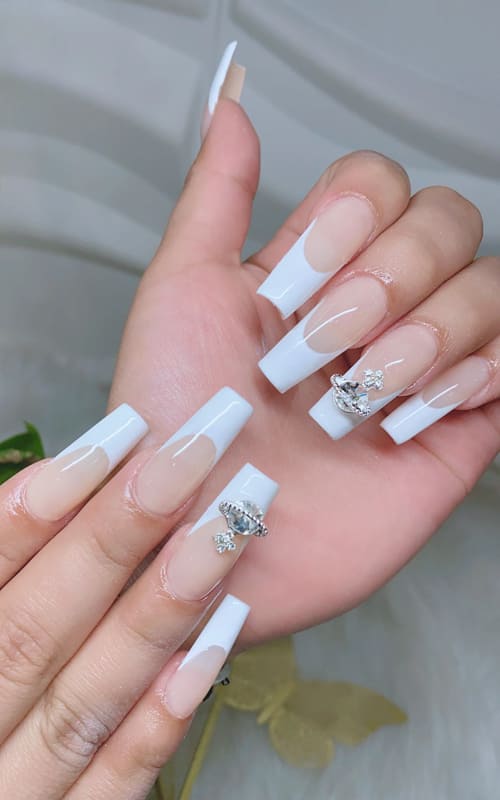 Long fake spring green nails
I can tell you that she has changed recently on her fake nails. They look pretty realistic don't they? If you want to change your nails too much, you can choose quality fake nails. In my opinion, it is the most useful accessory of seasonal transitions. I can also say that it looks nicer with a good nail polish.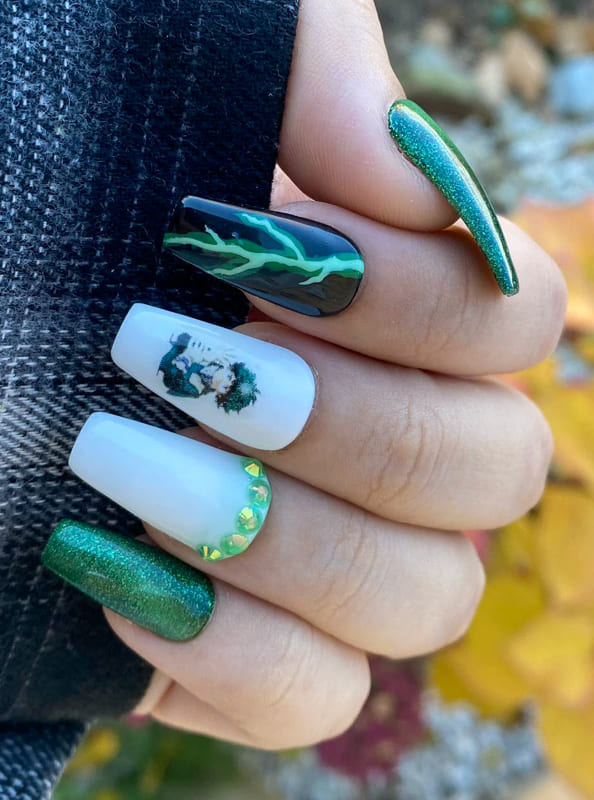 Long gel and natural nails
Getting a manicure is one of the biggest passions of women. Especially middle-aged women love such changes. Some women, on the other hand, use their own nail polish preferences after having the design of the nail shape. As you can see in the picture, pink nail polish is applied to a very natural nail design. I can safely say that it looks very nice.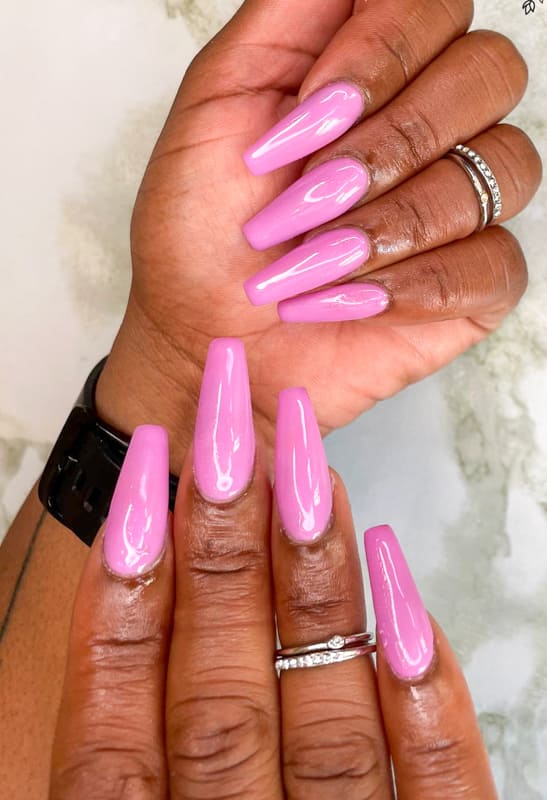 Long oval and lovely nails
You are faced with one of the simplest-looking designs of long and oval nails. In fact, this type of nails is generally preferred by young women. Because there is too much embellishment. It looks like small pearls have been placed. Especially on the beaches, such nails will sparkle.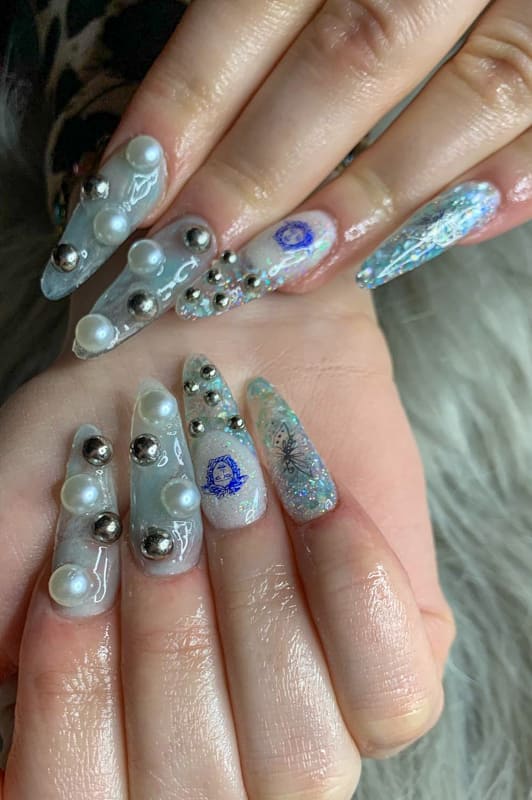 Long green pointy nails
Pointed nails are very difficult to use. You will see a lot of examples of pointed nails today, but I think this will be one of the most ambitious designs. A gorgeous green color given the texture of marble. I think it was made for a special occasion like halloween. It is such a difficult design that you cannot use it on normal days. Although it looks stylish, it is very useless.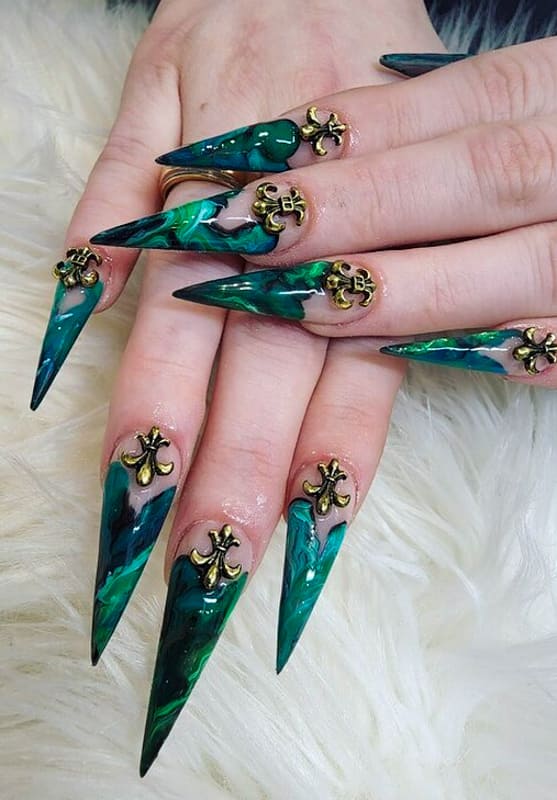 Long nude square nails
Transparent and square nails can be designed quite long. Actually, I wanted to give more examples of nude nail designs, but unfortunately I will write a little shorter today. I will answer nude nail designs with more examples on a different topic. The size of the nail has been a very decisive element in this design.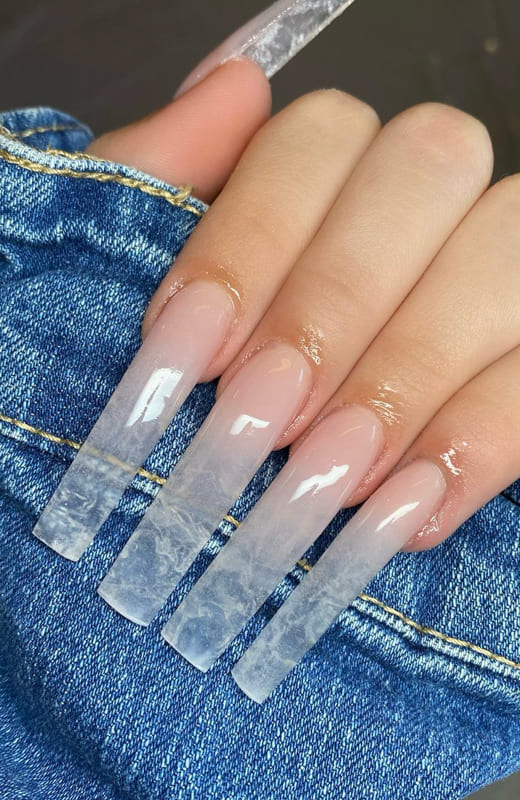 Long red natural nails
Simple designs are among the most preferred nail designs. Because it is difficult to use designs that have undergone many changes during the day. In addition, due to the simplicity of the design on such long nails, you can change the color of the nail polish yourself. You won't need a manicure for this one.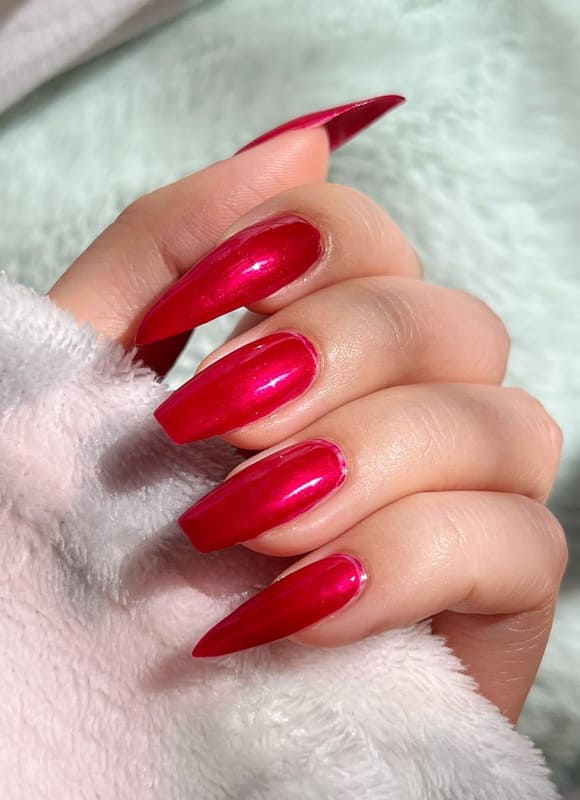 Long blue summer nails
Today we bring you the magnificent magic of the color blue. We had a long article about blue nails before. You can read that article if you wish. Here you will see the blue nail polish applied on very long nails. The importance of the nail polish you will use is as much as the choice of tone in blue. However, it is not possible to make such a design yourself.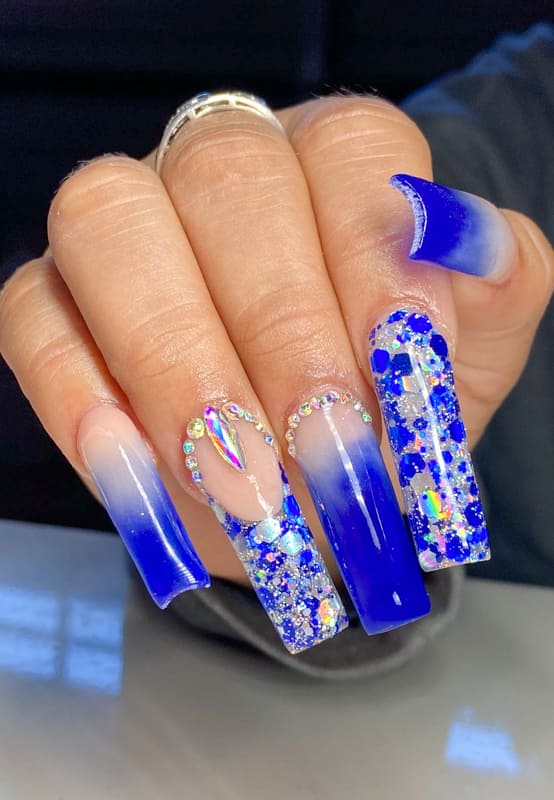 Long black coffin nails
I chose a simple design to give an example of black and long colored nails. My purpose here is to emphasize the importance of the texture of black. Black is a really difficult color. It is a difficult color in this respect, it is very difficult to use, and at the slightest blow, its magnificent appearance is greatly damaged.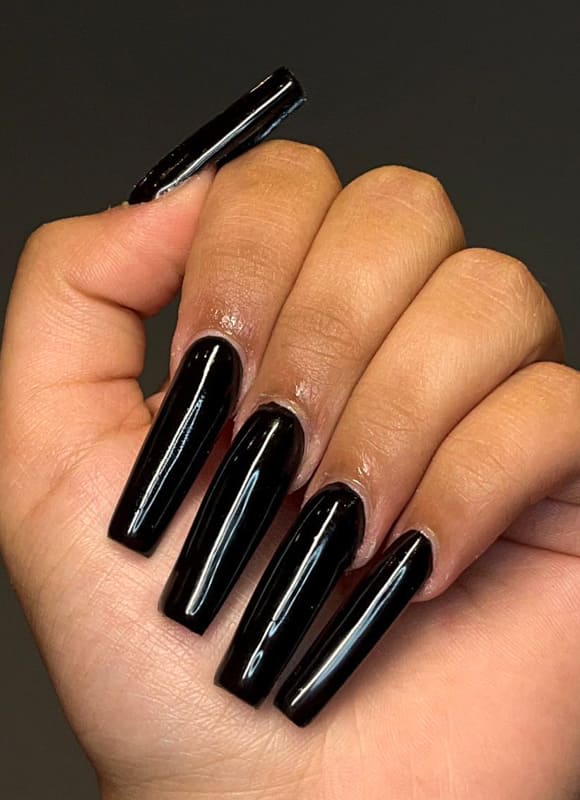 Long almond white nails
Women who prefer almond nails generally prefer medium nail length. It is not possible to see such designs on long nails. As you can see, it was favored by a young woman. It has donald and duff duck figures on it. It looks very cute. It is also very nice to have a white french design.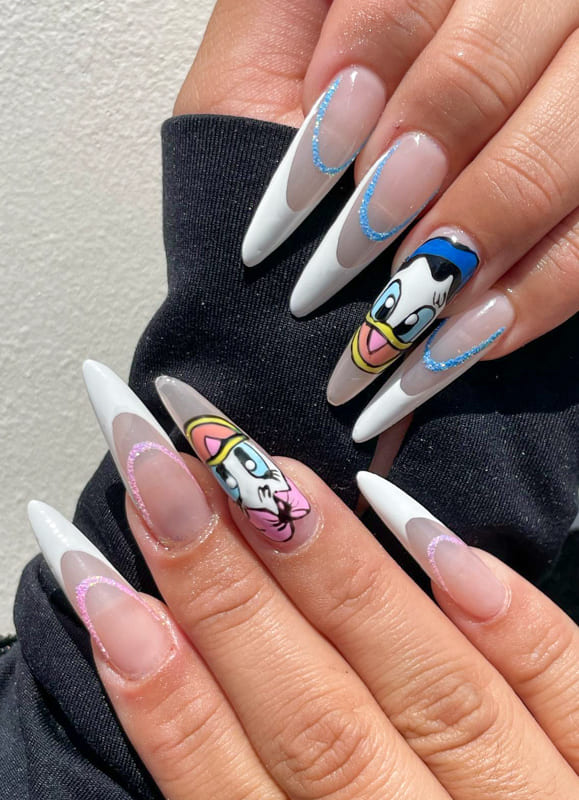 Long awesome white nails
The next nail design is a matte and only white manicure example. I can say that it is easy to make. What makes this nail design different is the accessories on it. I think it is a very ambitious design. Especially piercing style jewelry looks very nice.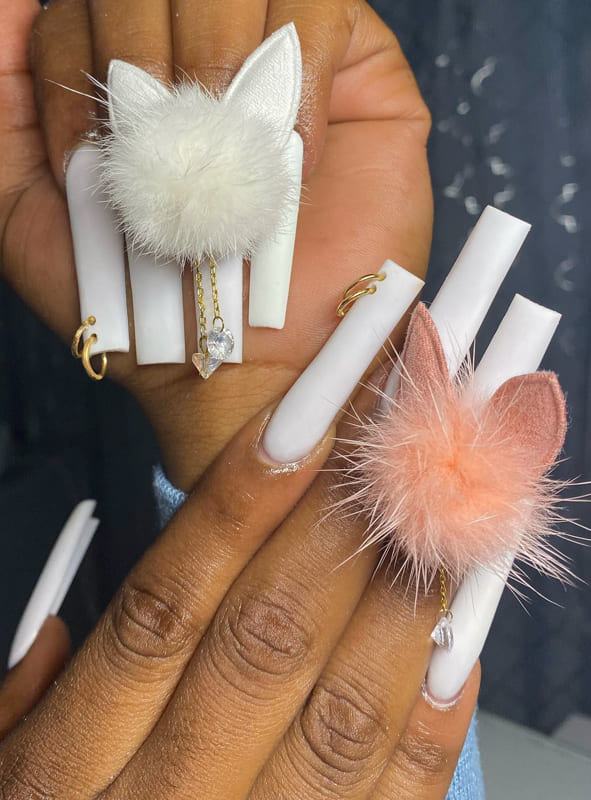 Long coffin brown and nude nails
These long nails, which are designed in the form of flame, are made by choosing brown color. You may also notice that the gold color is used. Such small touches significantly increase the visibility of the nail. Do you agree with me on this? I would be happy if you write your thoughts.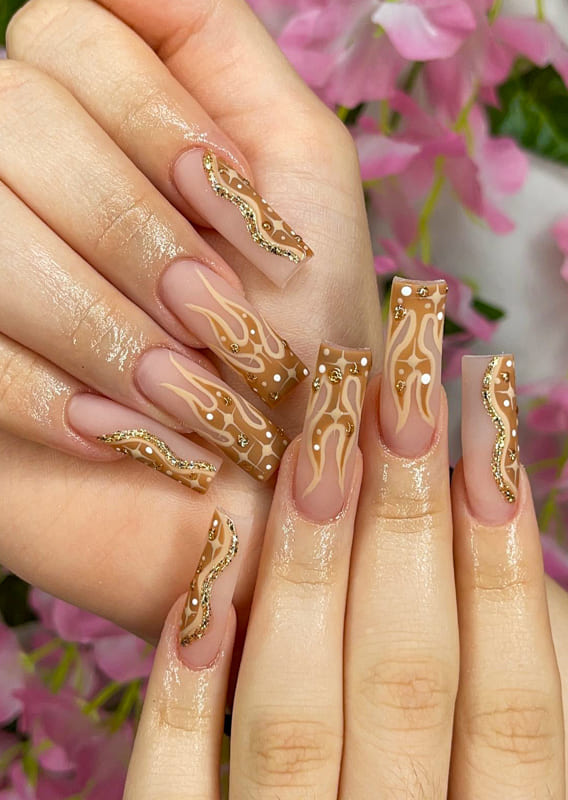 Long soft pink nails
Sharing one of the most amazing designs of today. Although there are quite long nails, a very stylish design technique has been used. Almost all nails have a different design. However, a simple design was applied on the little finger and index finger. In fact, by choosing this design, the color of these two nails can be changed at the next stage or after a few days. You can do this yourself.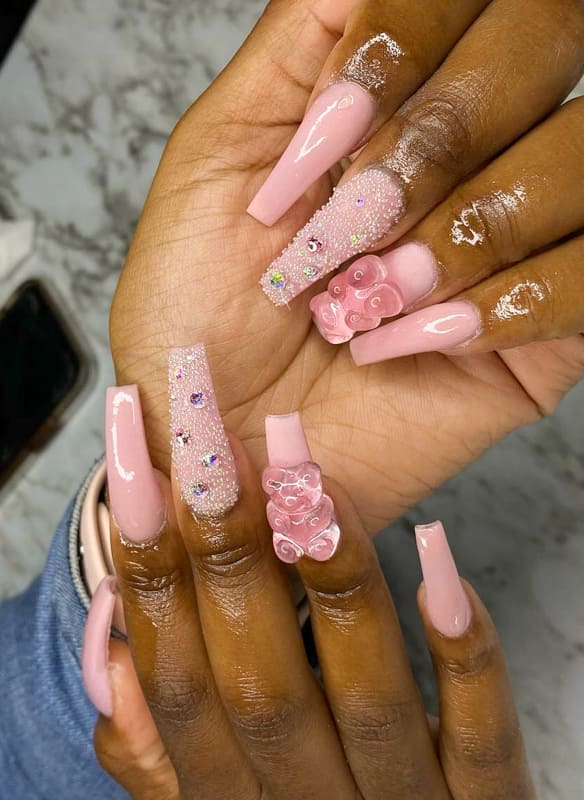 Long press square on nails
Printed nails are the easiest to design nails. The job of the manicure on long nails becomes even easier. Because the working area is expanding too much. As you can see, multiple butterfly stickers have been added. In this way, a nice appearance was obtained. Of course, I can not pass without saying that the design of the nail is very good.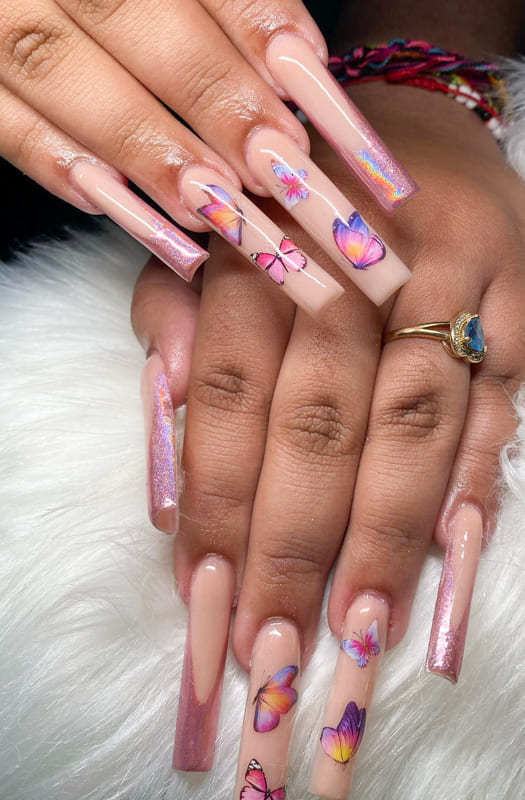 Long square colorful nails
Today I share with you the most vivid nail design. As you can see, it is a very colorful and very impressive nail design. As you know, almost all of the long nails, with a few exceptions, are designed in the form of a coffin. Coffin-shaped nails have a more natural look and thus make your hands look nicer.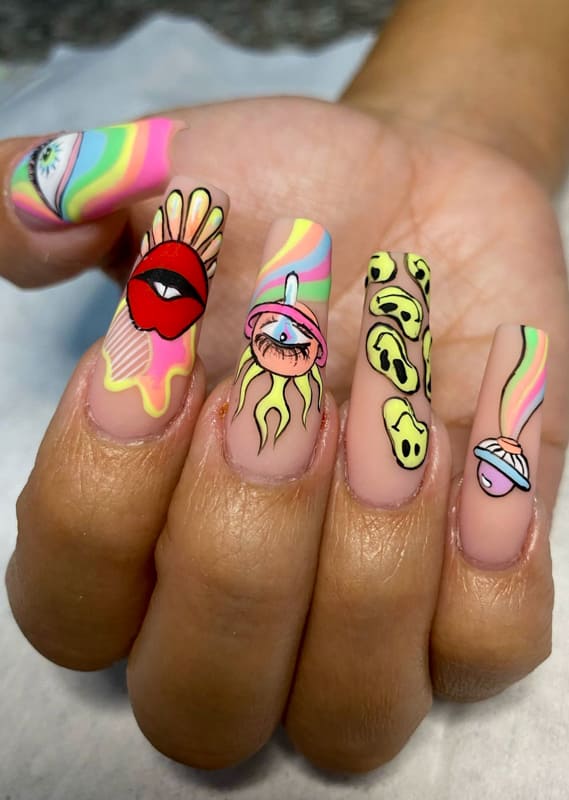 Long french tip green nails
Although french manicure is not done much on long nails, I do not want to pass without sharing some examples. Recently, colors have started to change in french nails. Although light colors close to white are used at the beginning of these, assertive colors such as red and pink have also started to be preferred.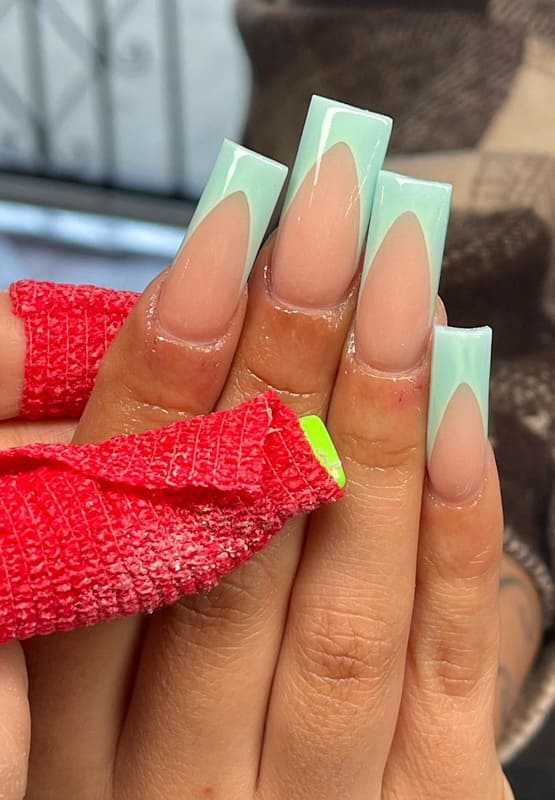 Long stiletto glitter nails
I saved a great stiletto nail design for last. Especially if you prefer stiletto nail design, make sure that your nails are not too long. Because using very long nails is really difficult. This kind of simple design will do the trick.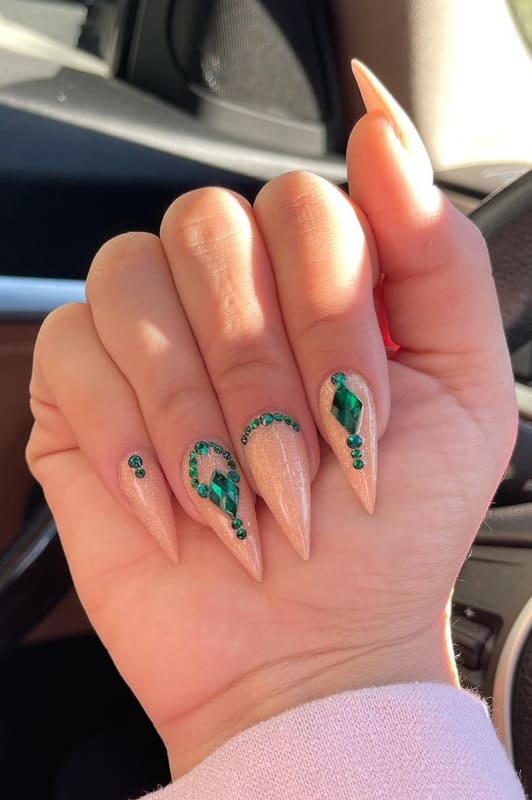 Long stiletto red nails
Another stiletto-like nail design is here. Red color is preferred. However, I think it would be wrong to call the design of the nail exactly stiletto. This one looks a bit like a cross between almond and stiletto. The nail has been slightly modified over one finger. In this way, I can say that it loses the plain appearance and adds excitement to the nails.