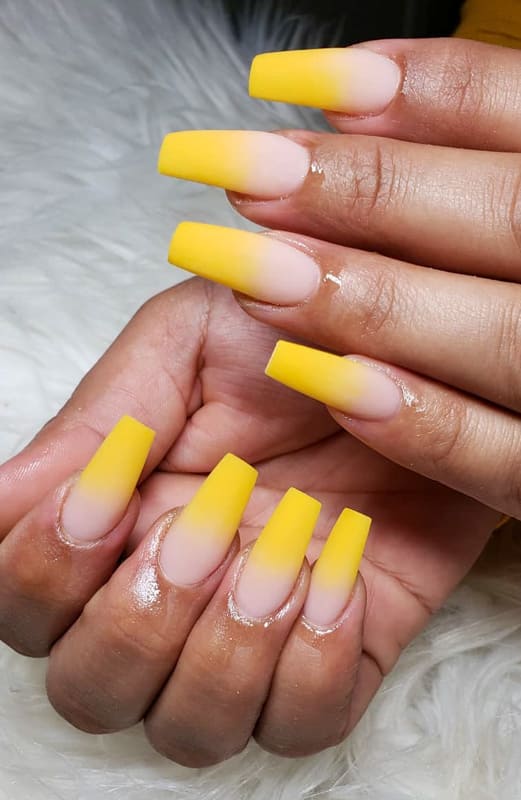 I bet you will agree with what I say. A woman's hands are an important detail that people observe when they first make contact. On the hands, the most striking part is the nails. The shape, design and color of the nails are very important.
For example, have you ever noticed that people look at your hands and nails while gesturing or presenting something in an environment? This is because people pay attention to the beauty of their hands and nails. The care you take says a lot about your personality, education, and social position.
29 Beautiful Matte Nails Design Ideas to Impress Your Friends 2022
As for matte nails, matte nails should definitely be at the top of your list for your next trip. In addition to being a trend, it will be a nicer choice for stylish, sophisticated and professional women. You can try different designs on matte nails. The main ones are designs that are loved by everyone, such as ombre, coffin nails, almond nails. In addition, color designs will be added to them and your nails will look very nice. Today we've brought together some gorgeous matte nail designs that you'll love.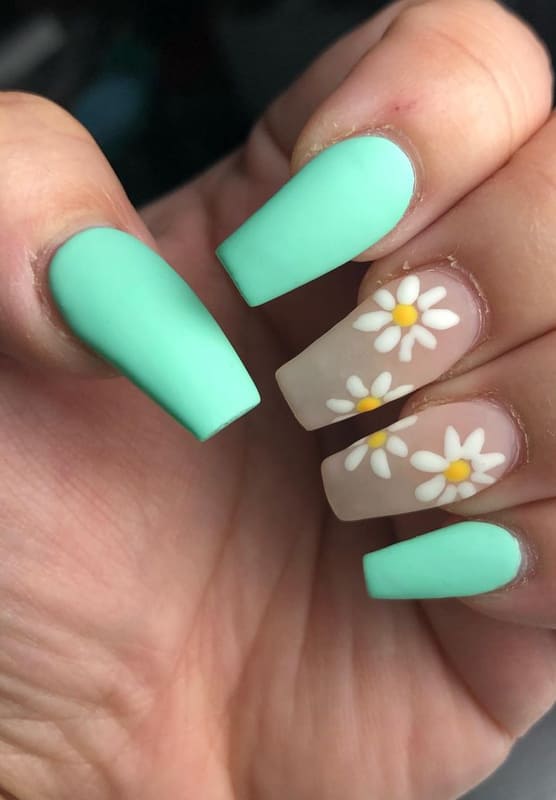 Matte nails remain a popular manicure trend. It's a design that never gets old over the years. Elegant, cute and flashy matte nail ideas contain an art according to their length, shape and color. Remember, there is no requirement that every design will be great. It depends on how you got your manicure done. Because there are so many styles to choose from in matte nail designs, finding the perfect color and style for you is key. Now I will leave you alone with beautiful and wonderful designs.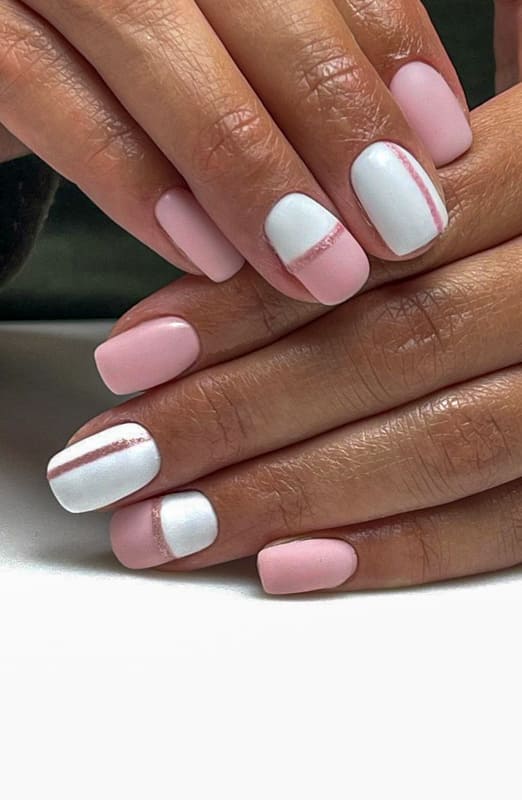 Coffin matte brown nails
Coffin nails are a difficult nail design to use. But the number of women who like to use coffin nails is just as much. In this post on matte colors, we will discuss the subject of matte brown nails. Although brown has light and dark tones, it has a structure that we call pastel. Therefore, it is a very popular and used color. In our example in this picture, we see that while matte brown tones are preferred on four fingers, a different design is applied on one nail on both hands. This might be a good idea for you.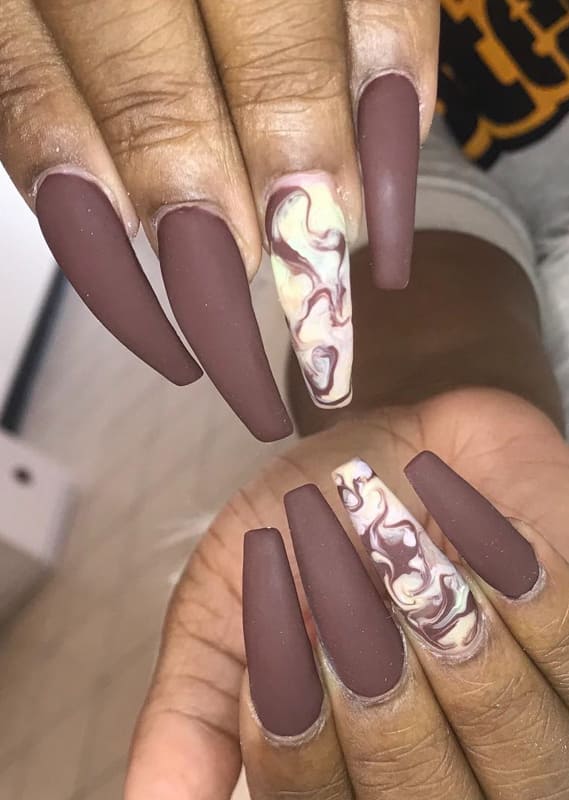 Long matte blue nails
Long nails are the most preferred nail size for many women to complete their beauty. Painting is one of the best examples of this. We see that a very natural and sweet tone of blue is applied simply. If the square look at the ends of the nails bothers you, you can use stiletto nail designs with matte blue nail polish. Whether you prefer coffin nail design or stiletto nail design, matte nail polishes will suit all kinds.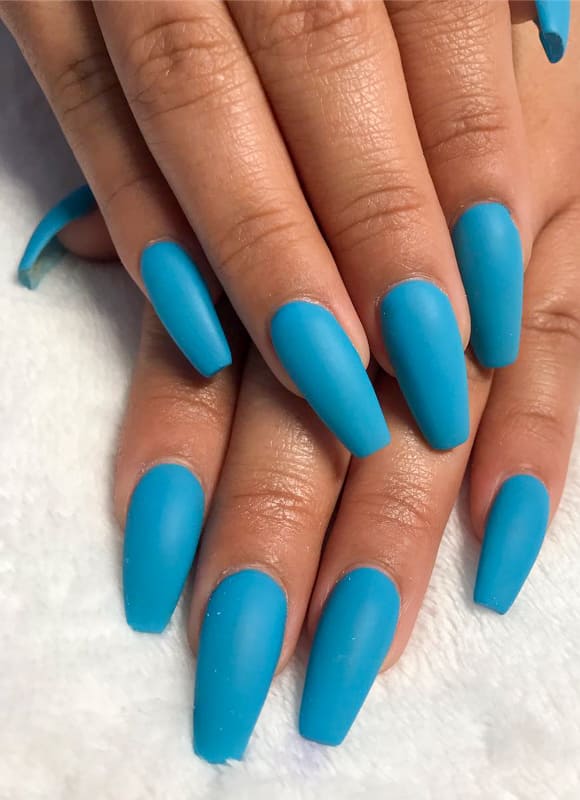 Long matte burgundy nails
When we say long matte burgundy nails, we know that all of you think of a thin long nail structure and long well-groomed nails that complement it. So, should the right nail design be based on the physical characteristics of the person? Which nail shape would be more suitable for your hand? This is one of the issues we really need to think about. As we mentioned in this post, for ladies with slender and elegant hands, long matte purple nails or long nails colored with another matte nail polish of your choice will be very suitable for you.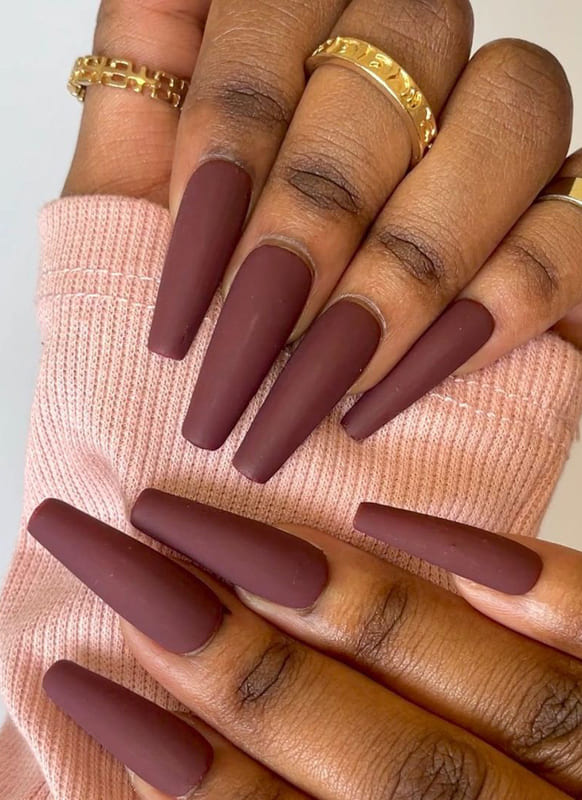 Long matte coffin nails
As we mentioned in our post above, long coffin nails are one of the most preferred nail designs by women with thin and elegant hands. Of course, you can also choose stiletto or almond nails instead of coffin nails. How you want to have your nail shape and design done is entirely up to you. However, we should point out that this square look on the nail tips and a matte nail polish that you will use for long coffin nails will suit your elegant hands very well.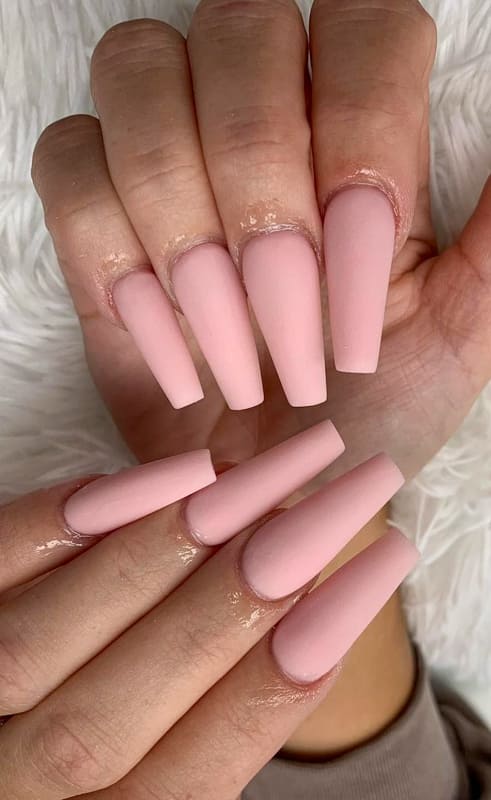 Matte and glossy nails
Matte and glossy nails, this duo is the new trend of recent times. While the matte nail polish that we see at the bottom of the nails reflects its beauty with its sharp appearance, the bright and sparkling design on the nail tips almost dazzles our eyes. Who wouldn't want to have this original and beautiful nail design as we can see in the photo? You can even add a different harmony to your nails by applying some patterns such as polka dots for the shiny parts of the nail tips.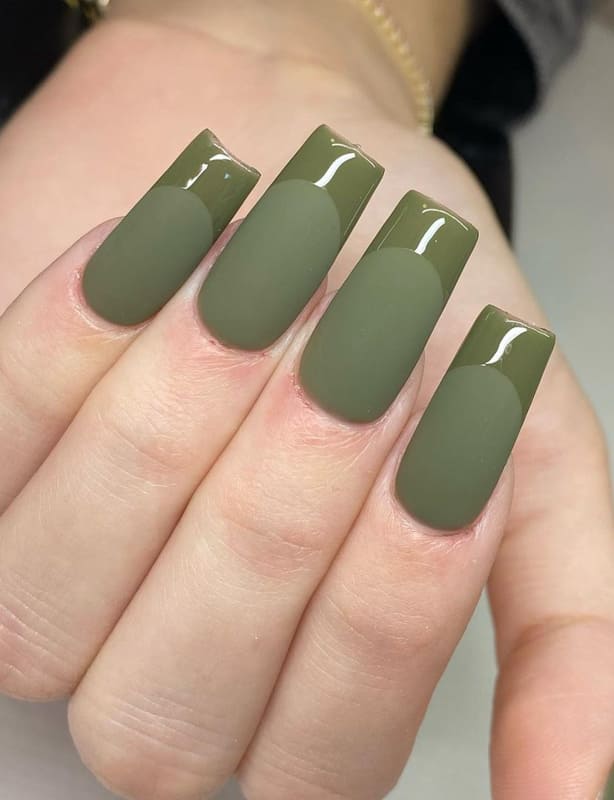 Matte coffin acrylic nails
Do you like to use your nails long but can't grow? Or does it get long but break too quickly because it's weak? This post is for you. You must have heard of acrylic nails, maybe that's why you prefer to use acrylic nails. Basically, acrylic nails do not break easily and allow you to have strong and fascinating looking nails of any length. If you like coffin nail design, try shaping your acrylic nails with matte coffin acrylic nail design. You will love the ending.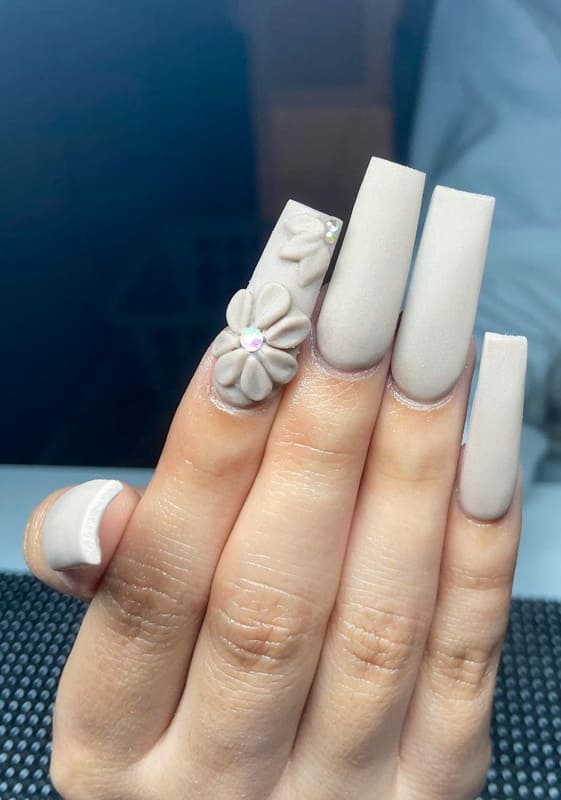 Matte dark red nails
Undoubtedly, we women's favorite color to see on our nails is red. Matte dark red nails is the best way to show our attractiveness and it is the biggest advantage of us to look glamorous. Of course, we can display this beauty by making different designs on our nails. For example, in this picture, we see that matte red nail polish on four nails, but a different air is added to white matte nail polish with glittery red lip pictures on one nail.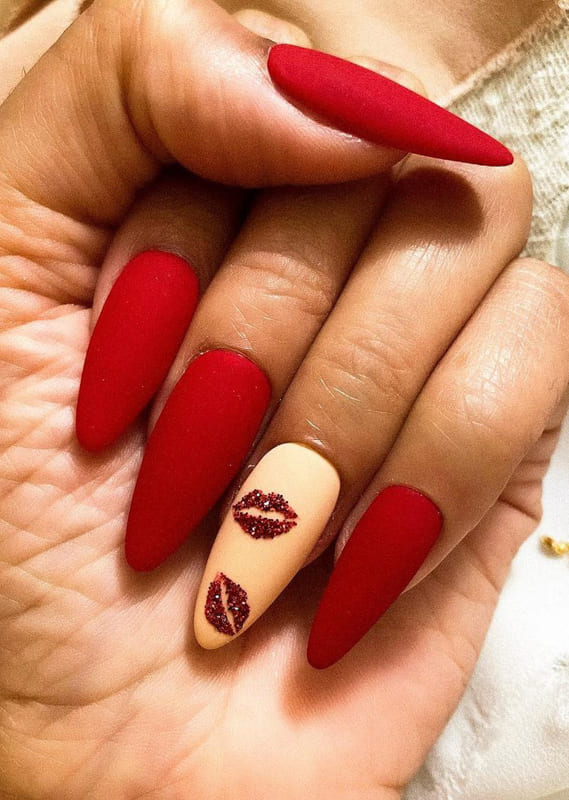 Matte glitter nails
Using glitter on our nails is a nail design that never goes out of fashion. We can apply glitters on matte nail polish like in this picture. Sometimes we may prefer matte nail polish on some nails and just sim application on some nails. Apart from that, we can apply sim only to the bottom or only the tip of our nails. As a result, it is up to you to choose silvery designs as you wish. But it is a fact that the idea of applying glitter on matte nail polish will add some sparkle to you.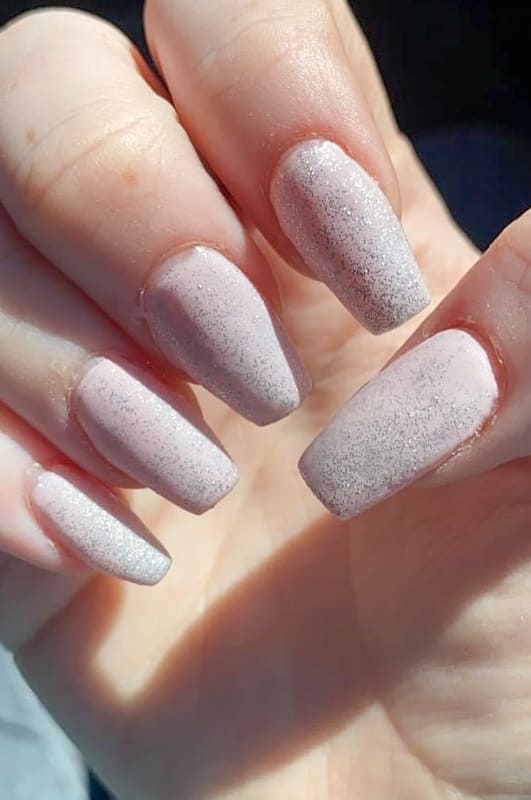 Matte green nails
Although every shade of green is beautiful in its own way, I know that the light tone we call aqua green is actually every woman's favorite green. Water green, which is our favorite shade of green to see on our nails, will create a wonderful harmony when completed with the accessories you will use. In this picture, we see a wonderful matte aqua green shade applied on acrylic long coffin nails.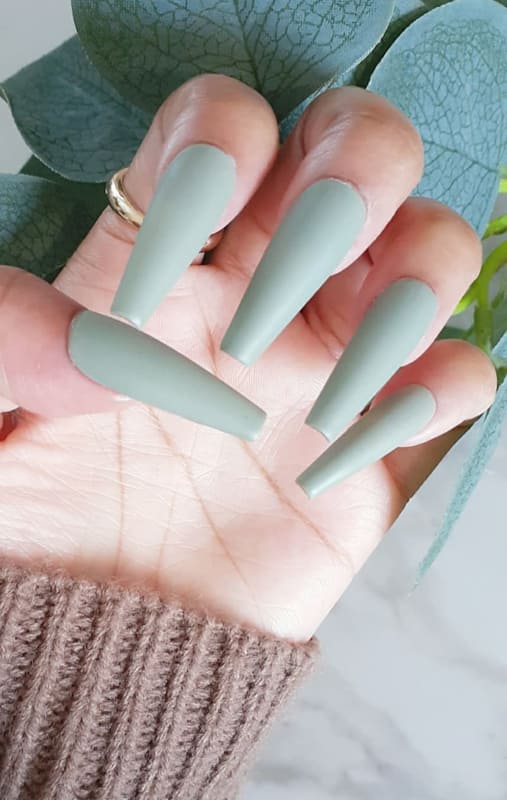 Matte grey nails
Gray tones are actually in the group that we prefer very often in our daily lives. Its pastel and nude structure makes us love some shades of gray especially. Since we often prefer pastel tones in our accessories and clothes that we use in our daily lives, it is easier to combine gray tones. Since we love to use beige, gray and even brown tones in our bags, which are one of the most important women's accessories, it is very important for us women to combine our nails to match this design.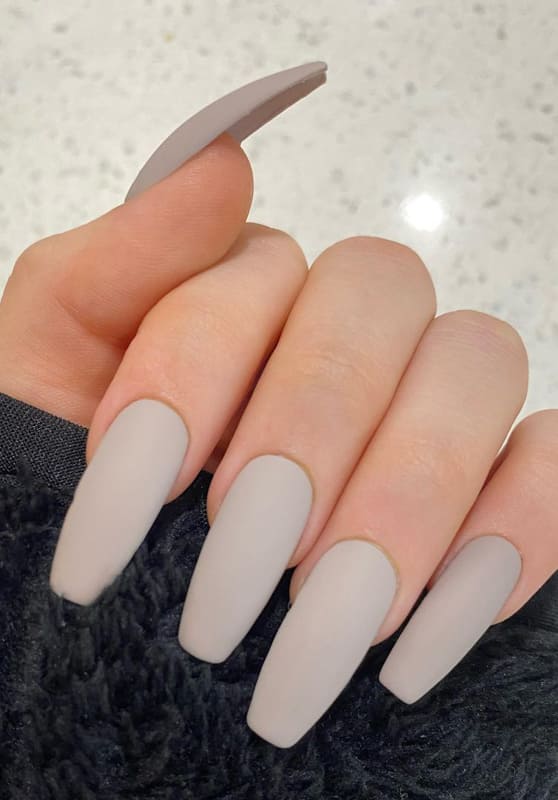 Long matte lavender nails
Lavender color, in other words, lilac color is the perfect summer color. You are right to want to see the enchanting color of that wonderfully scented lavender flower, which opens us up in summer, on your nails. That's when people understand better that they have entered the summer months and they feel chirpy. In this picture, the beautiful lady decorated the matte lavender nail polish with tiny accessories on her nails, adding a different atmosphere to the nail design. You should definitely try it on your matte lavender coffin nails or almond nails, especially in summer.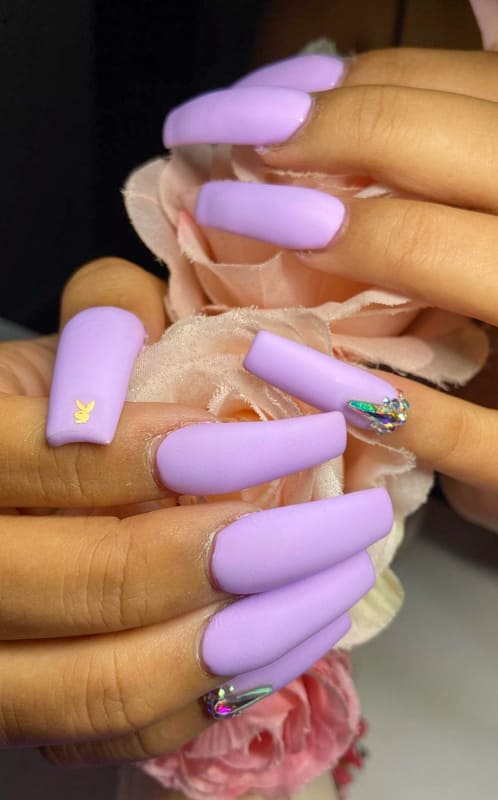 Matte maroon nails
Matte maroon nails will be the main subject of this post. Although maroon is very similar to the burgundy color due to its structure, it is different from it because it is a little darker. Our attractive women, who like to be different and attract attention, love to use it on their maroon nails, which are also similar to red. In the picture, a wonderful combination of the uniquely beautiful maroon color with the cross polish applied to both nails is provided. You should definitely try this nail design, which shows the bright and matte tones dancing with each other.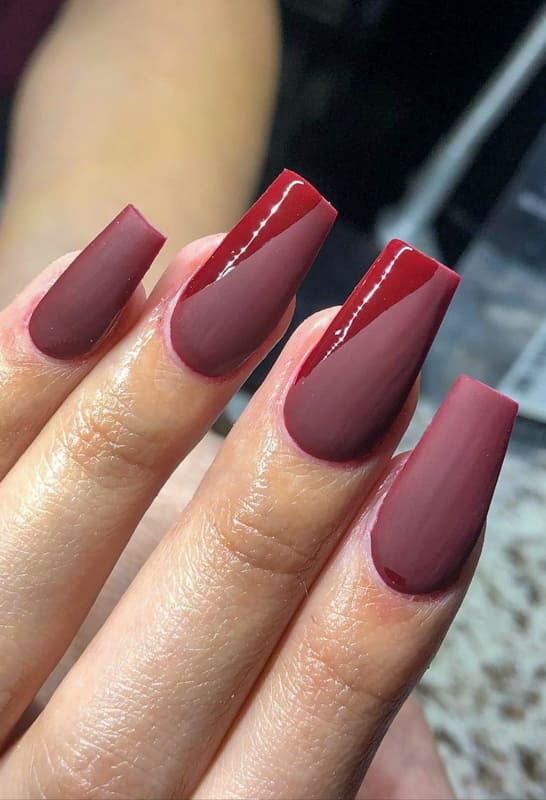 Short matte navy blue nails
Matte navy blue nails have become so popular lately that especially our young girls have started to prefer this color on their hair and nails. With its dark blue-like structure, navy blue nails are a great way to show your difference. This magnificent tone, reminiscent of midnight blue, will draw all eyes on you when it is compatible with your dress or shoes that you will wear on special occasions and invitations.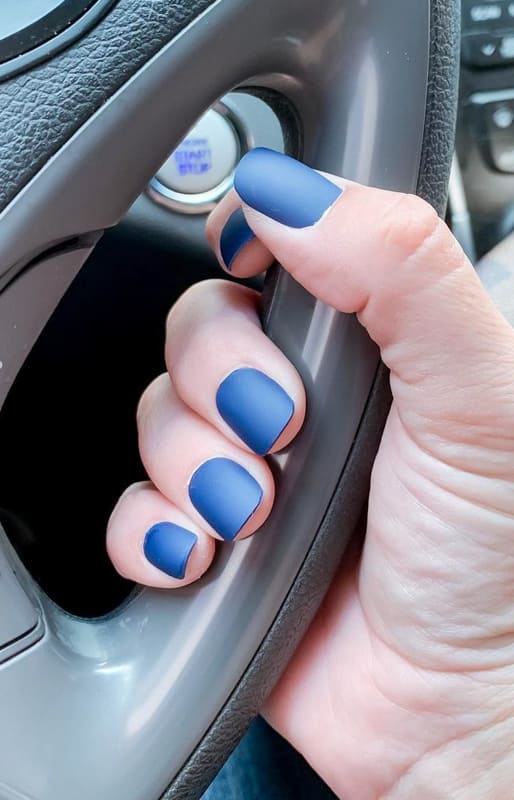 Long matte olive green nails
Matte olive green nails have a color that is difficult to choose, attracts extreme attention, but you will fall in love when you try it. If you like green and every shade of green, you should definitely try matte olive green. Of course, some ladies may find this tone too much, so it may be unattractive to them. But maybe you will like it very much when you add a different atmosphere to your nails with nail decorations and adhesives as in the picture.
Long matte ombre nails
Ombre nails are the most preferred nail designs in our daily life. We usually like to shape our ombre nails with the design we call french. In this way, it will definitely be a logical choice to have a simple and stylish day. Of course, although the length of the nail length reduces the natural appearance a little, it is a fact that long nails look much more attractive. Acrylic nails will also be a suitable process to extend our matte ombre nails.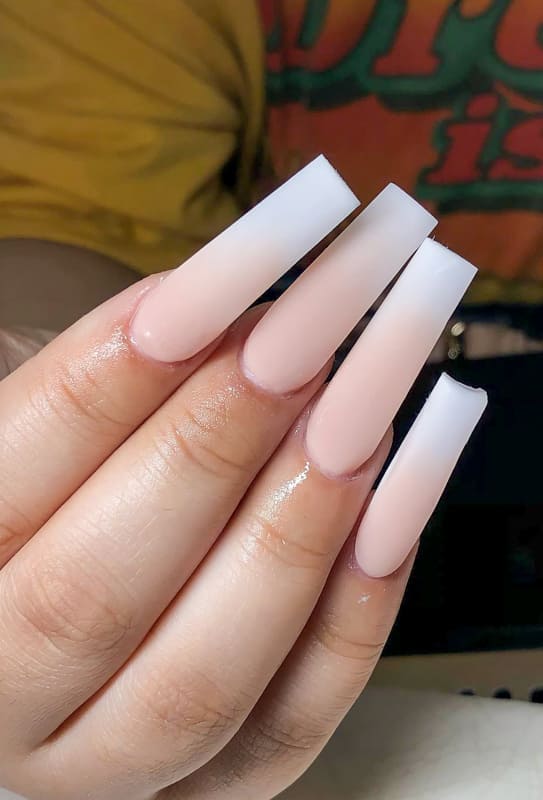 Long matte orange nails
Although orange is a tone that we do not prefer in our daily life, it is the ideal color for a new trend recently. I'm sure you know this trend. Different tones of nails, different colored hair and different tones of clothing. In other words, that harmony when all the opposite colors that seem to be incompatible with each other form a whole. This is one of our latest trends in fashion and is often applied by fashionistas. If you want to join this trend, you can try matte orange nails as a contrasting color.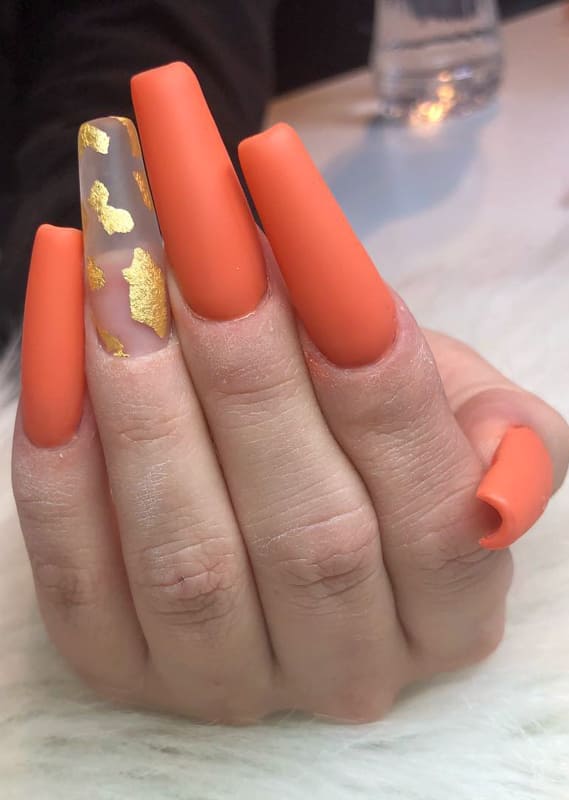 Matte peach nails
We talked about matte orange nails in our post above. Now we will talk about matte peach nails, one of the most beautiful and soft tones of orange. This picture proves to us how wonderful matte peach tones applied on coffin nails look even with water drops on them. I am sure that you will use peach tones, which are not as contradictory as orange, in the summer months.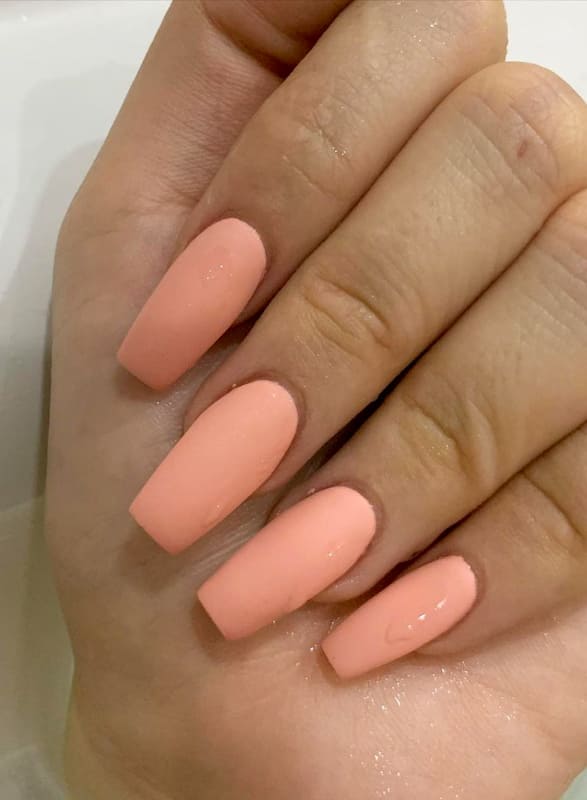 Matte purple nails
Matte purple nails are a nail design that we often use in the summer months because it looks like lavender. As we mentioned in some of our posts above, lavender and purple are among the color tones that we women give up during the summer months. More precisely, nude, soft pastel tones are the colors we love to use in summers and indeed in winters. You should definitely consider using a matte purple color for your stiletto nails.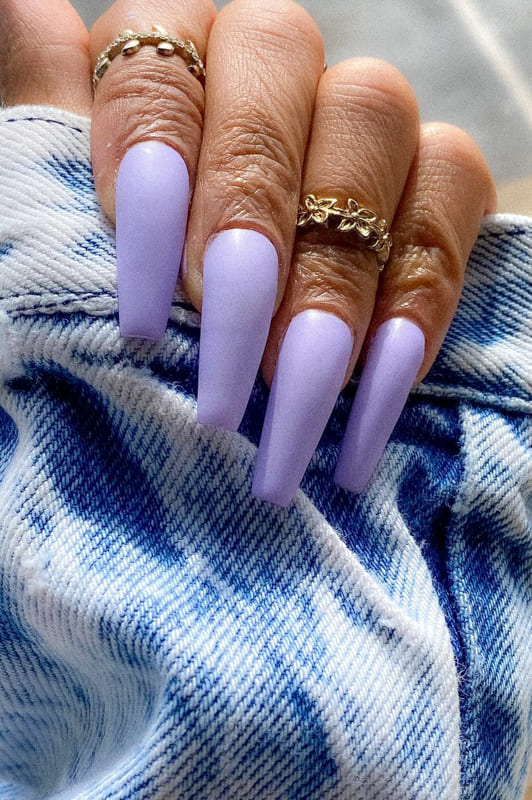 Matte royal blue coffin nails
I'm sure the royal family is a community that everyone is curious about and longs to be like them. In fact, we are so curious and enthusiastic that we are dying to apply the colors they use and the styles they use to ourselves. We even named a dark blue shade royal blue. Because the royal family loves this color and the royal members love to use this sharp blue tone reminiscent of midnight blue. You can look like a megan or a royal by using these tones on your coffin nails or almond nails, and even by choosing different styles of royal blue in your hair.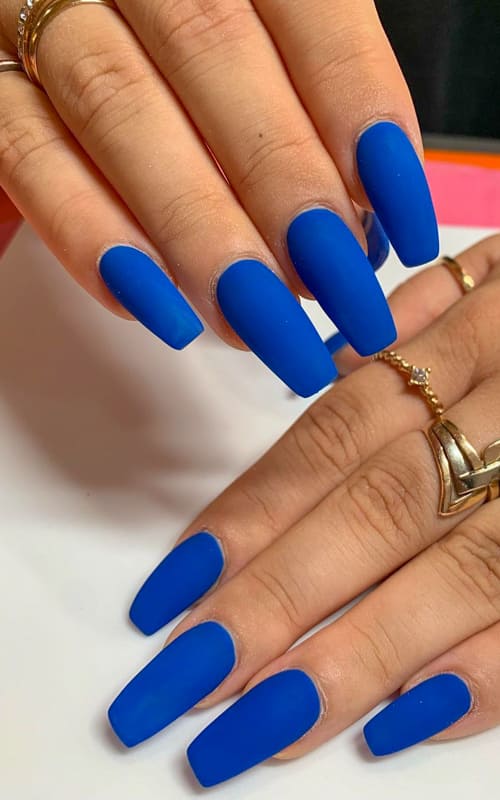 Matte sage green coffin nails
Since you are looking for Matte sage green nails post, I can guess that you are very free-spirited and self-confident women. Yes, you are in the right place, you will definitely look unique with this shade. There could not be a better picture to describe sage green, one of the most beautiful and most different shades of green. Would you look at the beauty of the nails in the picture, which is animated with a metallic reflection? No need for more words, I guess.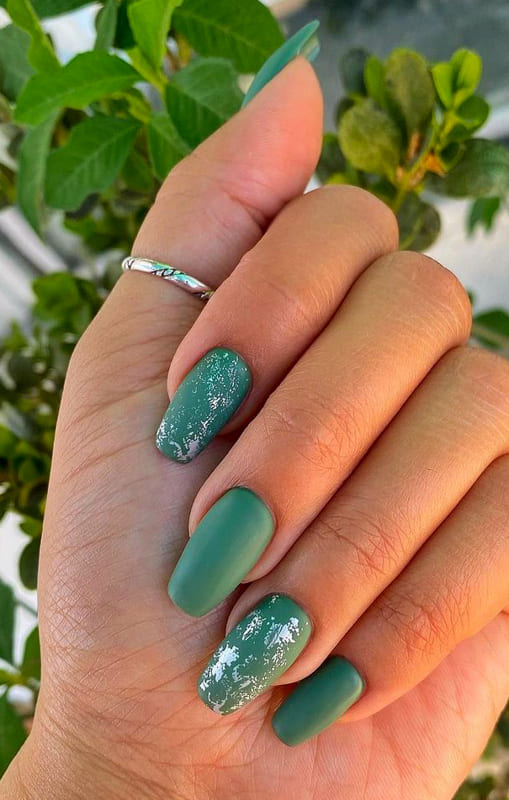 Matte stiletto nails
Matte stiletto nails are the most preferred nail design by many mediatic women. In our daily life, we do not see many women using stiletto nails because it is almost impossible to do business with these nails. But it is a fact that they look very stylish. In the picture, we see that a nail polish is used in nude tones, but this choice is completely up to you. If you want, you can shape your stiletto nails with chirpy colors and nail decorations. Adding sparkle to your nails by using glitter is a method that will never go out of style.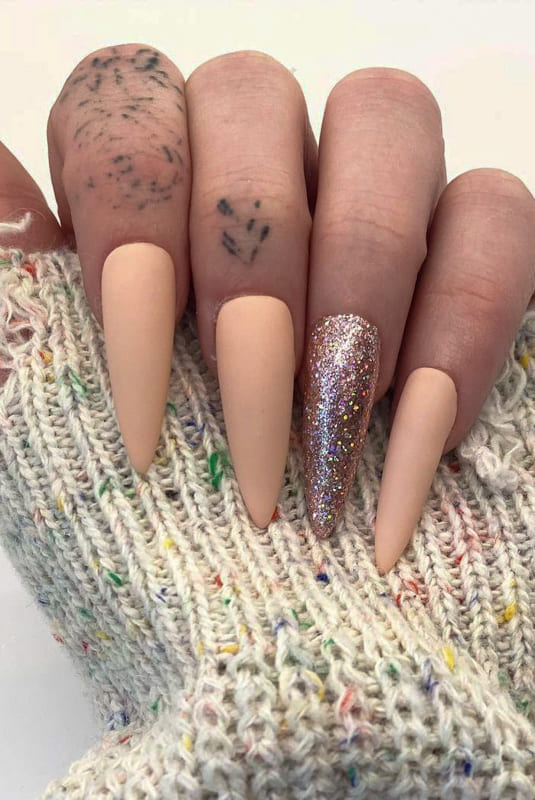 Pink matte almond nails
I'm here with a wonderful almond nail sample. Almond nails have been preferred a lot lately because they are not too long. Of course, it is in our hands to add a dazzling sparkle to our almond nails with bright colors. The color I recommend in this post is matte pink. Of course, I am talking about a bright shade of pink. Although our nail polish is matte due to its structure, our color should be bright pink enough to catch the eye.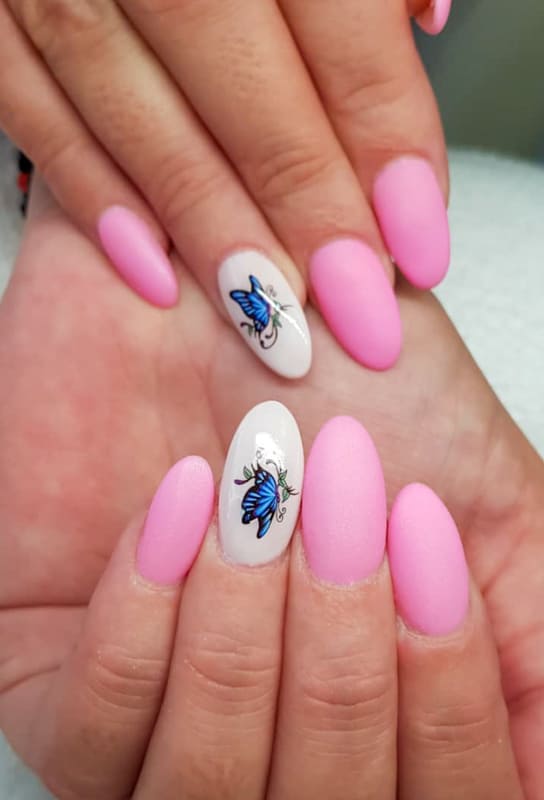 Red matte coffin nails
As I mentioned in some of our posts above, we prefer red colors and tones the most in our coffin nails to look attractive. Bordeaux or Maroon would be the best examples of these. But matte red has such a glow that no man will be able to say no to you when you combine it with a matte red lipstick in the same tones and a black dress. All eyes will be on you and you will shine like a star. Are you ready to shine?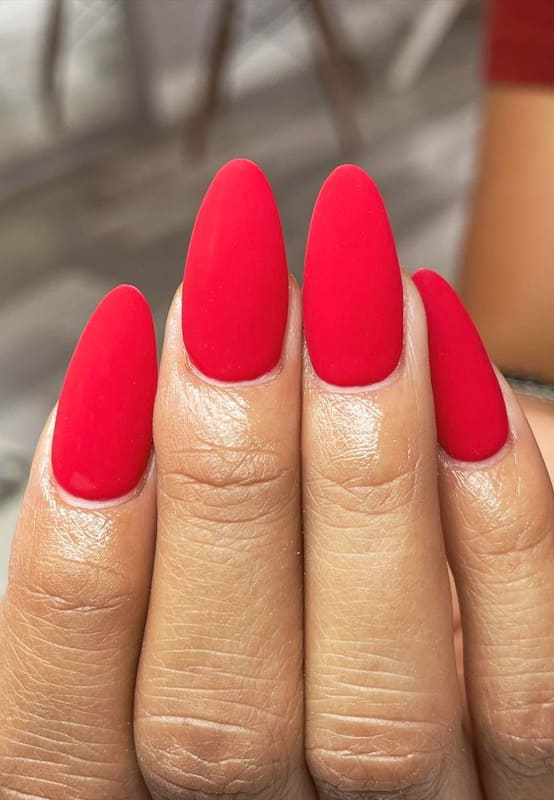 Short blue matte almond nails
In some of our posts above, we talked about how beautiful it looks to use matte colors on almond nails. The example we see here has a relatively shorter length of almond nail. Although we love each tone of blue individually, light blue and turquoise have a different place in our hearts. These tones take their main place in our nail designs in their light and soft form. Try matte blue tones on your short almond nails. You will love it.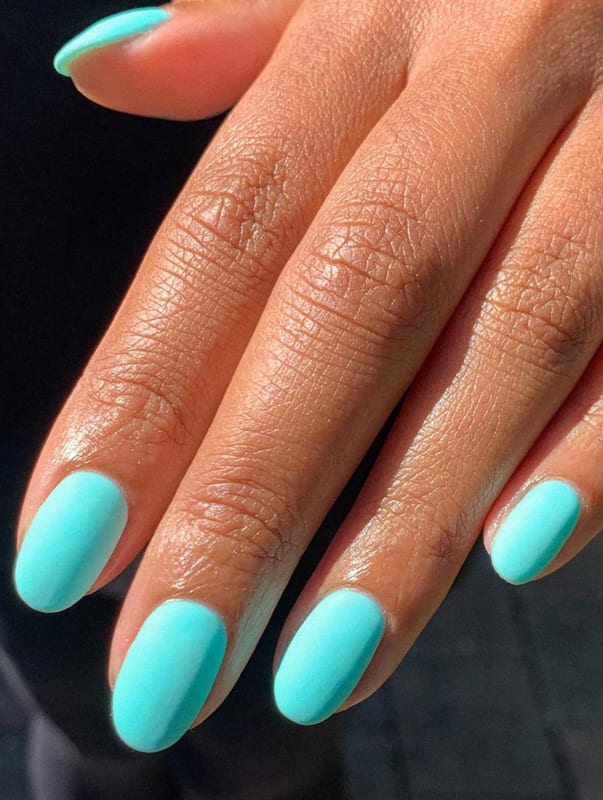 Stiletto black matte nails
I would like to talk about the determined stance of matte black color on stiletto nails, which attracts attention with its pointed structure on the nail tips. When I saw the irresistible combination of black and white in the picture, I realized how attractive black can look, even though it is a color I don't normally prefer. Definitely a great idea for two color designs. You can also combine these two opposite colors with matte tones on your stiletto nails.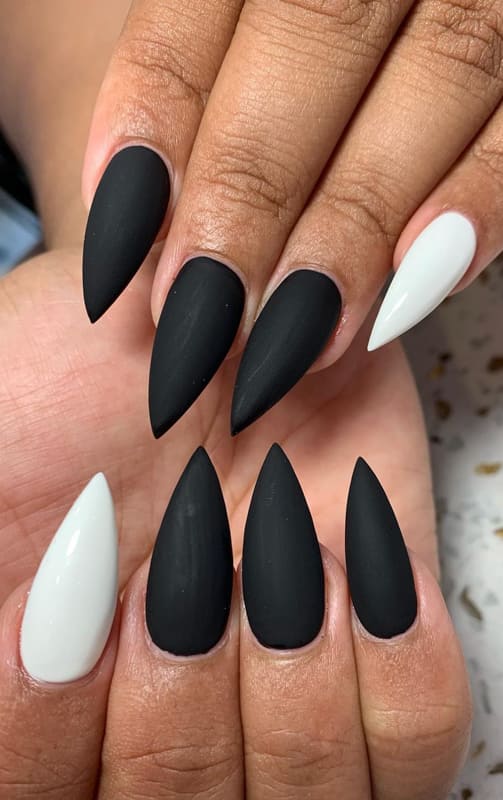 White matte nails
When you first look at the picture, you may have thought that the nail polish was not applied properly. However, when you look more carefully, you will realize that this is a different pattern combination and is applied for each nail. Each nail design is unique and reflects the character of the awesome woman who wears it. A study shows that stubborn women especially prefer matte white nails. I think it is understandable for stubborn ladies to insist on choosing this color because they like it very much, even though it requires a lot of care. Moreover, matte white will be compatible with every accessory and every outfit. Moreover, it is up to you to choose the patterns you will use.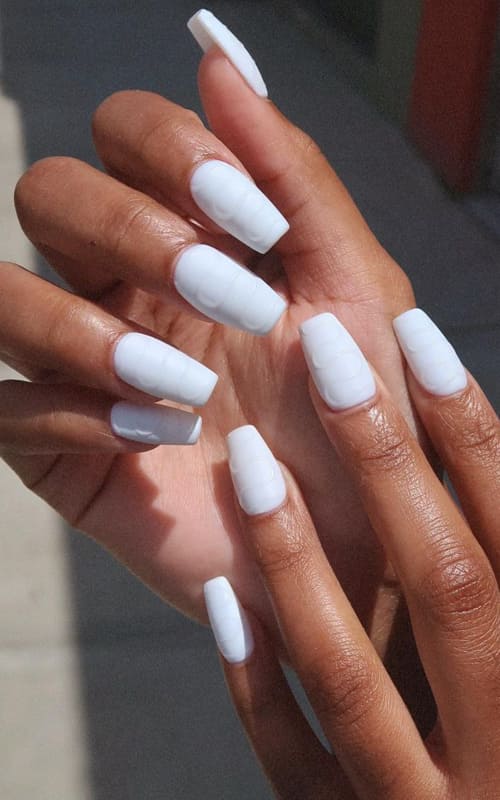 Yellow matte nails
Although yellow nail polish is a difficult color to choose, it is one of the most ideal colors especially for summer months. Moreover, the color tone most suitable for nail decorations is perhaps yellow. Our example in the picture reflects this very well. Don't you think the glossy adhesives used add a different atmosphere? And the transition from a softer yellow color at the bottom of the nails to a brighter and sharper yellow tone as you progress to the tips of the nails adds an extra originality to this nail design. Doesn't the wonderful combination of soft and sharp yellow fascinate you? As a result, whatever tone you use, matte colors will be suitable for your nail polish preference.