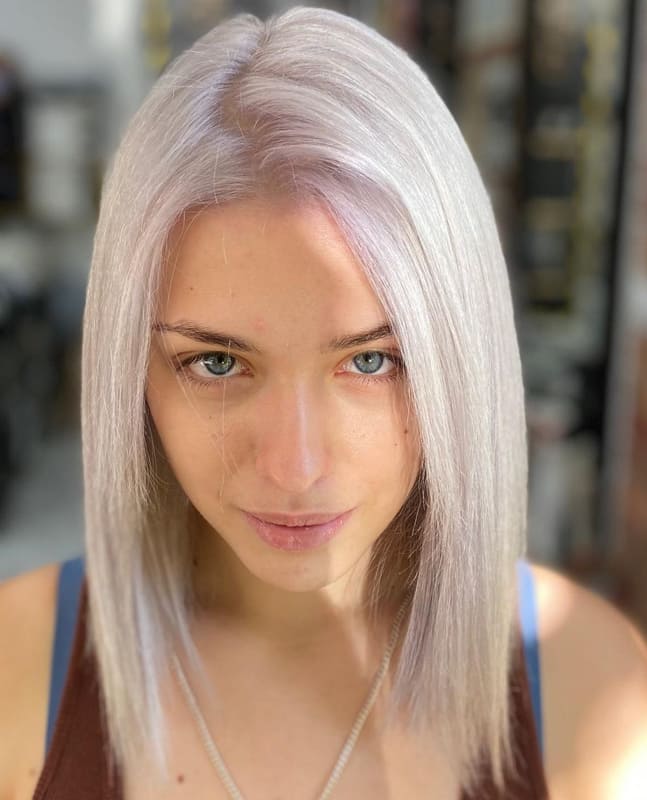 Do you want your hair to look silvery but have no idea how to care? Silver hair or other shades have become a highly influential beauty trend, both on the street and among celebrities. Especially silver hair with different tones was combined with many colors to create magnificent looking hair. However, the most difficult thing about dyeing silver hair is that it is difficult to achieve this color. Your hair needs a lot of processing. Especially if you are going to use silver with different color tones. In other words, in order to achieve this tone, you will first need to clean your hair with different products such as other dyes and toners. Although these processes may bother you a little, you can have magnificent hair in the end.
Amazing silver hairstyles that will make you look gorgeous
Silver hair color has become a color that is preferred not only by older women, but also by young women. Nowadays, silver hair colors and tones, which are preferred by many celebrities and are very popular, have become very trendy. It is not as difficult as you think to get silver hair, which is extremely popular among young or old women. I have brought together silver and silver tones that every woman can use to gain a more noble look.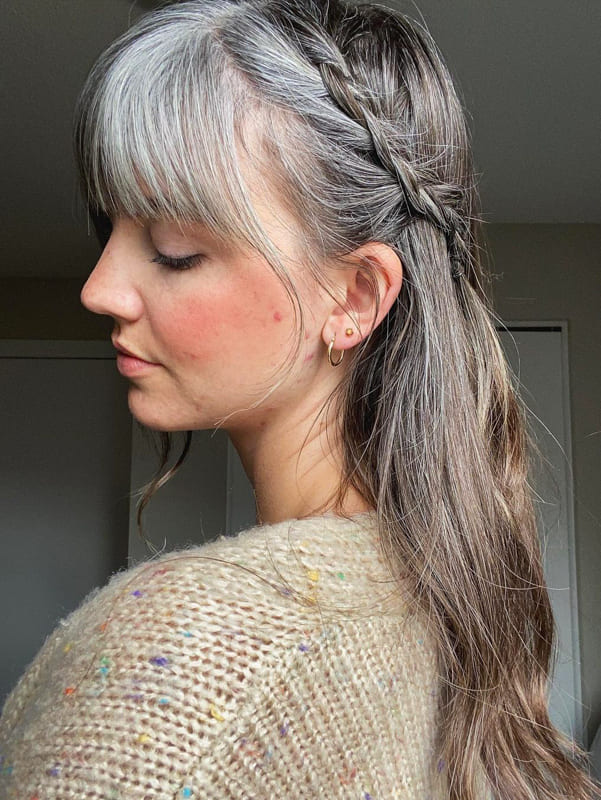 Finding the right silver gray dye for your hair and choosing its tone is a bit of a difficult process. After choosing the tone and color of silver hair, a good hairdresser can do it for you. But getting your hair done is not enough. It is very difficult to maintain the appearance of your hair on the first day. Therefore, you should not neglect its care. However, we can examine this in a different subject. In today's article, we will examine the very different and impressive shades of silver hair for you. Let's take a look at it without further ado.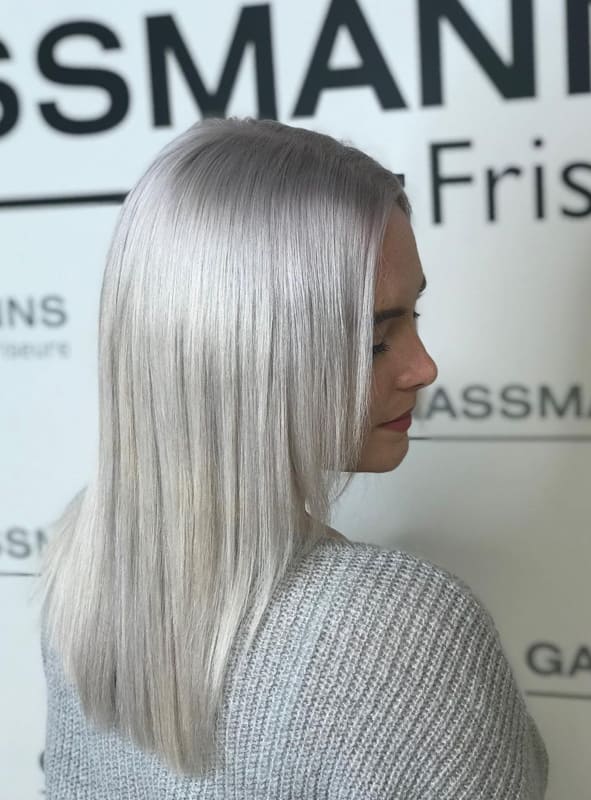 Silver blonde hair
Silver blonde hair is one of the latest fashion trends. Combination of silver and blonde hair with each other has always been preferred. Our beautiful girl, whom we see in the picture, reflects this combination to us in a wonderful way with her green eyes. Especially ladies with colorful eye color, don't think, trust the magic of silver blonde hair. You will look great with any combination you make.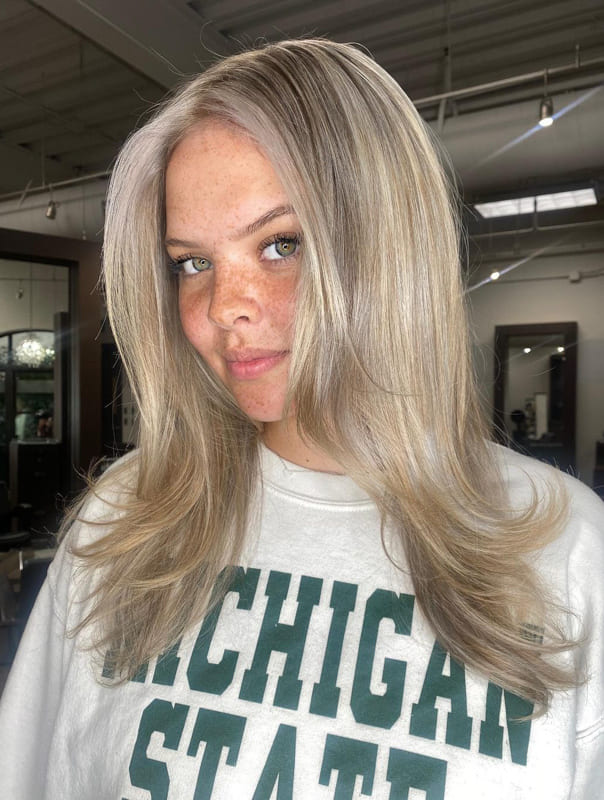 Short silver pearl hair
Although the short silver pearl hair reflects a very different style in appearance, it conquers our hearts with its slightly yellow-like tone. Although the use of short hair among women has increased a lot lately, a cut that never gives up is passionate about short hair. Among the short hairstyles, the rate of use of bangs is too high to be ignored. In this picture, we see a hair design suitable for all these features. Short silver pearl hair is ideal for looking original and revealing the beauty of your white skin.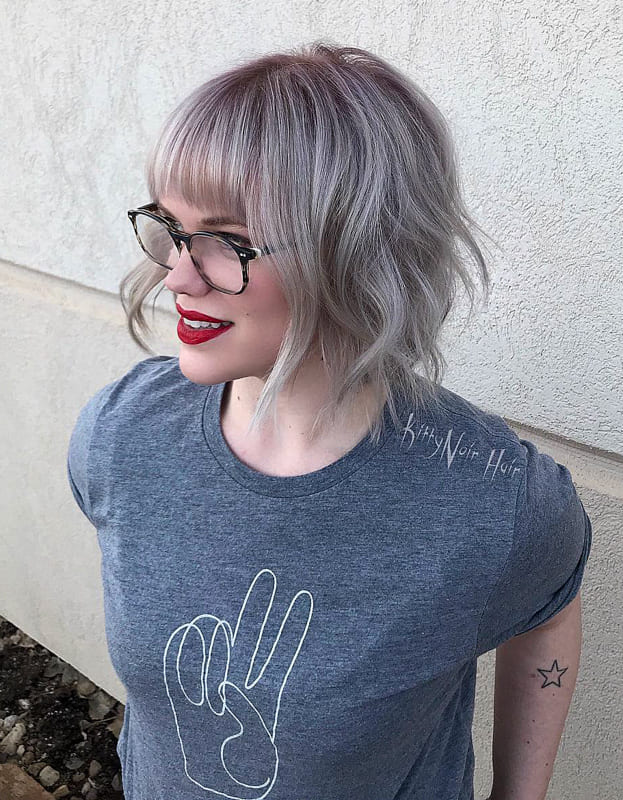 Short silver fox hair for women
Short silver fox hair for women is a hair design that we rarely see, but it is hair that looks very strong. We have no doubt that you will shine like a jewel with this precious hairstyle and color. Our beautiful daughter in the picture exemplifies this very well. Especially the harmony of the silver fox hair with that blue eye color and the fact that it goes so well with the color of the skin will make it look great with any makeup tone.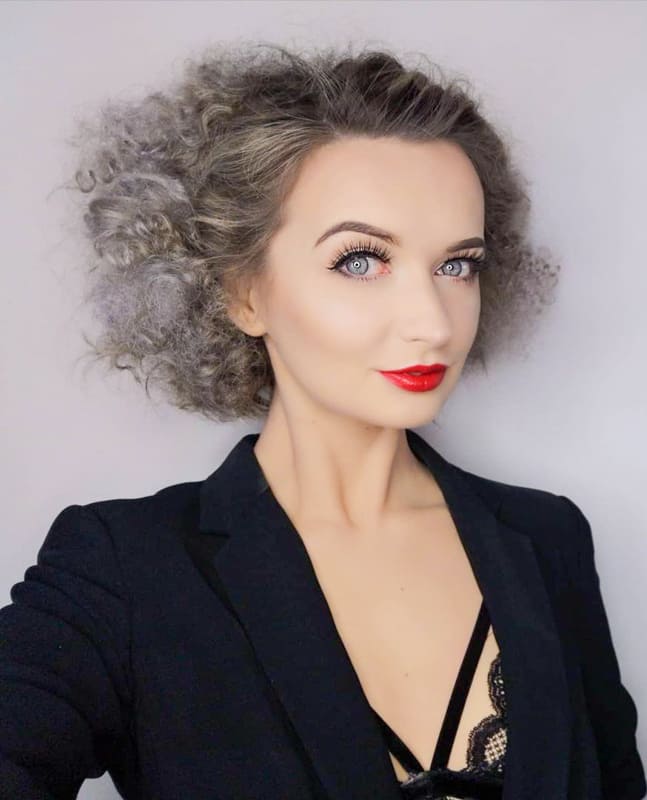 Short purple silver hair
Short purple silver hair is probably one of the most popular hair designs that everyone knows. This is such a color that it makes you look different, natural and eye-catching. These two colors, which are wonderful in harmony with each other in every area, take their place in many different areas. That's why we love to see these beautiful colors in our hair. Using your short purple silver hair wavy, which goes well with every hairstyle, will allow you to display its perfect color more beautifully.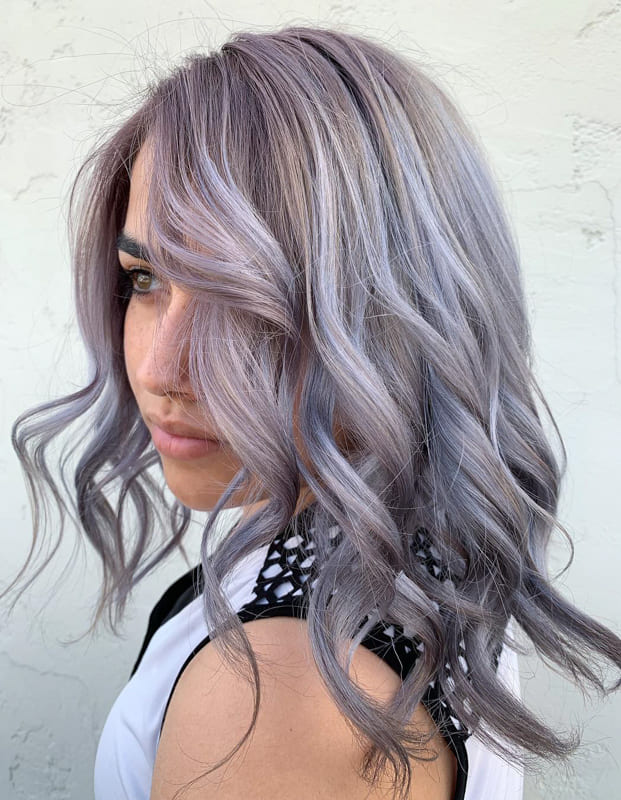 Short pastel silver purple hair
Short pastel silver purple hair is a design that is often preferred by women. because the idea of using purple color alone on our hair is difficult for us. Purple is a dark tone by nature, but with silver, this color becomes a beautiful sparkle to decorate your dreams. If you want to shine, shine and be different, your color will definitely be pastel silver purple. Since we use pastel tones a lot in our make-up, you can be sure that it will create a great harmony with our light skin tone.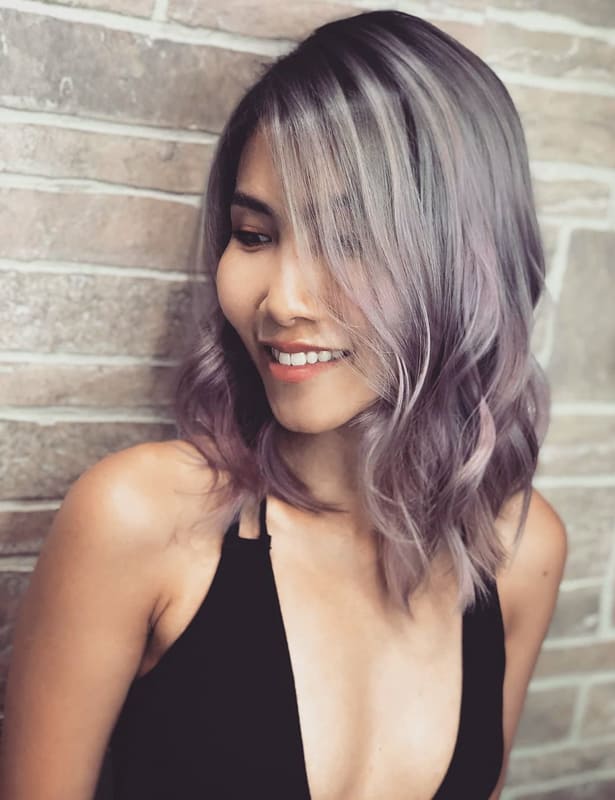 Short bob silver curly hair
We have mentioned in our previous posts that there is a cut that prefers short hair a lot. We know that bob style cuts are also very popular among women who use short hair. Another issue that we should also mention is curly hair. One of the most difficult issues for curly-haired women is that their hair, which is very long in its straight state, is short when dry because their hair is curled. So for curly-haired ladies, it is more difficult to lengthen the hair. So stop being stubborn with your hair and try short bob silver curly hair. We are sure that it will suit you very well and you will also like this different design.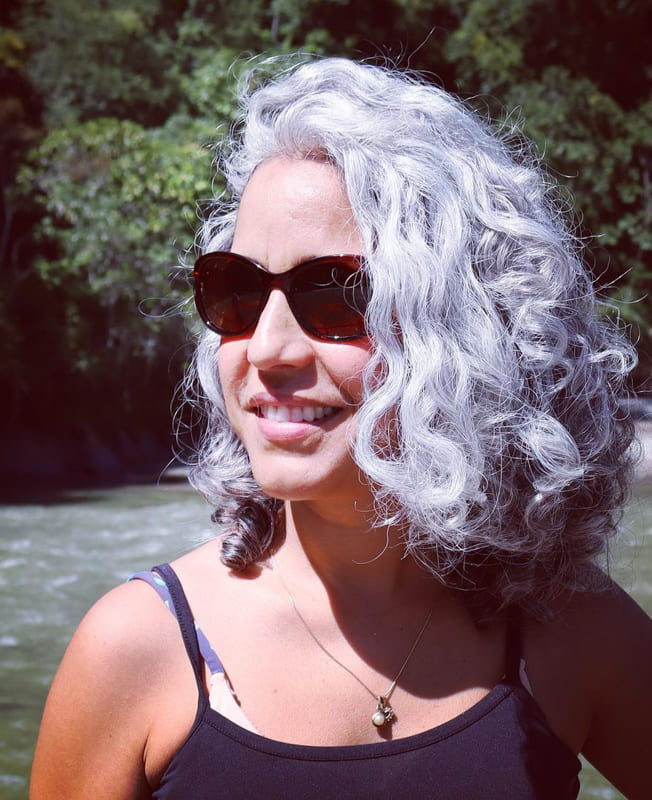 Metallic wavy silver hair
Metallic wavy silver hair color is quite different due to its nature, it is a wonderful combination that we do not see very often on the streets in our daily life, but we cannot take our eyes off when we come across it. Since the metallic color resembles the black color, it may be a good reason for us to prefer this color with the silver color that shines in it. Using ombre and silver and methyl color together will be a very different idea. Be sure to consider it.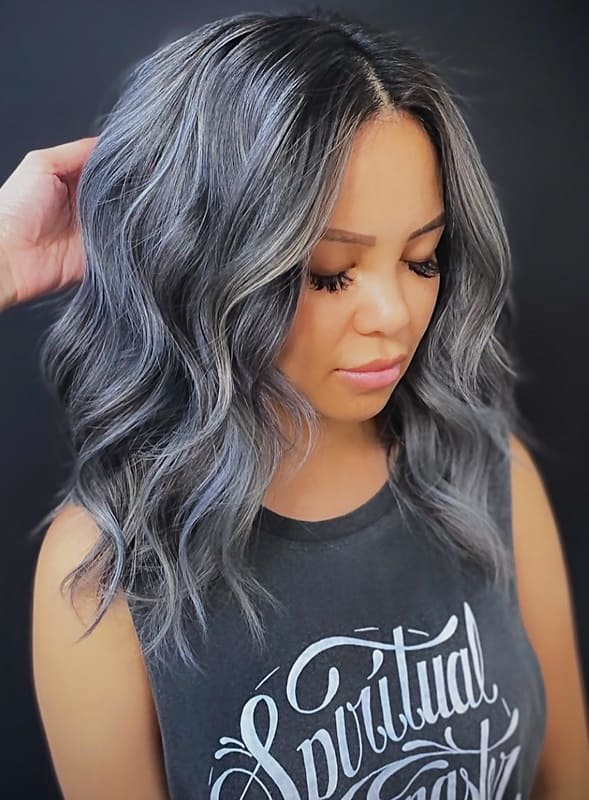 Medium wavy silver and brown hair
Medium wavy silver and brown hair gives us one of the best examples in the beautiful girl in the picture. This dual combination, which you can't tell the difference from a normal brown hair at first glance, is just like blue and black hair. When you go out in the sun, silver tones will shine through your hair as if you used glitter. As a matter of fact, black looks the same in a dark environment, but when you go out to the sun or light, the blue color shines and reveals itself. Are you ready to shine?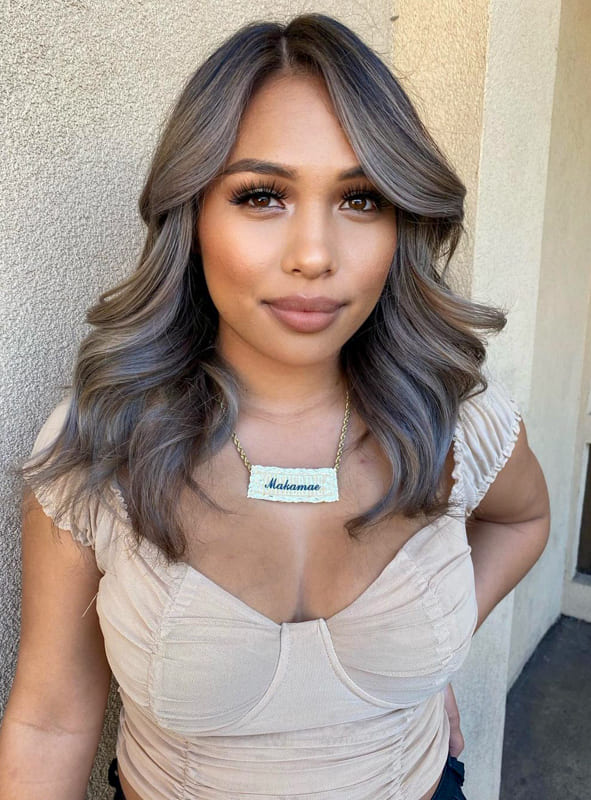 Medium wavy dark silver hair
It is a beautiful hair color that contains similar tones in silver but also shows itself with its dark tone. In this post, we will discuss the combination of shaping dark silver hair with waves. We also see a beautiful example of a dark silver hair color that resembles a light purple color in our daughter, whom we see in this picture. The light water wave she uses on the ends and the straight hairstyle on the upper parts show that perfect color of her hair, isn't it?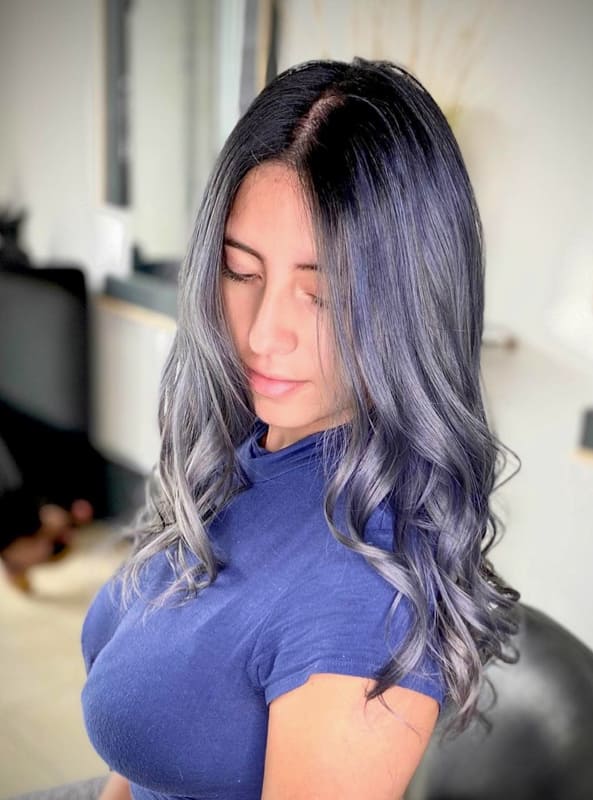 Medium smokey silver hair
In this post, I would like to tell you about a very beautiful silver tone resembling yellow. Smoky silver hair, this extraordinary color that looks a bit white, which you can not distinguish whether it is yellow or silver, will dazzle you. Especially if you have noticed that your whites are starting to come out, whether you are young or old, medium smoky silver hair color will provide you with great convenience in terms of use.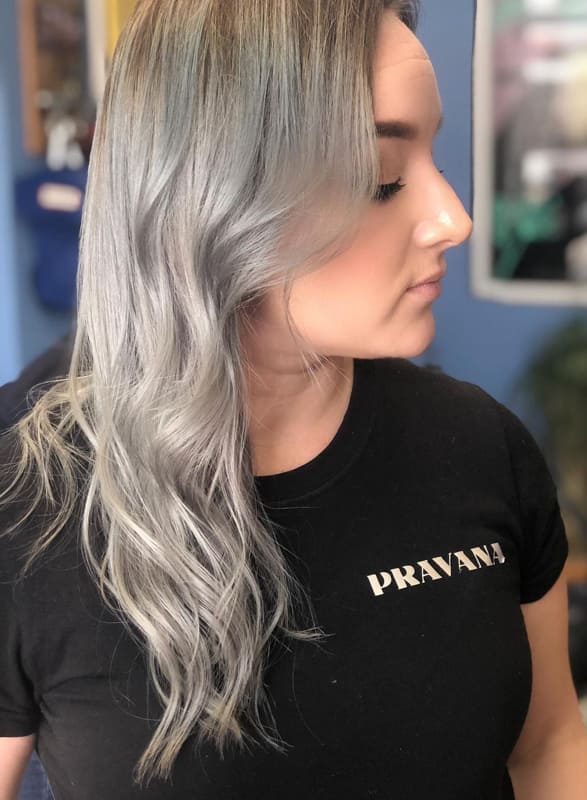 Medium silver ombre hair
Recently, the most preferred processes when dyeing our hair are ombre and sombre. We can choose any color while having the ombre process, and one of the best examples of these is the silver ombre hair. Since we do not like split ends of our hair, many women use their hair in medium lengths. Silver ombre hair, which we know is very preferred especially in the Far East, is a hair combination that you should definitely consider, no matter what tones you want.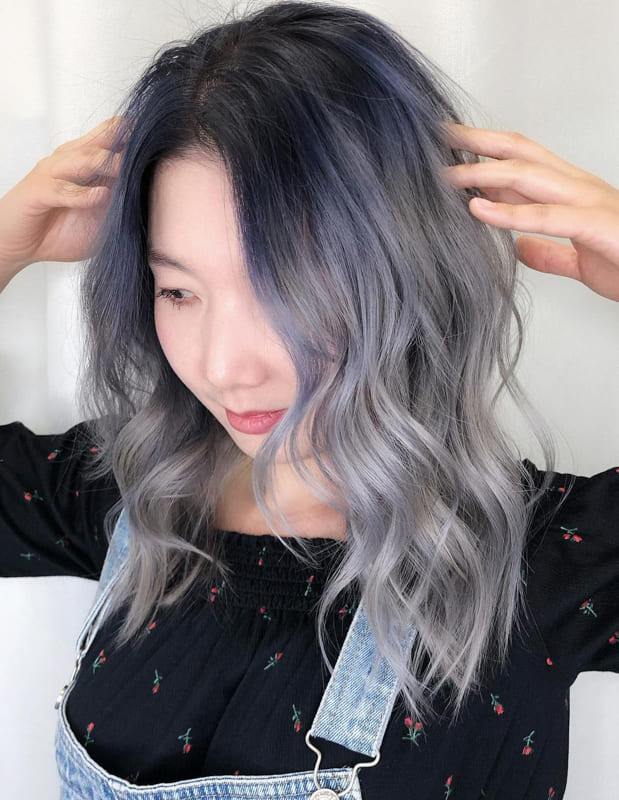 Medium silver ash blonde hair
I know that you often encounter medium silver ash blonde hair color and style. Because ash blonde hair color is very often preferred and loved by women. Here I would like to suggest that you add a different atmosphere to your ash blonde hair with silver tones. As you can see, these silver tones, which we do not understand very much in the picture at first glance, become evident as we examine them. Wouldn't you like to add some shine to your hair?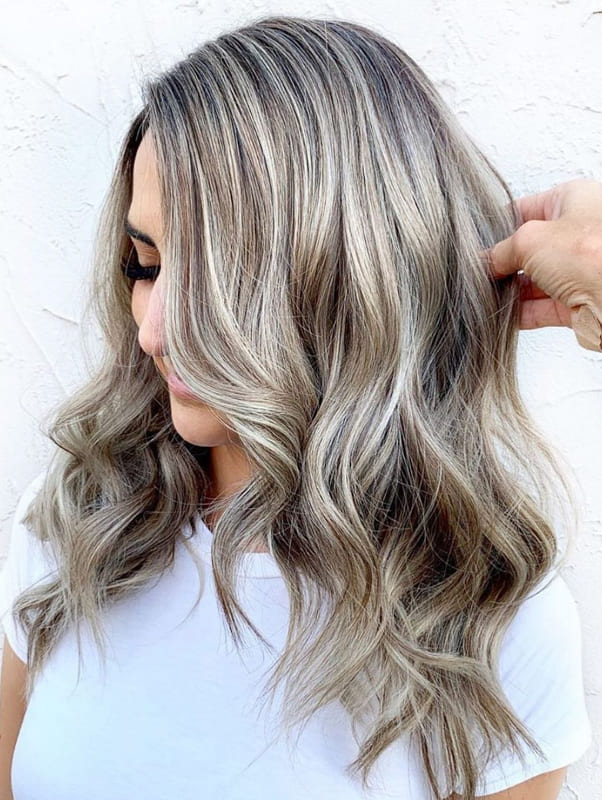 Medium black and silver hair
In this post, I would like to tell you about a very original hair design. The harmony of black and silver are two beautiful tones that I love very much in every aspect of my life. I know it is the same for you, because these two colors complement each other. What about the combination of these two colors in our hair? Our young girl in the picture wanted to use these two colors as a whole in her hair, which she divided into two, and in the ends of her hair. If you find this repulsive and want to achieve the same harmony in all your hair, you can combine ombre with black and silver colors.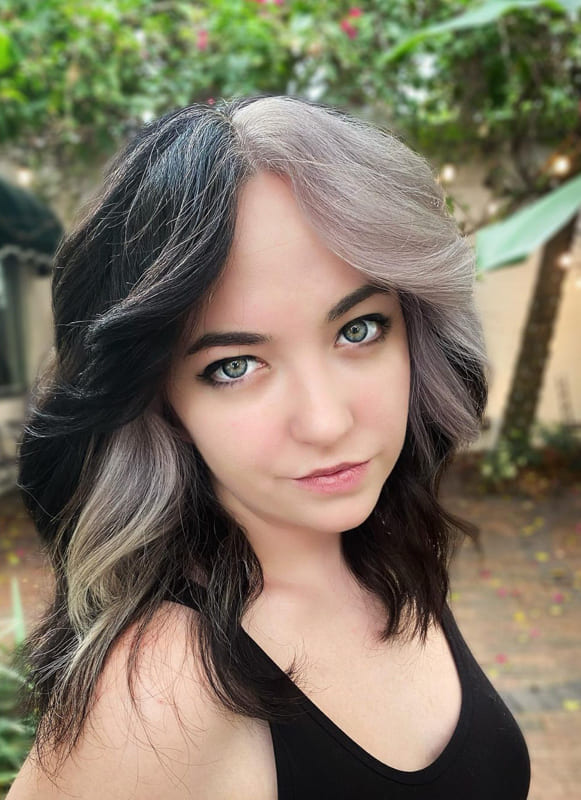 Long wavy silver pink hair
When you first look at the silver hair color, you can compare it to a very light shade of blonde. But it is not, and you preferred silver tones, which is a different and remarkable color, not yellow in your hair. One of the best ways to show this is with silver pink hair. Take a look at the picture below. Did you see a disturbing pink color at first glance? I'm assuming you say no because only a good hairdresser can provide that balance. This wonderful shade of very light pink will definitely draw all eyes on you. Especially if you like to use your hair long and wavy, there can be no better combination to show the beauty of this color.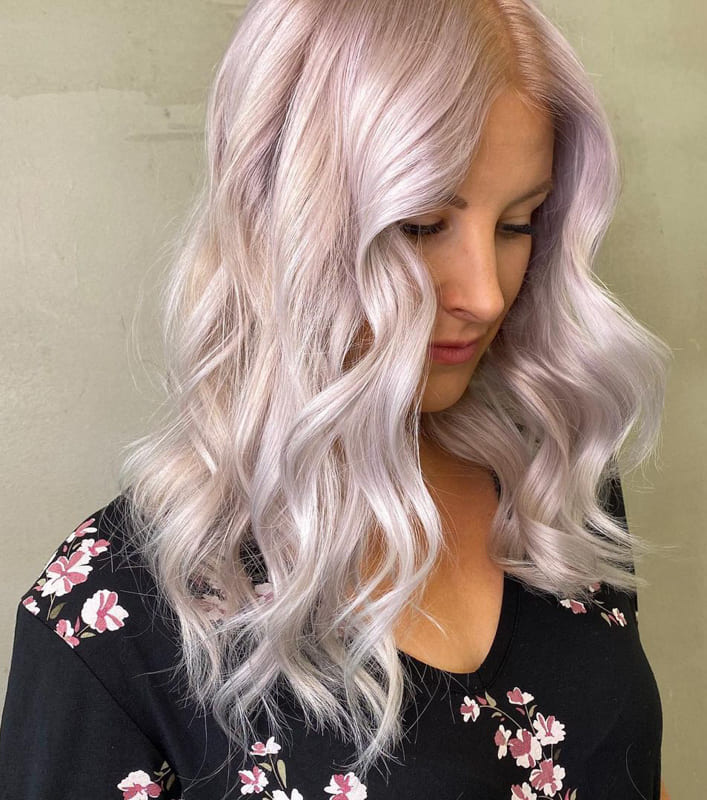 Long wavy ash silver hair
Ash hair is difficult to use. It is even more difficult to return from this hair color to a flat tone, especially when you do ashy tones once. No matter what color you paint, you will immediately notice this ashy structure underneath. However, ashy hair is, in a way, the most popular tone. Because they look much more natural. I will not talk about how ash silver long wavy hair will look good and how beautiful it will make you look. Because the picture in the example says it all for me.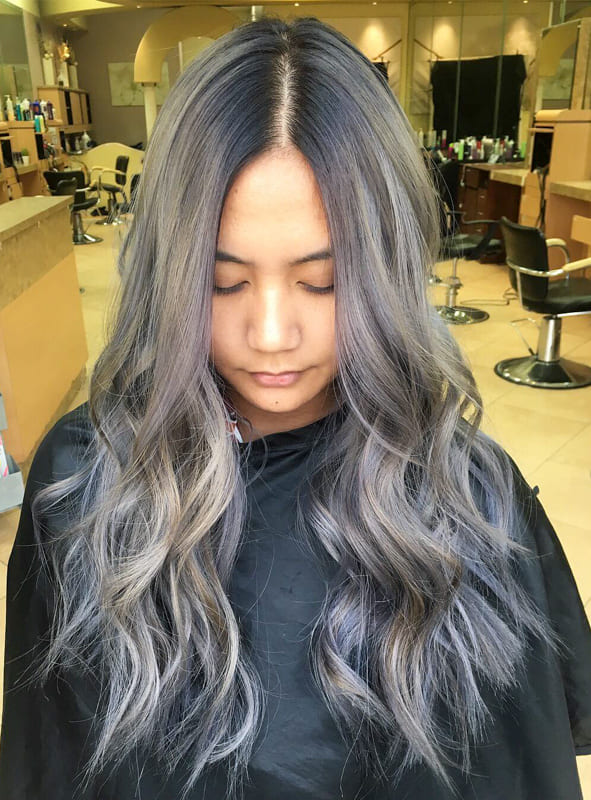 Long straight silver white hair
Aside from their proximity to each other, the harmony of white and silver tones is admirable. Especially after a certain age, when our whites start to appear, we tend to use lighter tones. This hair gives us ease of use and makes us look very beautiful. In this picture, we see a great example of a long straight silver white hair design.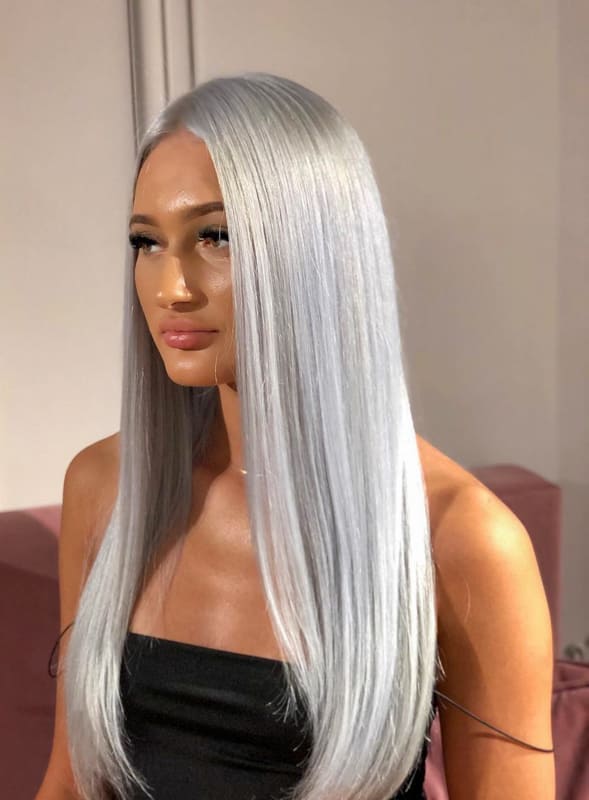 Long silver lavender hair
Long silver lavender hair is a hair design that we do not see very often, but it reflects the perfect color of lavender, which is a wonderful shade of purple. More precisely, the harmony of lavender and silver. When you look at it, your heart opens up too, doesn't it? If you have a strong hair structure, you can apply these colors without thinking. This hair color will make your hair look stronger than it is and will draw all eyes on you.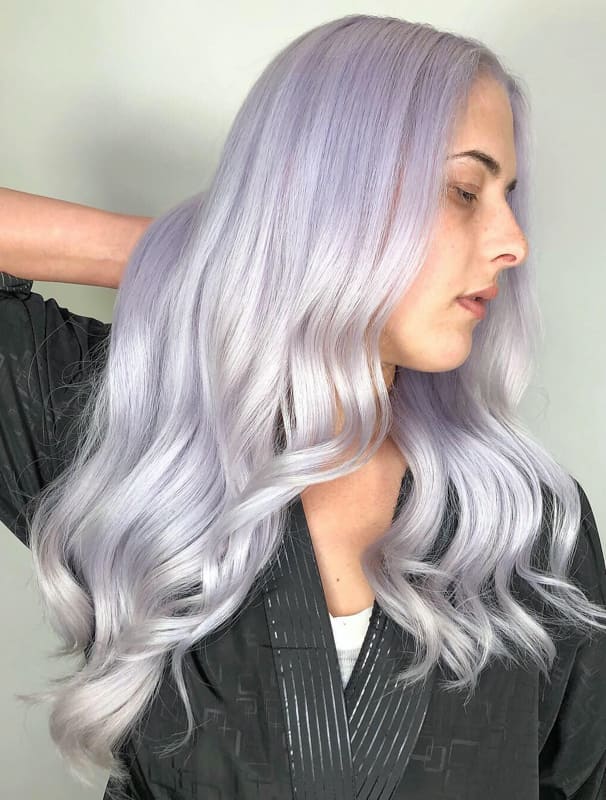 Long silver blue hair
Long silver blue hair is my favorite hairstyle, but I'm sure you'll love it when you see this picture. Look at the harmony of tones and the elegance of this dark blue, which seems to be predominant, when combined with silver. If you like to use your hair in long lengths, you should definitely try silver blue hair, which you can animate with light waves. You can also try using bangs.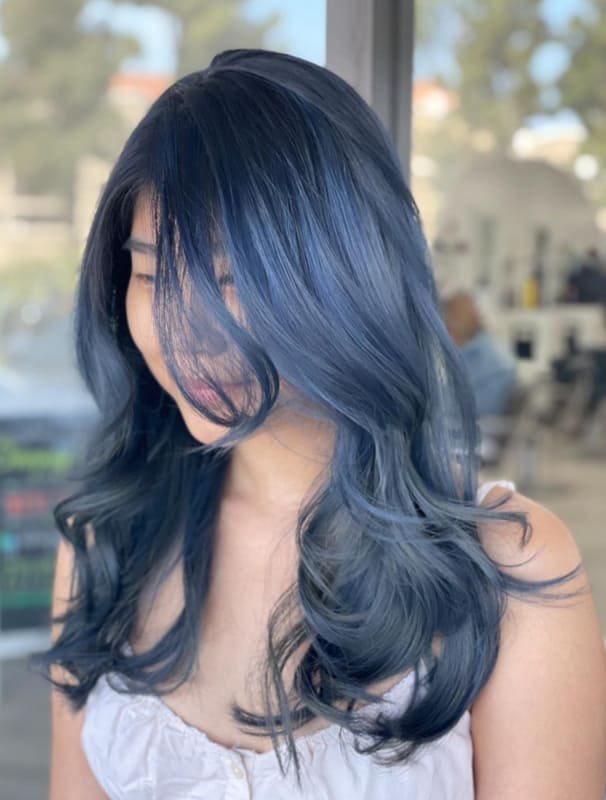 Long silver balayage hair
Although balayage hair is a technique that is not preferred much anymore, it should be noted that some fashions never cease and become classics. Even though ombre processes have taken the place of balayage nowadays, the balayage process is one of our classics. In this picture, we see a very beautiful example of long silver balayage hair. Technically, balayage is still a very preferable process, as it causes less damage to your hair than the ombre process. And another point I would like to mention is that we usually see colored eye color in women who use silver hair color. The lady in this picture, on the other hand, reflects how beautiful silver can look with her brown eye color.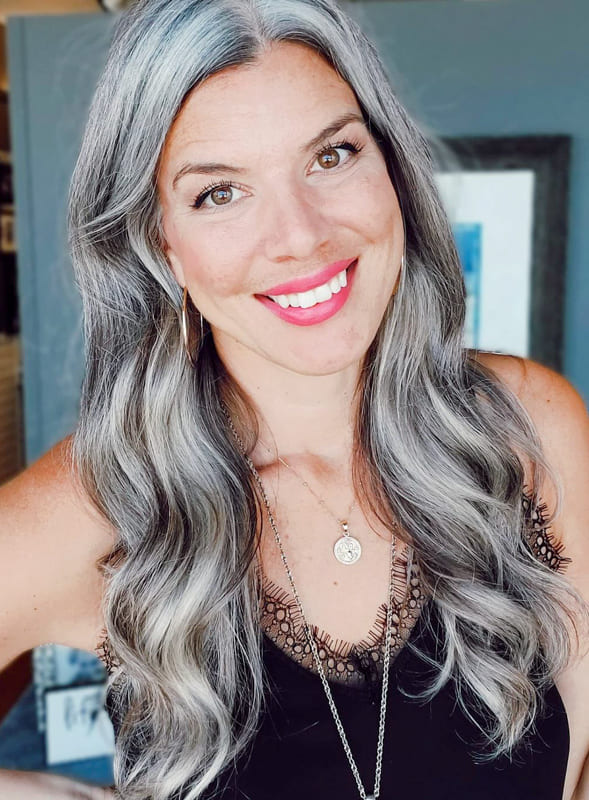 Long silver and red hair
When you see the subject of long silver and red hair, I can hear you say how incompatible two colors are. But look, the picture proves to us how wrong we can be. Of course, we are not talking about a very dark and distinctive shade of red. More like the use of a light shade of pink that we mentioned in the top posts, we see a silvery shade of red here. It doesn't really matter if it's blue, pink, black, red or any other color. Whatever color you want to combine, silver tones will be magnificent with any color.
Long lilac silver hair with bangs
I think that especially our young girls will admire this post because lately they are in great demand for long lilac hair. Due to its different and original structure, this hair design has found a place among our young girls with its fringe style. In the picture, we see a wonderful example of long lilac silver hair with bangs. Our girl in the picture shows us how great this hair design can look with her long and neat eyeliner application.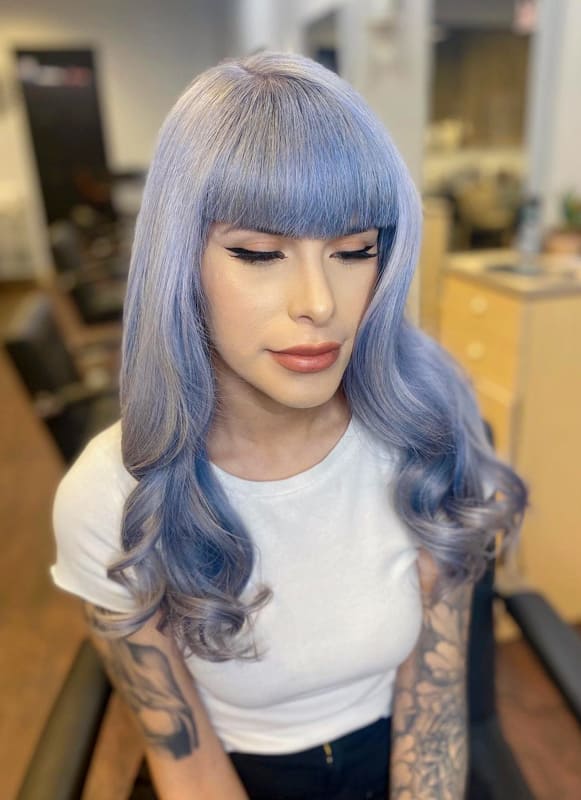 Long dark roots silver hair
The most distinctive feature of long dark roots silver hair is that the silver tones that dance at the ends of the hair remain dark and even close to their own hair color at the bottom of the hair. Of course, this is a unique opportunity for women who love to see their own hair color on the bottom, so they do not want to touch the color of their eyebrows and want their eyebrows to remain original. You will look glamorous and be as natural as possible. We tried to show a lot of models about silver hair color, now the choice is yours.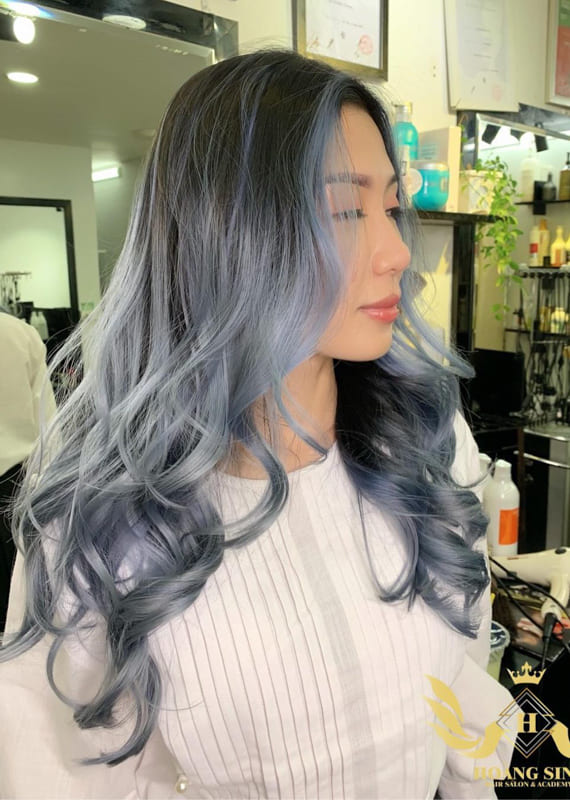 Asian silver hair
Yes, my post that I've been waiting for and saving for last is asian silver hair. You may have noticed that in most of our pictures we see pictures of our Asian ladies. Because silver hair color tones and different silver hair color designs are quite common among Asian women. And there is indeed a color called Asian silver. This silver shade is now referred to as the Asian silver shade, probably because they prefer it so much. With this color reminiscent of light ashy silver, don't you think our beautiful girl in the picture looks perfect with her brown eye color and white skin? Whichever silver tone you choose, we have no doubt that you will look gorgeous. I hope you can choose the right silver shade for yourself in the light of all this information.