Everyone loves colorful hairstyles, but we can't decide which one to choose. I want to give you an idea for this. Let's take a look at some lavender hair styles today. I have compiled the most beautiful lavender hairstyles for you so that you do not hesitate between so many different colors and choose your color! Let's see which of these color tones you like the most!
Impressive Lavender Hair Color Ideas in 2022
Lavender hair colors, which are very similar to the flower called lavender, are very popular in 2022. There are so many ideas for different hairstyles now. Lavender hairstyles, an unusual and very feminine hair color, are generally compatible with all skin tones. Known for its wonderfully calming scent, lavender is why its essential oil is so popular in aromatherapy. I think lavender hair color can have a similar effect.
If you want to add an ultra light look and air to your hair, consider lavender as one of the best hair colors.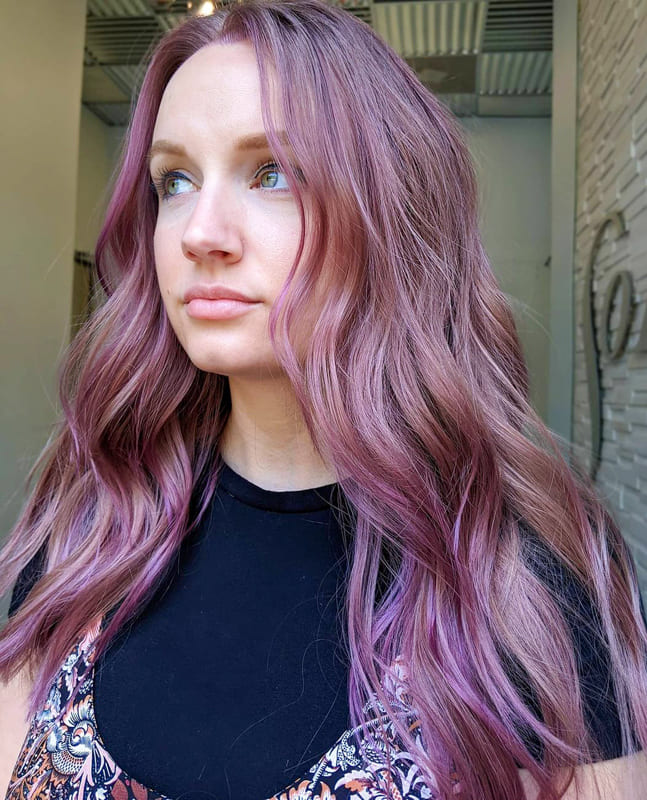 Lavender hair colors are quite different from each other. The biggest difference is the tone color. You can get gorgeous hair colors from the combination of lavender color with different colors. In addition, you can show a different look when you have your hair cut short, long or medium. There are definitely very cool and impressive tones in the undertones of the lavender color. I will try to explain them for you later on. In addition, it is not expected that every color tone will be compatible with your skin and appearance. Therefore, you should discover the lavender hue that is right for you.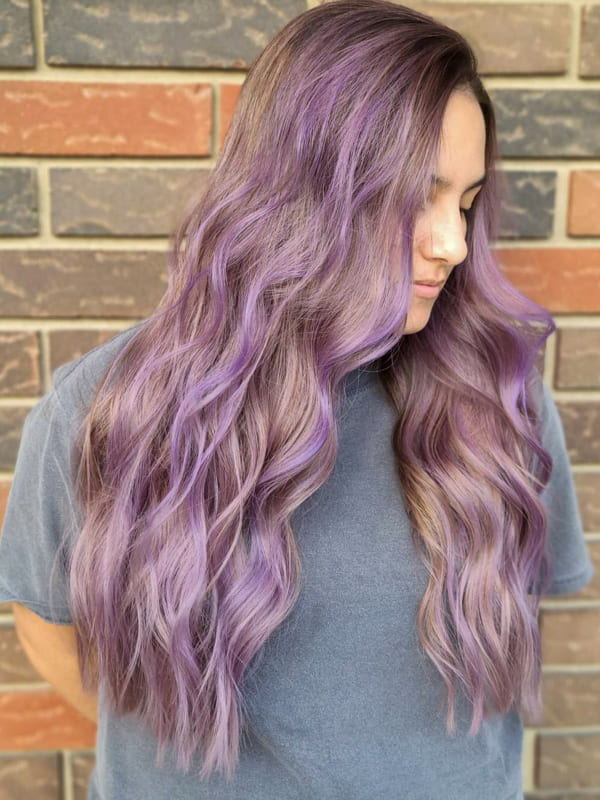 Shades of Lavender and Lavender hairstyles
Today we will examine many different shades of lavender color. I tried to list the ideas as best I could, but if you have ideas, I can add to the subject. Lavender color is a leading color in terms of harmony in my opinion. You can see that it is very compatible with the color pink, purple and red. Now let's examine a little bit of color tones and hairstyles.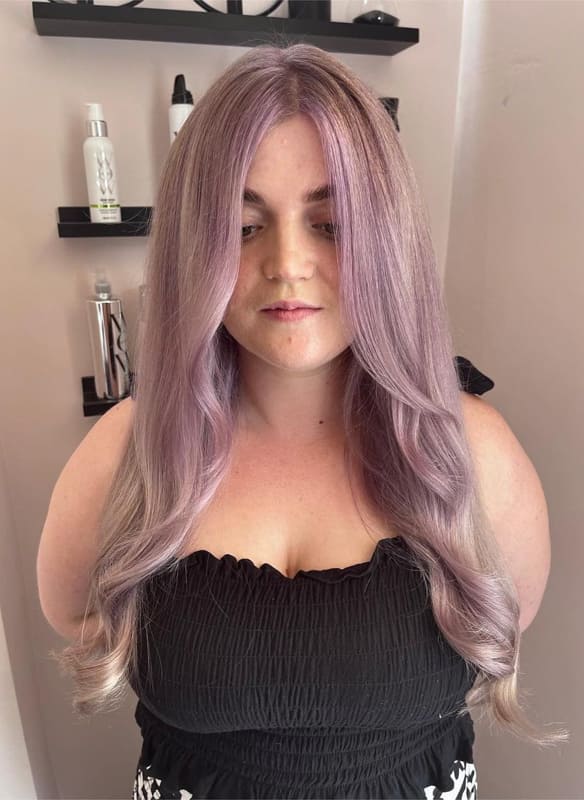 Short vintage lavender hair
Do you like vintage hairstyles? I think it looks pretty classy with the lavender color. It is quite simple to have such charming hair. A model and color that can be preferred especially by middle-aged women to attract attention. The color is a bit close to purple, I agree, but the lavender color is quite distinctive.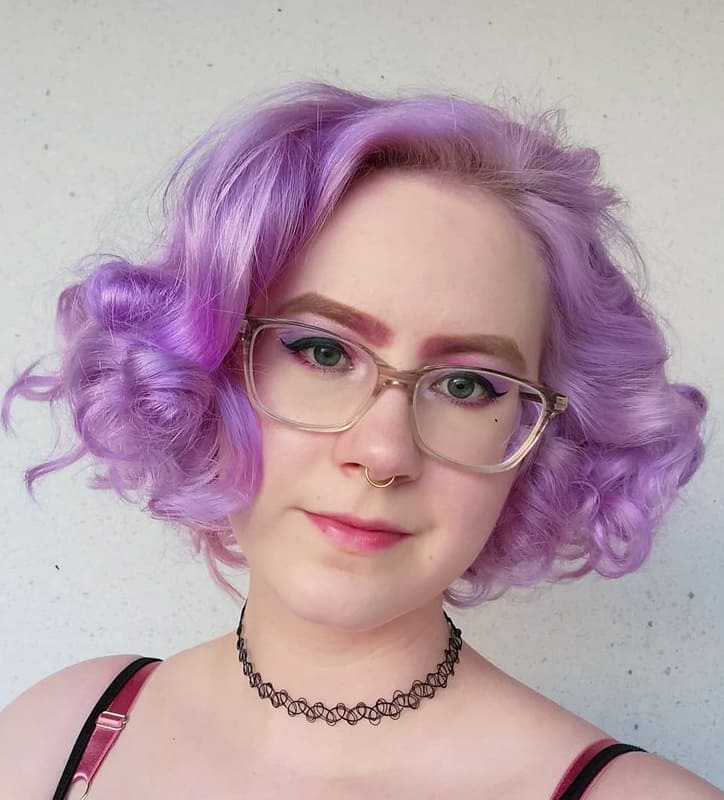 Short straight lavender hair
Straight and bob hair is now preferred a little longer. Previously, the hair was cut quite short, but recently it has been extended to shoulder level. Although there is no bottom dye on the hair you see in the picture, it is a very nice color tone. It looks a little more ash colored. Short straight lavender hair is really cool!
Short pixie lavender hair
I think it is a very impressive color for pixie hairstyles. Lighter shades of lavender might look nicer. However, if you think about how many of you are black, I think it would be a much better choice to choose a lavender color close to purple. I think it was a very right decision to prefer the color of the front part of the hair a little lighter.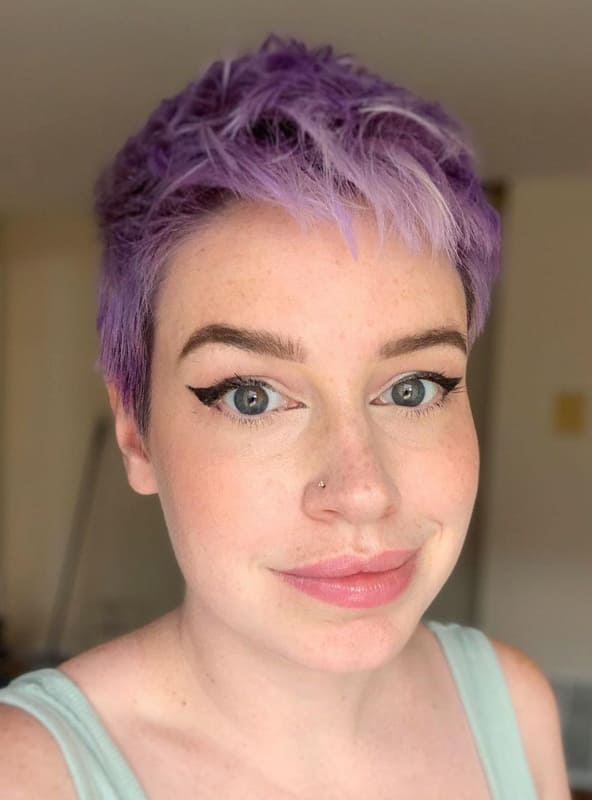 Short messy lavender hair
It looks pretty on messy hair too. In addition, a silver or gray hue was preferred along with the lavender color. I think it's a pretty good choice. He especially made his green eyes stand out. The face could have been opened a little more. But it looks pretty nice this way too.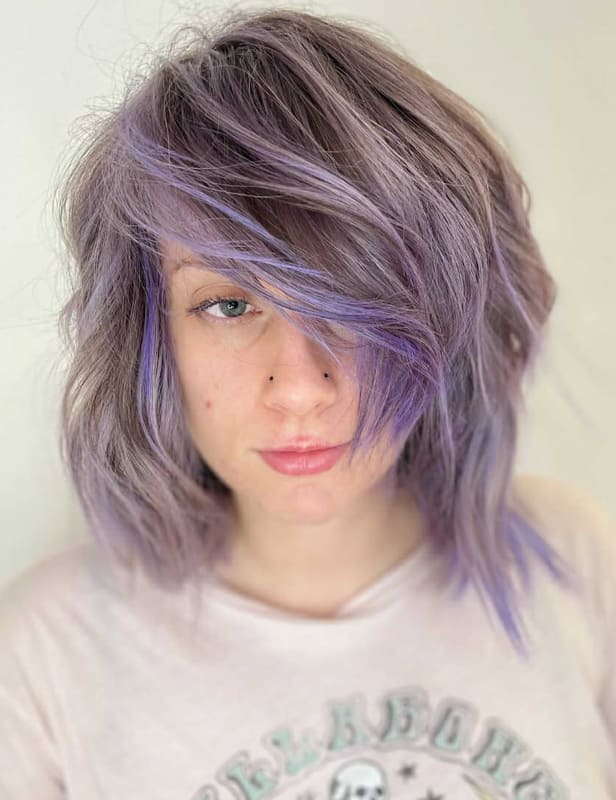 Short bob lavender hair
It's a pretty cool hairstyle. Short and bob hair. The color tone is a bit dark in my opinion, but the hairstyle is gorgeous. That's why it overshadows the color tone. However, there are a few other things to consider here. First, your makeup should match your hair color. Secondly, you should be a little more selective in choosing the color of clothes.
Over 45 Grey lavender hair
When you reach the age of 40, lavender hair color can be a good choice. Especially on wavy or classic hair. By classic hair, I mean vintage and retro hairstyles. It is especially preferred by women of this age. You should be careful not to use the light-colored tones of the lavender. It will be a better choice for you.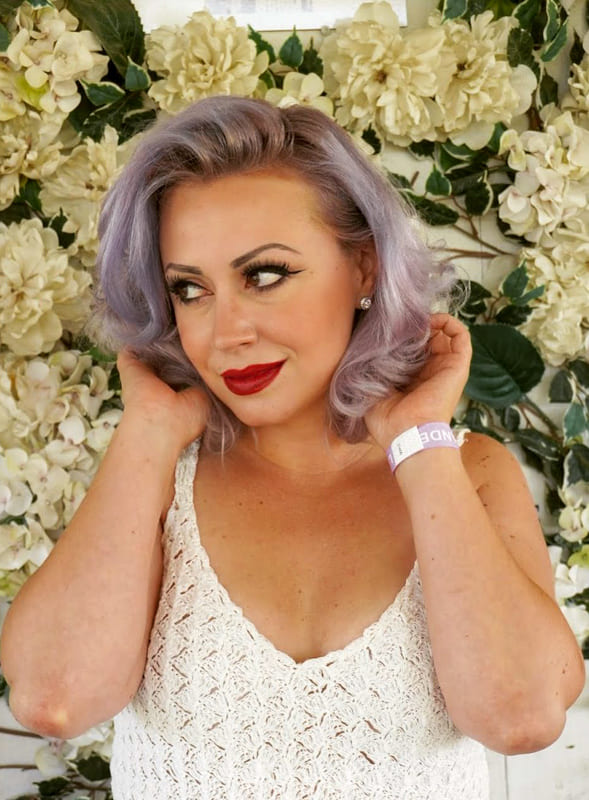 Medium wavy lavender hair
For wavy and medium hairstyles, lavender will be a very defining color. The hair we reviewed earlier was usually short hair. Lavender color becomes quite remarkable in long and medium hairstyles. From here on, the importance of the outfit you choose increases. If your hair color is light-toned, you should choose lighter-colored clothes, and if your hair color is dark-toned, you should choose darker-colored clothes.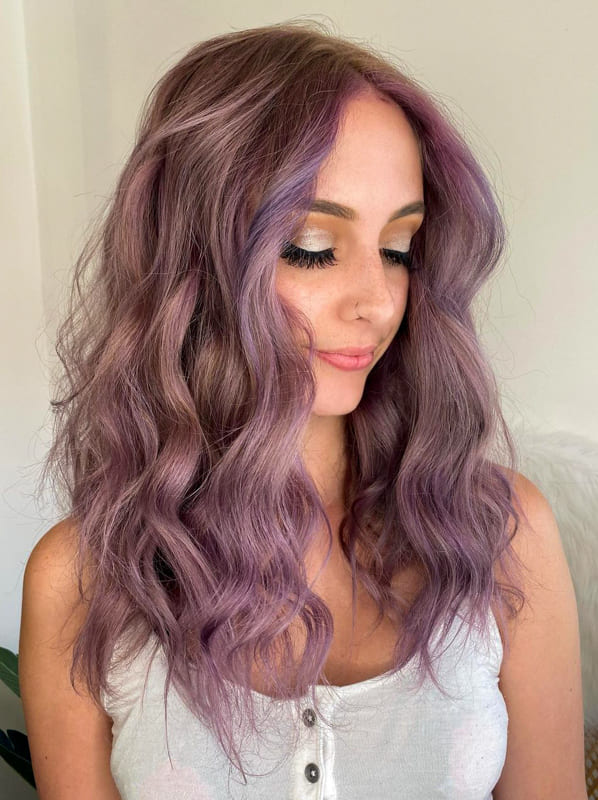 Medium straight lavender hair
On medium and straight hair, lavender color is much more assertive. The color looks really gorgeous on medium hair you see in this picture. A great color has been chosen. Also, the fact that the bottom part of the hair is black looks very attractive and very nice. The fact that the eyebrows and eyes are distinctly black creates a magnificent appearance.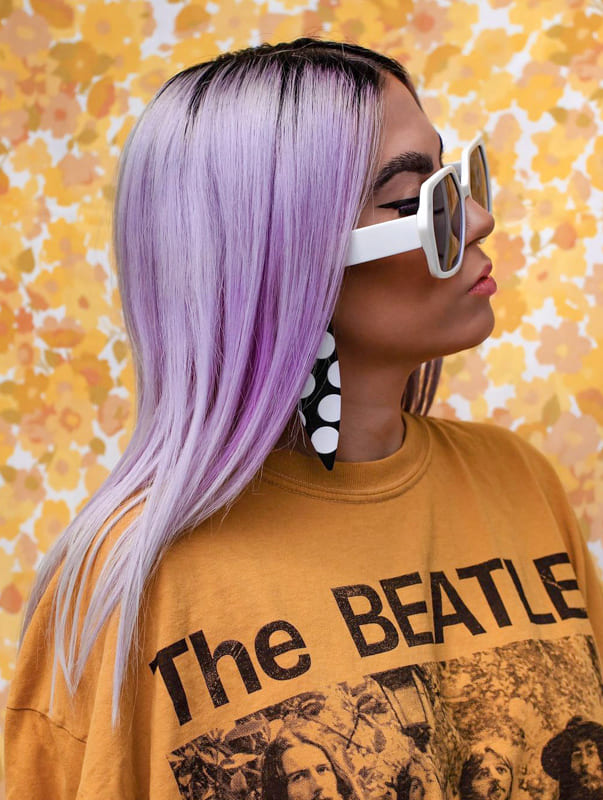 Medium lavender purple hair
The color mix of purple and lavender is actually not very noticeable. These two colors are really very similar to each other. Preferring the purple color at the bottom of the hair is definitely the right decision. Towards the tip, the color turns into lavender. The ends also seem to have some silver tint.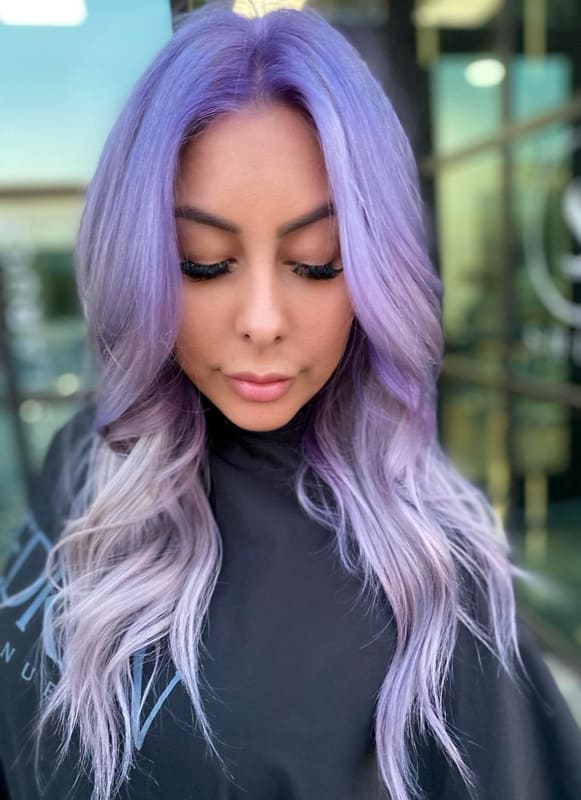 Medium bridesmaids lavender hair
Although lavender color is not quite right as a bridal hair, I think it can be a good choice for bridesmaids. However, a lavender color to be applied between blond hair can look much more beautiful. You can see the perfect harmony of blonde and lavender in the picture. It is both striking and a very simple look. A nice choice for bridesmaid hairstyles.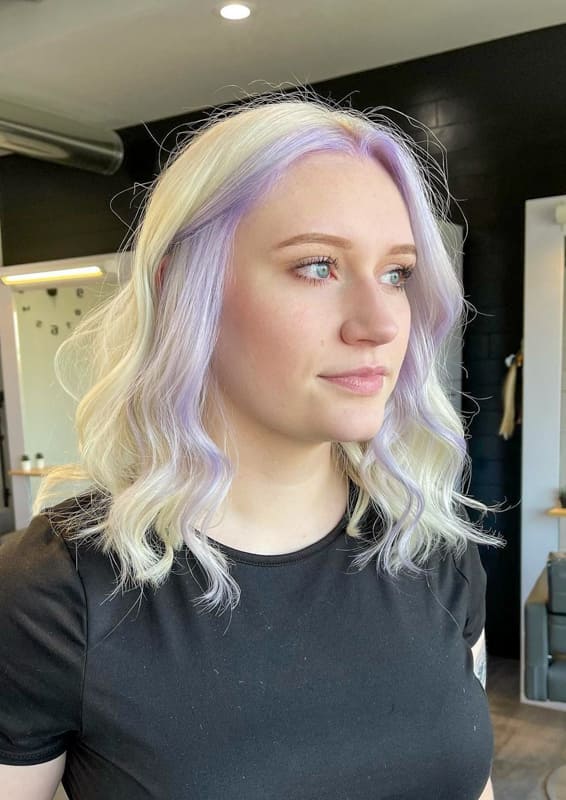 Long dusty lavender hair
Dusty lavender is a very assertive and different choice. The hairdresser needs to adjust the color spread very diffusely. Unfortunately, not every hairdresser can do this distribution well. In the picture, you see the dusty lavender color applied on brown hair. I think it looks pretty stylish.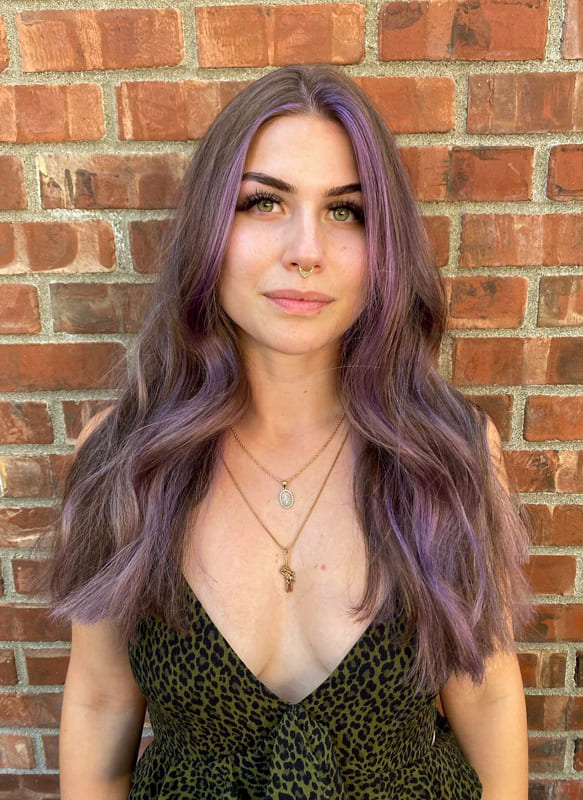 Long curly lavender purple hair
We can't say exactly curly for the hair in the picture, but it looks quite similar. The color is a mixture of purple and pink with lavender. In my opinion, it was truly magnificent and extremely ambitious. She is very good at matching makeup and clothes. In fact, the fact that it is compatible with this color tone on the background especially for the photo adds a great atmosphere to the picture.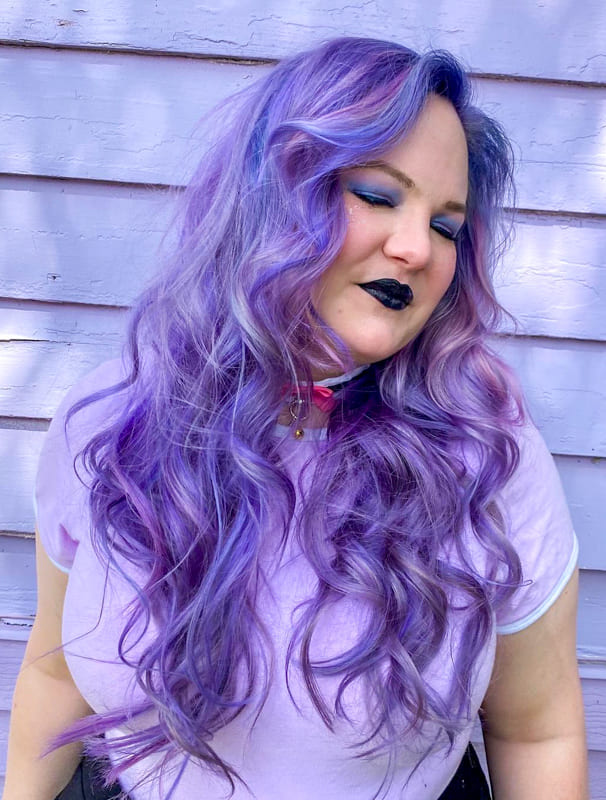 Blonde lavender ombre hair
We talked about blonde hair and bridesmaid lavender hair colors. I think blonde hair and lavender color are very compatible. Also, it is easily distinguishable. For example, it is very difficult to make this distinction with the color purple. In other words, there may be tones that you are not sure of whether the color is lavender or not. However, this distinction is much more pronounced in blonde hair.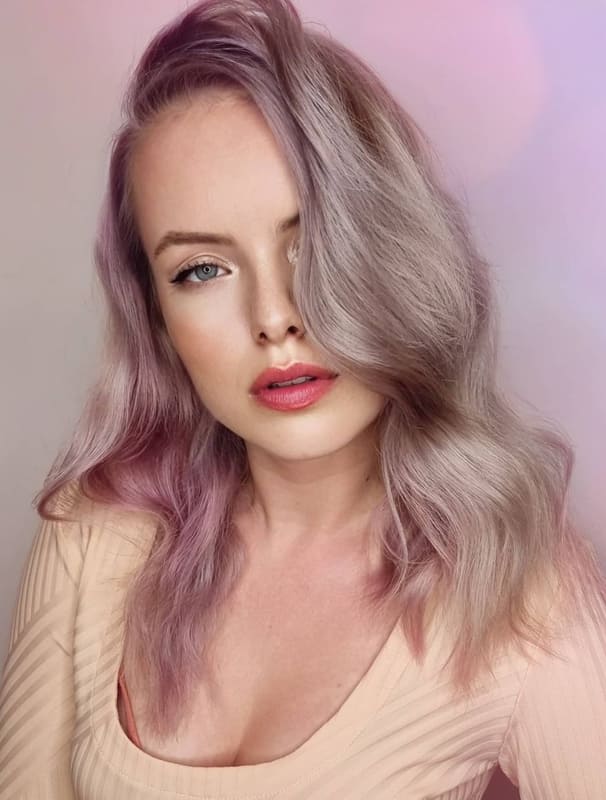 Asian long lavender hair
Lavender color is very popular and suitable especially among Asian white women. Especially women who choose anime can often choose this color. Especially Japanese women are very open-minded about this. It is very common to encounter such hair colors in society. Therefore, choosing such a color will not be a wrong choice.