Your nails are as important an accessory as your makeup bag, shoes or jewelry. Therefore, it is very important to make them look stylish and flashy. I think coffin nails can be a very good choice to complete the look of your hands in a stylish way this season. Angular long and flattened coffin nails are quite bold and trendy. Coffin nails are seriously popular with stylish ladies, including many famous names. However, deciding to get coffin nails is only the beginning of your nail decisions. After completing the shape of the nail, the second stage is started.
New Coffin Nails Designs and Colors Ideas 2022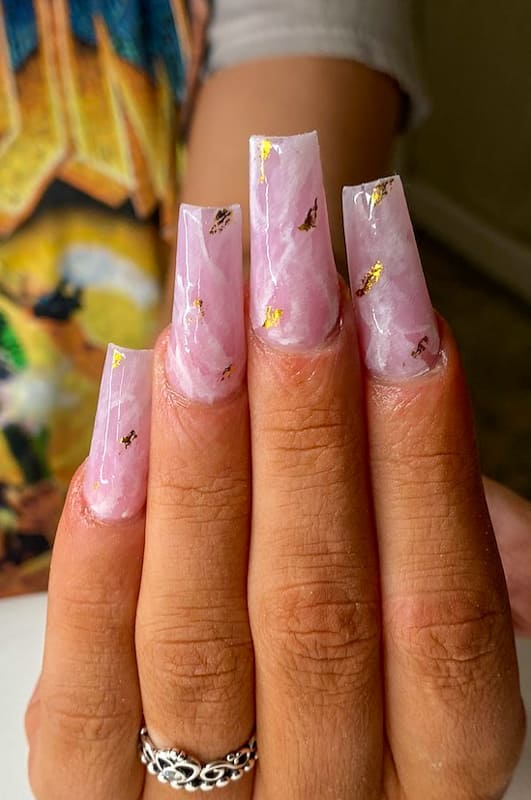 In the second stage, you should also choose a design that will complement the nail. This is the most important part. In the following parts of the subject, we will make a very detailed examination of the designs of Coffin nails. Coffin nails now have very different designs compared to the past. Both in color and size. Some coffin nails can look short and pretty. However, some coffin nails can be designed too long. The design needs to be differentiated according to the size of the nail. So what I want to say is that the design for a short nail may not be suitable for a long nail. Recently, manicurists are designing magnificent nails.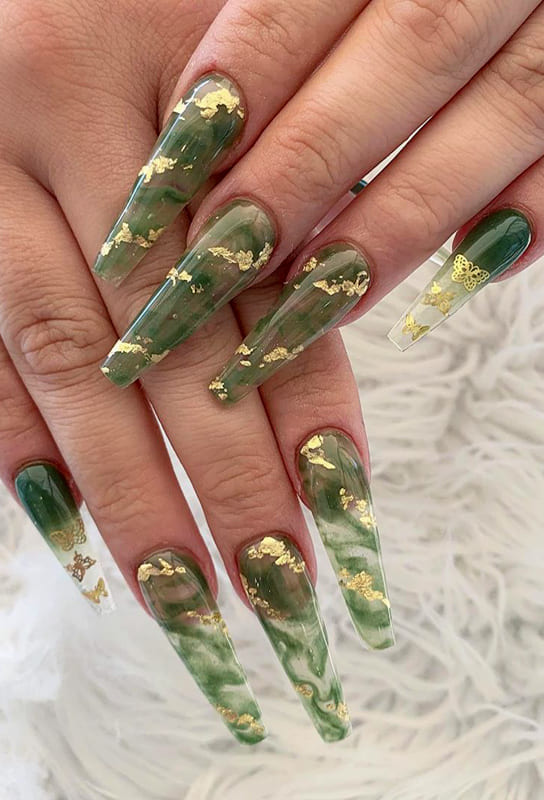 Coffin nail designs are also called ballerina nails. I will give more detailed information on this subject later, but I would like to summarize it briefly. Ballerina nails have a slightly more oval structure. I think it reflects the spirit of being a ballerina. Pretty delicate. Coffin nails, on the other hand, have very hard corners. It also got its name from here. Now, how would you like to elaborate a little more on the subject? Let's explore gorgeous coffin nail designs and colors together.
Black white coffin nails
Black nails can be extremely stylish and flashy. Especially if it has small details on the nails. There is an interesting snake figure on the nail you see. Even though I think it's a slightly contradictory nail design, it's extremely different. This has become a very popular behavior for women who follow fashion. Make a difference!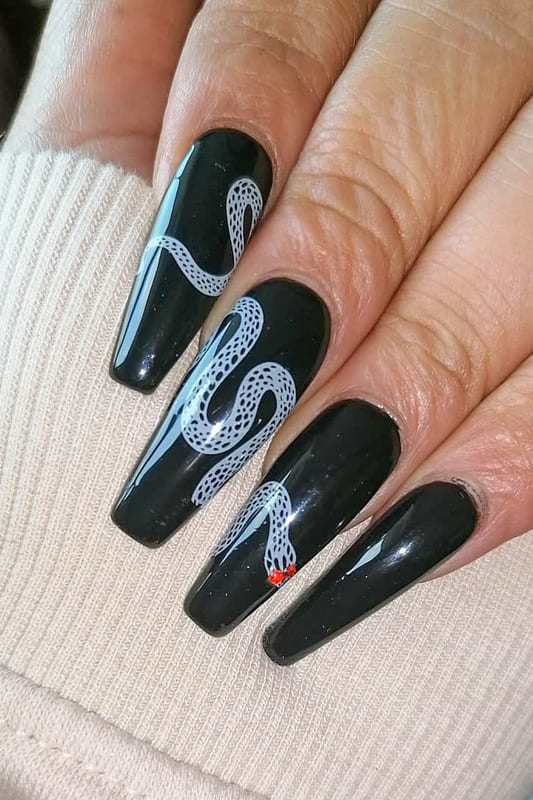 Aqua Blue coffin nails
I was going to choose a solid blue color for coffin nails but after seeing this nail design, my opinion completely changed. The blue color applied on the nail is truly magnificent. You cannot choose such a color as nail polish. A really good manicurist can do this. In addition, the golden reliefs on the edges of the nail add a lot of air to the nail. In this type of acrylic nails, you can choose the acrylic material blue color.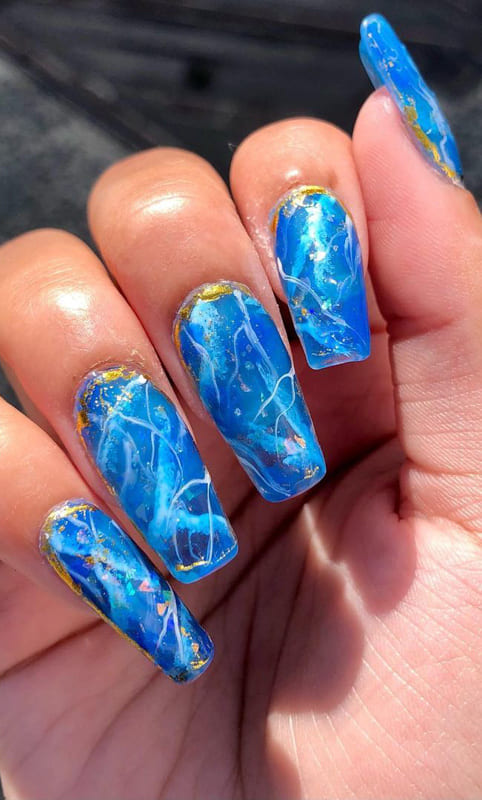 Coffin shaped french nails
I really like french nails. It is quite impressive and attracts men. In today's topic of coffin nails, we will be reviewing multiple french nails. Actually, it seems a bit wrong to call this nail a french nail design. But this is how the french design is on coffin nails. In this picture, you see a very cute design made for young women.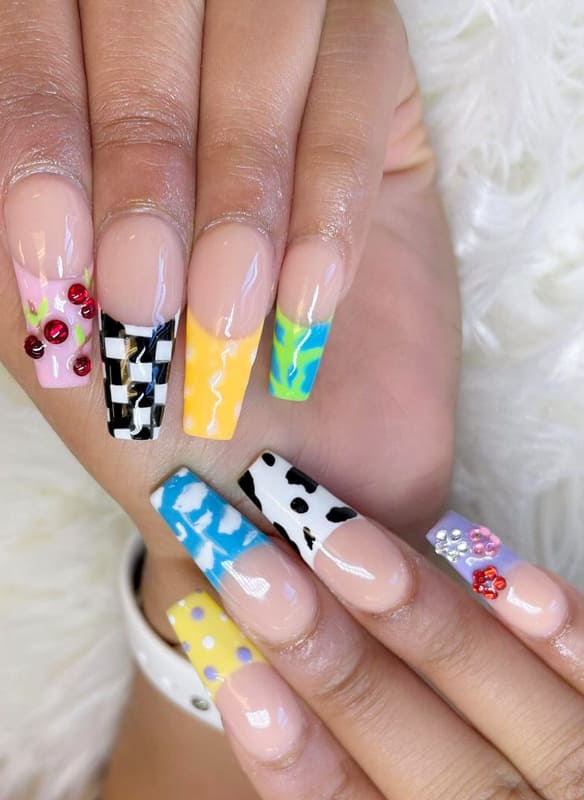 French tip coffin nails
This picture, on the other hand, looks more like french nail designs. Of course, the tip may be slightly different due to the coffin nail design. This is so natural. The important thing here is that the body part of the nails is in nude color. The tip is white in color. A sharper white color can be used in its combination. However, it looks pretty dashing this way too.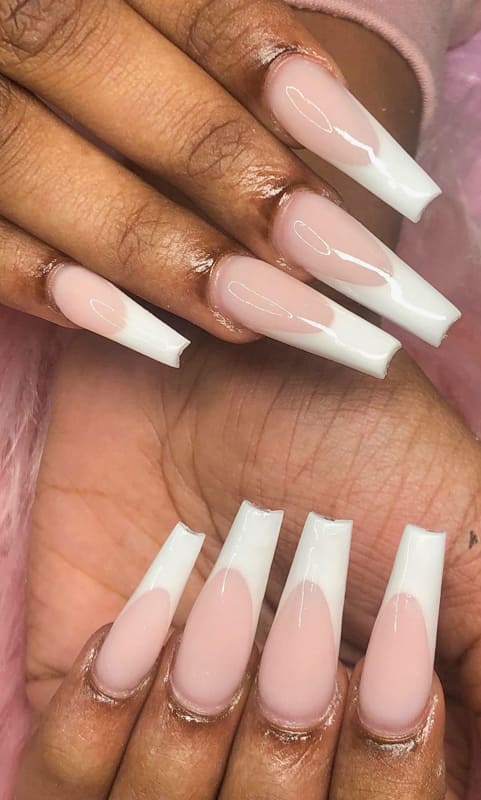 Gray and glitter coffin nails
Gray nails are generally preferred by business women. Because it looks pretty plain. If you pay attention to the size of the nail, it is quite normal size. Too long nails are not preferred by business women. In addition, I think that the different colors in the nail design in the picture add a very nice atmosphere. In addition, the fact that a nail is glitter creates a wonderful image.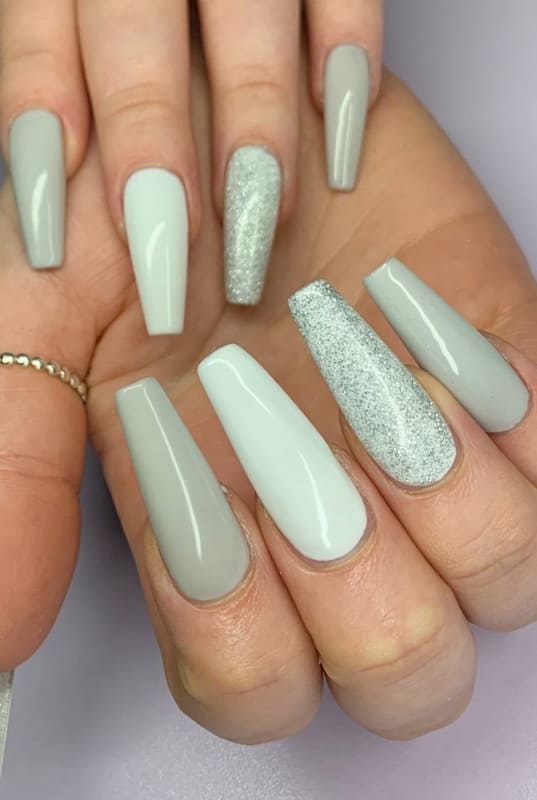 Long coffin acrylic nails
This is the most preferred nail length in coffin nails. As for the choice of nail polish, the idea should of course belong to you. In addition, it will be a very right decision to choose the colors suitable for your clothes. This coffin nail is dominated by yellow and nude colors. It is also very impressive that it is decorated with tiny diamonds. In addition, some yellow nails are designed in the form of ombre.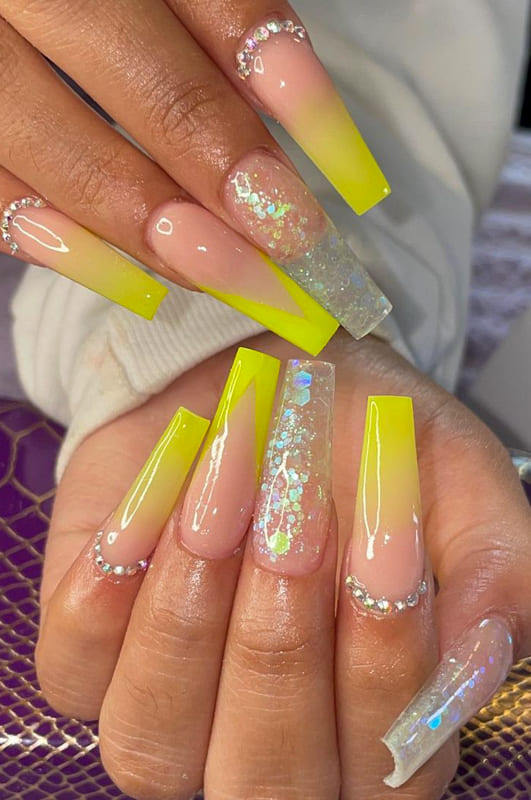 Long nude coffin nails
You may have seen thousands of nude nails. So I want to show you a different coffin nude nail design. Also, this nail has a matte color. Nude nails are usually designed in an extremely bright way. You can try such a design to be different and flashy.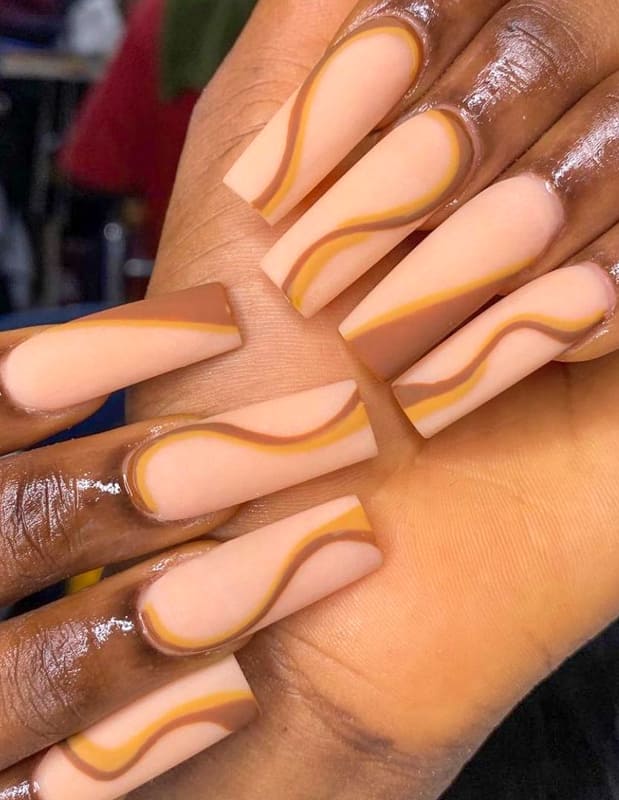 Long orange french coffin nails
You are faced with a different design of orange color. Made in the form of a nail french design. This is a nice transaction. Such designs are rare. It is quite difficult to make. However, I think the most important detail is that the orange color on the edges of the nail is one tone darker. It is quite difficult to make and looks very stylish when completed. You can also try this with different colors.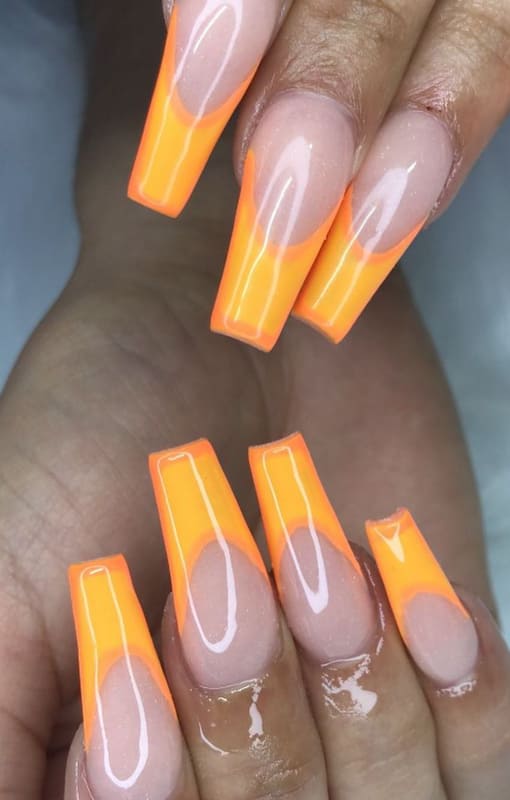 Long pink coffin nails
A perfect coffin nail design designed with gorgeous shades of pink color. I think the only negative thing about this nail design is that the nail is too long. It is quite difficult to use such long nails. It can also be difficult to maintain. I think the nail looks pretty glittery and classy.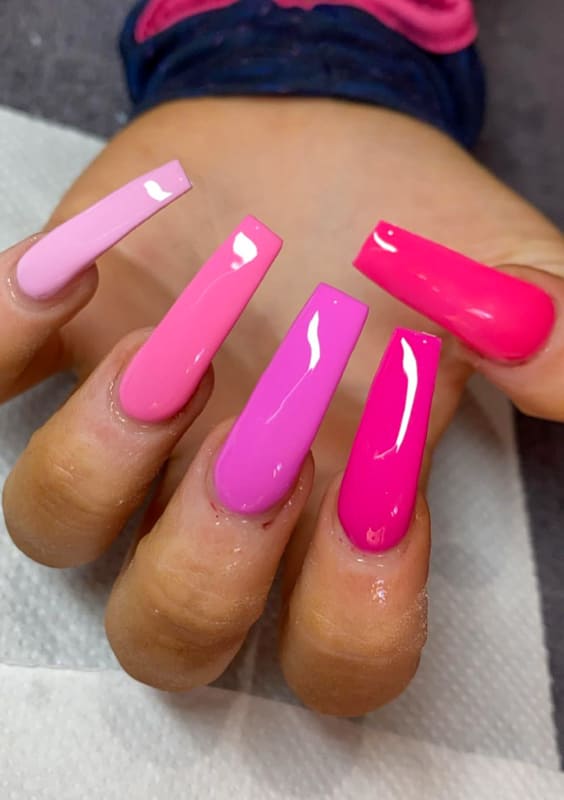 Long pink summer coffin nails
When summer comes, we have quite a lot of designs in terms of nail designs. Spectacular designs emerge with the vivid colors of summer. This coffin nail pattern is one of them. Giving the pink color wavy is a correct design technique. In fact, some marble design was tried to be given. Actually, the marble design on pink nail sounds like an interesting idea. However, I think it's a great design.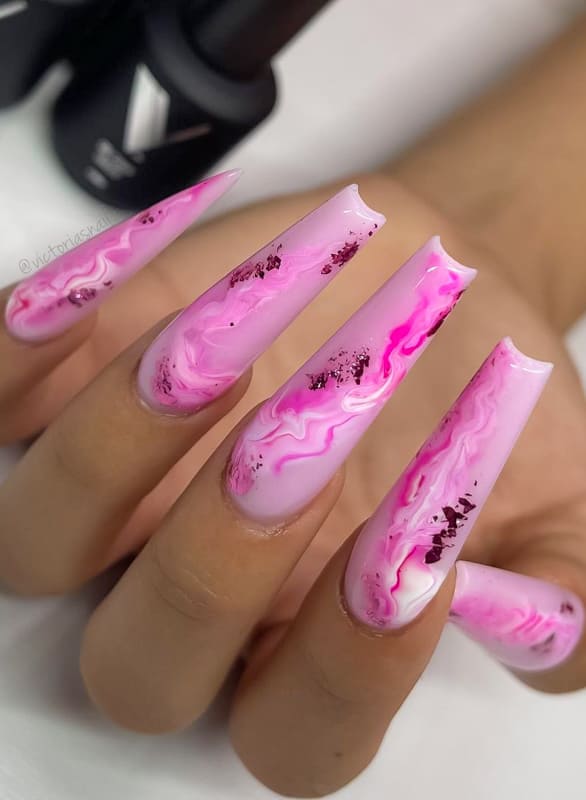 Medium coffin nails
I want to tell you a secret. As the length of the nail increases, the number of designs you can make increases. As the nail gets shorter, the number of designs decreases. In this way, a simple design is generally preferred for medium coffin nails. Such nails are very suitable for both home and business life. The color is not a pretentious color in my opinion. A very ideal nail design for simple and daily life.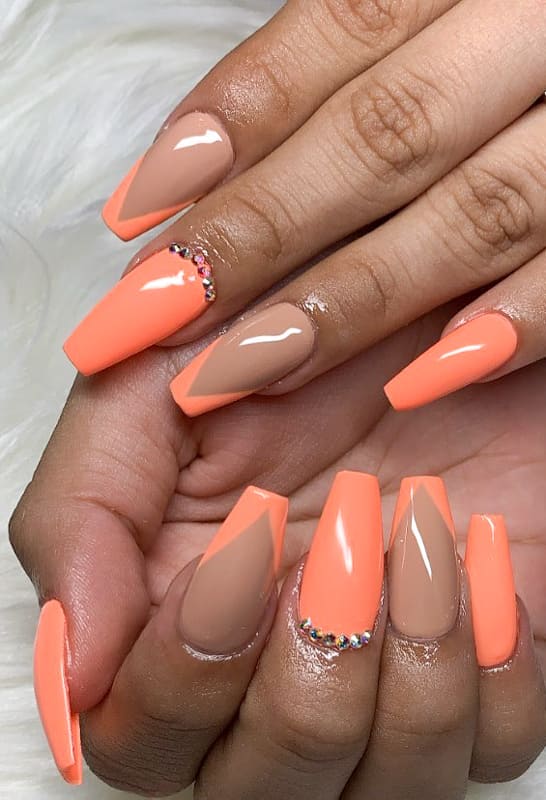 Ombre nude coffin nails
Ombre designs are often preferred for nude nails. One of the first choices of women who like to use long coffin nails is nude color tones and small touches on them. One of the most popular among these processes is to use glitter in nail designs. You can use different coloring materials with sim. It's up to you to choose the nail polish color.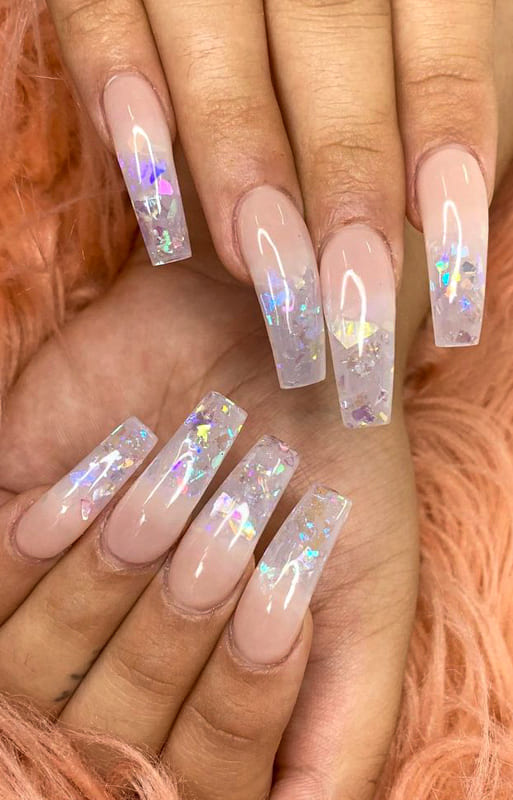 Purple coffin nails
Purple color and tones are among the first choices of women who like to look attractive. This color, which we can say is very popular on coffin nails, has a very stylish design. In addition, the nails are not too long, which makes them look more radiant. The small diamonds on the nail really add a different atmosphere.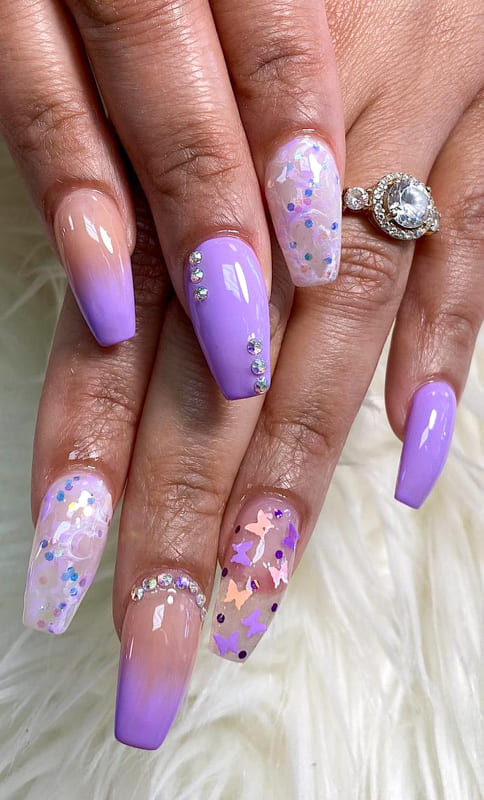 Red with hearts coffin nails
Although every shade of red is gorgeous, fire red or dark shades of red are much more preferred by women. Women know that if they want to look attractive, the right choice for their nails will be red. You will see the harmony of white and red in the coffin nail design you see in the picture. Small red hearts that you will make on white nail polish will make it look very stylish.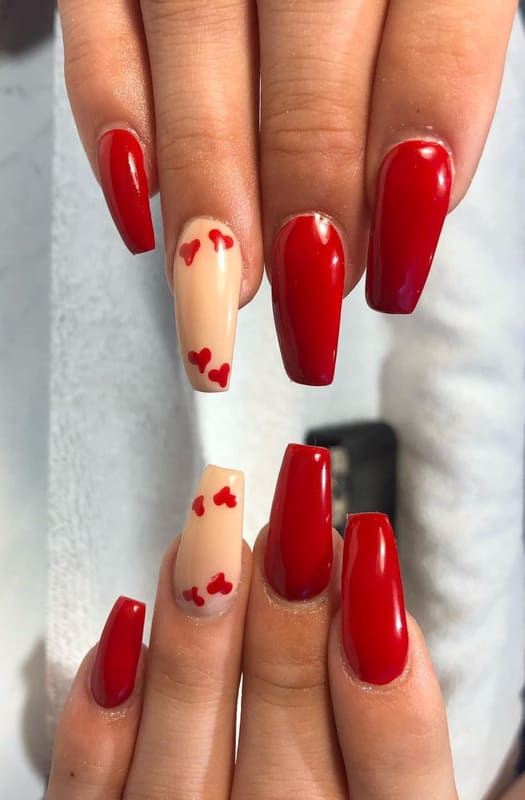 Short coffin acrylic glitter nails
Do you like and want to look different and charming? You can also achieve this gorgeous look with short nails. This process will be very easy when your nails are made of acrylic. The glitter to be applied on the green nail polish will make your nails look very shiny.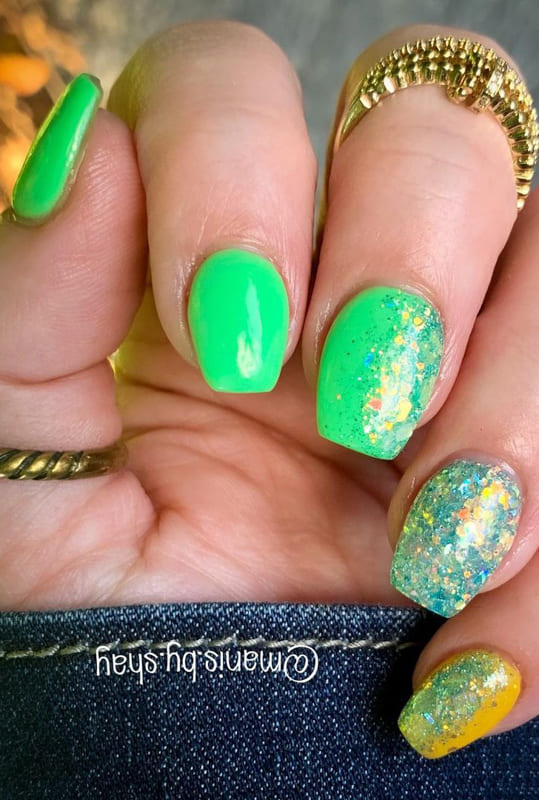 Short summer coffin nails
Do you prefer short nails on hot summer days? Then how about being one step ahead by getting different designs on your nails? Short nails, as you know, are not very noticeable. You can achieve this by using the color tones of hot summer days in your colors to provide this attention-grabbing.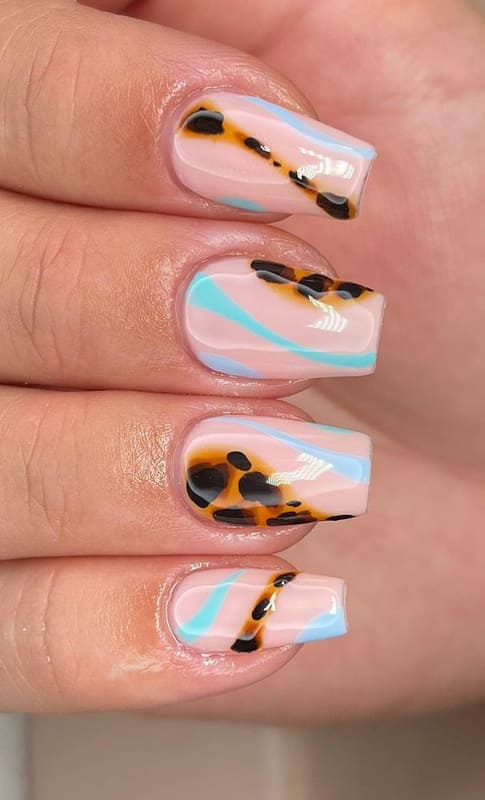 Soft pink fall coffin nails
One of the most beautiful colors to choose from pastel tones is light pink. Women who do not like to use a single color on their coffin design nails can use two different tones as a whole. Even though some of your nails have a solid color, you can apply a different design to a few nails from time to time. Preferably white and pink are two very harmonious colors.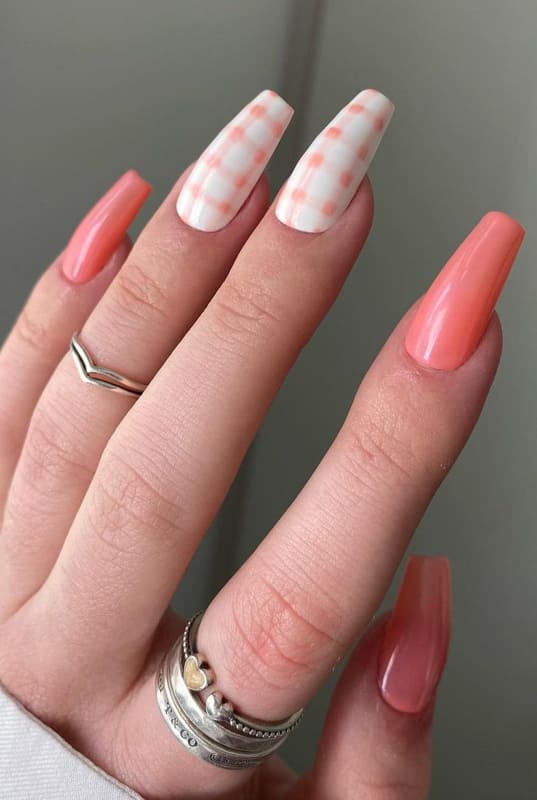 White and gold coffin nails
Do you love french nail designs? Do you usually always use the same nail designs? Sometimes, when you want a difference, it may be the right choice to use designs that are not very preferred. On the nail you see in the picture, you will see gold embroidery applied on a very plain white color. Even though the nail is plain as a whole, it will make you look very attractive with this little gold detail.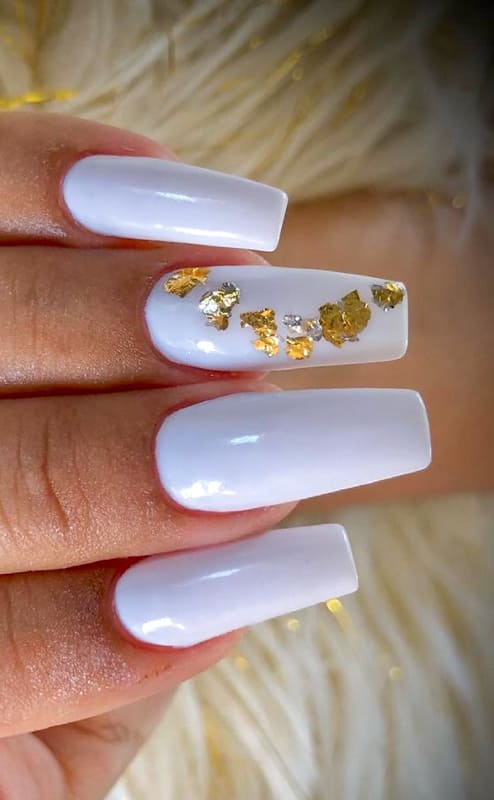 Winter french coffin nails
The french coffin nail design in cold winter days has a very simple design. French nail design provides a simple look and is very compatible with all your outfits. To look simple and stylish, french coffin nails will be the right choice for the winter season.