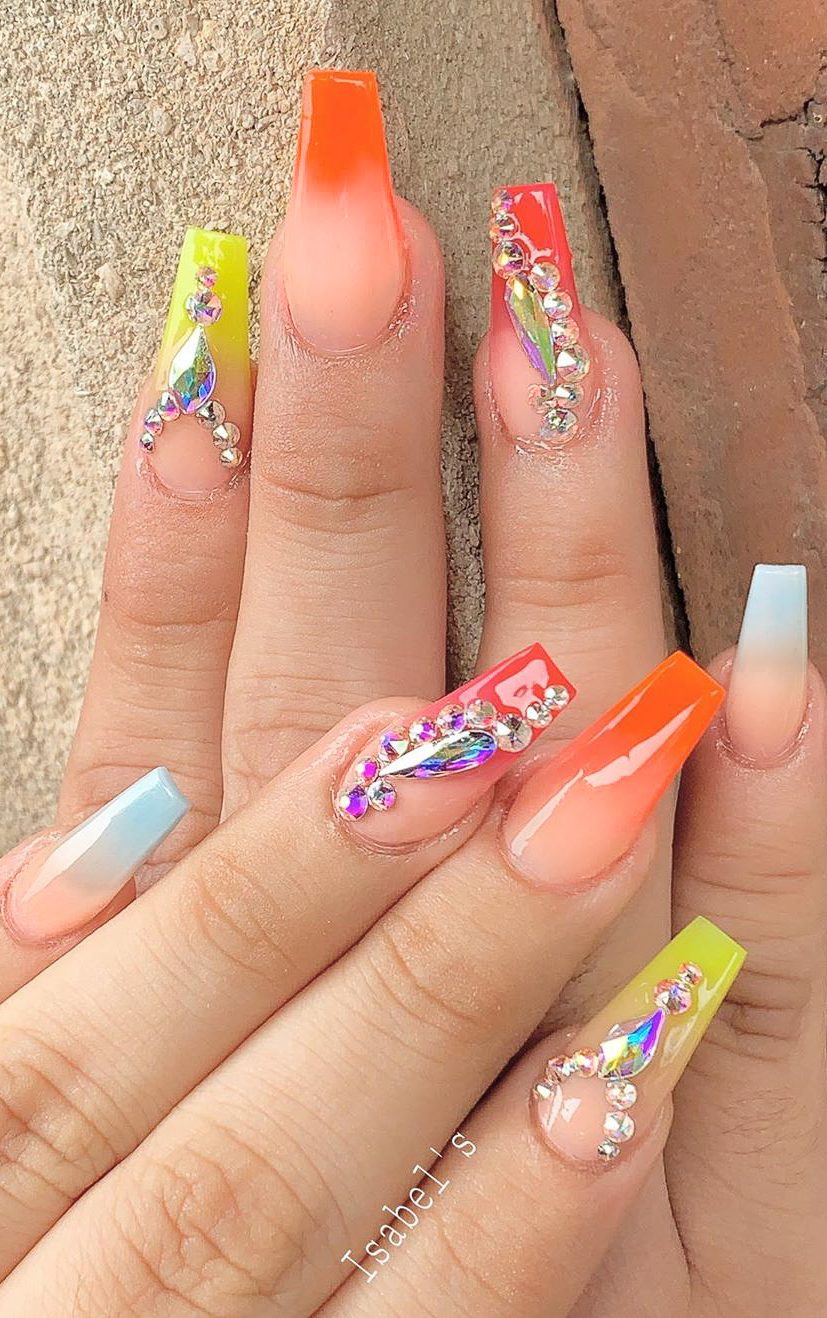 Ombre, the Ombre nail manicure means that the lady who will make this manicure is going to a fancy night party or a nighttime entertainment.
Ombra Nail Manicure is a manicure style that needs to be done very carefully and is usually not very pleasant in short nails.
Ombre Nails Design for 2021
With this manicure style, you must be dressed in shades of the colors used in the manicure and still be adapted to the manicure by making makeup in the same tone or contrasting shades. In the first place, dear ladies, to carry this manicure, you really need to prepare for the night from morning to hair care.

Because, as you will soon see, this manicure technique that collects on many important and remarkable colors really attracts all eyes to hands and nails.
Ombre nails designs How To Tutorial

Required Materials
To apply this stylish manicure, you need clear nail polish, light pink, royal blue, teal, light blue, glitter open toned nail polish, confetti nail polish, acetone, cotton, ear cleanser rod, makeup sponge, wide cap and tape.
Ombra Nail Manicure

Before you start the manicure, make sure you get rid of the remnants of the old nail polish and always apply tape to your finger circle. If you want to remember how the bant application is made, you may want to re-examine our work titled How to Shape the nail polish with water.
Now I want to share a few visuals about some ombre nails.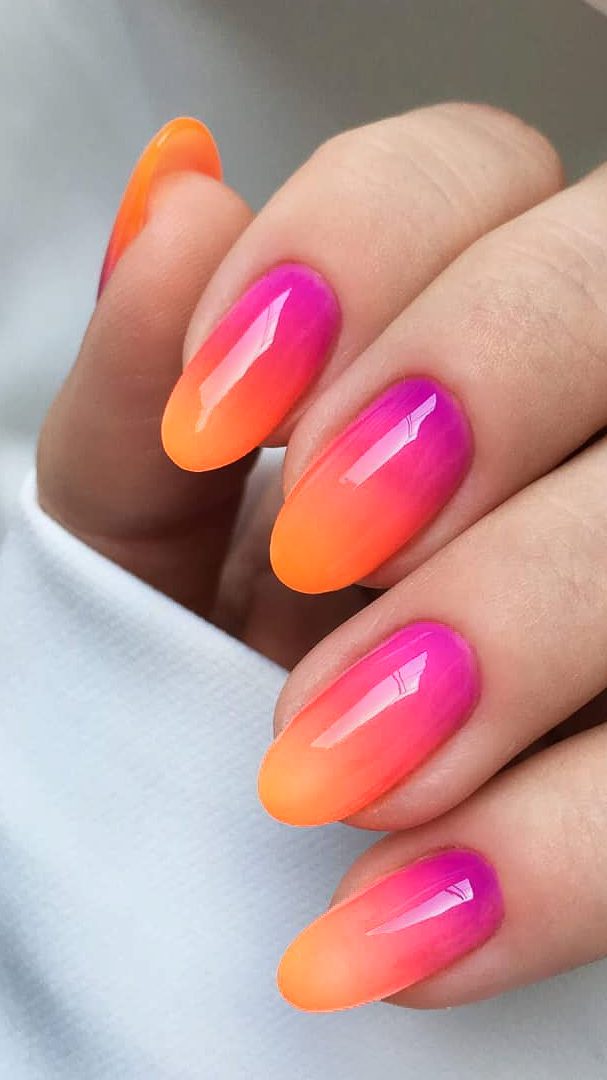 Pink ombre nails
First of all, I must say this. Ombre nails are not a model you can make at home. First of all, you need to find a good manicure specialist. Now we will examine some different colors below. Especially ombre nail polish is a candidate to be one of the most trendy nails of 2021.
Hot pink ombre nails
Dark pink ombre nails. In fact, this color may resemble purple. Since it is ombre, the color starts to turn white as it reaches the tip of the nails. So don't be fooled by this. It has a very nice view. However, it may be difficult to use due to its very long vein. I am sure that the nails are in different colors. Its asymmetry creates a different design example.

White to pink ombre nails
But if you're bored with the dark pink color and don't want your nails to draw too much attention, you can choose a light pink hue that is very close to white. You can decorate your nails with small stones that look like diamonds. This will be a little difficult. However, you should take good care of your nails or these stones are not very durable. I also suggest you polish your nails. The biggest reason for this is to aim for it not to be pale due to its light color.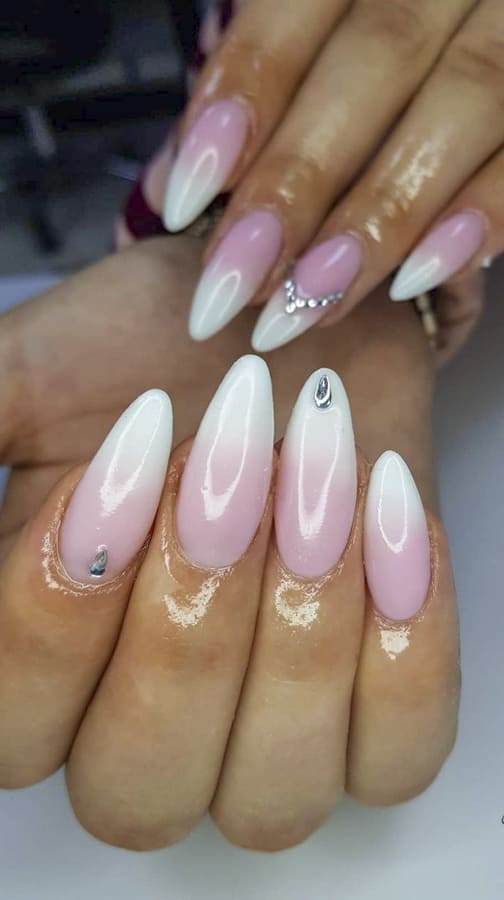 Blue ombre nails
I can say without hesitation that blue nails are preferred. Especially if you are using a different shade of nail polish. The simplest way to do this is an ombre nail style. First of all, this nail model is very useful. The fact that the tips are not sharp will allow you to use your hands more comfortably. In addition, in the picture below, some nails have plain blue color, while some nails have a glitter or different color. The asymmetrical appearance created a striking image.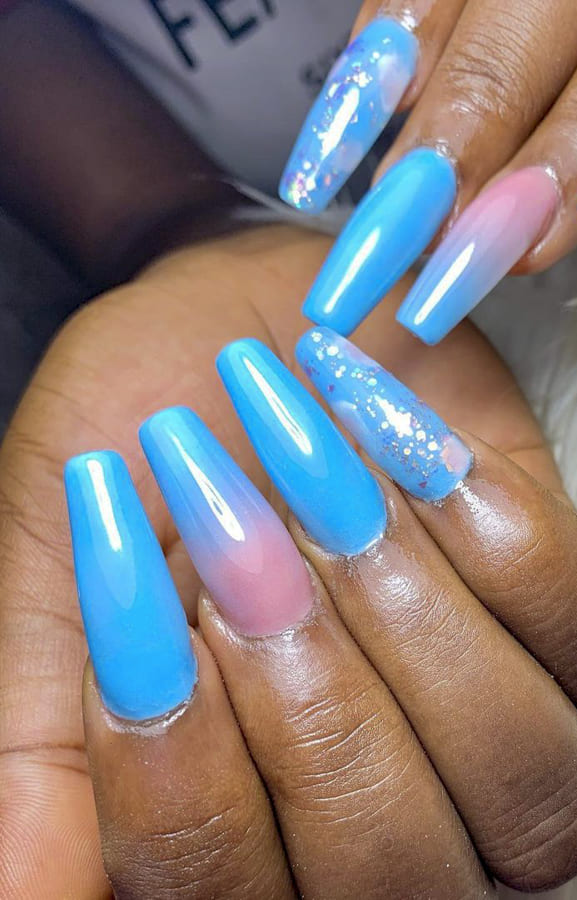 When I looked at the blue ombre nail models, this was the model that attracted the most attention. Transparent nails are quite impressive. Although the color is dark, the nails are very thinly formed. Also, each nail was created in a different pattern. A good manicurist will be of great help to you. However, not every manicure specialist is equally successful. Don't forget to choose the best.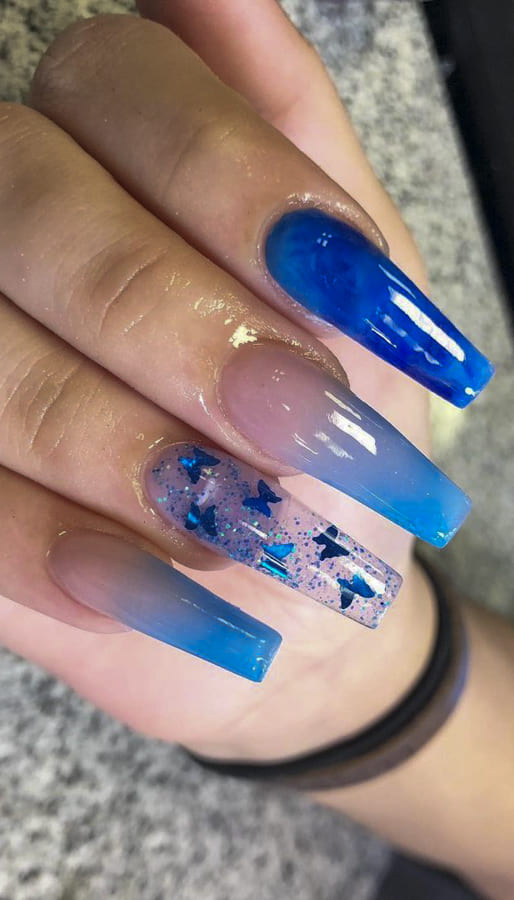 Glitter ombre nails
Glitter nails are the closest nail models to being the most popular nail shapes of 2021. We will now examine a few models with you.
Gold glitter ombre nails
First of all, I would like to show you an example of a golden ombre glitter nail model. Although the nail is made in the form of ombre, it is quite shiny. Especially gold-shaped sparkles have a really impressive look. It can be a special design for your special days. Usually such impressive designs are used by brides or bridesmaids.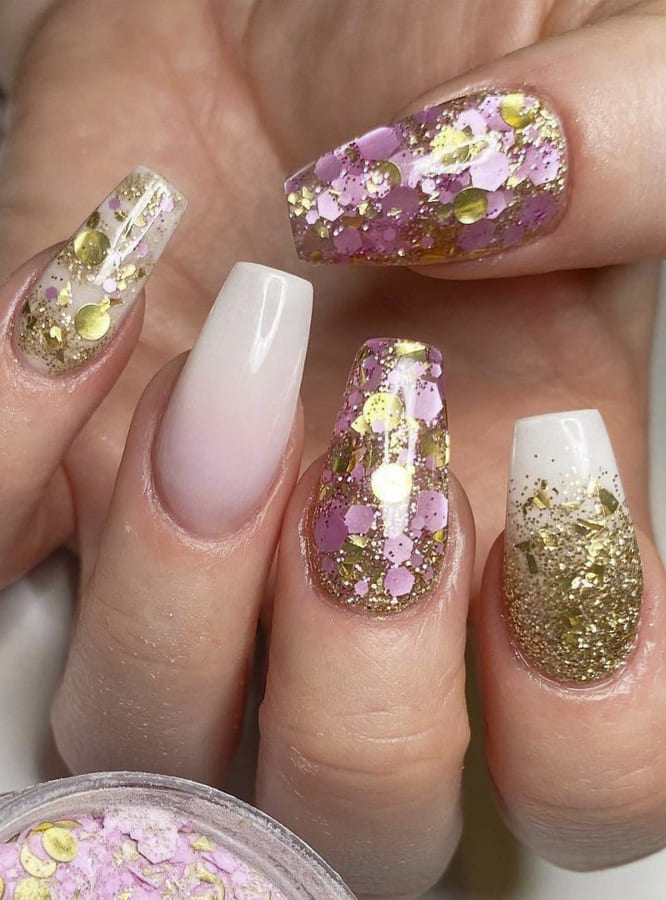 Pink glitter ombre nails
I really like the color but I can't say I like the shape of the nail. Ombre nails look much more impressive when the tips are pointed. Also, getting a shiny nail is quite difficult. A shimmering nail especially in the form of ombre. You need to use the sparkling glitter you use in the appropriate amount and way. Your manicurist will give you advice on this issue. But my advice is not to do this yourself.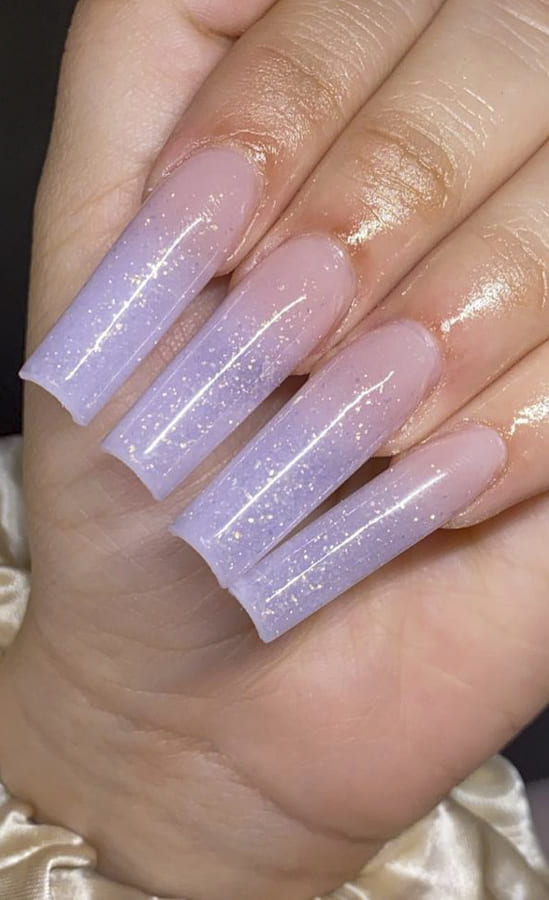 Black ombre nails
Black ombre nails are not used with a lot of color. First of all, I want to review black and white ombre nails. You can see a few more examples towards the end of the topic.
White and black ombre nails
Black and white ombre nail polish will probably allow you to have the simplest and heavy looking nails. You don't need to work hard for this rich and perfect look. Actually, I can say it is one of the easiest models. You can also use such a nail model almost anywhere. In the first example I shared, you can see that only the black nail is dull in color. This created a different design image.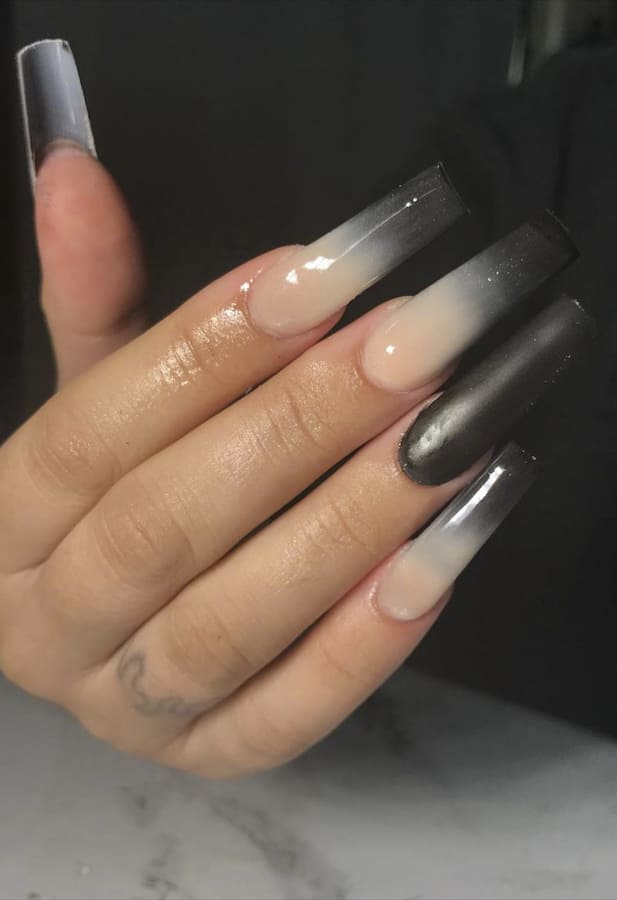 In the second picture, all nails are prepared using the same symmetrical lines. Also, all nails have the same shine. It might look good on black hands, but I'm sure it will look good on white hands too. Light color of your skin is not a problem. However, it will take a little longer to give your nail this look. Some nails can be very weak. You spend a lot of time adding to the nail.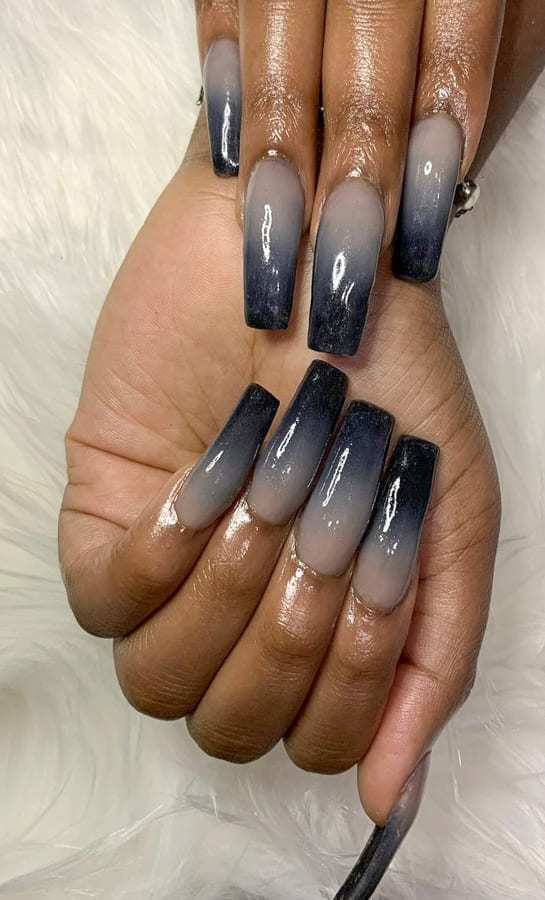 Purple ombre nails
Purple ombre nails can look very impressive. Purple, as you know, is a violet color. Many flowers have purple color in nature. Buddha will give the image of holding flowers in your hands. In addition, the transparent and thin appearance on your nails will increase your elegance. I actually liked the model made, but the nails could be a little more decorated. The decoration of a single nail made the model look a little dull.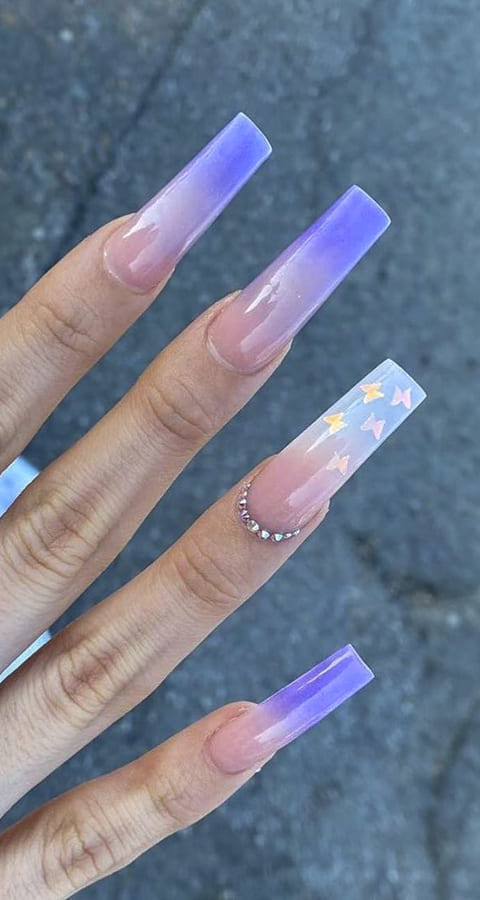 Pink and purple ombre nails
As you know, pink and purple are very close to each other. This harmony can become more pronounced in ombre nails. It turns into a waterfall of color. If you pay attention to the picture, the color of the nail polish is different. Different beginnings have been made. I can say that these asymmetrical touches have created a beautiful design. Also a glitter nail model. The design of such a nail is quite difficult. You may need to spend some time. However, it will offer you a long-term use opportunity.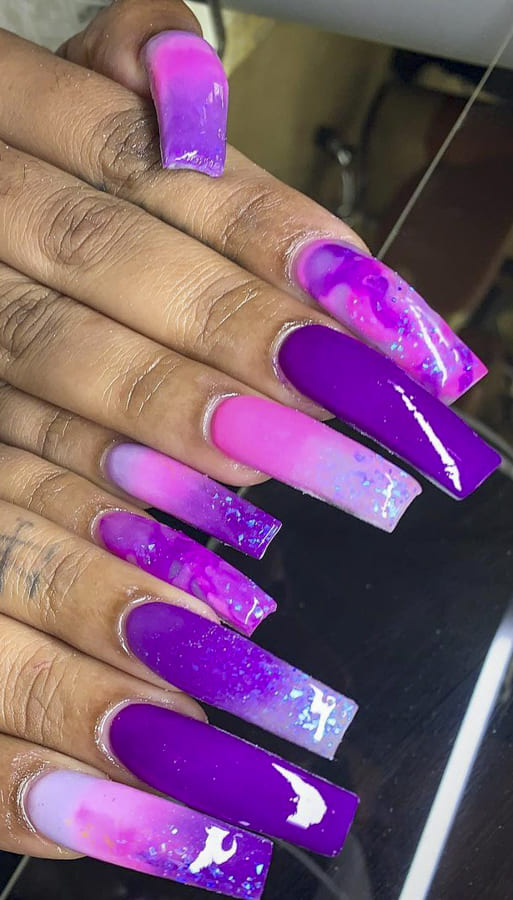 Nude ombre nails
I can say that the nude nail is the most used ombre model. The biggest reason for this is that the nail is very close to its natural appearance. In order to emphasize the nude nail appearance in the photo, a few extra nails have been fully nailed. However, cutting the ends with white lines gives an aesthetic appearance.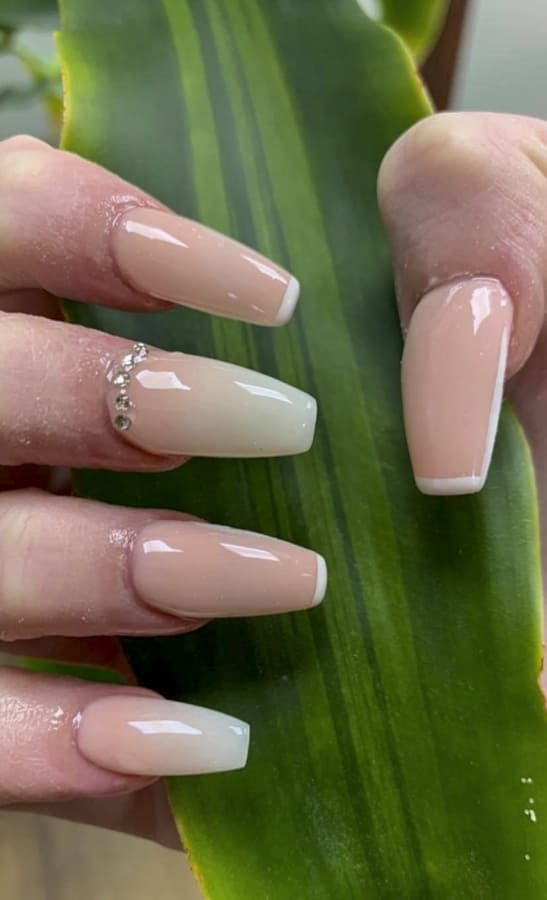 White and nude ombre nails
In the second design, you will be greeted by a beautiful nude nail model decorated with highly sparkling and map stones. Actually, I like the marble nail model more. However, when ombre nail design and marble nail design are combined, I think a much more beautiful look has been achieved. The use of different stones on the nails makes the appearance quite assertive. Especially brides prefer this kind of nail design.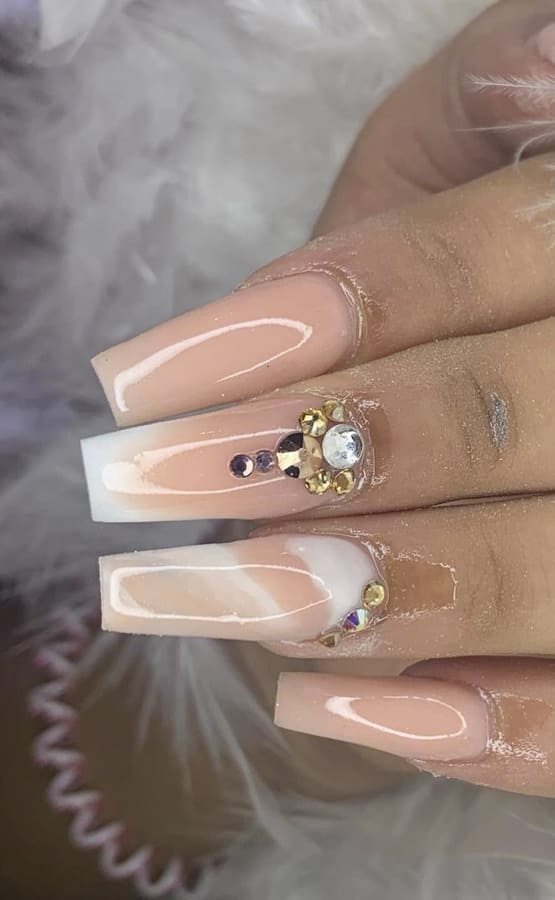 Red and black ombre nails
We reviewed the black and white ombre nail models a few pictures above and I said that I would show you the red black model as an example. Now there are two reasons why I chose such a different model. The first is to make it easier for you to decide by seeing different designs. The second is to make sure you find out which one appeals to you. Each of the nails is designed in a different style. I have to admit that the small size of the nails makes it easy to use.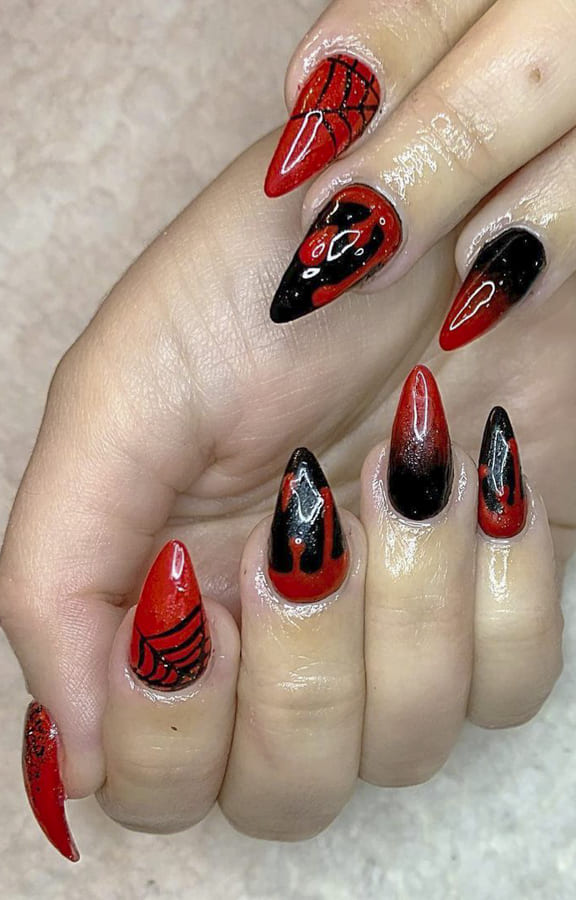 Orange ombre nails
Orange nails are definitely the color of hot days. Especially in hot spring and summer days, you can choose ombre orange nails. In addition, after giving your nails this shape, you can easily achieve this color harmony even at home. However, it will have a flat appearance. If you want to make it look shiny or give an asymmetrical look, you should master this job. Let your manicure specialist do this for you.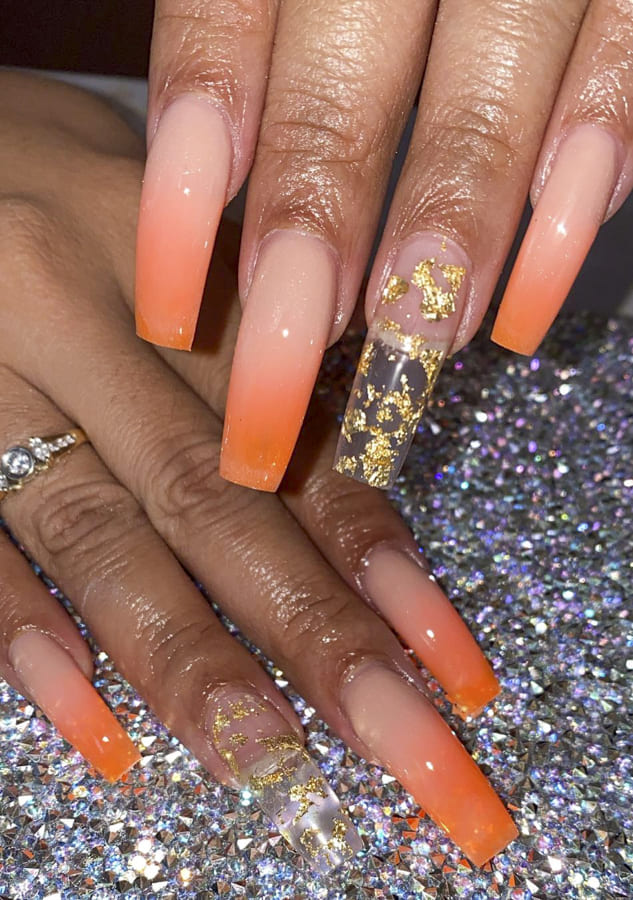 This is what I wanted to tell in the first topic. This ombre can be the simplest example of a nail look. The most important thing to consider when choosing an orange nail color is the shade of the color. Try not to choose colors that are too dark. Very dark colors are more like a brown look. In addition, there is no harm in applying polish to make your nails look such bright.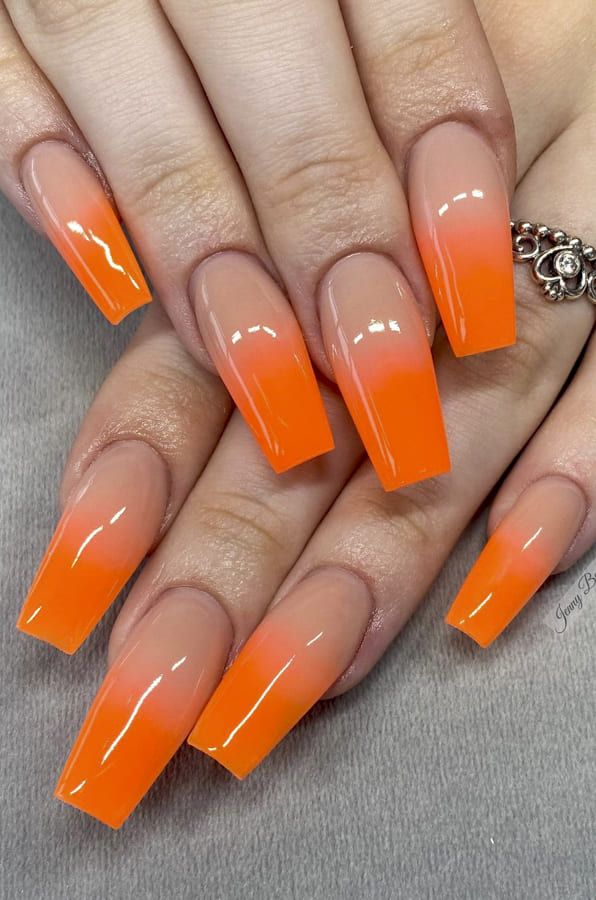 Yellow ombre nails
Yellow and nude ombre nail design is definitely a color that expresses the hot summer days. You can use this in all seasons. When someone sees your hands on a cold and snowy day, it will get warm inside. But remember, if you have such nails, you should protect your hands well from cold. The year 2021 will be very good. I hope we will return to our normal life with the end of the epidemic.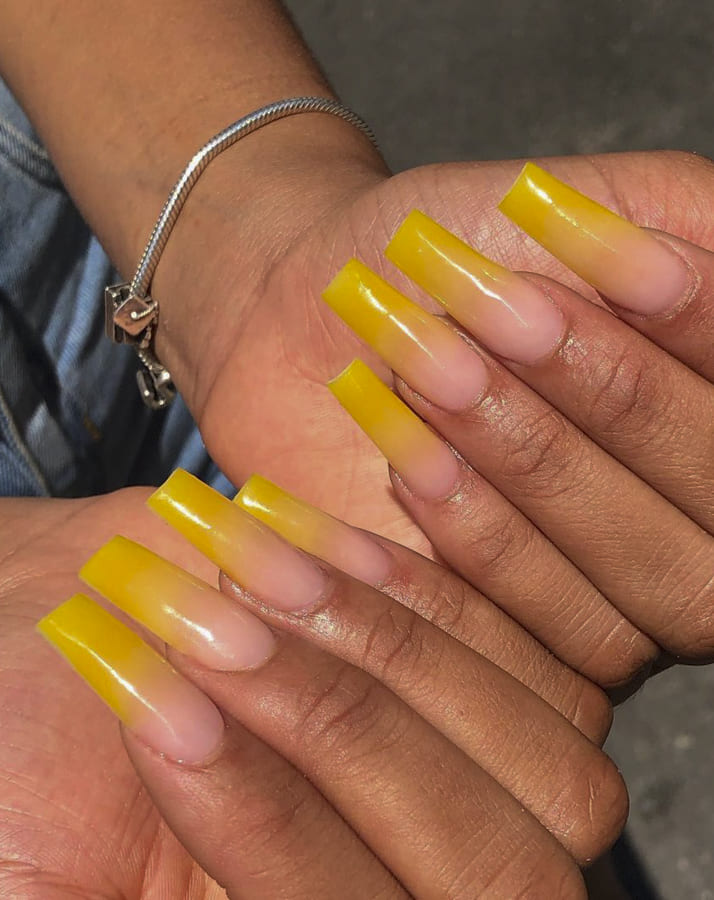 Light blond is definitely my favorite color. Young women generally like pink and its shades more. However, the choice of yellow and nude colors on ombre nails looks very impressive. The design of the nail below is quite time consuming. If you pay attention, different shades of yellow are used. In addition, the fact that it was decorated with diamond stones made it look very impressive.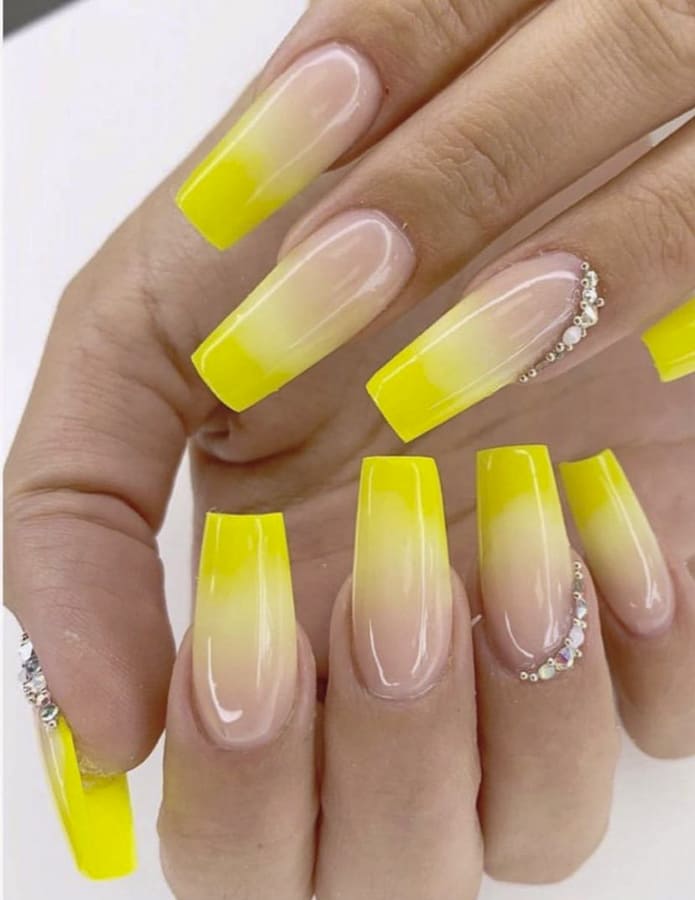 Green ombre nails
Green always represents nature. Especially a natural green color. Using it on your nails can show that you are very environmentally friendly. In addition, some nails are designed with glitter and finished in a sharp triangle. This ombre may spoil the nail look a little bit, but it has become an accent nail. In addition, the leaf appearance on the nails on the index finger provides a very natural appearance. Green nails are really impressive. It may be a design that you can use in the spring of 2021.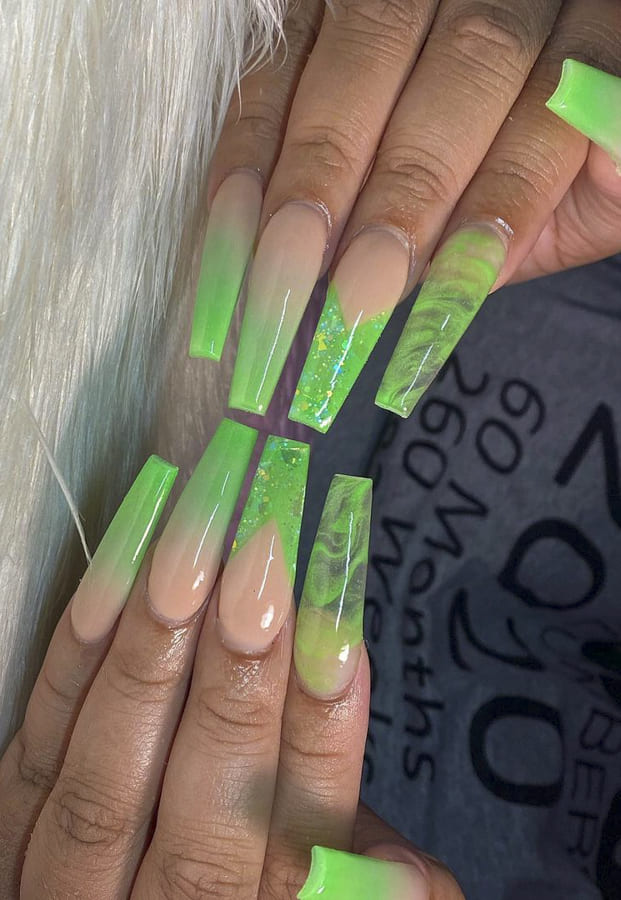 First of all, I do not like this shade of green. I can say a color that resembles a little lemon. When I think of lemon, I think of the yellow color. In addition, turquoise green is a slightly pretentious color. It will attract a lot of attention. If your goal is to attract attention, the right color may be.
You should be here as you are considering using different shades of green on your nails. I will write a different review topic for green ombre nail models on a different topic. Please keep following me.