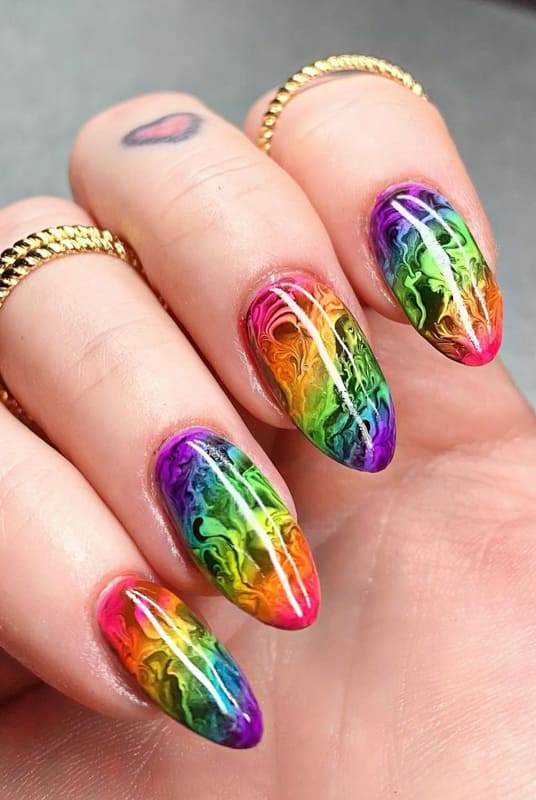 Nail designs change over time. I made some changes and updates to my post today. Although nail tips do not change much in 2023, their colors and designs seem to change a lot. Here you can find the most amazing almond nail designs of 2023. There is a make-up or hairstyle suitable for every face, as well as a nail style. Choosing the most suitable nail style for the physical hand offers a complete combination. Apart from the styles that suit the person physically, some change with fashion. The suitability of nail styles also changes every year with fashion. A nail style suitable for each year's fashion sense becomes that year's trend. The shape of the nails is suitable for trends regardless of whether they are short, long, strong, or weak. New year's fashion almond nails can also be applied to almost everyone. Because many materials used for manicures can sometimes even re-create nails!
Almond Nails Tips and Design Ideas in 2023
Almond-shaped nails make the hands look very long. It is a manicure type that is generally preferred for an elegant and classy look on hands. To apply this nail model, the nails must be extended. Manicure types such as French are also very suitable for the almond nail model. If you wish, you can get striking looks on almond nails by looking at different patterns.
How to Make Almond Nails Manicure?
To make almond nails manicure on your nails, you first need to extend your nails a little. If the natural structure of the nails is long, you will not need to extend too long. Also, an almond nails manicure with a long narrow natural structure is very suitable. Primarily, file the nails as an oval shape. Then, it is necessary to give an almond shape by filing a little more angled to the ends of the nail. Your fingers will look much thinner in this manicure, where the middle part is slightly pointed.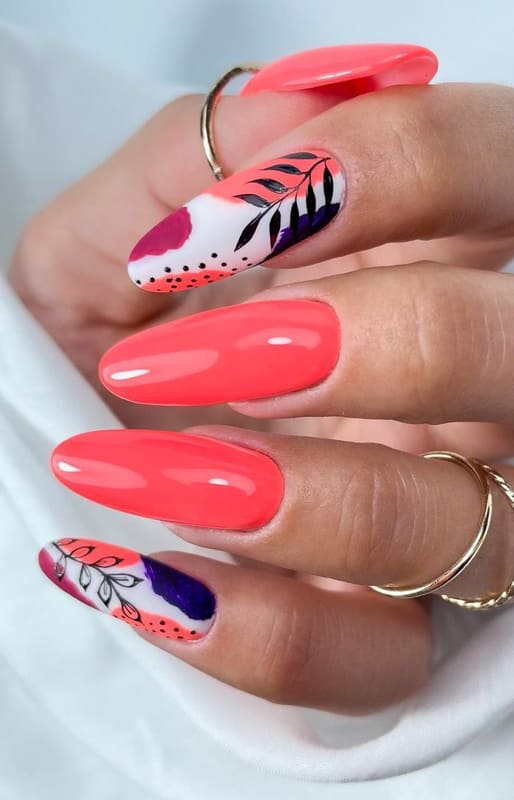 The most important point to consider when giving almond shape to your nails is not to break the nails. You should be careful in the filing process. You should move the raps in one direction, not in two directions. In this way, your nails do not split or break into layers. Also, nail care is something you shouldn't miss.
Which Colors Are Good for Almond Nails Manicure?
It goes well with single color nail polishes. For this reason, almost any color goes well. However, nude shades and dark reds will be especially good. You can create a great look with a nude shade nail polish suitable for your skin color. At the same time, it will complete your style completely as an outfit. With an Almond nails manicure, you can get both a sporty and stylish look. All you have to do is change the color of your nail polish.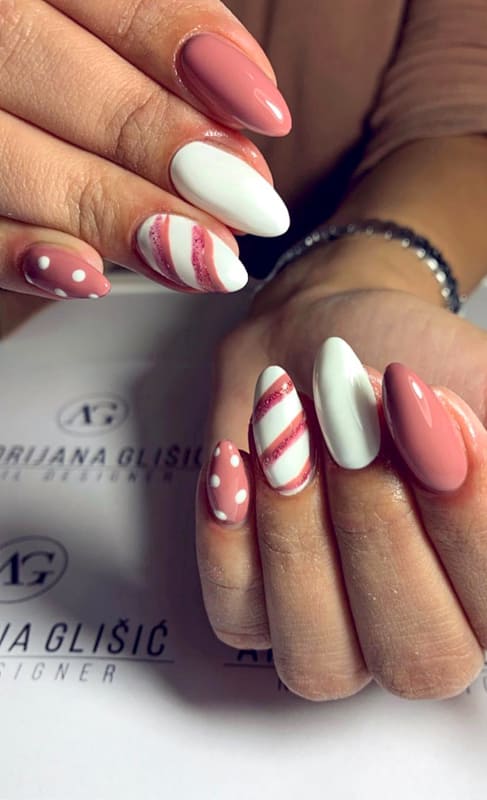 With Which Combinations Almond Nails Manicure Goes With?
This manicure, which we have mentioned specially for you, goes well with almost any outfit. It is an extremely good outfit. It is a well-groomed manicure with sports combinations. But it is most complementary to the classy look. It can be combined according to the length of the nails. With Almonds nails, you can make a simple look more elegant.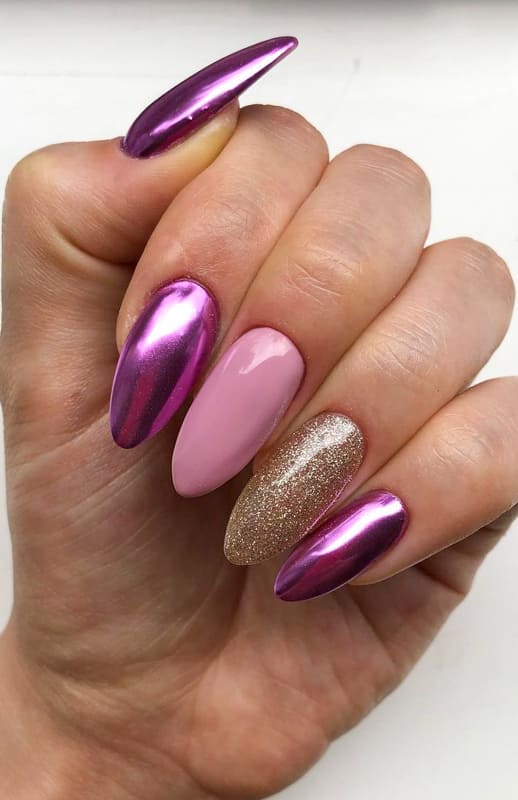 Black acrylic almond nails
Although black color is not preferred much in nail selection, it is a color that suits almond nails very well. The idea of applying a single color for your almond nails, which makes the manicure look very beautiful, is also very nice. Black acrylic tones will complete your black color combinations with their eye-catching shine. Of course, this color requires constant care because even the slightest scratch will show itself immediately. However, black acrylic color will suit your Almond nails very well.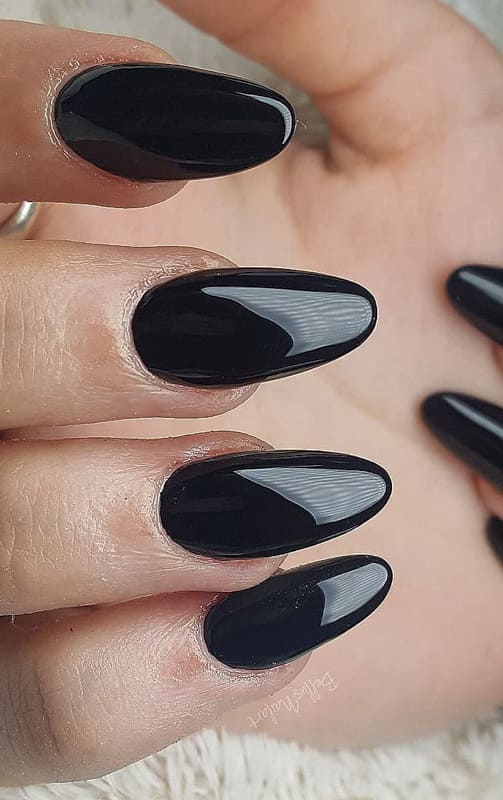 Blue short almond nails
Although the color blue is a color that we like very much that gives us peace in our daily life, it is a color that we use very often because our jeans are also blue. It is also a very good idea to carry this peace on our almond nails. Decorating our blue almond nails with a balance figure, as in the picture, will reflect our inner peace very well. Our short blue almond nails will complement each other with the accessories in blue tones we will use.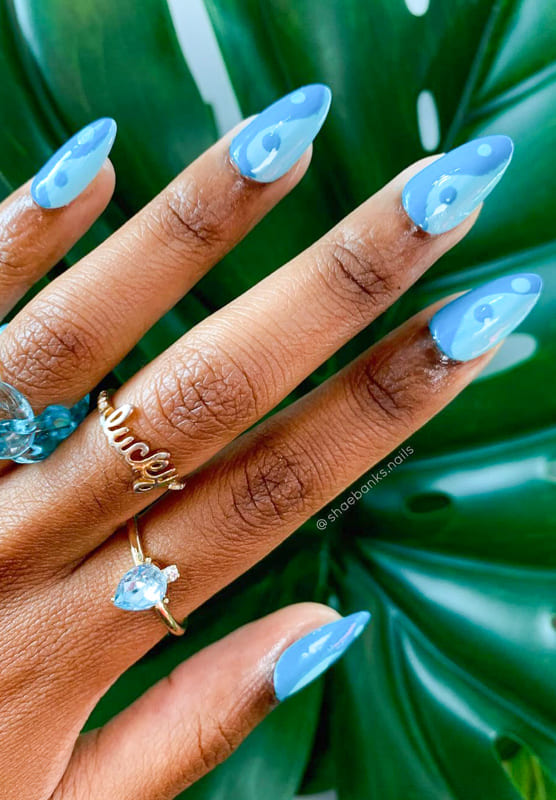 Colored matte almond nails
Colored matte almond nails are very different in appearance. Reminiscent of a painter's paintings, these artwork nails will definitely add a different atmosphere to you. The colorful matte almond nail idea, which we think will suit your long almond nails, will be one of the new trends. If you haven't tried it yet, make sure you do.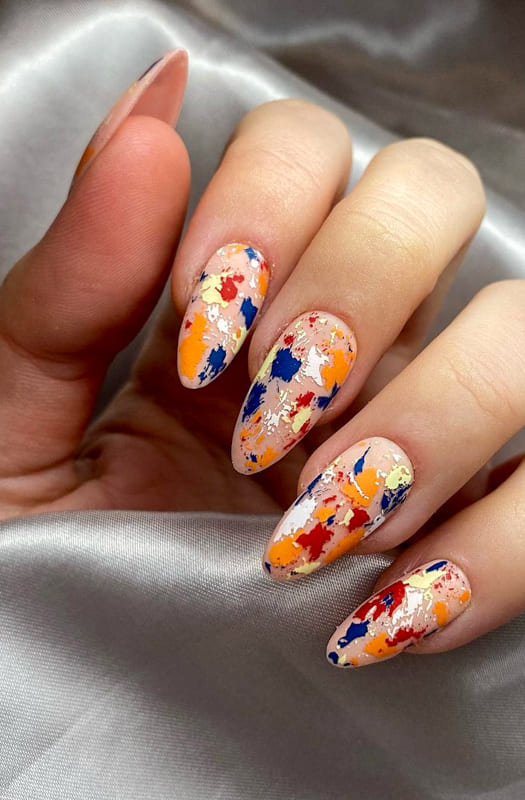 French red almond nails
French nails are undoubtedly the nail design that we women prefer most in our daily life. We usually complete the transparent look on the upper parts with white nail polish that we will use on the ends. In this picture, we see that red is preferred instead of white nail polish on the nail tips. The pointed look at the ends added a different air to the almond nails. Have you ever thought that red color can look so good on french almond nails? Be sure to try it.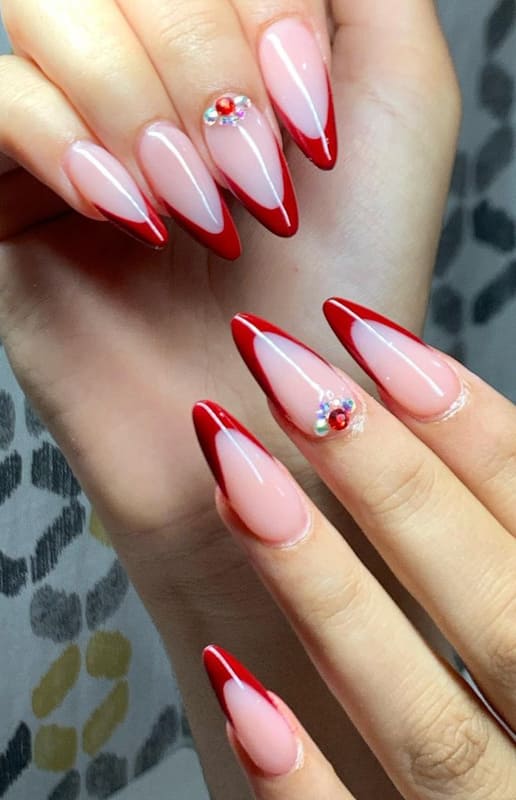 Glitter pink almond nails
Although glitter pink almond nails is not a preferred color, we can say that it is very different due to its color tone. It would be nice for women who are self-confident and regularly take care of their nails to choose this color for a change. Almond nails are undoubtedly a very suitable choice for glitter pink nail design. As in the picture, the silvery tones that you will apply on your nails in pink tones will suit you very well.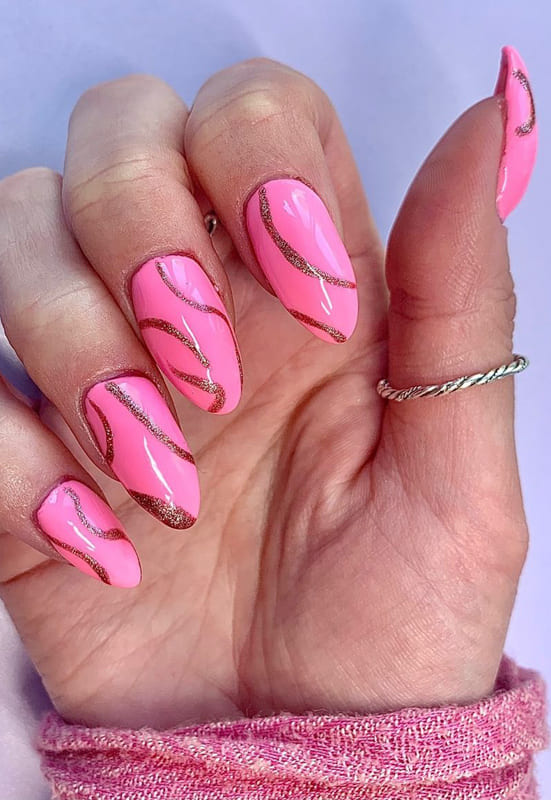 Gold almond chrome nails
Gold is a color that some women love and some find repulsive. Women who prefer glamorous clothing love this color. As we can see in the picture, gold embroideries with chrome ornaments add a very different atmosphere to our almond nails. Since accessories such as rings in gold colors are very easy to find, gold chrome on almond nails will look great on your long fingers.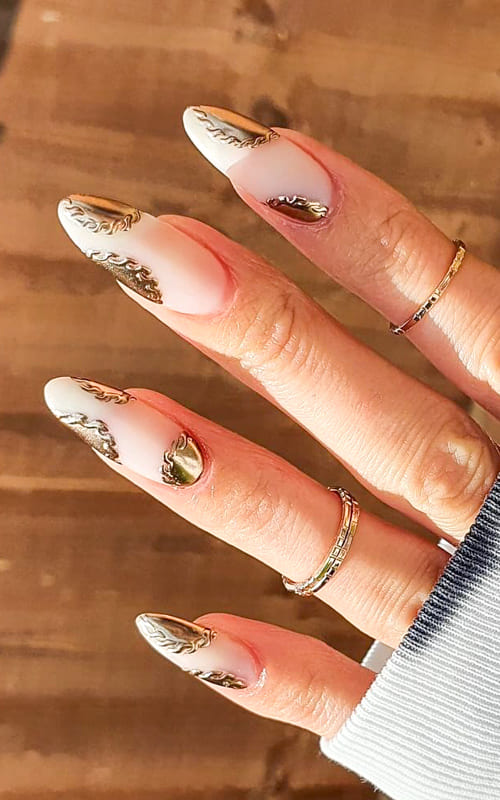 Gold and black almond acrylic nails
In our previous posts, we talked about black acrylic almond nails and gold chrome nails separately. In this post, we would like to talk about how different gold and black acrylic almond nails are and how they are in perfect harmony with each other. When these two colors, which seem to be opposite to each other, come together, all eyes will be on you.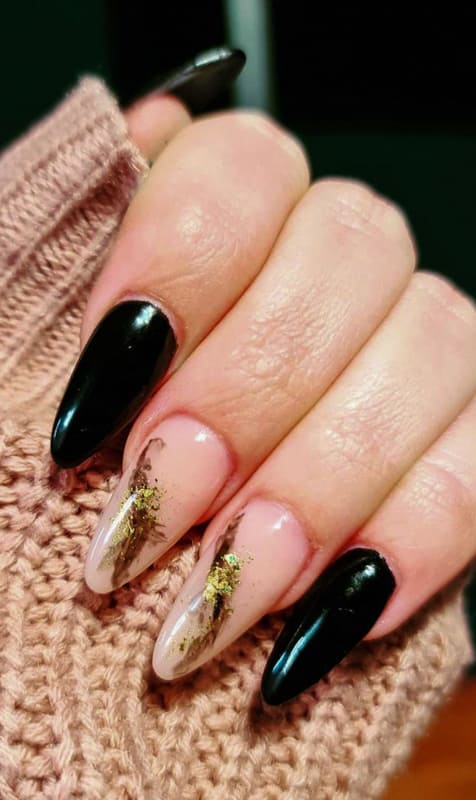 Gold french almond nails
We have seen the different color tones we apply to the ends of French nails before. Now we would like to talk about gold embroidery on almond designed french nails. You can make gold embroideries on your french nails that you apply one color transparent or you can decorate the tips of your nails with gold glitters. The choice is entirely up to you.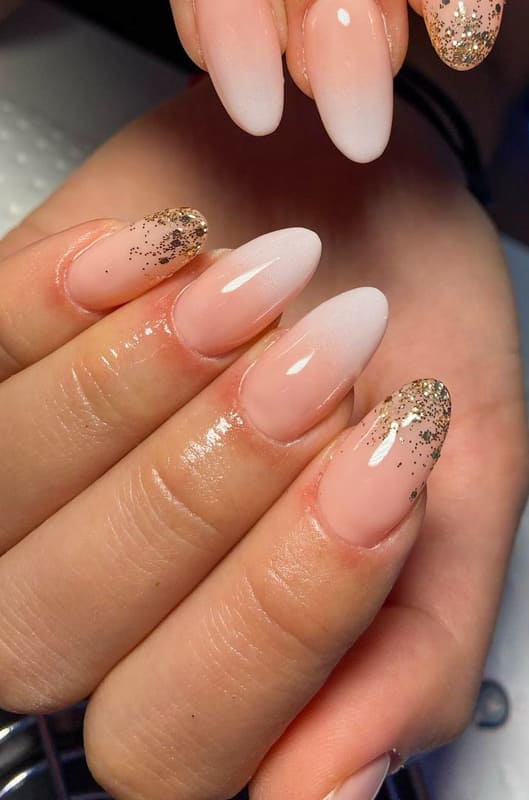 Grey almond nails
Gray tones, which are a color preference that we do not encounter very often in nail designs, are difficult to use due to their color structure. These tones, which show the slightest roughness, require constant care. As we can see in the picture, the gray color actually suits the almond nail design. Don't you think it's worth spending hours in beauty centers to have this beautiful design?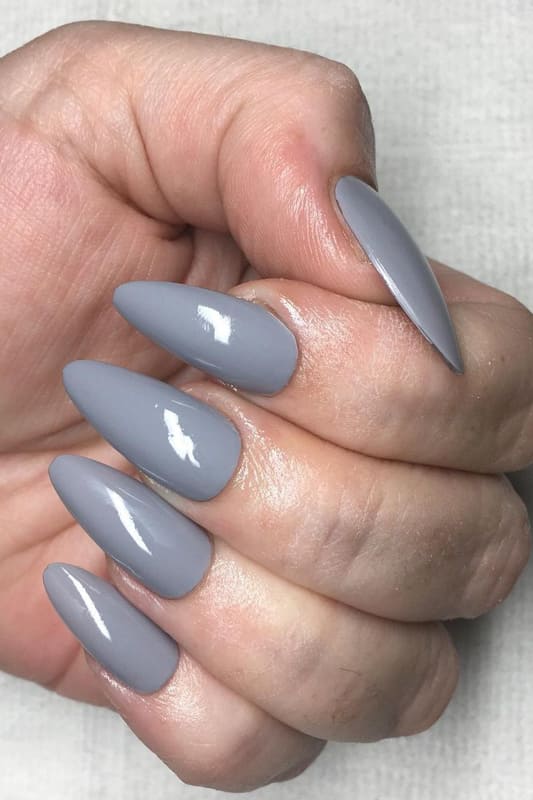 Grey glitter almond nails
In our previous post, we talked about gray almond nails. In addition, we want to show how stylish the sim design can look on gray almond nails. A glitter design can be made on the entire nail, as well as a transparent appearance on the upper parts and a glitter design only on the tips. Gray color also has its own tones. In our opinion, the gray tone that will best suit the sim design is matte gray.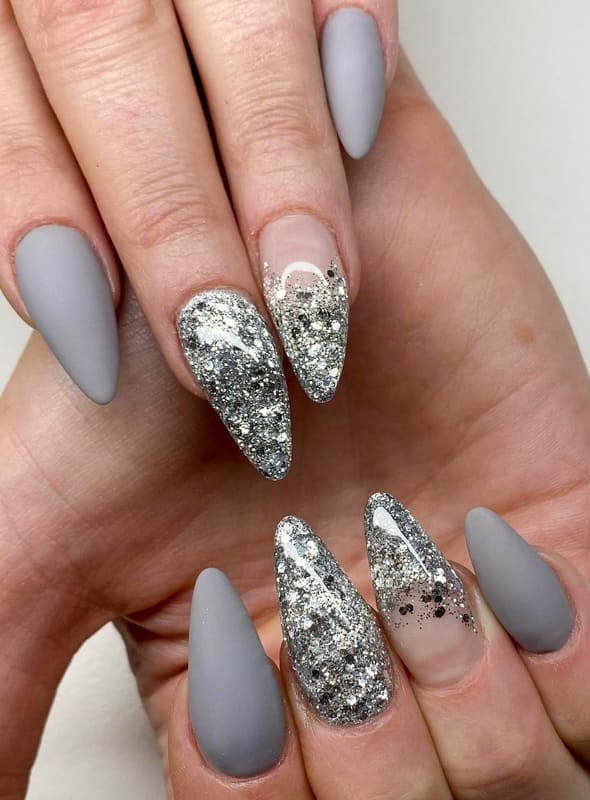 Long almond acrylic nails
Long almond acrylic nails is a nail design that every woman who likes to use long nail sizes and who likes almond nails will prefer. You can get a very stylish look by applying different patterns in different color tones to your long almond nails. Acrylic nails are the new trend of recent times and are preferred by many women. Almond design is also a very common situation in acrylic nails.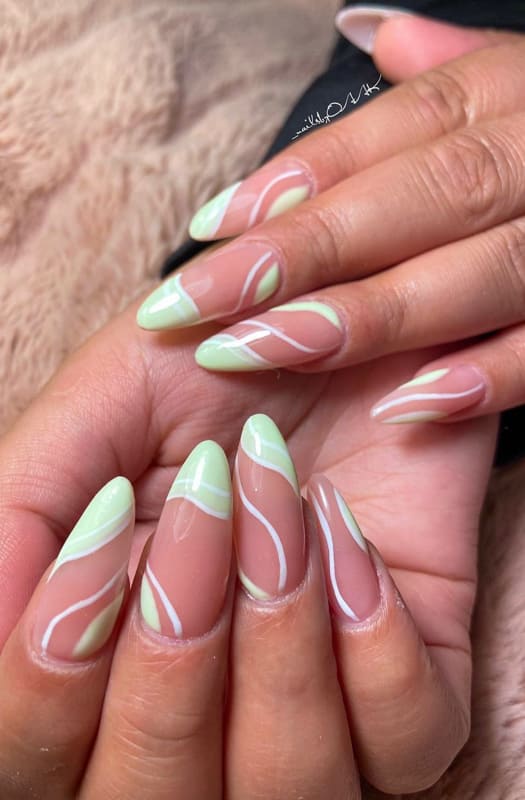 Long almond stiletto nails
Stiletto nails are different from almond nail designs and are more difficult to use and maintain than almond nails. But if you like to use long nails, stiletto nails are for you. Shiny looks go well with stiletto nails, but single color applications will be the right choice for stiletto nails. As in the picture, you can have the initials of your loved ones or the initials of your own name and surname on your stiletto nails. This distinctive design will draw all eyes on you.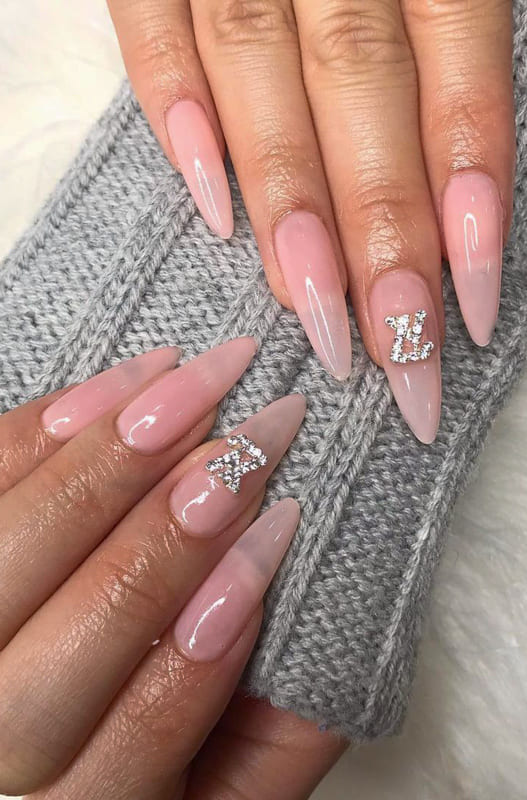 Long gothic almond nails
Long gothic almond nails are generally preferred by free-spirited women with a distinctive style. In the picture, we see an example in which black and white tones predominate. However, you can have long gothic almond nail applications in the tones you want. Different figures and symbols that you will have on your long almond nails will also be a different way of reflecting your personality.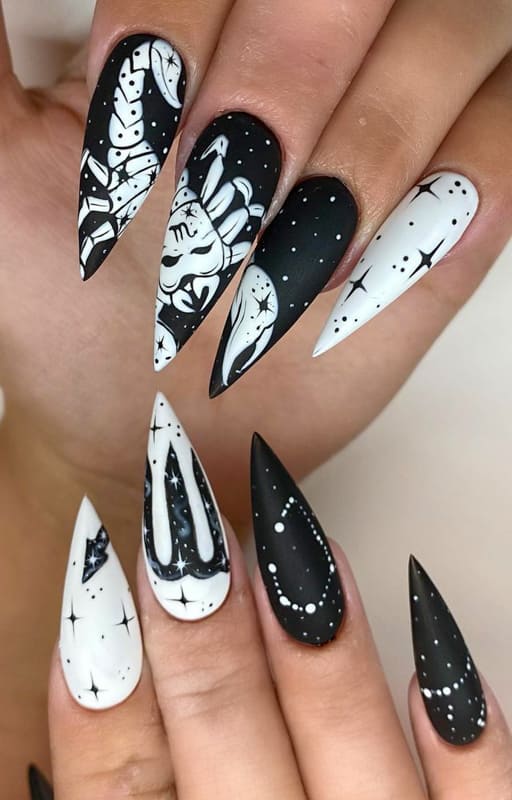 Long natural almond nails
Long natural almond nails are a great choice for women who have healthy and strong nails but don't like to show off too much. However, if you have weak and weak nails that break easily, you cannot use long natural almond nails for a long time. Acrylic nail designs will be a better choice for you. Natural almond nail design is frequently preferred by women as it is comfortable to use in daily life and adapts to every style of clothing.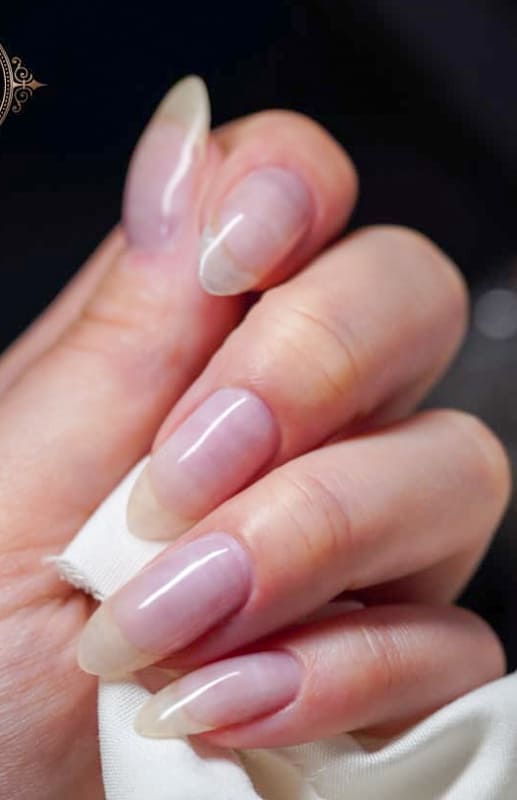 Natural french almond nails
Natural french almond nails are the most commonly used design in french applications. Although you can use it long if you want, almond nails are a little shorter due to their structure. Therefore, nail breakage is less common. Compared to other designs, natural french almond nails have a longer usage time. Of course, most importantly, it will be in harmony with your every style in your daily life.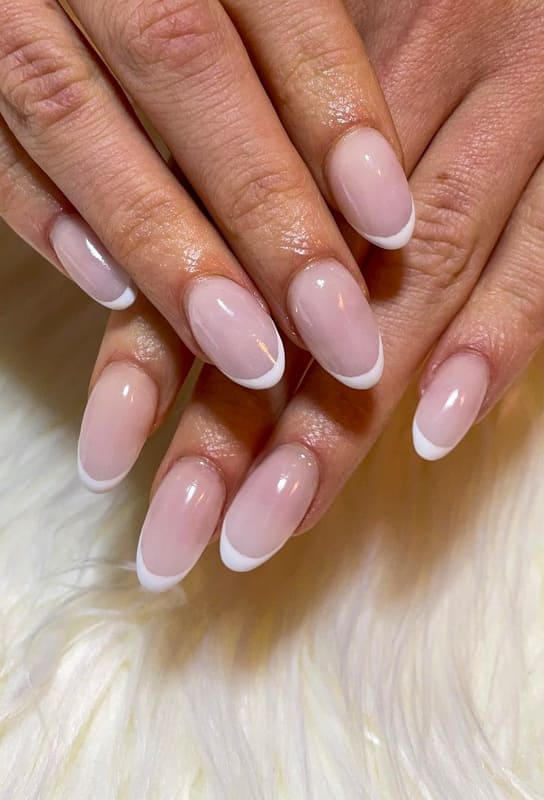 Rose gold almond nails
Rose gold almond nails is a design that we do not see very often, but it looks absolutely beautiful. Don't you think the rose detail on white nail polish looks great? In this picture, we see that rose almond nails are designed in gold. Be sure to try this nail design that can look great with accessories in gold tones.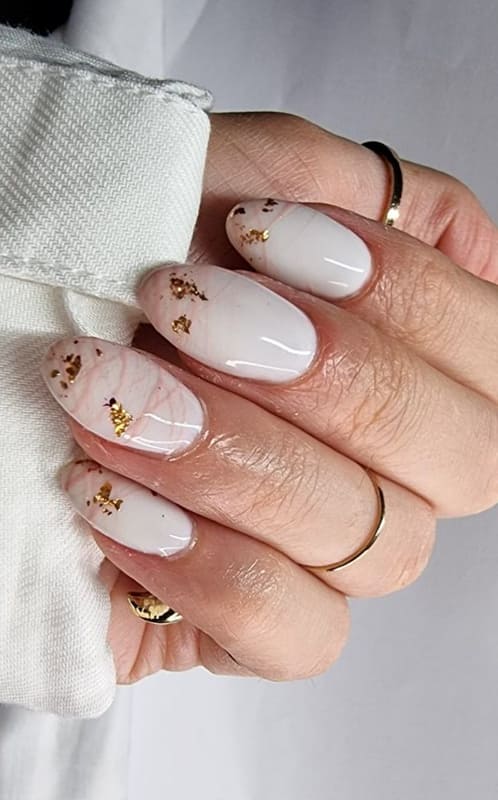 Short almond acrylic nails
Short almond acrylic nails is perhaps the longest nail design. In the picture we see how beautiful the natural tones look on short almond acrylic nails. The patterns you will make with gold glitter and gold nail polishes that you will apply to some nails will add a different elegance to this natural look. If you like using acrylic nails, try short almond nails. In this way, the service life will be much longer.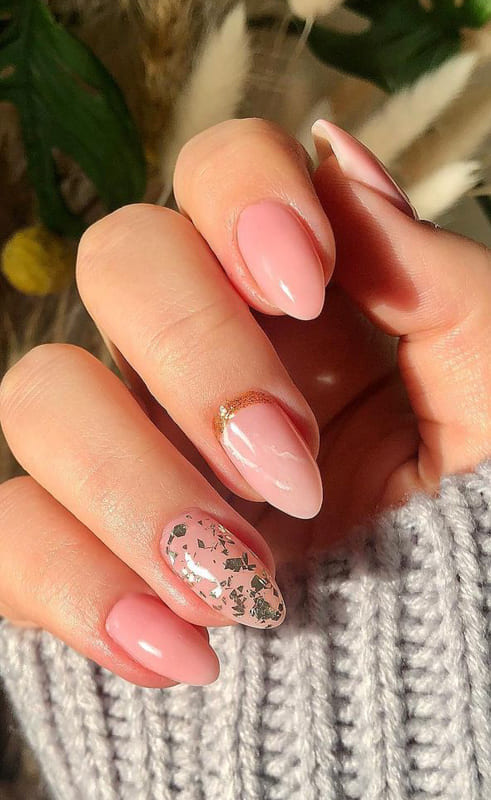 Short nude almond nails
Short nude almond nails are a nail design preferred and loved by many women. Nude tones reflect the care of our nails very well. In this picture, we see golden designs applied on nude almond nails. You can add difference to your short almond nails in nude tones with small gold heart embroideries or gold polka dots.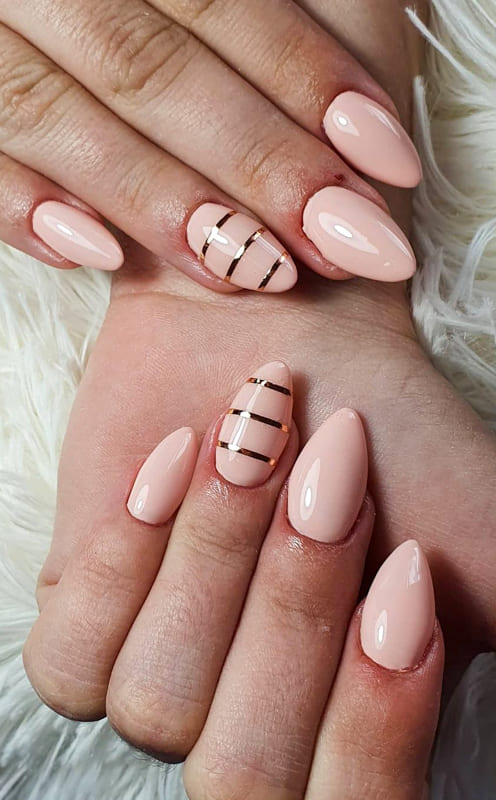 Summer purple almond nails
Most of all, we like to see chirpy colors in nail designs in summer. In fact, the combination of floral motifs or mixed colors as in the picture is one of our most preferred summer designs. We often use a flat matte tone on one nail and floral motifs or polka dot motifs on the other nail for a natural look. Prefer purple on your almond nails in summer, as purple is a color that will suit your almond nails very well.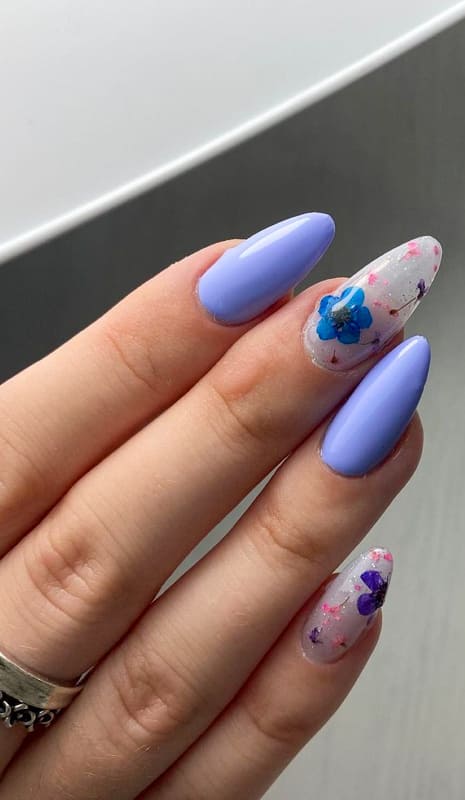 Summer stiletto almond nails
Stiletto nails are the main choice of women who love long nail designs in summer. If you like a shiny look on your stiletto nails, try the glitter application. Having a different design for each of your nails can also be a very different choice. In the picture, we see all the features we have mentioned together. While one nail is completely covered with the sim application, nail decorations and different patterns glued on another nail have created a great design as a whole. It would be a very good idea to use different tones of a color on your summer stiletto almond nails.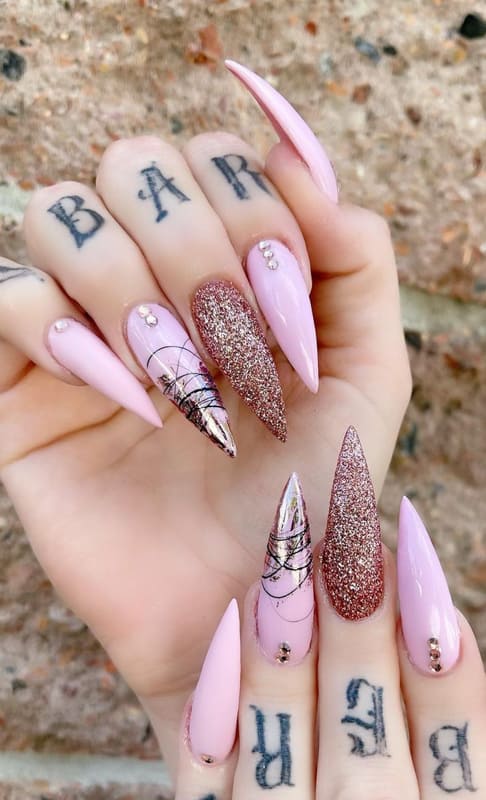 White almond nails
White almond nails are a great design for ladies who like a simple and natural look. The matte white appearance covers the defect on the nails and can be applied on your own nails without the need for acrylic. Of course, if you wish, you can apply the white almond nail design on acrylic nails. It will be appropriate to use white almond nails for both summer and winter. Moreover, you will see that it adapts to every style you prefer in your daily life.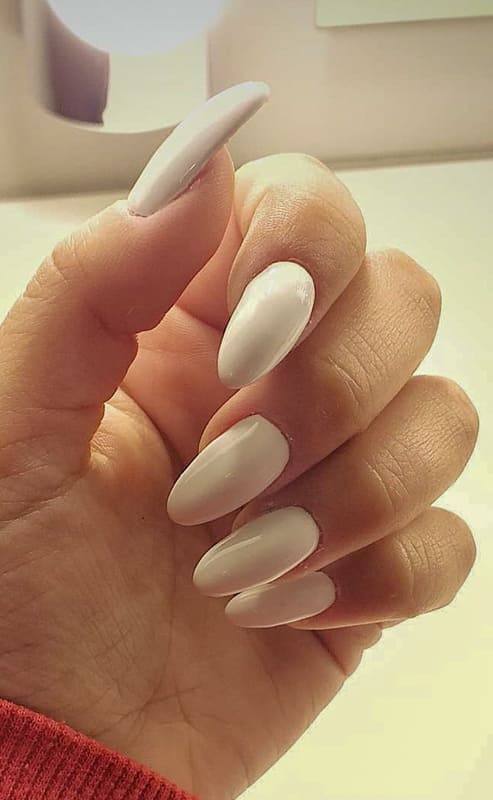 Donald Duck Nail Sticker on Almond Nails
Although using stickers on nails is not a very creative idea, it can be a very nice look, especially on almond nails. Since the surface of the nail provides a large area, such stickers have a very large and distinctive structure. Donald Duck is a really cute figure.
Pink and White Matte Almond Nails
Although matte colors are not particularly preferred for almond nails, as you can see in the picture, you can choose matte colors in the design of unusual nails. Great reliefs are made using a very light shade of pink. Also, its harmony with white color is really nice.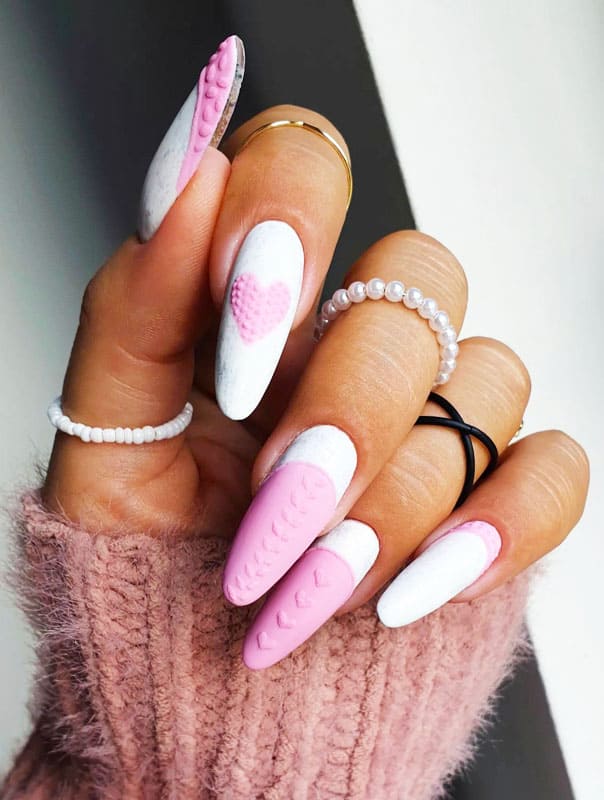 Nude French Tip Almond Nails
I have shared french nail type designs before. If you wish, you can take a look at my french quotes post. Here, you see a very nice harmony on almond nails. In addition, small swirls have been added on some nails. In this way, an ordinary appearance is out of the way.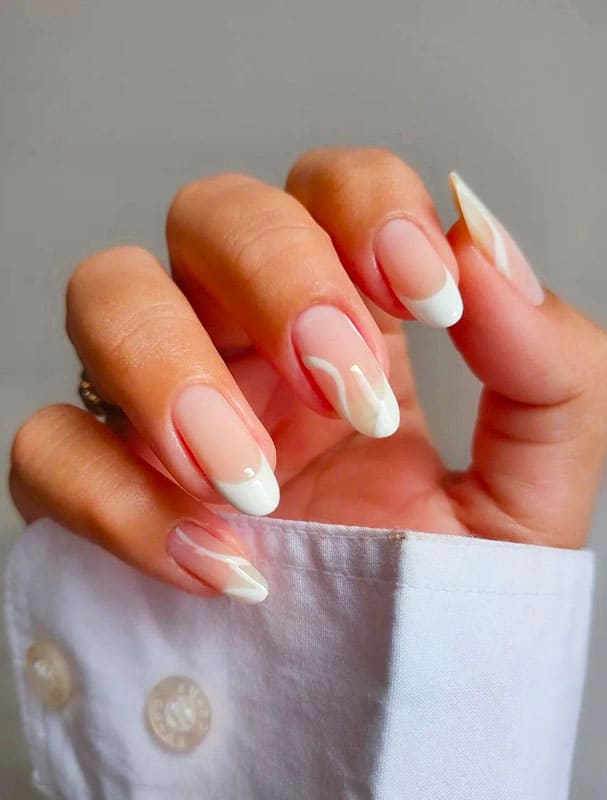 Burgundy Color Glitter Almond Nails
If you are a mature woman, these colors are for you. It looks really impressive and quite stylish. However, young women do not prefer such colors. Great glitters are added along with the burgundy color. I must say it is a very nice nail design.